The limited-edition model features both a right-handed and left-handed guitar combined into one instrument.
Michael Angelo Batio and Sawtooth Musical Instruments have brought the people what they've been asking for, the Double-Guitar. For the first time ever, the Michael Angelo Batio Double-Guitar is available for purchase, with this 50 piece limited run. Years ago, Michael gave you the keys to the Lamborghini, now's your chance to take it for a spin.
"Once I first had a "working" Double-Guitar, my questions were: What can I do with this? What are the possibilities? I started writing down different ways to play it. For example, both guitars at the same time in harmonies, 2 different parts at the same time, like a piano, crossing my hands over the necks, upside down, crisscross left-handed and more. The possibilities are endless!" -Michael Angelo Batio
Whether you're a guitarist wanting to break new ground or an avid collector looking for a piece of guitar history, the Double-Guitar is the answer.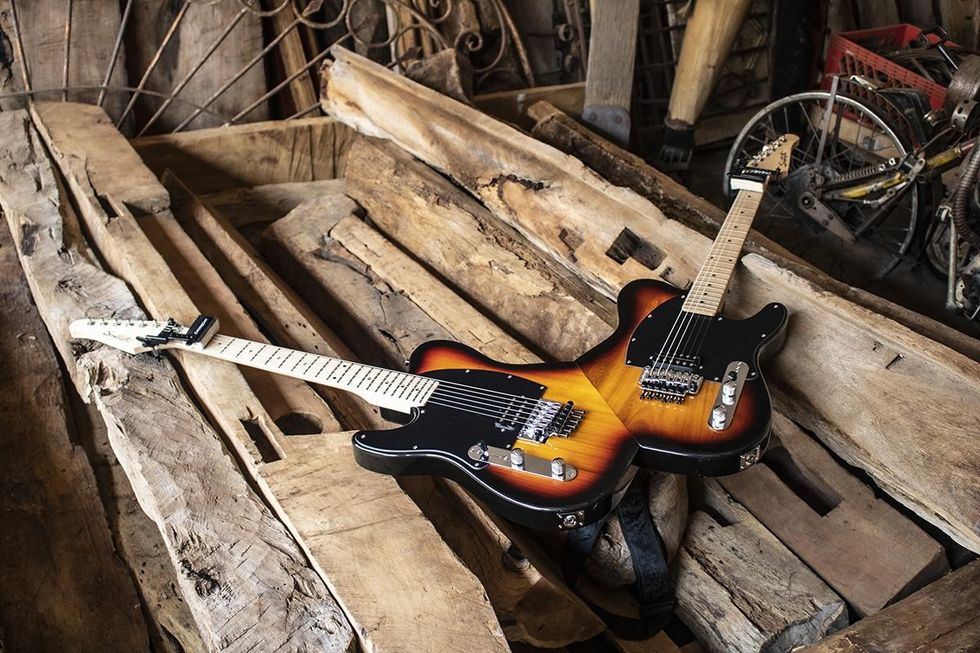 Guitar Specifications:
•Sycamore Body (Designed to be lightweight)
•Maple Fretboard
•42mm Nut Width
•Maple Bolt-On Neck
•21 Medium Jumbo Frets x2
•Left-Handed AND Right-Handed Guitar
•D-Shaped Neck
•5" Scale Length
•15" Neck Radius
•Switch between Humbucker or Single Coil
•ST Designed Alnico V Humbucker Pickups (15.3 ohm)
•Specially Designed Matte Black 1 Ply Pickguard
•1 Volume Control, 1 Tone Control
•Top Mounted Floyd Rose Special (1000 Series FRT01000) for tuning stability
•Guitar 1:6.25lbs Guitar 2: 6.75lbs Combined: 13lbs
•Custom steel rods and recessed flight case latch for easy assembly
•Centered individual strap lock for true balance and ease of playability
•Wilkinson Tuners
•Includes Limited Edition ChromaCast MAB Double Case, Black Woven Strap, (x2) String Dampeners, COA, Speed Kills DVD & Signed Photo
Michael Angelo Batio Series Double-Guitar
$1499.98 street
For more info:
sawtoothworld.com
Sawtooth Michael Angelo Batio 2021 Limited Edition Sunburst Double-Guitar Overview
Learn more here: https://www.sawtoothworld.com/sawtoothmichaelangelobatiodoubleguitar Sawtooth and Michael Angelo Batio have brought you the guitar players d...