The ASTRO-20 is a 3-channel, 4-Galaxy, Built-In-USA amplifier that combines authentic all-tube tone with features ideal for today's modern guitarist.
Mike Soldano designed this sonic powerhouse to be a fully featured versatile 20w guitar amplifier. The ASTRO-20 can also be used as a stand-alone cab-less amplifier ideal for live sound, rehearsal and studio recording sessions, thanks to the DSP powered IR cabinet simulation.

The simple front panel design of the ASTRO-20 lets you save any combination of the channels, Galaxies, and IRs and quickly recall them with the included 4-button MIDI footswitch. The free downloadable Soldano Editor Software makes organizing presets and integrating your own IRs fast and easy.
3-Channels of All-Tube Tone
Despite its incredible onboard control, the ASTRO-20 is a straightforward, all-tube amplifier that is powered by two 6V6 power tubes and four 12AX7 pre-amp tubes.
There are three channels to select: Clean, Overdrive 1 or Overdrive 2.
The Clean/Green Galaxy is a high-headroom circuit reminiscent of classic American combo amps. It ranges from crystal clean to slightly pushed crunchy tones dialed in with a single Tone knob and a 3-way Bright switch.
Overdrive 1 and Overdrive 2 include independent Volume and Gain with a shared 3-band EQ. The Blue, Purple, and Red Galaxies can be assigned independently to each of the Overdrive channels via the Galaxy select switch.
ASTRO-20 1x12 Combo loaded with Celestion Greenback
The Galaxies
The Blue Galaxy ranges from bluesy cleans to fat and sparkly hard rock tones. The Purple Galaxy takes over where Blue leaves off, delivering higher gain and a tighter response. The Red Galaxy takes you on a journey starting from Soldano's iconic lead tones to a new phenomenal high-gain universe. The Blue, Purple and Red Galaxies can be assigned to Overdrive 1 or Overdrive 2 independently and saved for instant recall.
The ASTRO-20 lets you customize the overdrive channels to YOUR needs. For example, you can select the Red Galaxy for both OD 1 and OD 2 (and set the Volume and Gain differently on each channel), or OD1 as Blue and OD2 as Red, or OD1 as Purple and OD2 as Red – the combinations are endless
ASTRO-20 Head and 1x12 Cabinet
The STAR Display
All features of the ASTRO-20 are controlled right from the front panel, making it convenient and versatile. The innovative STAR display indicates which Galaxy is being played (Green, Blue, Purple or Red), while the 6 "planets" around the star indicate the current IR preset. The planet indicator will turn OFF in CAB BYPASS mode.
Soldano Editor Software
The Soldano Editor Software features an intuitive user interface, allowing you to easily assign Galaxies to the Overdrive channels, select different IRs for all three channels, load and organize your IR library, and save up to 128 MIDI presets.
Cabless Operation
The ASTRO-20 allows you safely go to the front of house, a recording device, or use your headphones without connecting to a speaker cabinet.
If you want authentic Soldano tube tone with the modern flexibility of digital control, the Soldano Astro-20 is the amp for you.
4-Button Midi Footswitch - Expanded MIDI Control
An included 4-button MIDI footswitch lets you save and access any combination of channels, Galaxies, and onboard IRs. The amp also accepts external MIDI switchers and controllers, giving you up to 128 user-created presets. You can assign and organize your presets with the included Soldano Editor Software.
Master Controls
The wide range master Presence control takes you from a tight and mid-focused response to an open, three-dimensional feel. The 3-positon Depth switch fine-tunes the power amp's bass response. You can boost or cut the bass using this switch. Depth cut is ideal for extended-range, low-tuned guitars, allowing you to cut through the mix. Depth boost beefs up single-coil guitars and at lower volumes enriches the bass response.
Celestion G12M Greenback
The ASTRO-20 combo is loaded with the legendary G12M Greenback from Celestion. Its broad mid-range attack and well-controlled low-end let's explore every tonal nuisance found in each of the ASTRO's Galaxies.
If you want authentic Soldano tube tone with the modern flexibility of digital control, the Soldano ASTRO-20 is the amp for you.
For more information, please visit soldano.com.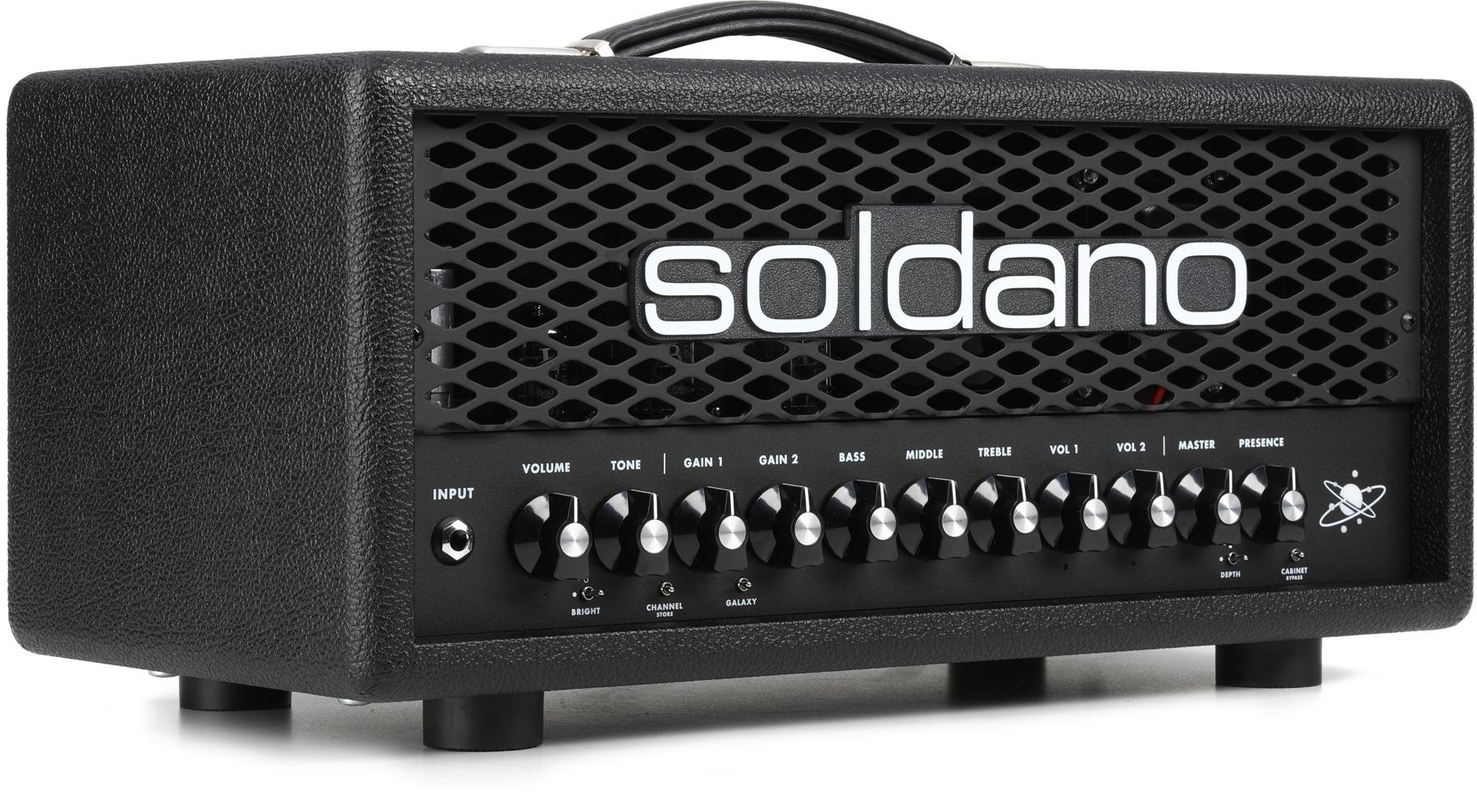 Soldano
Featuring pre- & power-amp tube-stage modeling, MIDI integration, and USB-C connectivity, the Opus is designed to deliver apex-level tone in a compact, portable package.
For deft ease-of-use, Torpedo Remote (iOS/Android/MacOS/Windows) serves as the nexus of your tone-shaping experience; simply hookup to your Phone, Tablet, or Desktop and experience liberated1:1 integration with every editable parameter in the OPUS architecture. Tonally, everything you demand from a state-of-the-art digital Amp Sim is here; whether it's a thundering high-gain onslaught, a sublime clean primed to serve as the foundation of a pedalboard rig, or a mojo-fuelled Brit-inspired roar, each and every base is covered. OPUS, it's more than a masterpiece: it's a back-line in your gig bag and a macrocosm of next-level tonal excellence

Features
Foundry- Whether it's a pristine high-headroom clean or a primo foundation for your pedal collection, Foundry delivers. In short, it's the epitome of a classic Cali clean, brimming with warm saturation and engineered to capture every subtle nuance of your delivery.
Peggy- Bass players seeking the pinnacle in low-end theory, look no further than Peggy. Pushingcomplex harmonic overtones, a warm midrange, and oodles of rafter ratlin' thump, Peggy delivers the perfect blend of classic '60s bass sonics with expertly-tuned tweak-ability to sit your tone in any pocket!
Albion- For those times when only a legendary Brit-inspired roar will suffice, there's Albion. Complete with a rich vocal mid-range, lashings of punch, boat-loads of power, and gain-for-days, Albion is your secret weapon when diving head-first into Classic- and Hard-Rock territory.
Foxy- Seeking chime, articulation, and buttery-smooth presence? Foxy's a one-stop shop! With airy heights, impeccable breakup, and sublime mid-range bite when pushing the gain, Foxy is primed to take on everything from sultry Jazz to rauch-fuelled Rock n' Roll.
NiftyFifty- Want gain? NiftyFifty's got it on tap! It's aggression incarnate. It's punchy. It's super-versatile covering everything from a warm full-throttle onslaught to a searing lead tone that cuts through any mix. Whether it's the darker side of metal or a tone that wouldn't be amiss in 80s-inspired virtuosity, NiftyFifty is deserving of any contemporary player's sonic arsenal.
Additional OPUS Highlights
Pro-grade suite of essential DSP-powered processors and effects including an EQ, Enhancer, NoiseGate, and Reverb
99 preset locations and an exclusive collection of 40+ artist-series presets from the likes of Pete Thorn, Michael Nielsen, Jack Gardiner, Tom Quayle, Adam Steel, John Browne, Jay Leonard Jay and more (available as downloads upon product registration)
MIDI input for seamless assimilation into existing set-ups; MIDI breakout cable included
USB-C connectivity for future-proofed rapid data transfer
Dual Static IR Loader and Acoustic DI with 40+ premier Acoustic Impulse Responses included
Compact ultra-portable footprint and rugged, road-ready metal chassis
OPUS is available immediately from Two Notes stockists worldwide and ships for $299.99.

For more information, please visit two-notes.com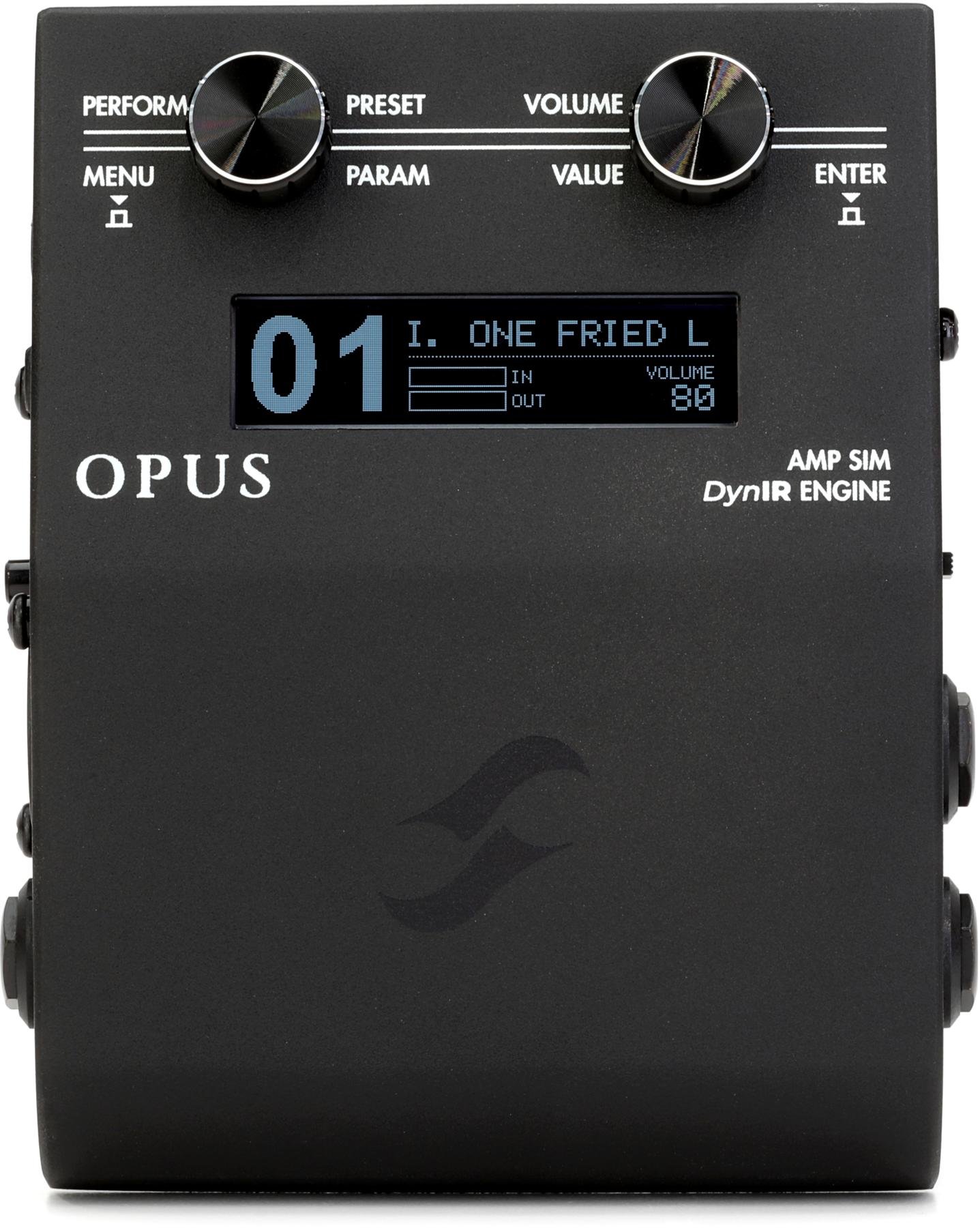 OPUS Amp Sim Speaker Sim Amp DI Pedal
Two Notes
The DC-90 is designed to offer a midrange-forward voice, snap, and natural grind.
---
Jason Lollar's P-90 was one of the pickups that first put Lollar Pickups on the map. Over the decades the company has been building pickups, a frequent request has been to offer a hum-cancelling/noiseless P-90—something that keeps their P-90's character, while eliminating the hum. After fielding countless customer requests, the folks at Lollar Pickups were inspired to take on the task.

According to Lollar pickup designer Kevin Moe, "To build a hum-cancelling pickup that is true to the tone of the single-coil pickup on which it is based means altering the design in a significant, fundamental way. And of course, that can change the voice of the pickup just as fundamentally." When experimenting with existing designs like stacked pickups and "sidewinders," the Lollar crew found that they weren't quite satisfied with the results, so they went back to the drawing board.
Moe worked on numerous iterations over a lengthy period of trial and error and ultimately landed on the design for the Lollar DC-90: a new P-90-inspired hum-cancelling pickup in a Soapbar size. It checked the boxes the company set out to check and it sounds very similar to Lollar's 50s Wind P-90, but with much quieter operation at idle. The name DC-90 is a nod to both its dual-coil (DC) design and its tonal inspiration, the P-90 (90).
The DC-90's inherent voice is musical and expressive, and of course, much quieter than a single-coil. It shares plenty with the tonal profile of a P-90 with its midrange-forward voice, snap, and natural grind.
Retail price for the DC-90 is $175 USD.
The DC-90 is available immediately and ships with a choice of black, cream, or white covers.
For more information, please visit lollarguitars.com.