A beautiful reincarnation of a classic analog phaser yields a bounty of character-rich modulation tones.
Pros: Impressive build quality for the price. More expansive and malleable voice than most vintage phasers.
Rate control could have a gentler taper at the slower end of its range.
4.5
4.5
4.5
5
Warm Audio's existence is a gift to vintage- and analog-fixated musicians with modest budgets. Their products range from very affordable homages to legendary studio equipment, like the Universal Audio LA-2A compressor and the Neumann U67 microphone, to rare and expensive vintage stompboxes. Given their affinity for replicating such treasures in the aesthetic and functional realms, it's little surprise they built a tribute to the Mu-Tron Phasor II. Original Mu-Tron effects were candy for the eyes and ears. They were brilliant designs inside and out. And creator Mike Beigel and his team always made certain their products offered unique, deeper, and different sounds and functionality. The fruits of Mu-Tron's efforts to create a stand-out phaser live on in the Mutation Phasor II, which is a beautiful, enveloping work of modulation machinery.
Optical Feast
Warm Audio loves honoring the design and aesthetics of their inspirations, and that ethos is on display in the Mutation Phasor II. The knobs are identical to the Mu-Tron's. The beautiful orange/red/purple fields that differentiate each control are the same, too. Even the bent-aluminum enclosure is a dead ringer down to the position of the screws that hold the enclosure together. The Mutation is pretty on the inside as well. The optical circuit (the modulation intensity and rate are controlled by a light source and a photosensitive resistor) is tidy for a pedal in this price range. Components are soldered to the through-hole board and the input and output jacks are mounted to the enclosure. On the whole it looks an easy pedal to service should something go amiss. Warm Audio's knack for authenticity even extends to the ability to power the pedal with a 9-volt battery, though you'll have to undo eight screws to get to it. So, if you think you might be running low on juice, best to get at the battery well in advance of your show.
Luxuriating in the Swirl
The Mutation's controls are simple. But each has a sensitivity and range that make the Mutation a delight to use and fine- tune—an experience that is compounded by the beautiful, spacious, ergonomic, period-correct layout. (Production and synth artists take note: This is a lovely piece of gear to work with on a desktop).
My affinity for glacially unfolding dreamy guitar music and ambient textures means I appreciate a phaser that feels full at its slowest rates. The Mutation's 6-stage voice excels in these lazy cycles—sounding warm but nearly subliminal at very low depth and feedback levels. You don't have to push the rate too far past its slowest rate, though, before the characteristic and intoxicating throbbiness of the optical circuit feels more pronounced. You'll also notice that rates you'll find at about 10 o'clock on a Phase 90 or Small Stone come on as early as 1 ½ or 2 on the Mutation's rate dial. By 3 or 4, the Mutation's phases become as percussive as they are syrupy, though these sounds can be softened by the sensitive depth and feedback dials, lending some of the flavor of a Magnatone amp's wobbly vibrato or, more convincingly, a rotary speaker. In general, the Mutation rate knob favors more fluttering, fast modulation phases. That is no bad thing, and it's a kick to work with the pedal's fastest rates, which range to metallic hummingbird-wing flutter. Traditional rock players might not have much need for these sounds, but players that relish unusual, clashing tone colors and enjoy arranging songs around them will love its capacity to have it both ways.
The depth control is similarly rangeful. The most modest settings background the phase at sweet, just-barely-perceptible levels, while deeper settings are super elastic. It's the feedback control, however, (which was a rarity on '70s phasers) that really extends the Mutation's flexibility. At lower depth settings it can alter the EQ profile of a phase—emphasizing metallic high-mid content or making room for more rubbery low-frequency tones. At higher depth settings, it makes the pedal sound more vocal, adding more extreme "wow" and wobble that hints of vintage analog oddities like the Ludwig Phase II.
The Verdict
For many players, the joy of vintage-style phasers is their boneheaded, 1-knob simplicity. But there are so many beautiful textures to be found in the interrelationships between the Mutation's three rangeful, sensitive controls and its very vintage analog voice. When you consider the price, quality, and practical beauty of this device, it's easy to be tempted by its charms.
Warm Audio ODD and Mutation Phasor Demos | PG Plays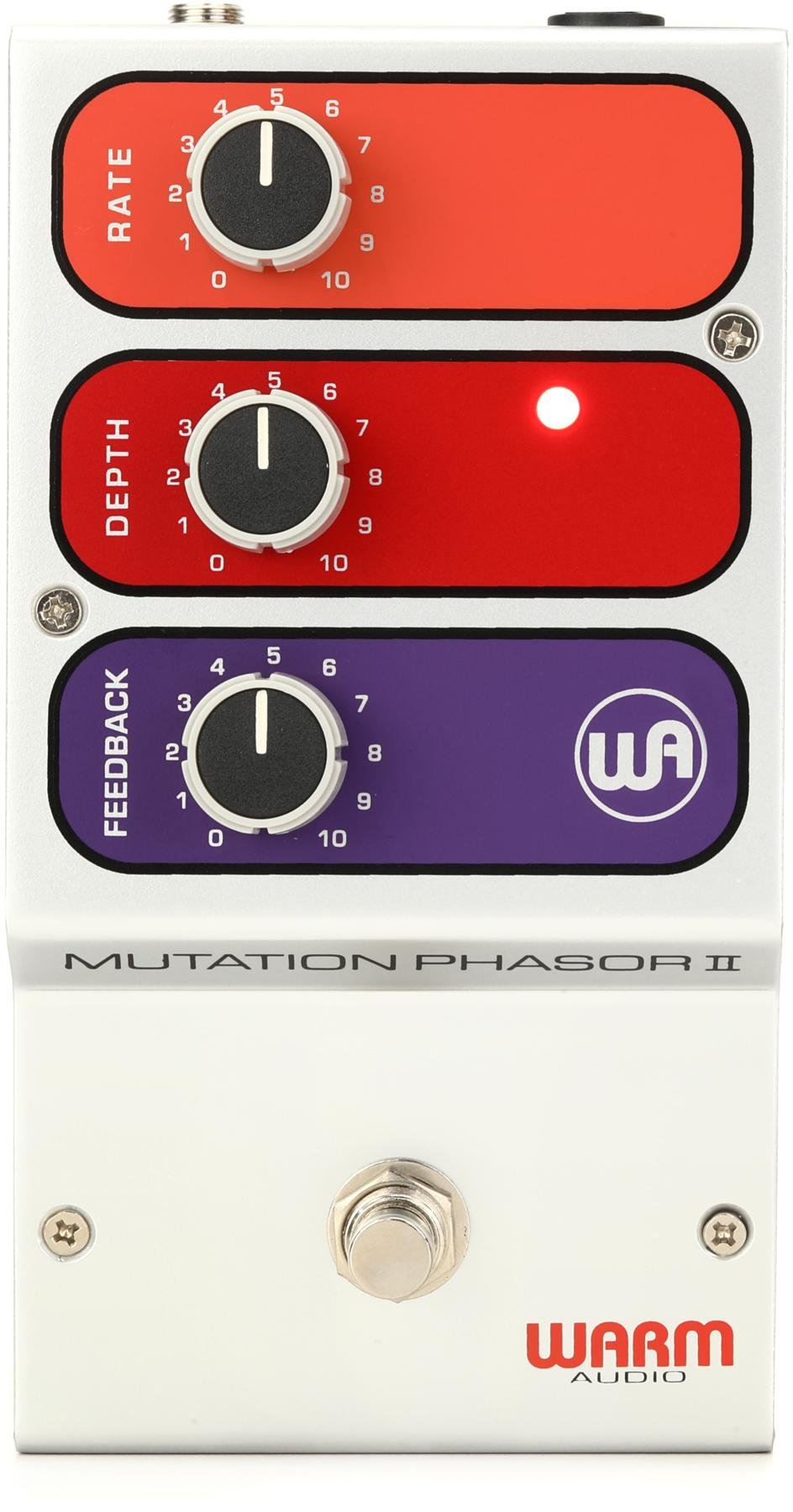 Warm Audio
The Rascal returns in an affordable, stylish format—this time with hot humbuckers driving the works.
Gorgeous lines. Balanced, comfortable design. Super playable. Excellent quality. Sweet value. Varied high-output tones.
Humbuckers mean less vintage headroom.
4
4.5
4.5
5
Whether you're a bassist or a guitarist who occasionally fills in as one, short scale basses can be a source of joy, ease, and worlds of expressive potential. Great ones feel like lightning under the fingers. They pack a punch in the fundamentals. And the right ones look and feel a little less like an oversized Viking war ax if you are not a towering Viking. In the case of the newest version of the Rascal, the Paranormal Rascal Bass HH, all of those attributes come together in a bass that's potent and cuts a unique and beautiful silhouette. And though it may be an amalgam of elements from less iconic but beautiful Fender shapes (not least the Fender version that preceded it nearly a decade ago), the Paranormal Rascal Bass HH is a striking, well-proportioned instrument that looks gorgeous and fits like a glove.
Offset Offspring
The first Rascal was an experimental prototype built by Fender Custom Shop master builder Jason Smith for the 2014 NAMM Show. The original version featured a few very substantial design elements. The sweeping bridge was inspired by the tailpiece on the Guild Starfire bass. The headstock matched the contoured take on Fender's trademark headstock that graced the Coronado hollowbody line. The lipstick pickups, meanwhile, were a clear nod to Danelectro. The new Squier version sticks a little closer to Fender convention, and the shared parts bin. The bridge is a Mustang unit, while the pickups are a big, contemporary variation on the Fender Wide Range bass pickup that 1970s Telecaster basses made famous. Like Smith's original Rascal, the Squier version is a pretty thing, and the combination of Fender design elements feels more like an organic whole than a product of Frankenstein's secret bass lab.
The bass is well balanced. Neck dive is a non-existent problem, thanks perhaps in part to the biggish Bass VI body, which has ample mass in the lower bout, and the instrument's 30-inch scale length. The body contours will feel familiar to any player that makes a Jazz Bass home, and the length has the effect of making the Rascal feel substantial where its short scale cousin, the Mustang, can feel almost toylike. It feels very much of a piece, too. So much so that it rattles the ribs with resonance before you ever plug it in.
The neck is lovely. It feels more than a little like a Precision Bass neck in spite of the 4-inch difference in scale length. Again, the curvaceous body probably has a part in this sensory illusion. For more obvious reasons, it also evokes the feeling of the more substantial 1960s Mustang necks I've met. It's a great compromise between fat and thin.
Robust and Rascally
Curiously, the Rascal is the only bass in the Squier or Fender lines that uses Wide Range humbucker bass pickups—either in cunife or more conventional pole-piece formats—which makes you wonder what else the company has in store for the type. (I know a few players that would love to see a Telecaster bass.) And as their impressive, gleaming visual presence suggests, they are a bold-sounding lot. Almost needless to say, they are loud. They'll out-thump a Precision in terms of sheer volume. And they'll blow the Rascal's short-scale stablemate, the Mustang, out of the water when it comes to output and mass, which is a smart move in terms of differentiation among Squier bass models and features.
It's a safe bet that the Rascal's style and price will make it popular to younger, more punk- and punk-pop-aligned players. But the Rascal would not be out of place in an Albert Hall-era Cream tribute band, and could probably give a Gibson EB-0 a run for its money in terms of punch. The tone differences between the pickups, too, lend real utility to the Rascal's attitude. Bridge position sounds are in-your-face and bossy, and will induce breakup in 10" speakers with the right amount of amp push. They can also drive a fuzz or overdrive to fizzy heights. In combined mode, you can use the bridge pickup's mid-forward attributes to convincingly coax Rickenbacker-like tonalities. And the neck pickup has the personality of a gentle bear. I loved using it for mellower, vintage-style sounds.
The Verdict
The Squier Rascal impresses on many fronts. The construction quality is excellent for an instrument in any price class, but it's particularly impressive for an accessibly priced bass. The lines of the instrument are elegant, pretty, and proportioned in a way that suggests an original design rather than an amalgam of existing style moves. But the best thing about the Rascal is the way it feels. It's an instrument that will inspire confidence in a pro or a beginner (and it is very cool, indeed, to imagine a player getting to learn the ropes on this fine machine).
The pickups won't be everyone's lot. They are pretty aggressive and have little of a 1960s-style Precision's or Mustang's high-headroom, rub-a-dub contoured edges in the voice. These are rocking, punky-sounding units and, even with volume and tone attenuation or foam dampening at the bridge, they pump out weight and attitude. For most tunes, these pickups will be a great fit—provided the player has a sensitive touch. But it's hard to not recall the original Rascal's lipstick units and wonder what a little less output could do for such a great feeling bass. Then again, this Rascal is a Paranormal Series instrument, and it exists to accomplish the unconventional and unexpected. Who knows? Maybe a future iteration of this beautiful bass will be more tuned for vintage ears. In the meantime, even strict low-output adherents will likely find something to love in the way this fantastic value looks and feels.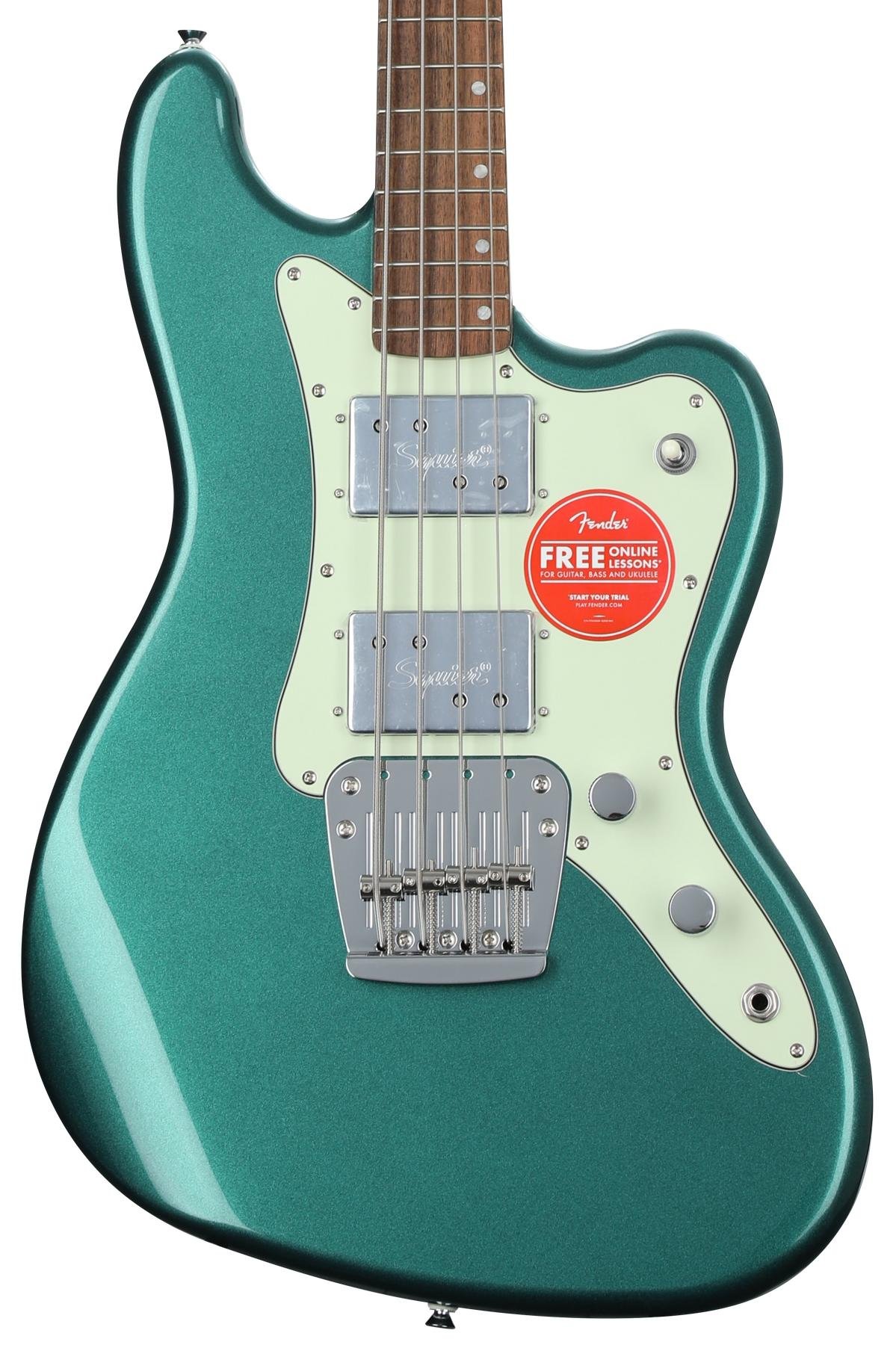 Squier
Deconstructing mechanical vibrato leads to bold and bizarre sonic ends.
Unconventional approaches to pitch shifting yield creative results. Clever design on hardware and digital fronts. High-quality build.
Can be less than intuitive. Considerable learning curve. Expensive.
4
4.5
3.5
3.5
It's impressive to consider the ways Bigsby vibrato systems have been thrashed, massaged, and otherwise put to work in the service of making guitars sing in more emotional, weirder, and more humanly vocal ways. For my money, it's one of the coolest improvements to the 6-string guitar concept ever.
There is something about the primitively mechanical manner in which a Bigsby works and feels that makes it uniquely fun among vibrato systems. Even the way it looks like a very beautiful motorcycle grafted to the face of a guitar is cool. But what's interesting about Gamechanger's Bigsby digital pitch shifting pedal is that it doesn't merely reproduce the function of a conventional Bigsby. Instead it explodes the basic functions and capabilities of mechanical vibrato, making this very vintage-inspired piece of gear into a modern funhouse of polyphonic pitch-shifting possibilities. It's full of surprises, and in the get-to-know-you phase, you'll probably experience more than a few "what the hell?" moments. But for a lot of players these quirks will be delightful revelations. Indeed, someone out there may well invent a whole style of playing with this pedal.
Moving the Goalposts
Gamechanger puts a lot of time and resources into developing brilliant, mutant, and far-out pedals. That's a compliment, and the guitar world is a better place for having these people around. It's a delight to imagine the brainstorming that led to conceiving and executing this pedal. But the Gamechanger Bigsby is complex enough that there were probably a lot of challenges and headaches to deal with, too. The Gamechanger Bigsby is an ambitious design, and with MIDI control capabilities, 10 preset slots (which are accessible via MIDI program change messages), and a trove of interlaced functionalities that yield unexpected sounds and profoundly change the manner with which you interface with the pedal, Gamechanger must have had their work cut out for them to fit it all in.
"It's a delight to imagine the brainstorming that led to conceiving and executing this pedal."
On the surface, the pedal doesn't look that complex. Apart from the foot-actuated vibrato arm—which here echoes the look of a traditional Bigsby, in an elegant "7" shape—there are three, dual-function, sideways-oriented rotary knobs. The three knobs can be adjusted pretty readily with your toe and illuminate in different colors and in various intensities and pulses to indicate status and level. They regulate depth (the number of semitones the pedal will detune over the pedal's travel), wet/dry blend, and rate (which controls how precisely the pitch follows the travel of the pedal). In secondary mode, which can be accessed via a small button on the pedal's face, the knobs regulate detune, a function that emulates the asymmetric detuning of different strings, and tone, which adds brightness to the wet signal. In secondary mode, you can use the depth control to regulate entirely different semitone ranges for pitch-up and pitch-down actions. The pitch-up-/pitch-down orientation of the rocker pedal can also be switched so that heel-down positions pitch up, and vice versa. You can even use the pedal to double as an expression pedal for other effects.
Wobbly on Yer' Feet
Gamechanger says that the Bigsby can be set to approximate the sound of a traditional vibrato. I didn't achieve those results so easily—there's just no way to make your ankles and feet move in concert in quite the way your wrists and fingers do. And if, like me, you're the kind of player who keeps a vibrato arm in hand for much of the time you play, you'll find some nuances of that technique hard to replicate. Nevertheless, by using the pedal's arm in the fashion of a wah treadle, applying a tender touch, darkening the tone, and keeping the semitones of travel within a modest range, you can color chords and spacious single note lines with sweet, organic pitch feathering that can animate a simple instrumental section beautifully. At these same settings, you can also twang away in classic Duane Eddy style as heard in audio Clip 1.
Transforming the Gamechanger Bigsby from a vibrato arm stand-in into something entirely different doesn't take much effort. Quick changes to the depth and rate controls can turn the pedal into a pretty sweet-sounding vibrato/chorus/rotary speaker pedal that you can manipulate to create pitch wobbles of subtle or pronounced intensity (Clip 2). Changing the rate and darkening the tone yet again enables sleepy warped record textures that can transform and deconstruct pedestrian instrumental sections (Clip 3). And, if you put the right fuzz on either side of the Bigsby, it's possible to replicate Kevin Shields' melting Jazzmaster vibrato haze with a very vibrato-less Telecaster(Clip 3, section 2).
The Verdict
The textures described here really only scratch the surface of what the Gamechanger Bigsby can do and the demented ways in which it can twist the mechanical vibrato concept. There are easier ways to achieve many of these effects, but the unexpected paths the Gamechanger takes to those ends is a deep creative well, and it's a great tool for those that savor unexpected musical results. Is it easy to use? Not exactly—at least in the early going. It takes practice to master the basics. The mechanical action of the pedal can feel a touch alien, and extracting the most from the pedal takes a bit of deep diving that, in the end, is well worth it, but takes time. On the other hand, it rewards blind experimentation, and this approach to using the pedal yielded some of my most fruitful discoveries. However you approach it, the Gamechanger Bigsby is an instrument that starts to live up to its creator's bold company name. And if you like non-traditional, off-kilter, and unsubtle applications of pitch shift, the Bigsby is a riff machine in waiting.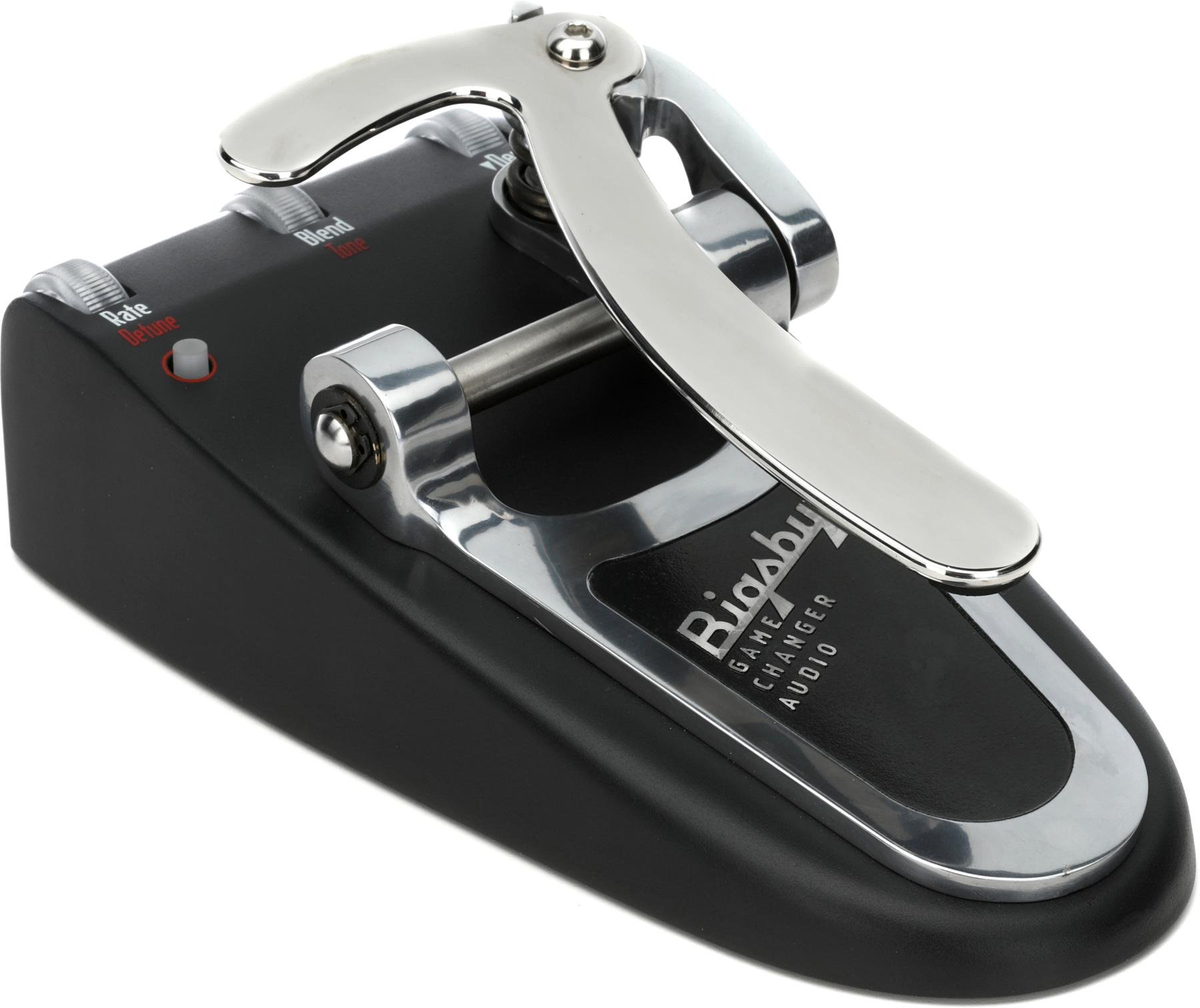 Gamechanger Audio