The Philly punkers balance tranquil with treacherous via a P-90-loaded Reverend ripper, a crucial, cascading ZVEX Double Rock, and a rabid, big-bass Rat clone.
About 10 years ago Mannequin Pussy bubbled up from the percolating Philly rock scene. Formed by guitarist/singer Marisa "Missy" Dabice and drummer Athanasios Paul, their primary calling card was a stinging combination of snippy and sizzling ragers.
The lineup was eventually filled out with Drew Adler (drums) and Colins "Bear" Regisford (bass). (Paul moved to lead guitar in 2013 and Kaleen Reading took over for drums in 2015. Ultimately, Paul left earlier this year after recording Perfect.)
Over the course of three albums and a remarkable brand-new EP, the band's sound has expanded, evolved, and deepened with more engaging melodies, gallant songwriting, and stouter song structures. Through time, gigs, and reps, Mannequin Pussy progressed beyond the linear rage often dished by young punks. The brazen, brash, locomotive charm in Marisa's lyrics and the band's expansive sound has become fully complemented by a refined approach with smoother, swelling dynamics and sharper care of their craft.
Touring in support of late 2019's Patience and the pandemic-produced 2021 EP Perfect (both released on Epitpah Records), Mannequin Pussy's Dabice and Regisford invited PG to Nashville's High Watt for a gear chat before their sold-out show during their first-ever headlining run. Just ahead of soundcheck, Missy gushed about her first P-90 guitar, while "Bear" admits that his Player Precision proves he should've always been a P dude. And they each detonate the boom with their own strategic stomp of stank.
(Sadly, shortly after this Rundown was filmed, on October 23, Mannequin Pussy had their van, gear, and band merch stolen from outside their Akron, Ohio hotel room. BrooklynVegan chronicled the disaster with some MP Instagram posts and a link to their GoFundMe page. Thankfully, the van and some merch have been recovered, however, all their equipment is still missing.)
[
Brought to you by D'Addario XPND Pedalboard
:
https://www.daddario.com/XPNDRR
]
Three P-90s and the Truth!
During the band's last pre-shutdown tour, Missy broke a string on her Strat (more on that one in a minute). She didn't have a backup and the opener let her borrow their Reverend. From the first chord, she was hooked.
"The minute I plugged in this guitar, I looked around and said, 'What the fuck is this thing?!' [laughs] It sounded so good." She started investigating Reverend and quickly decided to treat herself to a brand-new Jetstream 390. While she only had the guitar for about a month when we filmed, she already appreciated how its Rev 9A5 P-90s were much quieter than her Strat single-coils. The band typically plays in standard (they wrote one song in drop A) and the 390 takes Ernie Ball 2215 Nickel Skinny Top/Heavy Bottom strings (.010–.052).
Mean Green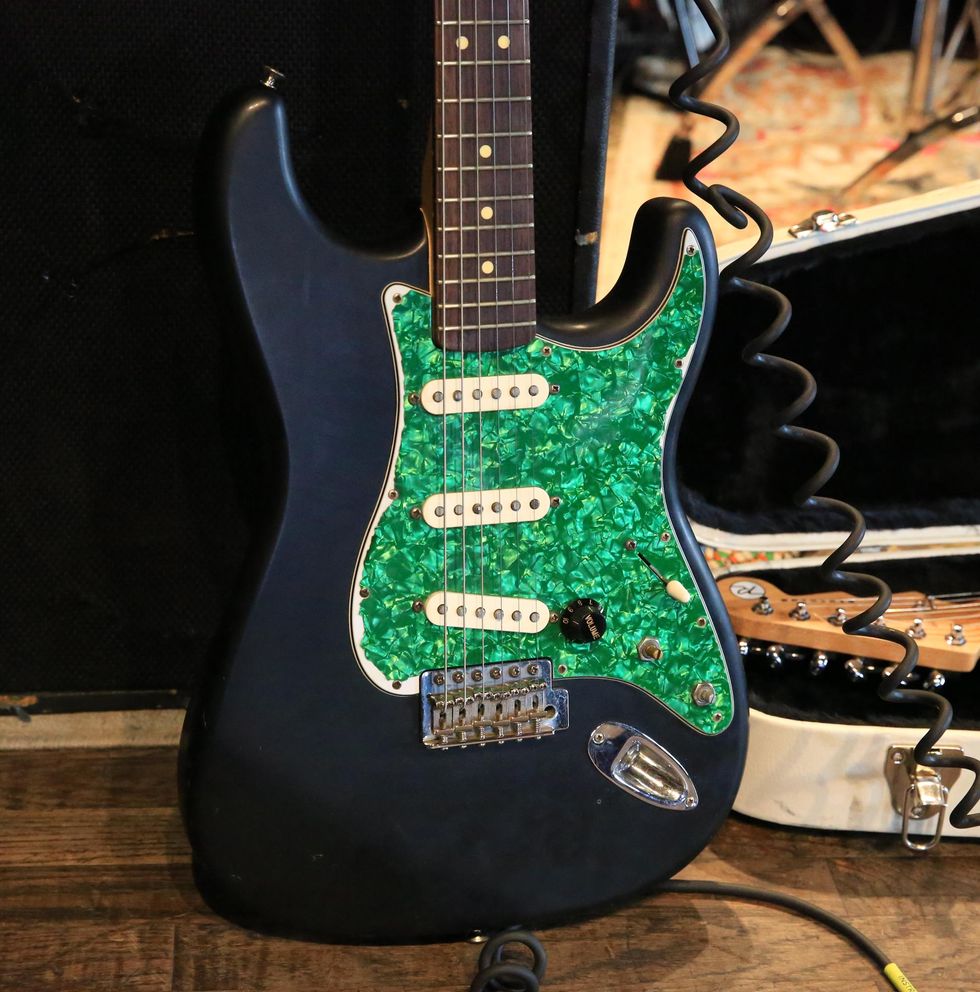 For the first six years of Mannequin Pussy, if you saw Missy, you saw this Strat. Three days before MP's first tour, her house was ransacked including her beloved Jaguar. ("It was the first guitar I spent real money on.")
She rushed down to a local Philly guitar store and scooped this Fender MIM Strat. The last half-dozen years she upgraded all its hardware and pickups, but it was still no match for the Rev Jetstream 390.
Bring It!
While recording 2016's Romantic, Missy plugged into the brother of this head. Loving how it sounded in the room and on tape, she asked the New Jersey homebuilder if he'd do another. The Dark Moon, a sun-yellow head has a circuit based on '70s Traynors. It rocks through a no-name 2x12 cabinet. Besides how good this amp sounds, the best part might be the "on" switch that's labeled "bring it." (The Drkmttr sticker is for a Nashville-based volunteer-run underground arts collective for artists of all kinds.)
Ambiance and Aggression
Mannequin Pussy lives life in the fast lane. Swift, succinct, missile-like songs fill their catalog. On the flip side, there's a balance of beauty and buoyancy that counters the rage. The two personalities are encompassed on Missy's board. The anger comes from the ZVEX Double Rock Vexter and EarthQuaker Devices Hoof. The prettier mood breezes on the backs of the Strymon BigSky and Electro-Harmonix Deluxe Memory Boy. A Boss VE-20 Vocal Performer Effects Processor further animates Missy's singing. And a Voodoo Lab Pedal Power 2 Plus juice the stomps while the Ernie Ball VPJR Tuner keeps her guitars in check.
Bear's Goldilocks Bass
Regisford's lone bass on this run was a Fender Player Precision that's all stock except for an upgraded Badass bridge. He rides with Ernie Ball Power Slinkys (.055–.110) on it. Throughout the set Bear will switch between fingerstyle and hammering with a pick. When he gets rocking, he'll strum with a Dunlop Tortex .88 mm greenie.
Tiny but Mighty
After touring with lunky stacks, Colins was on the lookout for an amp that was portable but still blasted. His search ended when he encountered the Orange Terror Bass that belts out 500 watts and is relative of the favored AD200 Bass head. The diminutive dominator runs through a SWR Big Bertha 2x15 cab (covered by Deebo from Friday.)
Don't Shred on Me, Bruh!
Bear was upfront and honest when going through his pedalboard explaining that the EQD Bit Commander and Afterneath plus the Boss DD-6 Digital Delay are just-for-fun effects. He will randomly kick them on throughout the set when he's feeling it. The key to his tectonic-shifting tone is the Abominable Electronics Don't Shred on Me that is a Rat clone (using the same LM308 chip) with some capacitor changes making it a low-end blanket of dirt and drive. Everything comes to life thanks to the Walrus Audio Aetos.