The inspiration behind this young reader's build came from getting hooked on 7-strings, and an admiration for John Petrucci.
The story behind this guitar is pretty funny. Since Dream Theater caught my ear and I heard the thick tone of a 7-string guitar on "The Dark Eternal Night," I wanted, needed, a 7-string. However, there was one small problem: getting this new piece of gear approved by my mom. She'd always say, "Stick with your 6-strings," and, "You don't need another, you already have three." (GAS—or "gear acquisition syndrome"—has made this difficult.) But whenever I'd walk into a guitar store and pick up a 7-string, I wouldn't want to put it back.
Then, one day in chemistry class, I decided to check Reverb and see what the prices are like on Ibanez JPM100s these days. Not surprisingly, they're reaching $10,000. I kept scrolling until I saw a set of bare guitar bodies with the Picasso faces engraved in the wood with a CNC machine. The gears started turning. I sent a link to my dad and said, "Thoughts?" Later, at dinner, my mom OK'd the idea. The journey began.
I ordered the basswood body from Perle Guitars via Reverb with an Ibanez Lo-Pro Edge from a retailer in Germany. I got the pickups from DiMarzio with the goal to get it to sound as similar to John Petrucci's as possible, by using his signature Crunch Lab and LiquiFire set. I even got the toggle switch from DiMarzio, which allowed me to have a split-coil sound in the middle position. I put 500k CTS pots and a .022 µF cap on the tone knob. I ordered locking tuners from Gotoh.
The biggest issue was sourcing the neck. I couldn't find a single builder who builds custom Ibanez AANJ necks, which left me with buying a used neck from a parted guitar. The wait for the right neck lasted around three months. I bought a 2000 Ibanez RG7620 neck in practically mint condition from Uplander Guitars in Canada. I used black, gray, and red stains I bought locally. The idea for it was to look almost robotic with red eyes and avoid too much of a copycat look, hence the color choice.
Knowing I was going to John Petrucci's Guitar Universe 4.0, I decided I may as well show it off and get it signed. It was the right choice. This guitar was a head-turner and even brought in compliments from Tosin Abasi and Aaron Marshall. The signatures on the back include Al Pitrelli, Scott Weis, Zakk Wylde, Tim Henson, Scott LePage, Tosin Abasi, Guthrie Govan, Rena Petrucci, Mike Mangini, Dave LaRue, Lari Basilio, Jason Richardson, Plini, Fredrik Åkesson, Ola Englund, Captain Fawcett, Joscho Stephan, and, of course, John Petrucci. There are two steps left: filling in the engraved channels with resin mixed with blue glow-in-the-dark powder, and applying a clear coat to preserve the signatures for virtually forever.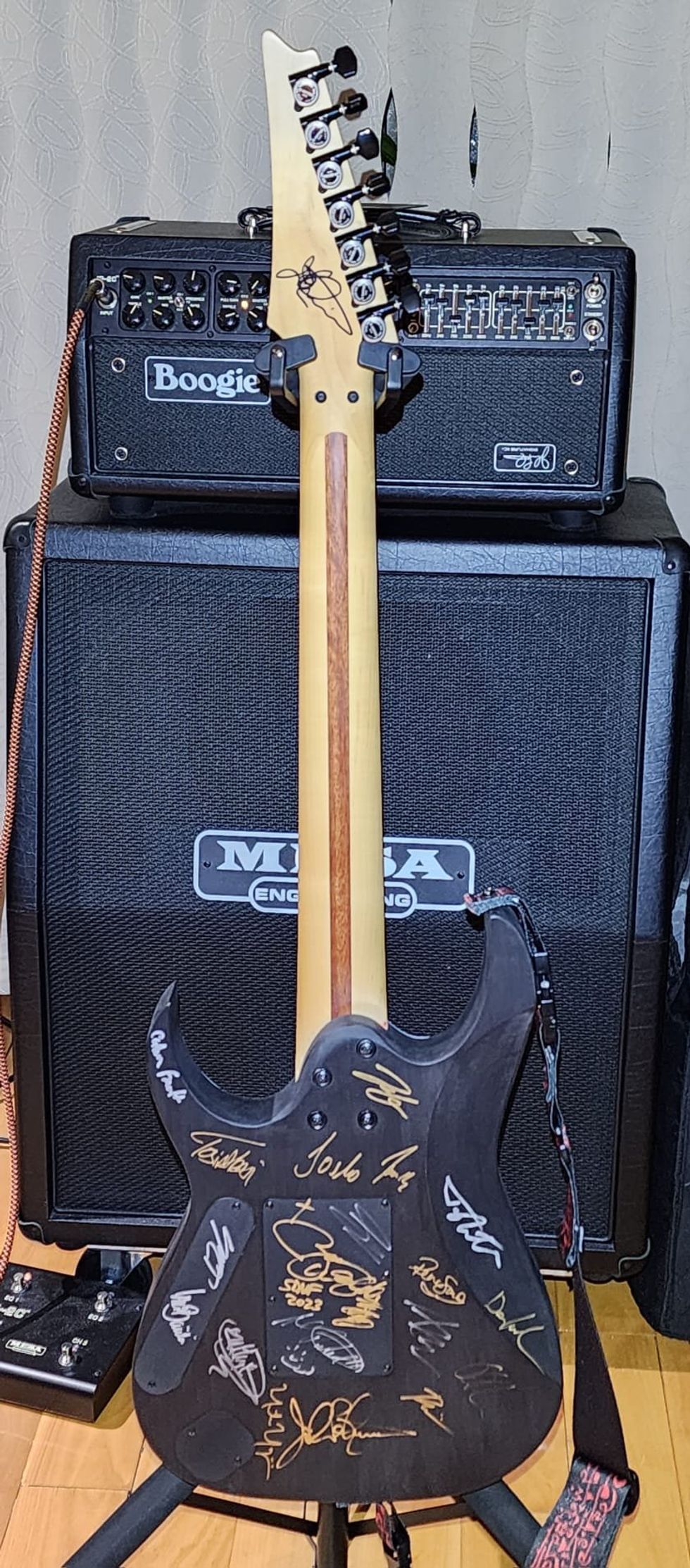 Submit your guitar story at premierguitar.com/reader-guitar-of-the-month
If your story is chosen, you'll also receive a $100 virtual gift card from Allparts, the industry's leading supplier of guitar and bass parts! All entrants will receive a 20-percent-off coupon to allparts.com.
Please note that the coupon cannot be combined with other promotions.