Dissecting the foundations of Mötley Crüe''s sound
The sound engineers at OEM Inc. have spent thousands of hours with the original masters of the most famous songs ever recorded. They use them to create products like Jammit, an iPhone app that allows you to remix and play along with those original tracks. There are many, many things to learn from those original tracks. Through a partnership with Gearhead Communications, OEM Inc. engineers are sharing their discoveries exclusively with Premier Guitar readers in what we like to call Secrets of the Masters

"Looks That Kill" by Mötley Crüe
From the album Shout at the Devil (1983 Elektra)
Produced by: Tom Werman
Engineered/Mixed by: Geoff Workman
Recorded at: Cherokee Studios in Hollywood, California
Available in the JAMMIT "Mötley Crüe, Vol.1" application
Mötley Crüe has always been known for their wild antics and endless debauchery, but listening back to their earlier albums, it's apparent they are much more than womanizing, drug-dazed party animals. Their second album,
Shout at the Devil
, launched the band into mainstream notoriety, and it would be looked on as one of their strongest albums musically. Released well before the swarms of wannabe '80s rock bands, "Looks That Kill" was quintessential Mötley and it cemented the band's rightful place in music history, influencing the next generation of rock 'n' roll in the process. While we were mixing several songs from
Shout at the Devil
for Jammit's Mötley Crüe bundle, "Looks That Kill" was the standout track when it came to dissecting the tracks and recreating the original mix. Let's dig in and I'll tell you why.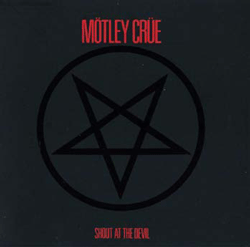 The original LP cover of Shout at the Devil.
Recorded in the band's adopted hometown of Hollywood, California,
Shout at the Devil
was definitely a step in the right direction both musically and sonically. Having garnered some success with their first album,
Too Fast For Love
, and having secured a big record deal with Elektra, the Mötley boys had the resources to get into a world-class recording facility where they could spend the time necessary to carve out their signature sound. Dubbed one of the best recording studios in America, Cherokee Studios would play host to the recording sessions that would ultimately lead to a bigger and better Mötley Crüe sound. Recording aficionados may recognize Cherokee as the home to one of only a few Trident A Range consoles, which even today are renowned for their amazing sound and which most certainly left a sonic imprint on "Looks That Kill."
Larger-Than-Life Foundations
Any Tommy Lee fan most likely knows, and hears, the influence that Led Zeppelin drummer John Bonham had on him. And listening to the isolated drum multi-tracks shows an intentional lean toward a more open and lively Bonham-type sound. The drum tracks consisted of two kicks (one for each drum in Lee's double-bass setup), a snare, stereo tom tracks (several toms bounced down to a left and right pair), a hi-hat, an overall stereo kit track, and a mono ambient track. I always loved the wide-open kick sound on this album, which was a welcome departure from the tight, dry, overly muffled drum sounds of the late '70s. The cracky, bright snare complemented the kick drum nicely, and when mixed in with an abundance of the overall kit and room microphones, it made for what would eventually become a Tommy Lee signature: larger-than-life drum sounds. Having worked extensively with Tommy in the studio, I can attest to the amount of time that would've been spent tweaking and experimenting with the drums and the microphones to make sure everything sounded big and bombastic. Tommy would repeat this concept again on "Girls, Girls, Girls," on which he experimented with drum triggers, and then again on the album Dr. Feelgood, creating one of the best drum recordings known to rock 'n' roll.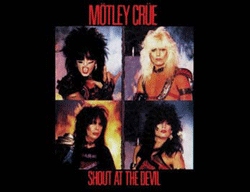 The album was reissued in 2003 with added bonus tracks on the Crüe's own label, Mötley Records.
As soon as I deciphered the track arrangement for "Looks that Kill," it was apparent that songwriter and bassist Nikki Sixx wanted to expand on his sound as well. There were three tracks for bass: a DI track and two amp tracks. Most recordings from this era typically only have a direct track or an amped track, but the fact that three separate bass sounds were recorded was evidence of the attention placed on the overall sound of the rhythm section. The amp sounds like a slightly overdriven Ampeg SVT, with one track having a lot of midrange bite and the other providing a substantial amount of low end. All three sounds were combined in relatively equal levels to provide the complete sound. The sound of Nikki's bass and amp in this song lends itself well to the solid pedaling of Tommy's drums and Mick's guitar. I couldn't detect any drums leaking into the bass tracks, which leads me to believe that they were overdubbed after the drum tracks were complete.
Wide-But-Tight Guitars
The guitar tracks in this song provided the biggest surprise. Being a fan of Mick Mars and his love of gear, I figured most Mötley albums were tracked with many tracks of layered guitars using different amps, pickups, etc. But for "Looks That Kill" there was only one performance of the rhythm guitar track, but two separate tracks. One track was panned left and consisted of a microphone that was quite close to the cabinet. The other track was of the same guitar signal and performance, but it was a distant room mic that, when panned hard right, combined with the close mic to create an awesomely wide but tight stereo field. The same technique was used for the solo overdub. I know Mick has always used a combination of amps mixed together, so I'm not going to speculate about which amps were used for this song. All I can say is that the thick, nasal distortion found on almost all Mötley albums is instantly recognizable, and when it's combined with Mick's unique style it creates a sound that blends well with the rest of the band's instrumentation.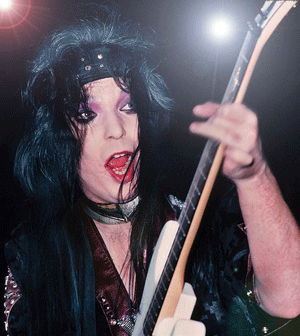 Mötley Crüe's Mick Mars. Photo by Ken Settle
Sparse Vocals
Like most early-era hard rock songs, Vince Neil's vocal tracks in this song are relatively sparse, production-wise. There is a single lead vocal throughout the song, with a double in the chorus. Unlike some of the other songs from Shout At The Devil, I can't hear too many punch-ins, which leads me to believe that Vince's performance in this song was lightly comp'd (most likely in whole sections) from a few different takes. In the mix, a slight slap delay and reverb was applied to give it some of the space that Tommy's live drums and Mick's distant amp mics created. Additional production in the song included a synth drone in the chorus that followed the implied chord changes of the guitar, as well as some background and gang vocal tracks. I can imagine it now, the Mötley boys surrounding a single vocal mic chanting, "She's got the looks that kill!" Classic.
Sonic Magic
Throughout Mötley Crüe's storied past, there have been many accounts of recording sessions that consisted more of girls, drugs, and parties than actual recording. And although the Crüe most likely wouldn't deny that fact, they'd also be the first to relive some of the musical and sonic magic that was captured during those times. "Looks That Kill" and
Shout at the Devil
were the foundation that the next 25 years of Mötley Crüe would be built on. It was the first time—but certainly not the last—that they really found their own sound, and today it continues to stand the test of time.
Chris Baseford is a Canadian-born recording engineer/ mixer/producer who has worked with some of the top names in the rock music world. Having spent many years mixing on large format analog consoles, Chris has made the transition to mixing "in-the-box" and continues to push the boundaries of what is possible in the all-digital domain of music production.