Bludgeoning, beautiful, jarring, and serene are just a few of the cinematic moods conjured by this doomy, fuzz-loving husband-and-wife duo of Sarah and Mario Quintero.
When the Loch Ness Monster gets its summer blockbuster return, Spotlights should score that silver-screen comeback. Just like the mythical creature, the power trio summons up emotions that teeter from impending doom and chaotic destruction to a delicate beauty and alluring mysticism.
The band got its start just over five years ago via husband-and-wife duo Mario (guitars/synths/drums/vocals) and Sarah Quintero (bass/guitars/vocals). Often Sarah crushes like a mallet while Mario pierces like a katana—proving the couple that plays together, slays together.
Their earliest work features the pair handling all instrumentation. Mario previously was the drummer for Machines Learning, so they were able to assemble their self-released debut EP, 2014's Demonstration, then 2016's long-player Tidals, followed by 2017's Seismic (their first on Mike Patton's Ipecac Recordings). When it came time to hit the road, they would often tap drummer Josh Cooper until scheduling conflicts (in)conveniently intervened, putting Chris Enriquez on their radar. He filled in on a tour when Spotlights opened for If These Trees Could Talk and became a permanent member, lending his boom to both 2019's Love & Decay and 2020's EP We Are All Atomic. The fortified lineup have honed their punishing dynamics, making the pastoral more tranquil and the destructive more devastating.
While working on new material that will most certainly cast murky shadows and crescendo-ing crushers, Mario and Sarah virtually welcomed PG's Chris Kies into their Pittsburgh-based jam space. Inside this episode, we find out why they avoid cork-sniffing in favor of any gear that works. Mario showcases a digital-meets-analog setup that could power a SpaceX rocket, while Sarah describes and demos the elements for her bass thunderstorm. Plus, she divulges how gear swaps—especially pedals—not only keep the marriage fresh but continues enriching the band's blossoming sound.
[Brought to you by D'Addario Backline Gear Transport Pack: https://ddar.io/GigBackpack-RR]
Fender Player Stratocaster HSH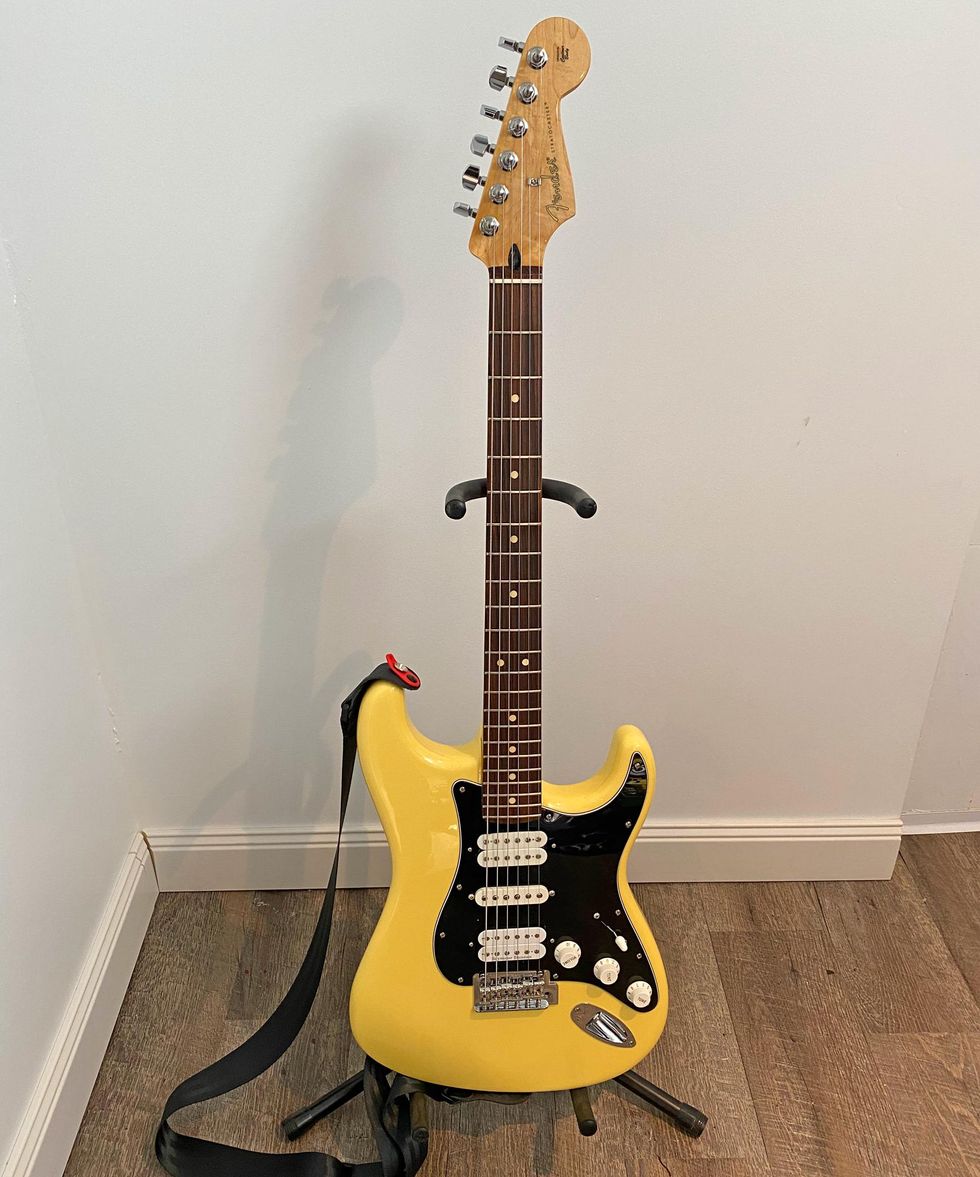 Over the last five years, Spotlights guitarist Mario Quintero has been in exploration mode. He's been testing out all sorts of gear without searching for any particular tone or goal in mind, to see what works and what doesn't. This Fender Player Stratocaster HSH has been part of that process. So far, he's enjoyed playing the Strat because of its comfortable neck and a shape that contours to his body.
The night before filming with PG, Quintero replaced the stock bridge 'bucker with a hotter Seymour Duncan SH-14 Custom 5. Quintero typically tunes to drop B and sometimes even drops the low-E string to F#. Currently, the Strat takes Ernie Ball Beefy Slinkys (.011 –.054).
Dunable Cyclops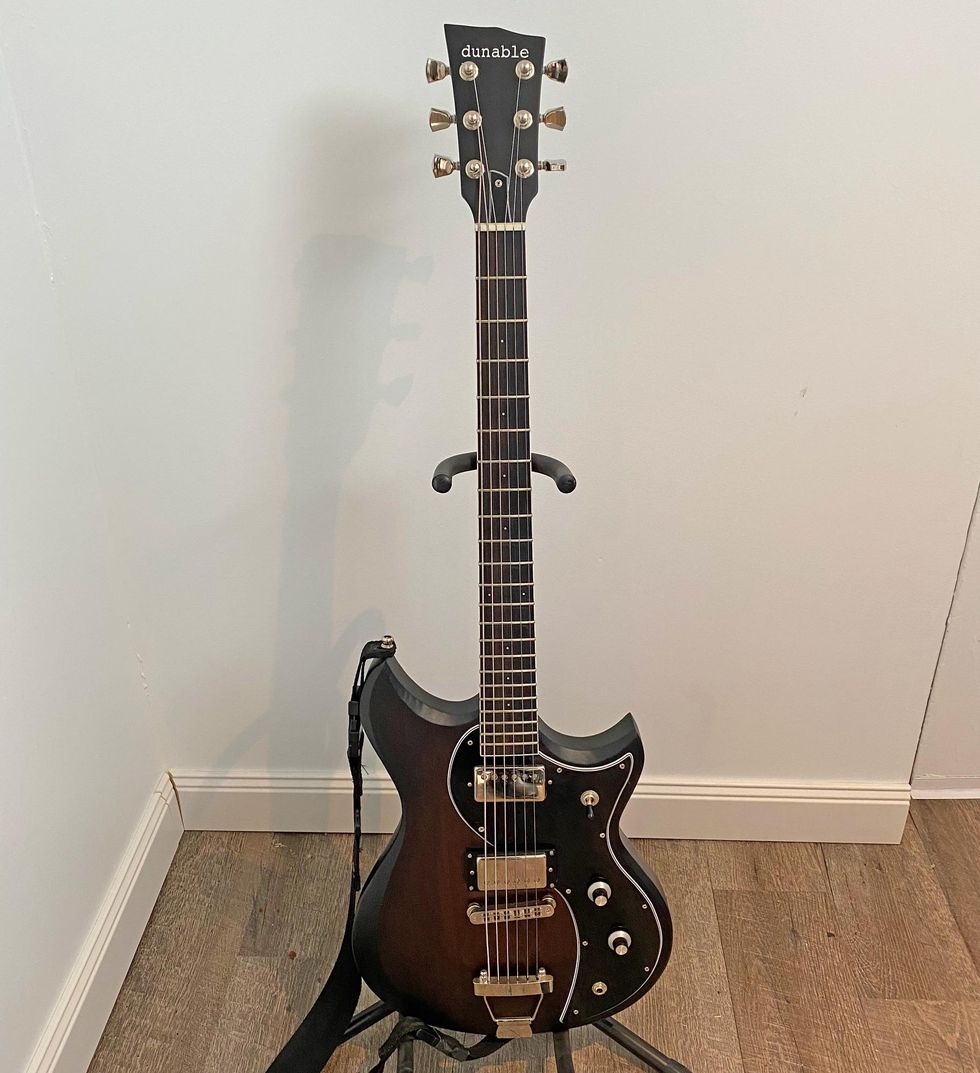 "I'm an impulse buyer when it comes to gear," admits Mario. And one of the results of that urge was this Dunable Cyclops. It was a heavy hitter for 2019's Love and Decay.
PureSalem La Flaca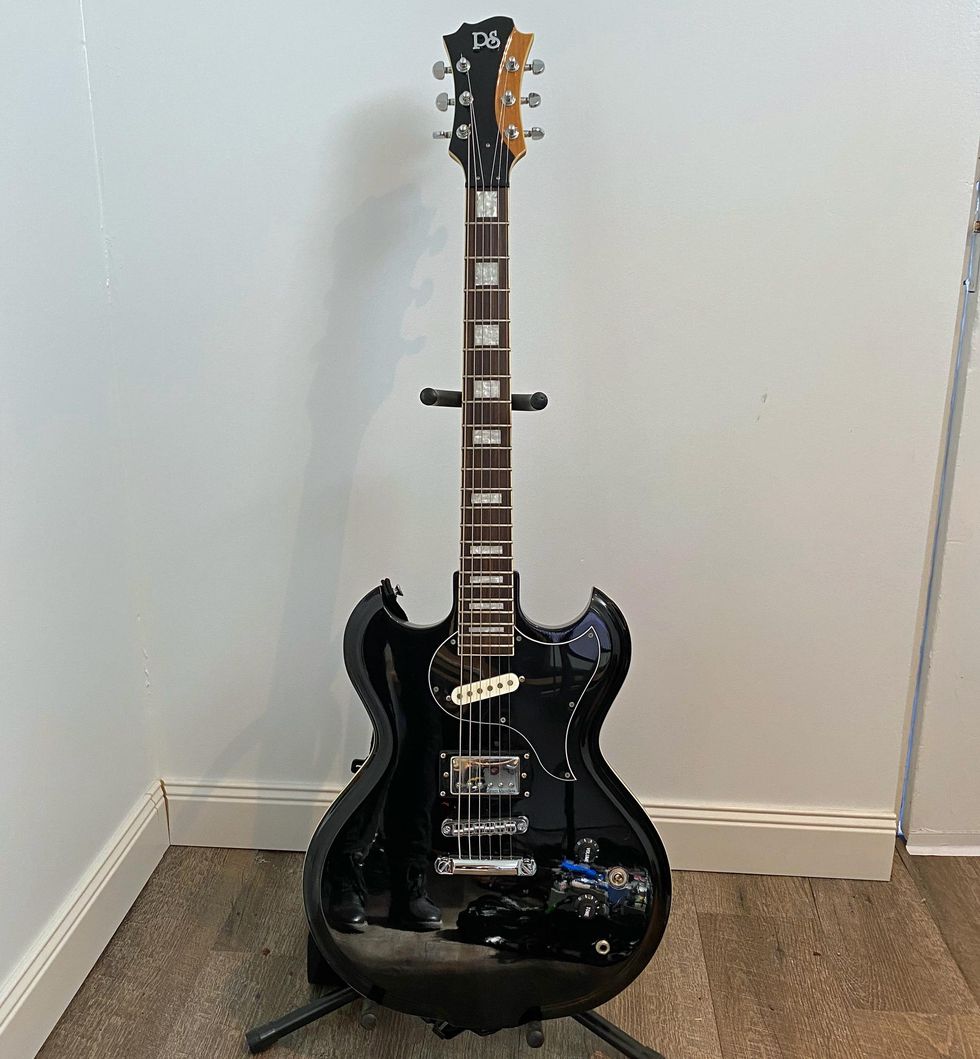 "I've never used a neck pickup on any guitar except this PureSalem La Flaca" explains Mario. "I think the way the neck pickup is slanted works well with my darker, mid-focused tone, instead of the more standard scooped-neck sound." Both the PureSalem and Dunable are laced up with D'Addario XL148 Nickel-Wound Drop C Strings (.012–.060).
1984 Marshall JCM800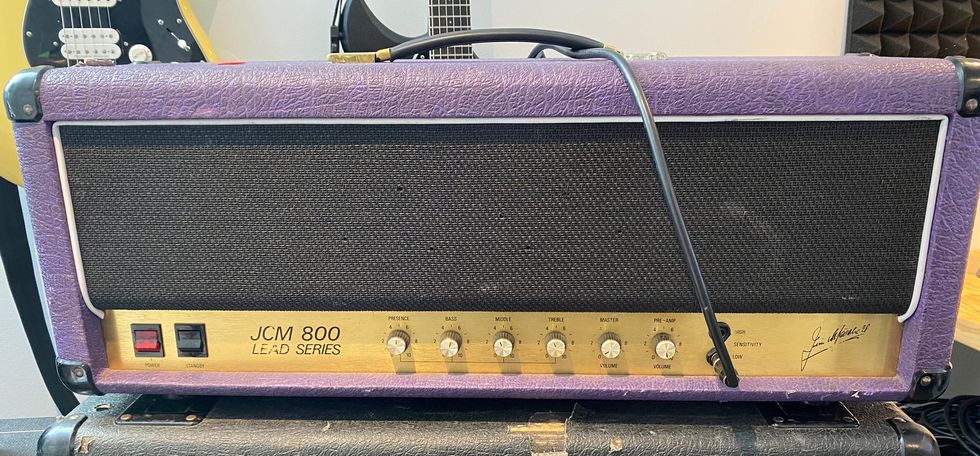 Mario is pretty openminded and pragmatic in his tone quest, but this 1984 Marshall JCM800 might be his closest thing to a sacred cow. He plugs into the 50-watter's low input, cranks the pre-amp control, and barely pushes the master above one.
Marshall 1960A 4x12 Cabinet
The JCM800 hits this worn-and-torn Marshall 1960A 4x12 that's stocked with a quad of Celestion 75-watt G12T-75 speakers.
Orange Crush Pro 120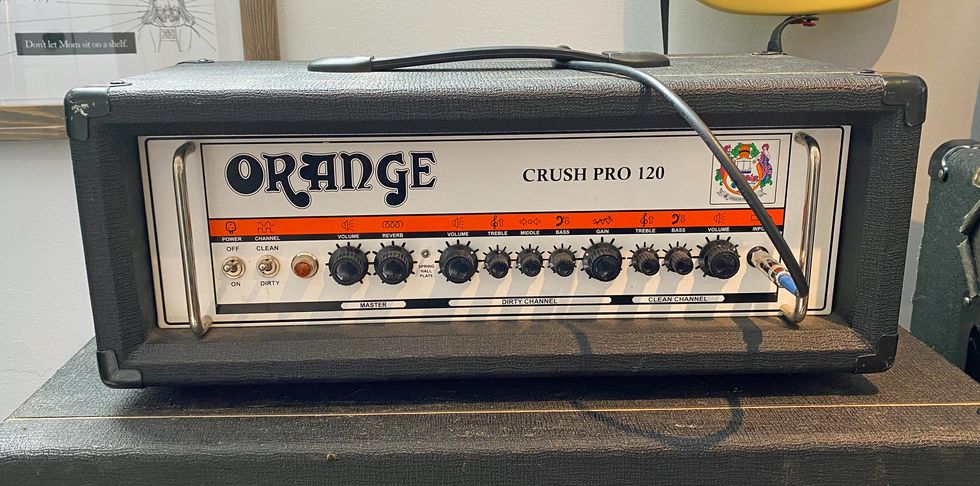 To double the dense destruction, Mario also roars through a solid-state Orange Crush Pro 120 that excels at being really loud and really clean.
Orange Crush Pro 240-watt 4x12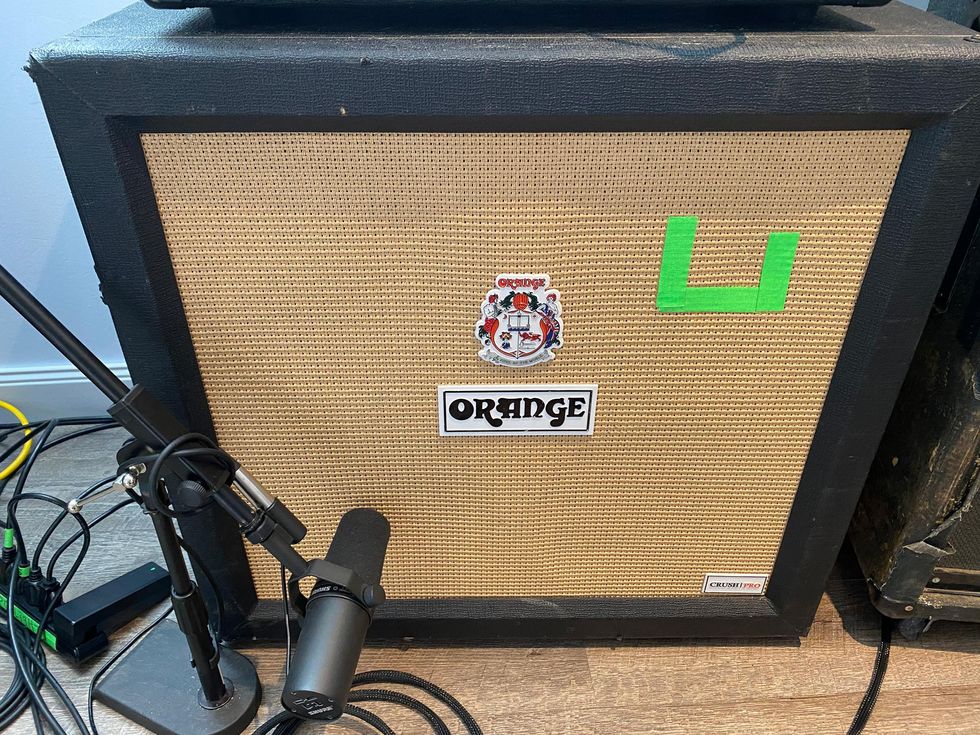 The Crush Pro 120 hits this trim Orange Crush Pro 240-watt 4x12 (closed back) that's packed with their proprietary Orange Voice of the World 12"s.
Mario Quintero's Pedalboard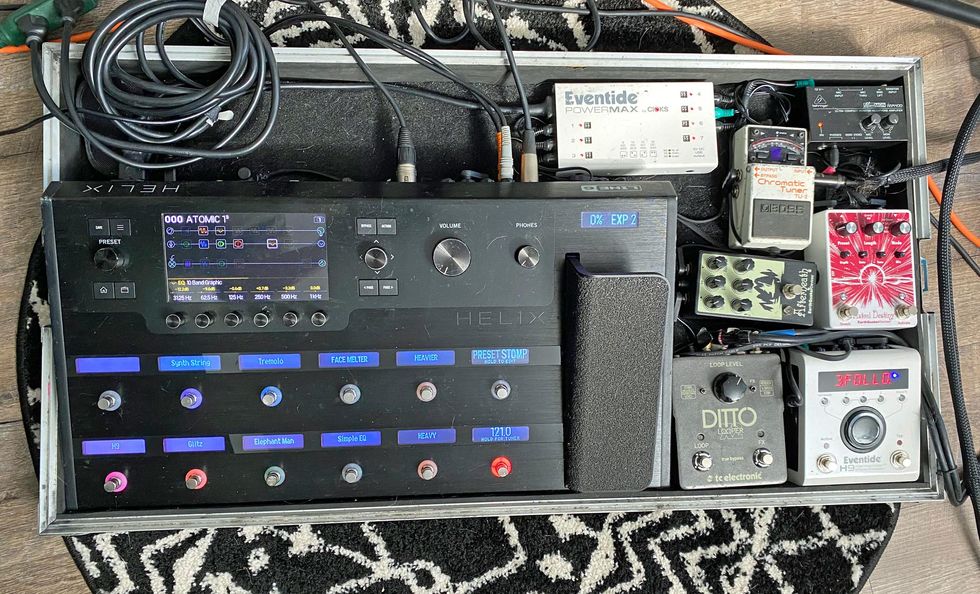 Guitarists can be hesitant when a company rep promises simplification without sacrificing performance or tone. (Spoiler alert: We're a finnicky bunch.) But when Line 6's Eric Klein (the developer of the Helix) took in a Spotlights show and witnessed all Mario's tap dancing with MIDI triggers and laptop-queued pads and samples, he offered a streamlined, floor-based solution that could reduce Mario's multi-tasking.
So, now the brain of Mario's operation is a Line 6 Helix that not only smears his guitar with distortion, fuzz, modulation, and gobs of gain, but also interfaces with the laptop triggering pads and samples that route out to front of house. Mario's has three main objectives for his Eventide H9 (controlled by the Helix): a modulated slap delay, a huge stereo reverb, and a spooky, ring-mod 'verb. Auxiliary pedals that mind the gap are EarthQuaker Devices' Afterneath and Astral Destiny. The TC Electronic Ditto X2 handles live loops, while the Boss TU-2 Chromatic Tuner keeps his guitars in check. An Eventide PowerMax juices all his wares.
Squier Classic Vibe '70s Precision Bass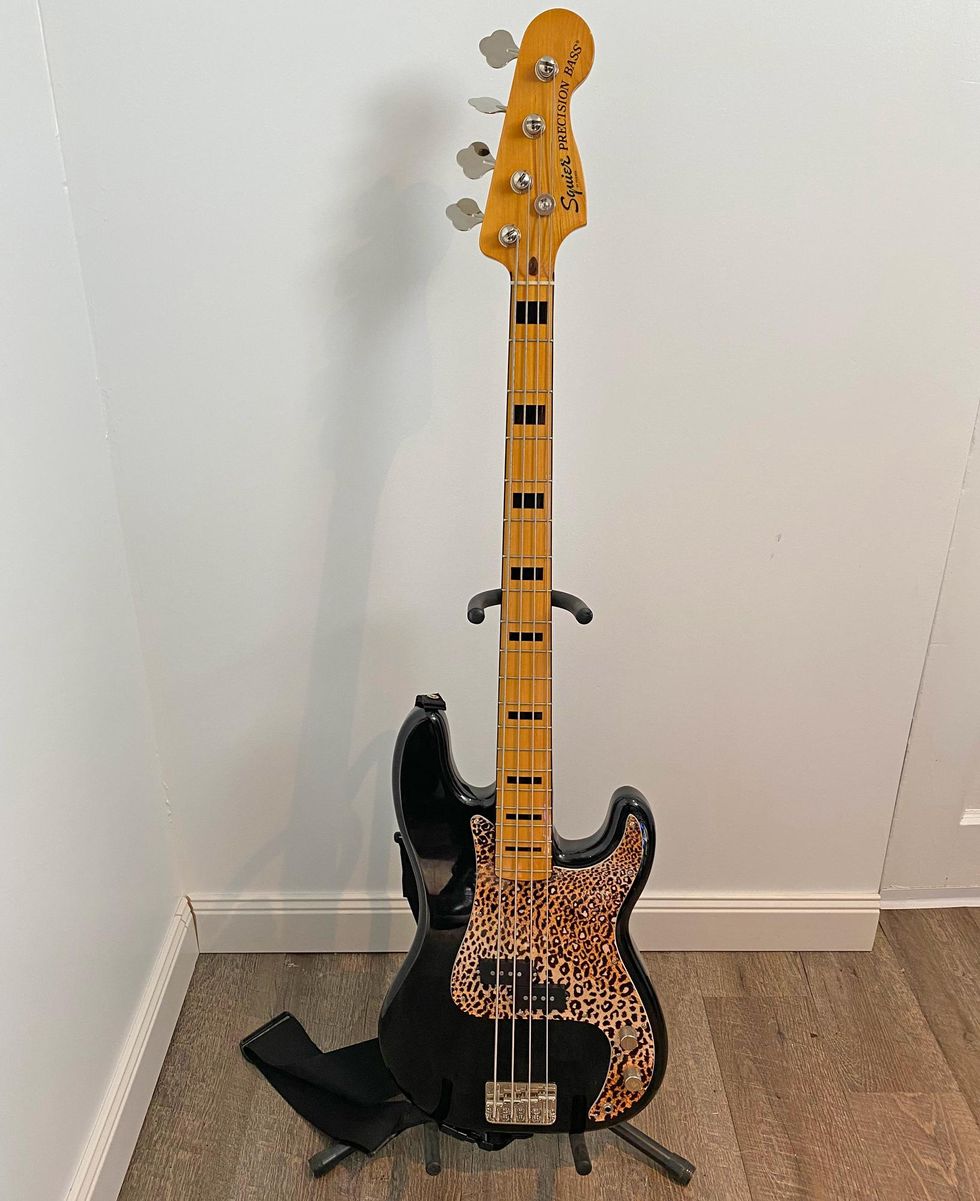 Like Mario, Sarah has no shame in her rumble game and will use anything to rattle onlookers' fillings. During quarantine, her practical, get-the-job-done mentality eyed this Squier Classic Vibe '70s Precision Bass online. She ordered it and fell in love with the black beauty. The Squier is all stock aside from the leopard-print pickguard. Sarah goes with Ernie Ball Power Slinkys (.055 –.110). During the Rundown, she admits to hating the sound and feel of new strings, so she'll often go years without replacing them.
Orange O Bass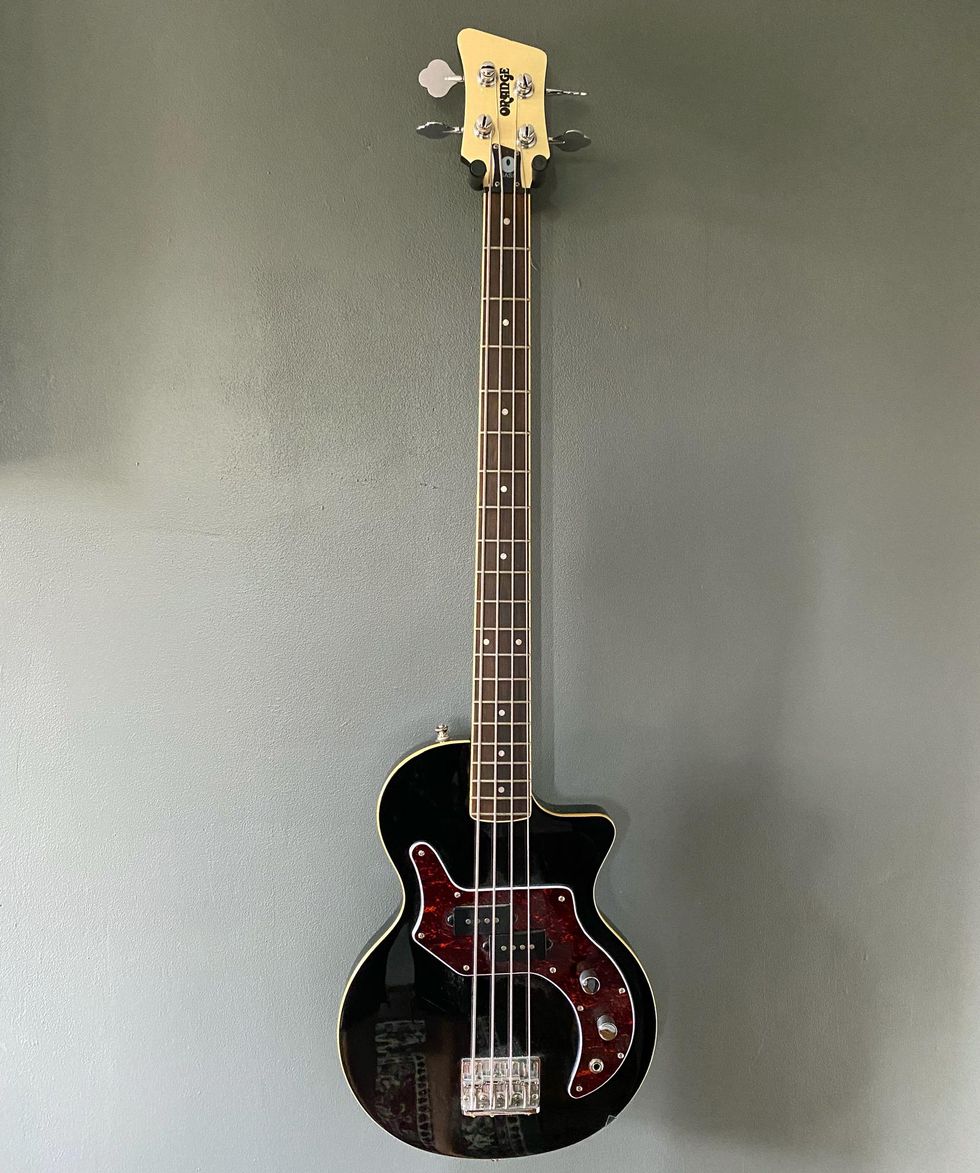 Her main ride for the previous four years was this Orange O Bass that has a tone that outshined the clunky, neck-diving ergonomics that would plunge the neck toward the floor when not being held up.
Because she loved its hefty, Herculean sound, Sarah taped weights on her O Bass' body to counterbalance its lopsided lean.
Orange OB1-500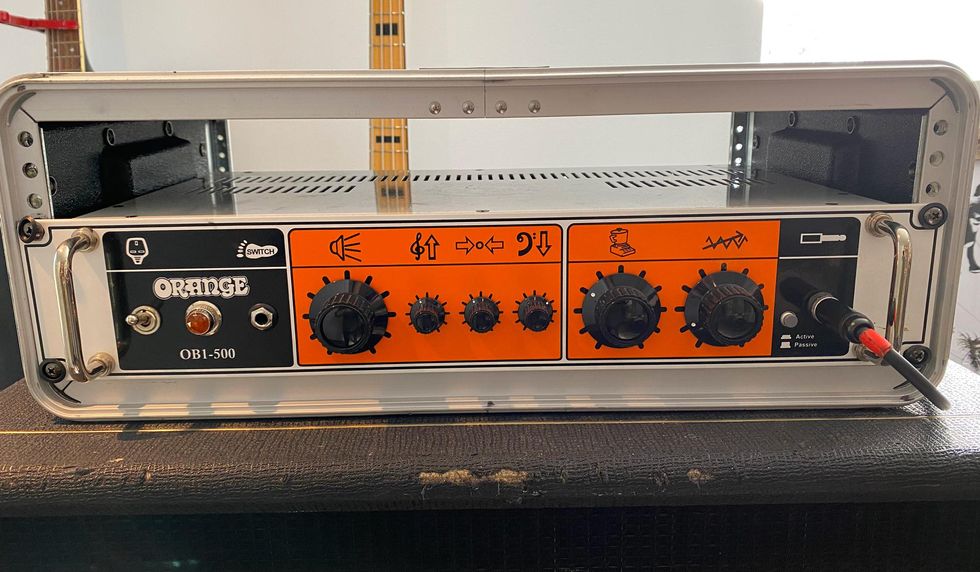 Sarah used to prefer solid-state bass amps. Her longtime love was the Gallien-Krueger 400RB, but that all changed when her and Mario were opening for the Melvins. Each night they would join the sultans of sludge onstage for the closer, "Lysol." For the collective jam, Sarah plugged into Buzz's Orange OB1-500, and shortly after the tour concluded she ordered her own.
Orange OBC810 8x10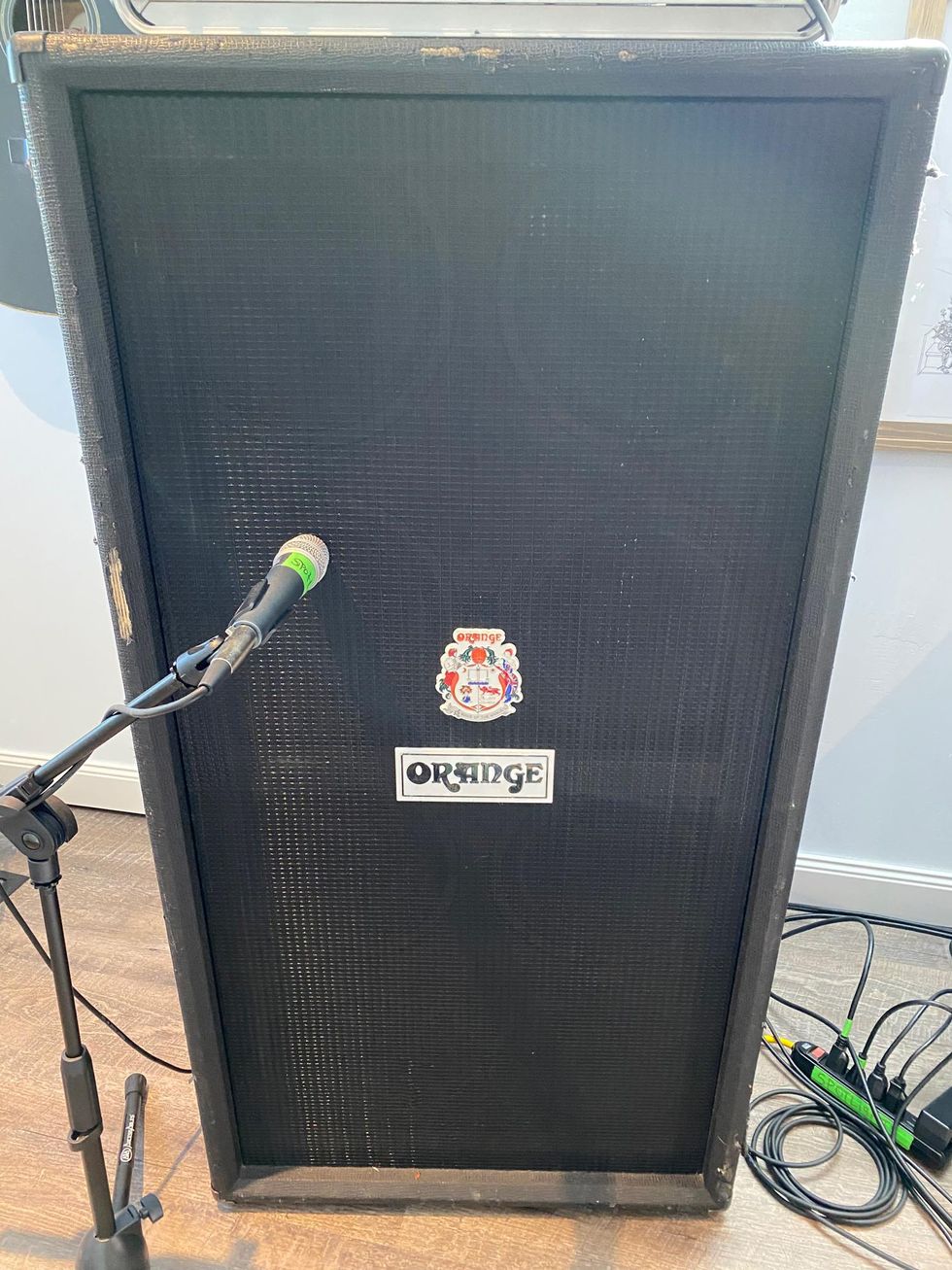 The OB1 runs into a fridge-sized Orange OBC810 8x10 that's equipped with Eminence Legend 32 speakers.
Sarah Quintero's Pedalboard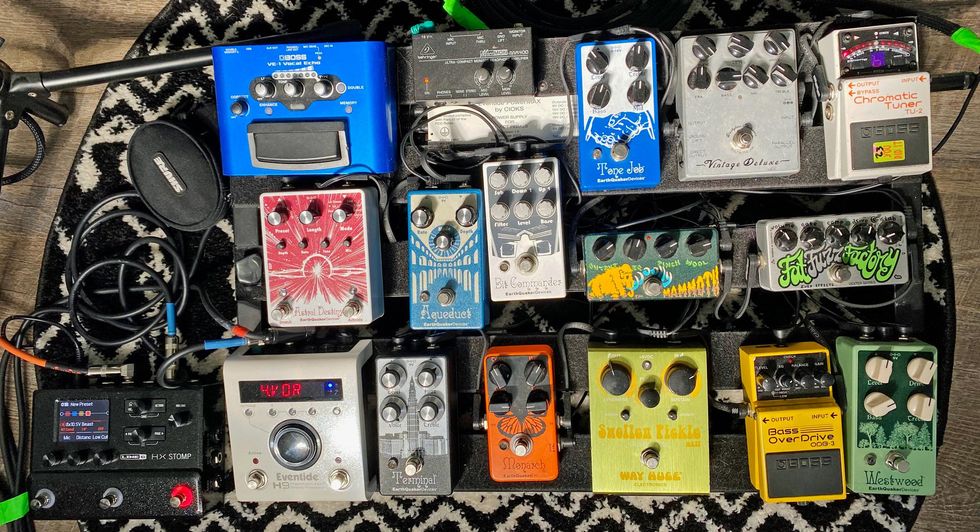 Sarah's stomp station is the main culprit for summoning Ole Nessie. She swims in the depths of distortion, fuzz, and stormy modulation. Sarah used to play with two amps (including the aforementioned 400RB), but now enlists the Line 6 HX Stomp (8x10 SV Beast setting) as her second boom box. The first pedal she ever bought is the Boss ODB-3 Bass Overdrive, and that gets used heavily in conjunction with the EarthQuaker Devices Westwood.
After checking Future of the Left, she had to approach bassist Andy "Falco" Falkous about his tone—and his secret sauce was the Way Huge Swollen Pickle. In the Rundown, Sarah mentions she changes this pedal's settings the most throughout a set, because the controls are so versatile and wide ranging.
Tbe EQD Monarch provides a darker, huskier sound than the Westwood. Next is the EQD Terminal, which provides "knotty and crunchy" sonics and shines on "Under the Earth." Then we have a pair of ZVEX fuzzes: the Woolly Mammoth and Fuzz Factory.
She likes to pair her EQD Bit Commander with the EQD Astral Destiny or H9 (reverb settings) to draw out and embellish its octave effect. Beyond that, the Astral Destiny provides atmospheric pads and the H9 unleashes drawn-out hall verbs, volume swells, envelope sweeps, and other moody tone morphings. Another modulation pedal is the EarthQuaker Aqueduct, which gets kicked on for subtle vibrato moments.
The last bit of her board provides some EQ tweaking, with the Darkglass Electronics Vintage Deluxe and EQD Tone Job. For her voice, she'll run a Boss VE-1 Vocal Echo—and a Boss TU-2 keeps all 4 strings in check. Like Mario, all her pedals come to life with the Eventide PowerMax.