It's nice to have you back for another adventure in Restoring an Original. Last month we began the re-fretting process by taking relief measurements with and without string tension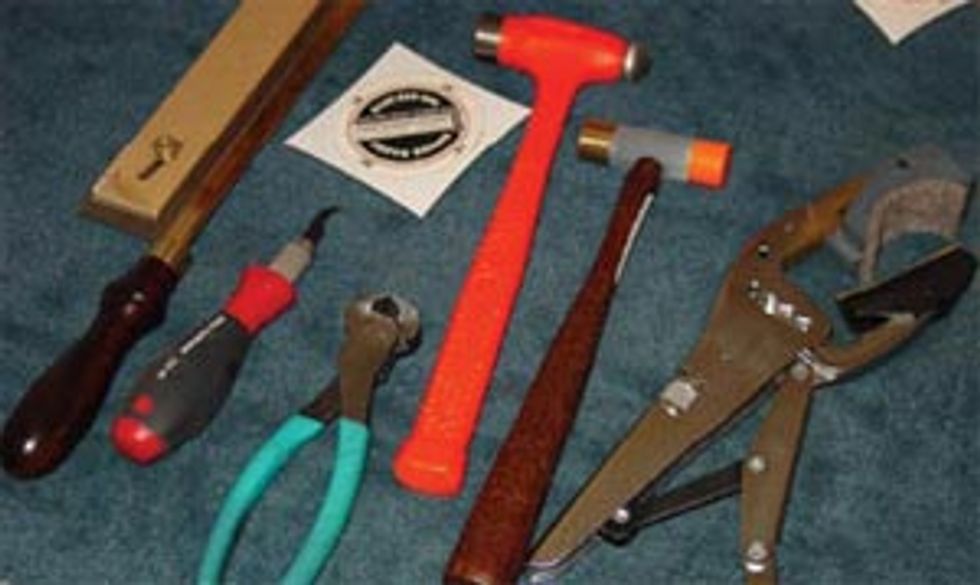 It's nice to have you back for another adventure in Restoring an Original. Last month we began the re-fretting process by taking relief measurements with and without string tension to equate the flex/density difference of the neck. This equation would guide us in compression fretting, helping us to determine whether to increase or decrease the compression of each fret. The frets were then heated up using my fret iron and extracted with a fret puller.
For this month's restoration, I used the following tools, available from
stewmac.com
:
Relief Gauge #5253
FretBender #0345
Fret Cutter #0619
Fret Slot Cleaning Tool #4870
Fretting Hammer #4895
Jaws Fret Press Deluxe Set #4274
With the frets gone I wanted to take another relief measurement at the sixth position. I was looking forward to trying out a new tool that I heard about and saw online. Erick Coleman from Stew Mac squeezed in a little time with me while he was doing last minute preparations for the Guild of American Luthiers Convention, where I spoke to him about measuring the relief in a neck using the notched straightedge and feeler gauges that I demoed in last month's installment. These tools worked well, but I told him that I was looking for the convenience and precision of the latest and most innovative tool out there. I ended up choosing the new neck relief gauge, which I believe is designed by Don MacRostie at Stew Mac. After trying one out, it has now become one of my favorite tools. Throughout the day, I literally walk from bench to bench with this tool. Stew Mac now has a second version of this tool, part #2004, that I would like for the shop as well. It rests on the frets and the indicator dial gives you the relief measurement. I really need more than one relief gauge or a holster to strap one around my waist.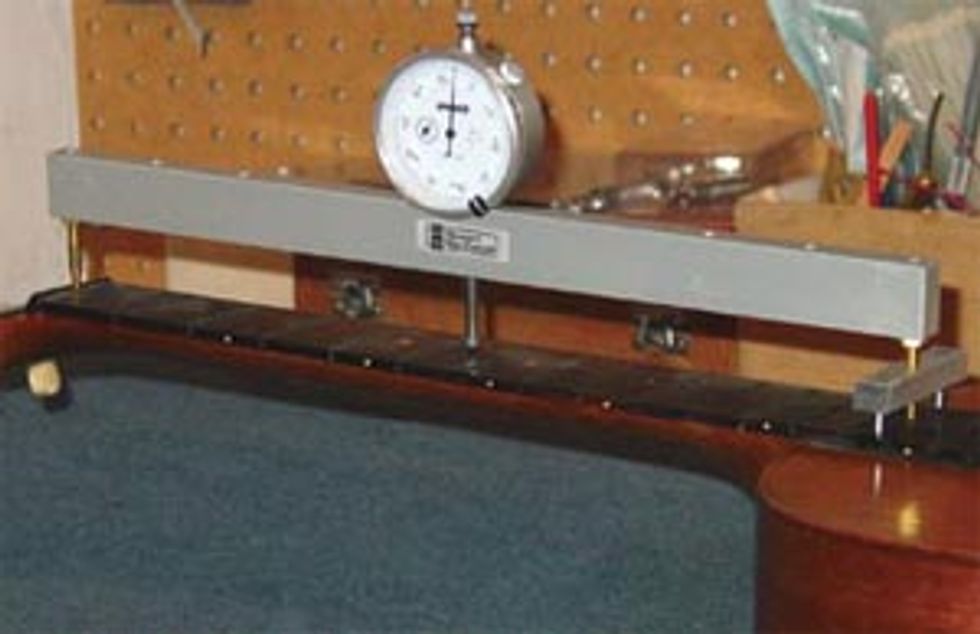 Bar Fretwire
When I received the bar fretwire from Martin it was somewhat curved on its flat side and needed to be straightened. For this I used my FretBender. Once the roller wheel is adjusted to the right gap, you simply turn the handle and the fretwire feeds through – it's that slick! Once the flat side of the bar fretwire was straight, I was able to pre-bend the fret to a slightly tighter radius than the 16" fingerboard radius. This discourages the frets from springing up on the ends when seated – I use a radiused wooden block for this.
The bar fretwire I selected was slightly oversized, so it needed to be thinned out about .002"-.003". I used an 8-ounce hammer to mash the fret on the flat section of hardox tool steel – a unique formulation manufactured in Sweden – while going back and forth to check the fit. When the fret began to slide into the fret slot with thumb pressure, I then used the plastic head of the fretting hammer, tapping square to the fret from one end to the other, positioning the fret on the very top portion of the fingerboard slot before seating it in the next step.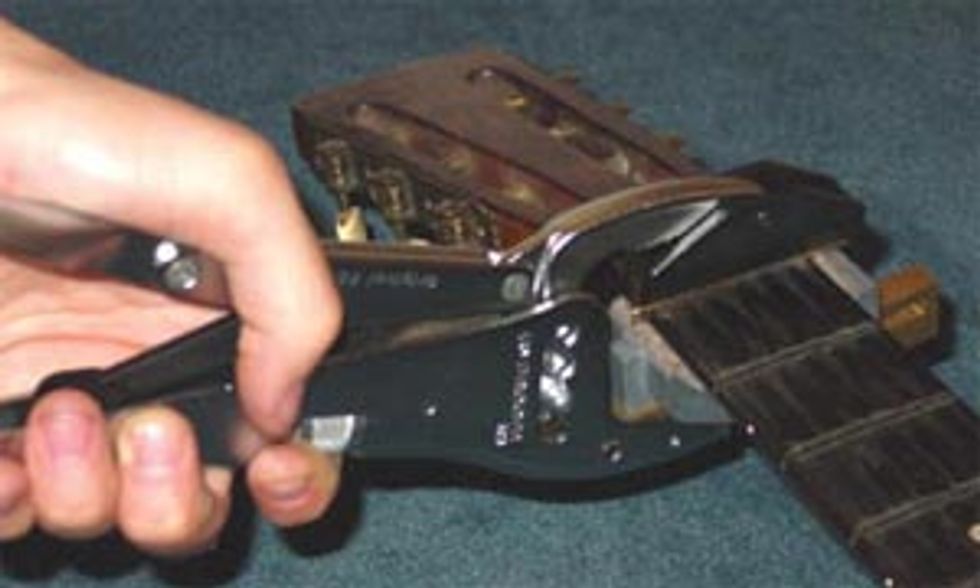 Jaws
I used Jaws, Jaws 2 and Jaws 3 with a 16" radius brass insert and a flatter brass insert for most of the fret installation on the upper section of the neck. These tools were developed by Dan Erlewine. Knowing his involvement, I knew I couldn't go wrong adding it to my arsenal of fretting tools. Pressed-in frets are less likely to have loose ends and uneven heights, because there's none of the recoil produced by hammer blows. It gives you finer control over the pressure needed to seat a fret into the slot – you can actually feel it seating!
If you wish to go back and enjoy past installments of Restoring an Original, please check out
premierguitar.com
or
brownsguitarfactory
. Here's hoping you're having a fantastic summer!
-John
---
John Brown
John Brown, of Brown''s Guitar Factory, is the inventor of the Fretted/Less bass. He owns and operates a full guitar manufacturing and repair/restoration facility, which is staffed by a team of talented luthiers. He is also the designer of guitar making/repair tools and accessories that are used today by instrument builders throughout the world.
www.brownsguitarfactory.com
info@brownsguitarfactory.com