This month's Restoring an Original begins with trimming down the mahogany reinforcement splines flush to the neck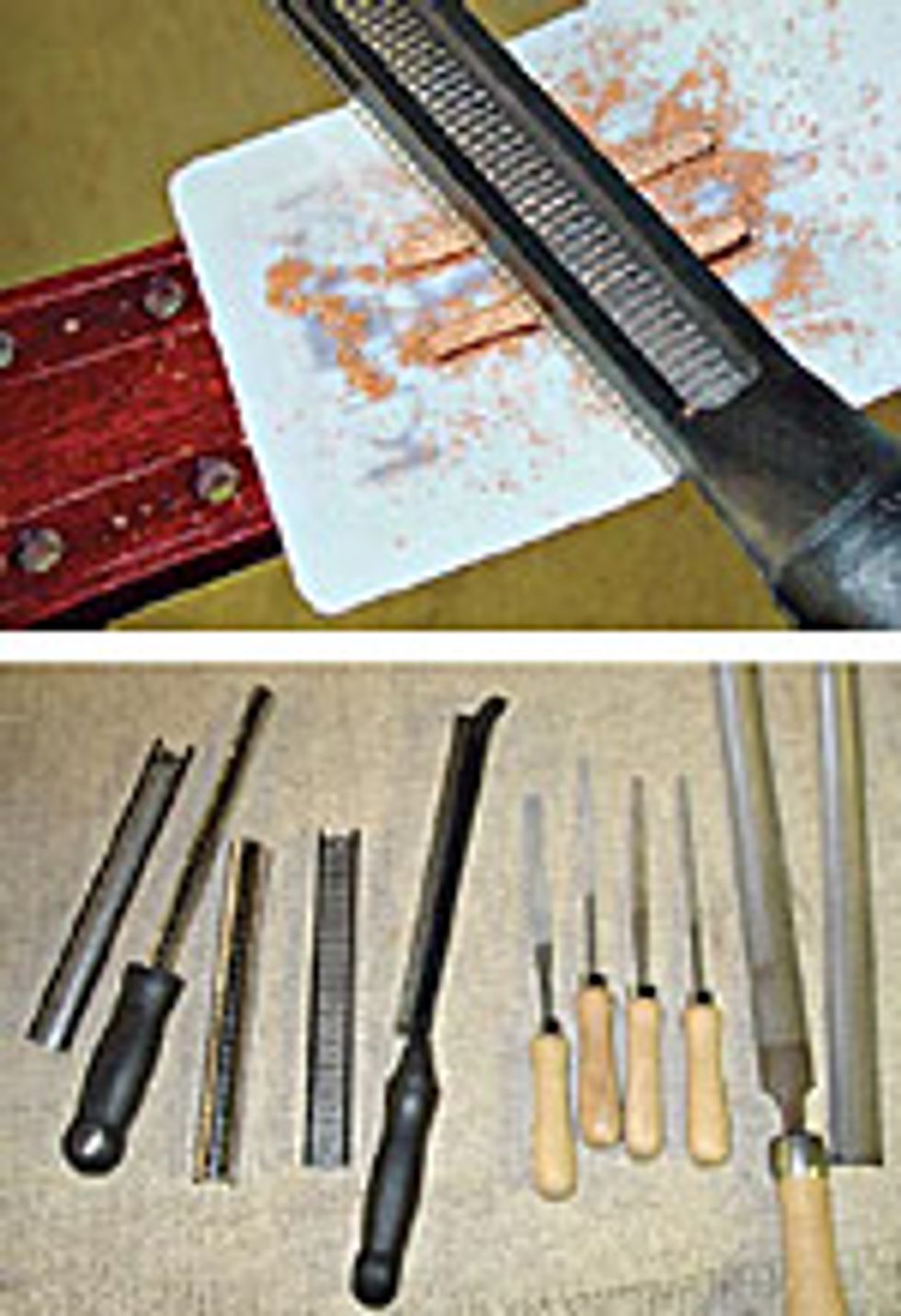 This month's Restoring an Original begins with trimming down the mahogany reinforcement splines flush to the neck. These two splines were previously shaped, glued with System Three epoxy, and clamped for 24 hours. Keep in mind that this Gibson SG originally came to us with the headstock snapped clean off and previously has had a variety of repair procedures to get us ready for this important next step. You can see a picture of the original break in the first part of '65 Gibson SG, in the March 2007 issue of Premier Guitar, available at premierguitar.com.
Trimming/Leveling Splines
The first thing we need to do is protect the neck and headstock wood from any scarring when we are trimming down the reinforcement splines. I use a nice strip of Mylar that is sectioned out to fit around the splines. My tools of choice for this are the Microplane Shaping tools – I get a very smooth cut from the razor sharp edges with a working length of 8", starting out with the square and moving up to the rounded rasp.
I still like to have my traditional cabinetmaker's rasp, wood files and my luthier's file set from Stew Mac in arm's reach at all times. Once I am closer to having the splines level to the neck and headstock wood, I then remove the Mylar protective blanket.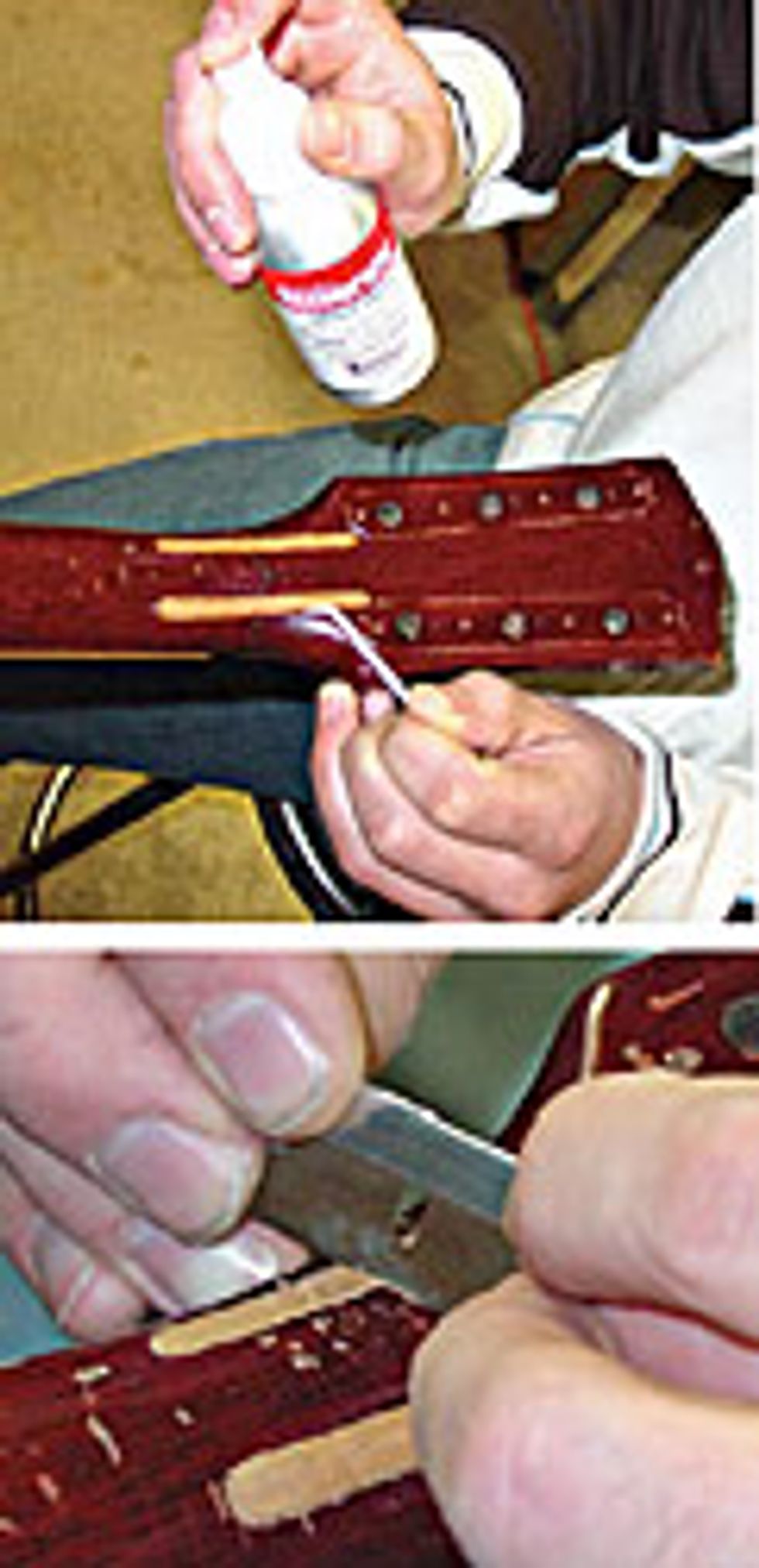 Drop-Fill/Razorblade
#10 thin cynoacrylate glue is drop-filled on the seam where the reinforcement splines and neck wood join. We use a drop-fill angled plastic toothpick and accelerator to fill any concaved pockets that appeared after the initial gluing process. Afterwards, a fresh and very sharp razor blade is used to finalize the level with a light amount of 280 grit sandpaper. To the touch of my fingers it has a smooth, liquid, natural feel and is now ready for a naturalaged looking nitrocellulose finish.
Next month we will be using Color Tone liquid stains to color match the repaired area and feathering overcoats of tinted clear nitrocellulose. Stewmac.com is a great source for most all of your supplies that you'll need.
Thanks to all you inquisitive minds, as I enjoy being a contributing writer for Premier Guitar and sharing Restoring An Original with all of you. Please remember that you can view past articles on Restoring an Original at premierguitar.com or brownsguitarfactory.com
You can view past articles on "Restoring an Original" at
premierguitar.com
or
brownsguitarfactory.com
---
John Brown
John Brown, of Brown''s Guitar Factory, is the inventor of the Fretted/Less bass. He owns and operates a full guitar manufacturing and repair/restoration facility, which is staffed by a team of talented luthiers. He is also the designer of guitar making/repair tools and accessories that are used today by instrument builders throughout the world.
www.brownsguitarfactory.com
info@brownsguitarfactory.com