A Film About Stars' First Guitars
Les Paul, Slash, Jeff Lynne and others share stories
Savannah, GA (October 29, 2007) – Take a second and think about your first guitar – chances are there's a good story there that is not only special to you but something others can appreciate, too. That's basically the premise behind My First Guitar, a documentary by Nick Mead that is being featured at the Savannah Film Festival this week.
The film is comprised of interviews with dozens of guitarists, many of them well-known, forming a collective tale about music, passion and life that will appeal to many people but have particular resonance with guitar nuts like us.
Many musicians fail to bond with their first instruments, maybe because they played rentals or the kind of instrument you can't quite connect with. For some reason, guitars and guitarists are different in this regard. We tend to look fondly at that first axe, even if it was a beater. Perhaps there's just something about a guitar: its role in the popular music of our youth, its physical qualities, its expressiveness as an extension of who we are – who knows.
Whatever it is, director/writer/producer Mead set out to document it, and what better way to do that than to ask Les Paul, Jeff Lynne, Peter Frampton, Bill Wyman, Slash, Nancy Wilson, Joe Perry, Brian Wilson, Lemmy, Hubert Sumlin and a host of other accomplished players to talk about their first guitars.
Premier Guitar had a chance to pick Mead's brain about picking so many great pickers' brains --
How many guitarists did you interview for the documentary?

About 35 - some spoke for nine minutes (Brian Wilson), others two hours (Hubert Sumlin, Nils Lofgren), so the current 80-minute version is a small fraction of the 50 odd hours of material.

After making this documentary, you might be the best qualified person in the world to answer the following question: Why do you think guitarists have a different relationship with their first guitar compared to other musicians who don''t talk as fondly about their first drum set/trumpet/etc.?

...it is very much an instrument of free expression from the getgo. Tom Delonge''s [Blink 182] advice was to not take lessons, just to make a noise and make that noise your own. Similarly Phil Manazanera, said he was a hopeless session guy because he just knew how to get into what he wanted to do. . . Slash had a Spanish guitar with just one string, but with that one string he worked out how to play about six classic rock songs of the time.

Premier Guitar readers could watch notable guitarists talking about their relationships with their first guitars all day but I understand the film itself needed some different slants. What''s the story with the cut that you made and the cut that is making the festival circuit?

I wanted it, and still do, to be more of a "film." This created tension in the cutting room. I was inspired by two songs during the making of this, "People Get Ready" and "Land of Hope and Dreams," both about wayward people getting on a train and going off on a ride with the ticket of faith and self-belief. I wanted to represent that visually but the co-producer had other ideas -- I was shooting in China on another project only to find that my editing instructions were largely ignored. It''s the first time that has ever happened -- it doesn''t take away from the experience of making the film, just pisses me off [laughs].

You interviewed a lot of guitarists -- did you notice any interesting similarities or differences in regards to players at opposite ends of the musical spectrum?
No, it was faith and self-belief, which is a constant recurring theme in all my work. At the end of the day you can learn those chords, but it''s all in the changes and that is where, in my opinion, you get your style from -- that move from C to A can be different for so many people yet all it is is moving from C to A. It''s all about faith and belief -- you lock yourself in your bedroom for three years and there''s no one there but you and your guitar. It becomes an escape and a refuge and a reason and reflects a lot of hope and dreams.

You heard a lot of experienced players talk about their first guitars -- considering the instruments themselves, did any patterns or similarities emerge?

Sears seems to be the foundation of rock n'' roll in this country -- their learning kit appears to be the mainstay of guitar success.

Were you surprised to find that some of your interviewees perhaps didn''t have an enchanting first guitar story?

The older guys and girls had a struggle, the newer ones just went out with their dad''s credit card and bought a Gibson. I love Hubert Sumlin''s first guitar story about the screen door and some bailing wire and a coke bottle -- something guitar maker Danny Ferrington made in his workshop for us. Now that is the blues.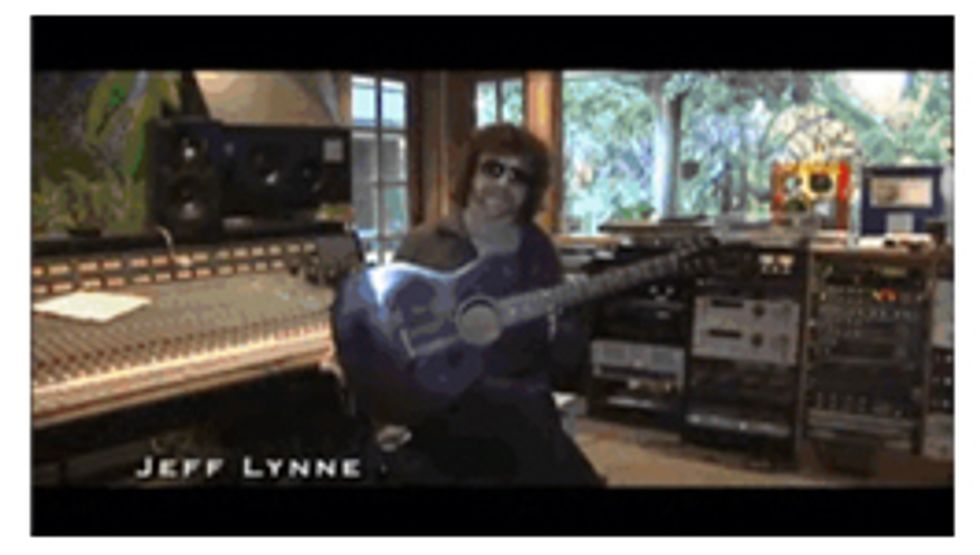 Your interviewee list is impressive. Any interesting behind-the-scenes tales to share?

. . .this is absolute fact and this is totally definitely where the idea for My First Guitar came from: I was having dinner with Jeff Lynne probably five or six years ago, and we''d had wine with the meal and I asked him how he got into all of this music stuff. He said, or at least I thought he said, "I was in bed at eleven in the morning and my mum came upstairs and said, 'only musicians stay in bed ''til eleven,' so I went out and got a guitar." Now that is what I thought he said and that stuck with me for five or six years. It was the story that made me want to make the film. It was the story I told other people to get them to be in the film. Fact is he didn't say it. That''s not his story. It was what the wine made me hear! Anyway, he is without doubt the reason the film exists, to actually hear his story you''ll have to go see the film. An executive producer credit on this film should really go to "fine French wine".

So I carried this idea around for a while, a good four or five years, and it was only when I was in China with my then girlfriend, Deland, and I was telling her about the story that she said, "You''ve got to turn that into a film. It''s a film." And she was right, it was a film and now it is a film.

Some times it was hard to track people down. Pete Seeger didn''t have any management so I found out he lived in Beacon in N.Y. I drove there, got his address off a mailman, went to his house and he wasn''t in. My co-producer was sticking a card on his door when his dog came amlbin up, and I am not sure if this is the highlight or lowlight of my career, but I shouted, "Get his number off his dog''s collar!" I couldn''t bring myself to call it though, that was just too stalkeresque.

What can an experienced guitarist learn by watching your documentary?

Never lose that naiveté. . . When I recently heard "Radio Nowhere," the Springsteen single, I was knocked out. Here''s a guy who can do anything, with probably the greatest band in the world around him, and he hammers out a song with three basic chords and it sounds fresh and new and bright and not complacent. Keep it fresh and keep it simple is what they can learn from this.

We think you''re on to something -- in our world, "first guitar" stories are classic, much like "first date" or "most embarrassing moment" stories. We all have them and we all love to hear other people share theirs. Any plans for additional ventures based on the premise of your film?

Yes, I am planning a series of My Firsts, kicking off with My First Joke which should be a laugh -- we''d be in trouble if it''s not anyway.

Lastly, you have another film that will appeal to our musician readers -- tell us about it and the connection between it and My First Guitar.

It''s about faith. It''s also a musical journey - this time Clarence Clemons and I travelled to China. It''s a spiritual, musical journey across mainland China as Clarence [who is Bruce Springsteen''s sax player] goes in search of himself. It was quite an experience -- a real life changing one for us all. We definitely all came back as different people. We''re just finishing off the cut in L.A. now and this time it is all mine and I am proud of every single frame. It is my proudest moment -- it is so me, exactly what I wanted to do frame by frame and I have been truly blessed to be given this creative freedom.

Thanks Nick. Is there anything else you''d like to share?

Enjoy it and take what you can from it. I wish it was less 'talking heads' and more visually representative of what I wanted and for that I apologize, but the heart of it is there. Some of the words are pure magic.


---
My First Guitar debuted at the BendFilm Festival in Bend, Oregon, before reaching Savannah. More festivals are in the works. Mead says he is in talks with various distribution companies and has high hopes for a wide release.

For more information:
Nick Mead Film

Feel free to use the comments section below to share the story of your first guitar.