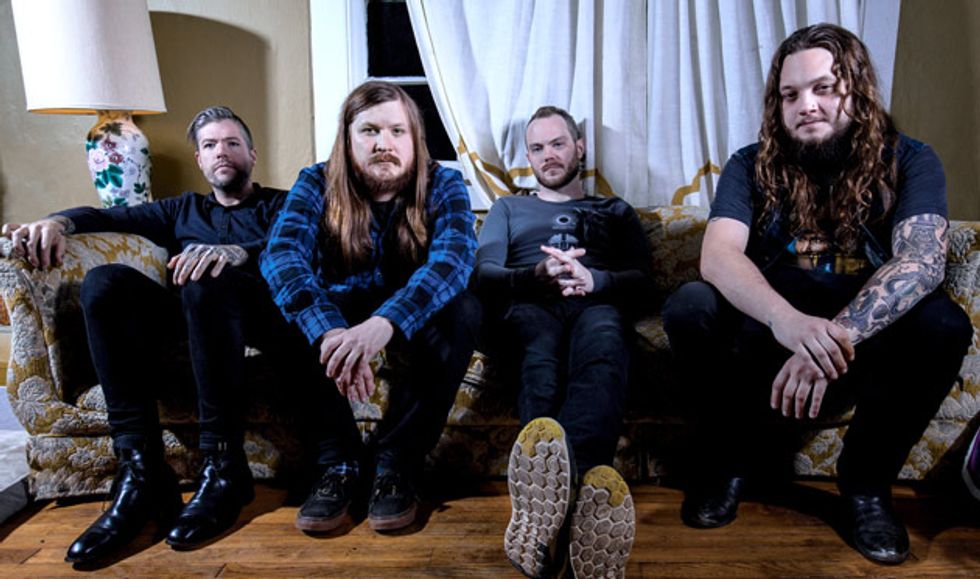 Pallbearer—from left, bassist Joe Rowland, drummer Mark Lierly, and guitarists Brett Campbell and Devin Holt—plays a subgenre-defying brand of metal that is doom-based, but finds its own sonic space.
Photo by Diana Lee Zadlo
Metal, more than any other type of music, is overrun with labels and subgenres. Some are derived from a sound, like speed metal (Motörhead and Accept) or groove metal (Pantera and Sepultura). Others are based on where a band is from, like Norwegian black metal (Mayhem and Immortal) or Kawaii metal (Babymetal). And then there's odd-timed mathcore (Converge and the Dillinger Escape Plan) and glam-metal (the terrain of legends Mötley Crüe). These labels are great for shorthand musical descriptions in the blistering-fast information age, but some bands are too fluid for shallow, rigid tags. Enter Pallbearer.
The Arkansas-based quartet crashed the metal party with their rumbling, doom-heavy 2012 debut, Sorrow and Extinction. That first salvo showcased a healthy dose of dynamics and melody—such as in the brooding, 12-minute "Foreigner"—by incorporating soaring guitar harmonies and acoustic intros not often associated with such a dark, indomitable sound.
"We've never been an 'amp worship' doom band that hammers on the same note or riff for minutes," explains guitarist Devin Holt.
"That's just not us. Plus, we must not get the best weed, because we get
way
too bored doing something that repetitive [
laughs
]."
Produced by Billy Anderson, who's cut tracks with Sleep, Neurosis, Melvins, and more, Pallbearer's second release, 2014's Foundations of Burden, displayed an even greater expansion of their sonic textures. The addition of cleaner, more present vocals, ambient passages and sections with piano, and doses of spelunking reverb helped provide a musical narrative flow that was compelling, evocative, and more coherent. (Also, as you'll read later, Anderson showed the guys how to properly layer their dense guitar tracks for more air.)
Now Heartless is the band's latest voyage, and it finds them still moving mountains with volume and refusing to be stagnant—resulting in their most expressive, powerful work. Growth and experimentation are evident in spots like the title track, which colorfully sprawls into a jazzy drum break (think French prog-rockers Magma) before careening back to full force at the song's midpoint with a slightly out-of-phase, swirling guitar solo. On "Cruel Road," Pallbearer cranks its tempo up to Judas Priest speed. But perk up, doomers! The album is packed with plenty of thunderous riffing, like the epic center of the symphonically rich "Dancing in Madness" and the twin guitar harmonies that propel "I Saw the End." Although the group's name is derived from a role indelibly linked to the ominousness of death, Heartless shows a band that's never sounded more alive.
"A collection of songs like this is indicative of where we are as musicians and people, because this is our most diverse and complex album," asserts guitarist-singer Brett Campbell. "Performance-wise and lyrically, we could not have made this album two or three years ago."
"I'm talking about drinking too much Robitussin, going outside and spotting a light in the woods that confuses you in an eerie, haunting way, yet you can't help walking towards it, because it feels comforting. That's the Arkansas metal scene." —Devin Holt

PG recently spoke with Campbell and Holt at their homes, before the group headed out on tour. They detailed how Arkansas plays into their sound, how their guitar work on Heartless saw a role reversal, and what piece of gear Campbell can't live without—but would never endorse.
What was it like recording your new album at home in Arkansas?
Brett Campbell: Just being comfortable gave us an added edge. The last time we recorded in Portland with Billy Anderson, we stayed in the studio where they had no bed, no showers, and I used a large block of sound-dampening foam as my mattress [laughs], which was actually okay to sleep on. Having the ability to break out for the day, grab a beer with a friend, and just decompress at home allowed us to be more focused. Which was great, because this material is really intricate and complex, so we had to be on it day in and day out. And on top of that, we saved money by not having to eat out for every meal or get a hotel, so that afforded us more studio time for working out parts. We even upgraded some of our gear.
Devin Holt: Our last album felt like a month-long repetition of Groundhog Day [laughs]. We basically worked 12- to 16-hour days and never left the studio except to eat. It was grueling and daunting—not to mention we ran into technical issues losing tracks or portions of songs. That was frustrating!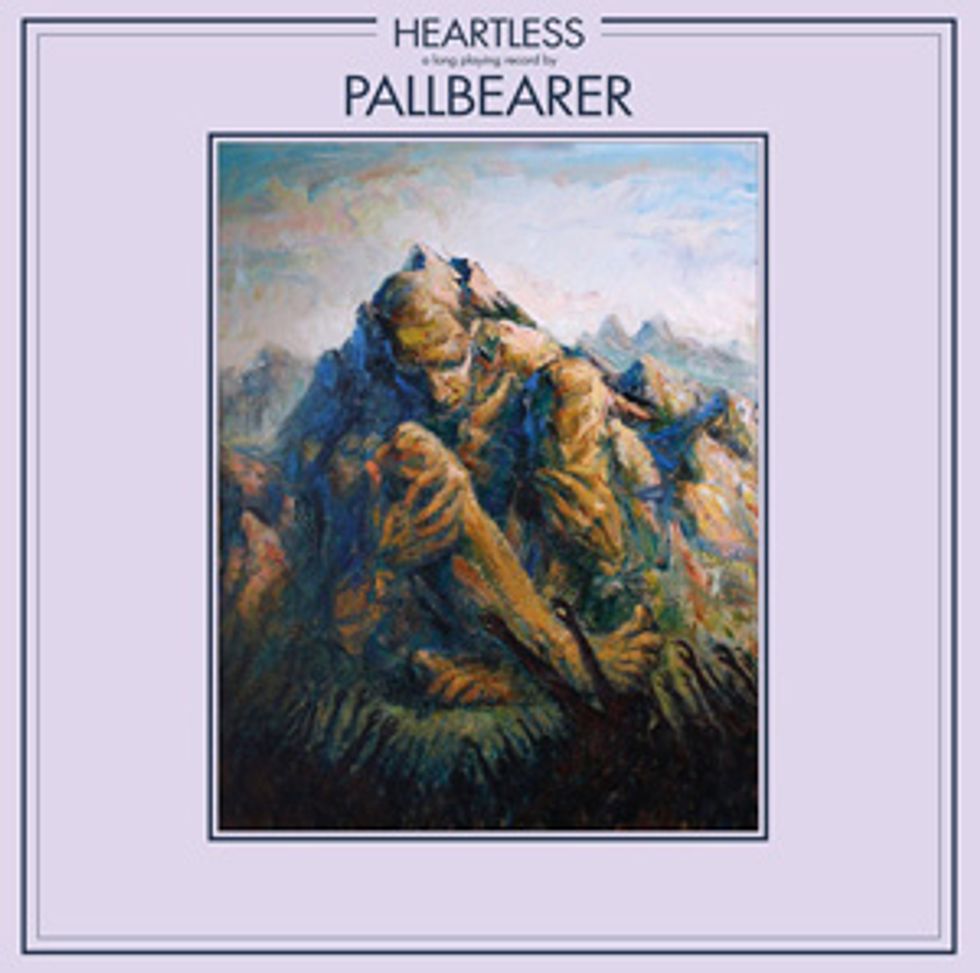 The band used the guitar-texturing tricks they learned from producer Billy Anderson when they decided to self-produce their new album, Heartless, at home in Arkansas.
Speaking of your homeland, how does Arkansas itself, the terrain and the region's music scene, play into your sound?
Campbell: The attitude here is positive, and that fosters a feeling of mutual respect and freedom to chase interesting ideas and sounds. A pillar of the Arkansas metal scene with bands like Rwake [pronounced: wake—silent "R"], Deadbird, and Shitfire is how they all took the standard blues groove in sludge and doom and basically shot it into this acid nightmare. That proved to us we could do things our own way, too. As a burgeoning artist or guitarist, you always want to create your own thing or sound, but it can be intimidating seeing everyone and everything that came before. The lengths those bands took to make their creativity push the envelope showed me what it means to be fearless and determined.
Holt: Honestly, being from Arkansas might be one of the biggest influences or reflections of this band. Arkansas and even Little Rock are these killer, well-kept secrets that I selfishly don't want anyone to know about [laughs] … because it's affordable to live here, we have a booming arts scene, the music community is growing, but we're all tight and supportive across all genres.
We grew up and cut our musical teeth at this Little Rock club called Downtown Music that really embraced metal and heavy bands, so we got to see and share bills with tons of groups. When we formed Pallbearer, Rwake's [former] guitarist Chuck Schaaf played with us, so the tight-knit community and willingness to work together on several projects is what makes Little Rock's metal vibe small-but-mighty. Arkansas is definitely intertwined sonically in all its bands.
Devin, how would you describe that Arkansas sound?
Holt: It's a dirty, heavy, redneck psychedelic vibe not really felt or heard anywhere else. It's basically like you had too many hallucinogenic drugs, but not like clean or pure ones like mushrooms or acid where you feel a higher consciousness. I'm talking about drinking too much Robitussin, going outside and spotting a light in the woods that confuses you in an eerie, haunting way, yet you can't help walking towards it, because it feels comforting. And that's the Arkansas metal scene [laughs].