After a lengthy hiatus, St. Blues Guitars have returned to Memphis. This small company formed in 1985 only survived four short years, despite providing firepower for some of the

After a lengthy hiatus, St. Blues Guitars have returned to Memphis. This small company formed in 1985 only survived four short years, despite providing firepower for some of the biggest names in the business, including Eric Clapton, Albert King and Billy Gibbons. Those who knew about the early St. Blues guitars realized it was only a matter of time before the brand would be resurrected.
Fittingly, it all started across the street from the original Memphis institution, Graceland. The custom work that Charles Lawing and Tom Keckler were doing at Mike Ladd''s Guitar City in the late sixties, on what is now Elvis Presley Boulevard, was a powerful magnet for musicians touring through Memphis. When Led Zeppelin came stateside, Jimmy Page had them overhaul one of his guitars. He was so impressed by their work he asked them to refurbish all of his instruments, and the buzz continued to spread. The two even built a one-of-a-kind guitar as a gift to Elvis from his father, which he can be seen playing in
Aloha from Hawaii
.
The original Bluesmaster, the signature St. Blues model, was designed by Lawing and Keckler before Keckler left to help start Schecter Guitars in Los Angeles. For years, the unique shape, classic vintage appearance and playability of the Bluesmasters on display at Strings & Things in Memphis drew a lot of interest from passing guitarists, which led to the creation of the St. Blues guitar line in 1985. The guitars were a critical smash, but a lack of capital forced the founders to shelve the line in 1989.
Not surprisingly, interest in St. Blues never waned; in 2005, with a new group of Memphis entrepreneurs determined to resuscitate that same gritty Memphis soul, St. Blues was reborn. With the return of the original Bluesmaster, plus a handful of other uniquely conceived models, St. Blues is poised to make guitarists everywhere think twice before their next puchase. This month, we''ll be giving the Mississippi Bluesmaster and the 61 South a test run.
The Mississippi Bluesmaster
Our sample came to us in a stunning and vintage-looking Antique Violin Flame. The tasteful flame seems to blend naturally within the select grain mahogany top, and the crème colored binding on front and back gives it the patina of a gently aged vintage guitar. This guitar seems to display an amberish glow when viewed from afar under lights, imparting a very cool aura from the get-go.
Two St. Blues custom wound Zebra humbuckers, along with a 3-way toggle and separate chrome tone and volume controls give the Mississippi Bluesmaster a simple and understated look, perfect for those of us who prefer simplicity in style and function. The bridge is a rock solid custom steel hardtail and the neck is an expertly fitted bolt-on mahogany specimen with a distinctly Gibson-ish vibe. The fretboard is made of AAA Indian rosewood that appeared to have a darker color than other rosewood fretboards I''m accustomed to seeing - my first impression was ebony. Mother of Pearl dot markers add a classy touch to the proceedings and are nicely appointed. The tuners are vintage Klusons - a great match in terms of the guitar''s overall vibe - and a bone nut adds another dimension of quality.
Feeling the Blues
When I first picked this guitar up, I was immediately reminded of a Gibson Nighthawk I owned years ago - a guitar whose silhouette bears more than a passing resemblance to St. Blues'' iconic shape. It is extremely light and the neckand body balance felt just right. The neck, however, was my personal Holy Grail. It''s a combination of a player-friendly slight ''C'' shape with a familiar 24.75" scale - a design likely to please pickers with small to mid-sized hands, making those previously troublesome chords effortless. The factory setup was medium low and the neck plays fast and smooth. The fretboard edges exude a comfortable, worn-in feel.
Playing various triads and barre chords up and down the neck was a treat for my fingers. The nickel silver frets were of a medium size, and at this price point, it was treat to see how well executed the fretwork was. This is one of those guitars that''s meant to be played and played and… well, you get the idea.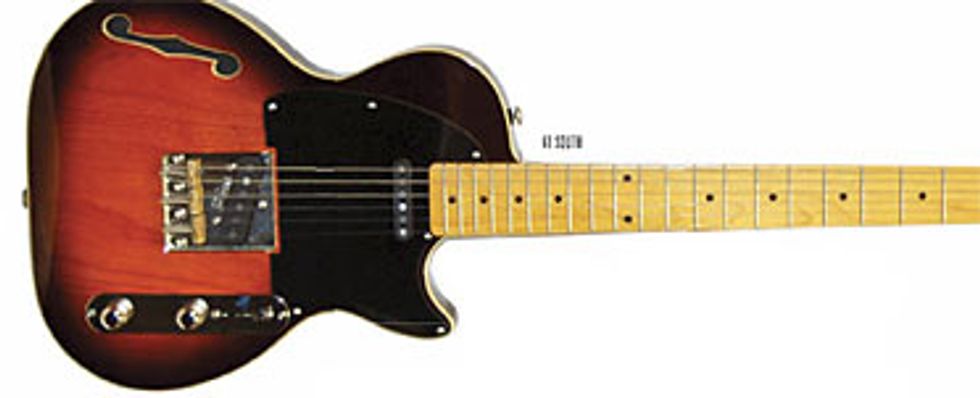 That Howl
Plugging in, the Mississippi Bluesmaster lives up to its name. It is an old school blues machine that simply gets after it with no messing around. This guitar lives to produce Bayou-based howls and growls, and after a few minutes you''ll find yourself looking for the crossroads.
Playing around with the Zebra humbuckers, I came away quite impressed with the tonal balance present in all positions - they come off as very boutique-ish, without any of the muddiness you can frequently encounter in stock pickups within this price range. The bridge bucker is very aggressive and will have you honking out feisty runs, while the neck bucker alone rekindles images of those smoky Mississippi blues bars of yesteryear. You''ll find this is a very responsive guitar, and there are a wide range of sounds available, even within the Bluesmaster''s simple electronics setup.
I should mention that I stumbled upon some surprisingly rich and pleasant acoustic tones by rolling the tone knob back to almost nil in the various switch settings. This only enhanced the usefulness of the Mississippi Bluesmaster - the only thing missing might be the ability to split the humbuckers into single coils for added versatility, but that would admittedly spoil the simplicity that makes Ole Miss what it is.
Buy if...
you''re looking for a meaty-blues rock sound at a blue-collar price.
Skip if...
you only want others to be impressed by the familiar name on a headstock.
Rating...
 
The Highway 61 South
Next up was St. Blues'' highly anticipated 61 South - a guitar mimicking the original Bluesmaster''s overall structure and layout, but with a unique thinline attitude. True blues hounds out there will recall that 61 South is best known as half of the intersection where Robert Johnson is said to have cut his deal with the devil (the other half being Route 49 down in Clarksdale, Mississippi), giving this axe big shoes to fill.
Our 61 South model arrived in a familiar, Fendery two-tone finish, displaying a nice mix of antique burst among the natural wood patterns on the select grain ash body. It is also available in what the company calls a White Blonde - a more transparent white that allows some of the graininess of the ash top to filter through. The classic sunburst plays well against the vintage aura of the 61 and the small Tele-style semi-hollow body will have you thinking Fender Thinline, but in a more subdued and devious way. Double crème binding is everywhere, including the infamous ''f'' holes, and there were no blemishes or inconsistencies observed through my bi-focaled inspection.
As with the Mississippi Bluesmaster, the 61 South features St. Blues'' custom wound pickups, this time showcasing their Tele-style design in a tapped configuration, allowing you to dial in four different tonal variations. Pulling up the volume or tone knob controls allows you to tap approximately 25 percent of the pickup''s signal. Optionally, you can have the 61 South configured with a P-90 at the neck and a Tele tapped single coil at the bridge. The bridge is a solid nickel Wilkinson WTB with stammered brass saddles, and the guitar''s appointments, like the cord plate and strap buttons, are all finely mounted. The overall look is pure vintage, with style cues borrowed from both St. Blues'' original Bluesmaster and Fender''s original Tele Thinlines.
The hard rock maple neck''s bolt-on construction and 25.5" scale length also give off a Fender-ish vibe. The maple fretboard features a weaving wood grain with customary St. Blues nickel finished frets that are more vintage-sized than today''s more prevalent jumbos. Regarding fret sizes, to each their own. Those used to jumbos will have to make some adjustments to their bending technique, but I''m a sucker for maple fretboards both in appearance and tone, and this one didn''t disappoint. It''s all capped with a bone nut and vintage 15:1 ratio Klusons, giving the 61 South a familiar feel.

Southern Comfort
First and foremost, the 61 South is lightweight and compact, but not in a fragile way. I love my Epiphone Casino but it sometimes feels like I''m holding a whiffle ball bat in a hardball game when playing aggressive blues and rock. The 61''s semi-hollow weight and small body mass comes with no such "handle with care" warnings - this is a gig worthy warrior that would likely hold up to live and aggressive picking. I played the 61 in both sitting and standing positions and only noticed a hint of neck heaviness, a typical complaint for semi-hollow and full hollowbodied guitars. This is a very comfortable guitar that will make your shoulders and arms thank you.
Unlike the Mississippi Bluesmaster, the 61 sports the spank and feel provided by the longer scale. Moving up and down the neck was fast and easy, with the maple fingerboard showing no sign of stickiness, and the frets offering a nice, beveled finish. The stock setup on my 61 featured medium action and light gauged Cleartone strings, making bends and pull-offs a breeze. Tapping the sounds by pulling on the knobs themselves was smooth and easy.
Sounds of the South
The 61 South yielded a very nice tonal response when working between soft fingerstyle and aggressive picking styles. The bridge pickup is exceptionally responsive to an aggressive attack, producing a nice array of honky, rock tones. Spank it a little harder with some fast chicken pickin'' and you''ll find yourself rewarded with some of the most organic sounds available at this price point. Adding some dirt to your signal will get the 61 South going as well, and, while not as aggressive as the Mississippi Bluesmaster''s humbuckers, you''ll be greeted by a cool semi-hollow growl that awakens a rockophile''s past.
I found the most versatile tones - including various chimey and bell-like tones that would appeal to a wide range of pickers - once both pickups were engaged. As a testament to the guitar''s range, you''ll even find some bluegrass tones hiding in here as well. I didn''t personally find a lot of variety or tonal possibilities in tapping the pickups unless playing straight clean, as they seemed to get washed into the sound a bit when adding some dirt and distortion.
The neck pickup had a nice mellow snap to it, along with some of that dripping Delta bluesy-ness. The tone knob is very impressive providing a wide swath of tonal possibilities in between one and ten. I didn''t experience any of the microphonic feedback typically associated with semi-hollowbodies until pushing the amp''s bass and gain levels over the top - at typical stage volumes, you should have no problems.
The Final Mojo
Honestly, both of these guitars had a lot to live up to. Based on the signature guitar from the original St. Blues lineup, the 61 South has the company''s reputation on the line, while the Mississippi Bluesmaster comes raring into town as the rookie hot-shot trying to grab some of the spotlight. Both guitars finished with flying colors. Each has its own tonal personality - the Mississippi Bluesmaster delivers a meatier, blues-rock tone, while the 61 South maintains an obvious thinline presence in a sweet and airy package. Even more remarkably, both of these guitars retail for under $900, making them an under-the-radar bargain. Simply put, these are great products designed for players.
Buy if...
you''re looking for a comfortable blues-rock semi-hollow guitar that can do the Tele thing along with its own unique voicings.
Skip if...
the small size and light weight turns you off or you don''t get off an organic semi-hollow tones.
Rating...
 
Our expert has stated his case, now we want to hear yours. Log on and share your comments and ratings.
Looking for more great gear for the guitar player in your life (yourself included!)? Check out this year's Holiday Gear Finds!
Flare is a dual-function pedal with a tube-like booster and a 1970s-style ring modulator effect that can be played separately or together.
Flare's ring modulator is based on the iconic tone of the original Dan Armstrong Green Ringer. This vintage classic was made famous by Frank Zappa who loved the unusual modulations created by generating a harmonic octave over notes. Messiah's version offers two control knobs: a "Sparkle" tone attenuator and output Level control. Its taupe-gold body, purple and green knobs and stick-figure rock 'n' roller holding up a flame convey an appropriately rockin'70s vibe.

​In a unique twist, Messiah's Flare pairs the ringer with a warm tube-style boost instead of a fuzz. Flare feeds the booster into the ringer for an extra punch, while preserving the Green Ringerspirit. The ringer side also turns any fuzz into an octafuzz, and it has the ability to quiet signal background noise fed through it.
The booster side features a single Boost knob to control the MOSFET circuit, making it very tube-amp-friendly with a warm, organic boost and gain of up to 32dB.
​The pedal is a distinct improvement over the 1970s pedal that inspired it. "Most ringer pedals don't track well," Tom Hejda, owner of Messiah Guitars. "The player can't rely on repeating the same effect even with the most consistently played notes. We carefully matched the components, so our ringer follows your every move, producing that slightly dirty octave you expect on demand."
Messiah developed this vintage octave pedal with flexible features so that people who love that messy, dirty Zappa-esque sound can get there with ease but there's also something for those who have not fallen in love with fuzz or the Green Ringer alone. Flare offers an array of sonic options while retaining simplicity in the controls.
Each Flair Pedal Includes:
3 control knobs: Boost, Sparkle, and Level
Two effects – Ring Modulator and Boost – can be used together or separately
Space-saving top side jacks
Durable, cast aluminum alloy 125B enclosure with fun artwork
Easy to see, illuminated True-bypass foot switch
Standard 9V pedal power input​
Flare Pedal Demo
Messiah Guitars pedals are designed with an explorative player in mind. Like their custom guitars and amplifiers, Messiah's pedals are hand-crafted in Los Angeles for a long life with guaranteed quality.
Flare retails for $199.00 and can be purchased directly at Messiah Guitars or you can hear it in person at Impulse Music Co. in Canyon Country, CA.
For more information, please visit messiahguitars.com.
This feathery little guy is a joy to play because of its incredibly quick response to your right hand - much faster and more expressive than your typical auto-wah pedal.
​If it looks like a duck, acts like a duck, and QUACKS like a duck, then it must be a duck. That's how we came up with the name for our new envelope filter. This feathery little guy is a joy to play because of its incredibly quick response to your right hand - much faster and more expressive than your typical auto-wah pedal. Trevor explains how this is possible in the launch video, as well as gives a demo on Le Canard's operation.
​The attack control determines how quickly the filter responds to the envelope, and the decay sets how quickly the filter releases afterward. The range controls which frequency spectrum the filter does its magic on. Add to this relay-based full-bypass switching with failsafe, and you've got one crazy little quacky beast. It is so expressive that you'll want to give up on your rocker-wah forever.
The MayFly Le Canard envelope filter features:
Super fast responding envelope follower. Touch it and it jumps!
Range control to dial in the character of the filter
Attack control to control how fast the filter moves on that first touch
Release control to control how slowly the filter slides back to baseline
Full bypass using relays with Fail SafeTM (automatically switches to bypass if the pedal loses power)
Cast aluminum enclosure with groovy artwork
MSRP $149 USD ($199 CAD)​
Introducing the MayFly Le Canard Envelope Filter
All MayFly pedals are hand-made in Canada.
For more information, please visit mayflyaudio.com.