Bo Diddley Was A Guitar Slinger
December 30, 1928-June 2, 2008 Along with Chuck Berry, Bo Diddley was one of rock n' roll's guitar-slinging originators. His guitar rhythms harked back to a more primitive place than
December 30, 1928-June 2, 2008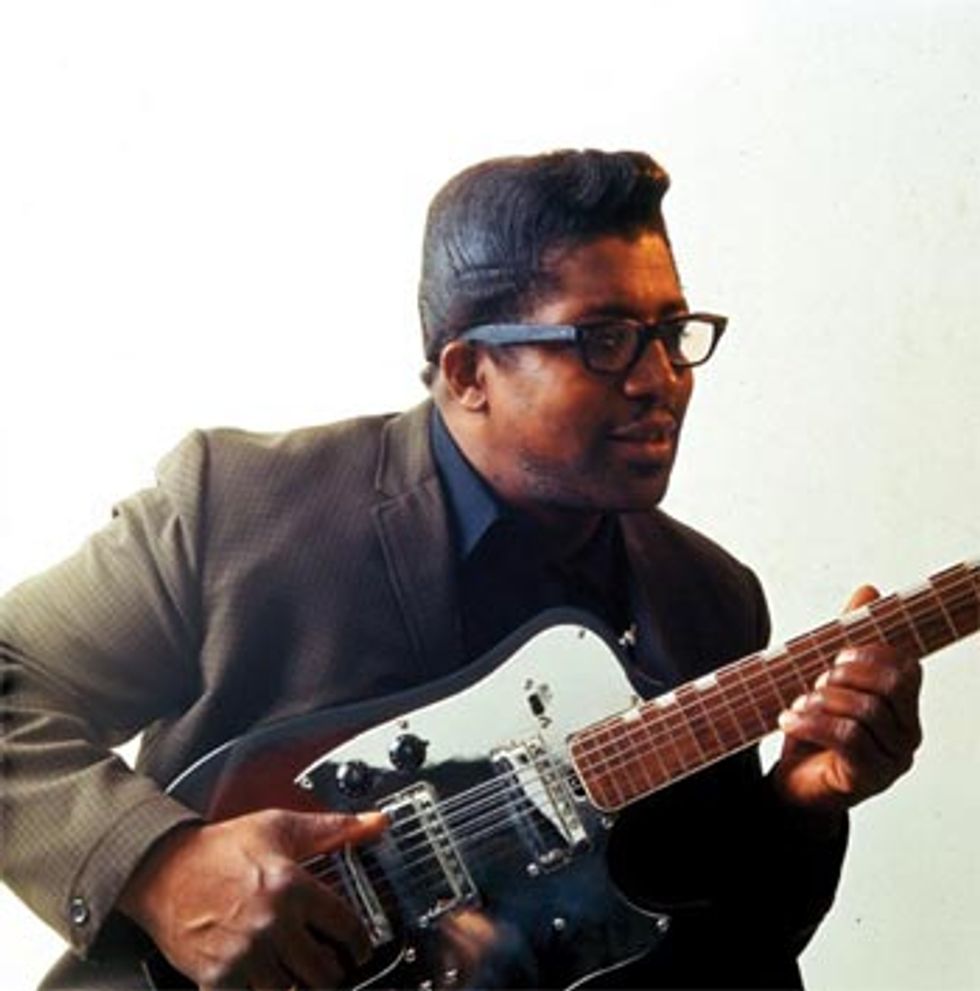 Along with Chuck Berry, Bo Diddley was one of rock n' roll's guitar-slinging originators. His guitar rhythms harked back to a more primitive place than the swing-meets-country style of Berry; outraged parents in the fifties referring their children's affection for "jungle music" were most likely referring to Bo Diddley. The tribal "dum de dum dum, dum dum" beat he popularized in tunes like "Bo Diddley" and "Mona" went on to drive classic rock songs, from Buddy Holly's "Not Fade Away," to the Who's "Magic Bus," as well as pop (George Michael's "Faith") and punk (the Clash's "Hateful"). Says former Johnny Winter sideman Jon Paris, who accompanied Diddley on and off over the last two decades, "That beat works over a funk or a two beat groove, it is really a universal feel." In fact, Diddley often told his drummers, "Whatever you do, don't play the Bo Diddley beat."
The blues would not have been the same without Diddley's compositions like "Before You Accuse Me," "Who Do You Love," "I'm A Man," "Mannish Boy," and "You Can't Judge a Book by Its Cover," and artists as diverse as Connie Francis and the New York Dolls embraced a wealth of other Diddley tunes.
Born Otha Ellas Bates in McComb, Mississippi, he was raised by his mother's first cousin, Gussie McDaniel, who changed his name to Elias McDaniel when they moved to Chicago. In the fifties Leonard Chess signed him to his Checker label when McDaniel walked in off of the street. Depending on whom you believe, the Bo Diddley moniker was either bestowed upon him by blues artist Billy Boy Arnold or derived from the "diddley bow" – a homemade, one-string guitar of African origin. What no one disputes is that the hits started immediately, and he spent the next five decades touring in rock n' roll package shows as well as solo.
Diddley's rhythmic style came from a childhood as a violinist; the bowing inspired his rapid scratching of a few strings. His guitar was often tuned to open E (E, B, E, G#, B, E, low to high), and capoed to change key.
The man was almost as well known for his odd shaped guitars as for his music. In the late fifties he used a rectangular guitar, with the neck and the electronics from a Gretsch installed on a body that he constructed; Gretsch later made him a similar guitar that he nicknamed "Big B." During the sixties he was equally enamored of another oddly shaped Gretsch, the Jupiter Thunderbird, recently re-issued and touted by Billy Gibbons as the "Billy-Bo." In the early years these guitars were run through one of the first effects boxes – the DeArmond Model 60 Tremolo Control. Later, Australian Chris Kinman (of aftermarket pickup fame) built a version of the rectangular guitar that Diddley dubbed "The Mean Machine." The electronics included Gibson humbuckers, as well as the circuit boards from the onboard effects that Diddley favored: an EQ, a delay and a chorus. Paris says that on one such guitar, "There were actually slits cut in the face of the guitar for the equalizer controls." Diddley also occasionally played a synthesizer guitar.
According to Paris, these guitars reflect the man's personality. "He really was an innovator; he brought in the blues, he brought in Caribbean, calypso and do-wop ballads. He was experimenting all the time. He was always trying to come up with new tunes and feels."
By combining "jungle" rhythms with the modern technology of the electric guitar, Bo Diddley created a sound that thrilled the youth of post-WWII America, terrified their elders and still resonates today.