Carr Amplifiers' Speaker Selection
This month, I spoke with Steve Carr, founder and designer of Carr Amplifiers, about his amplifiers and the speaker selection process. What's your process for creating a new amplifier?
This month, I spoke with Steve Carr, founder and designer of Carr Amplifiers, about his amplifiers and the speaker selection process.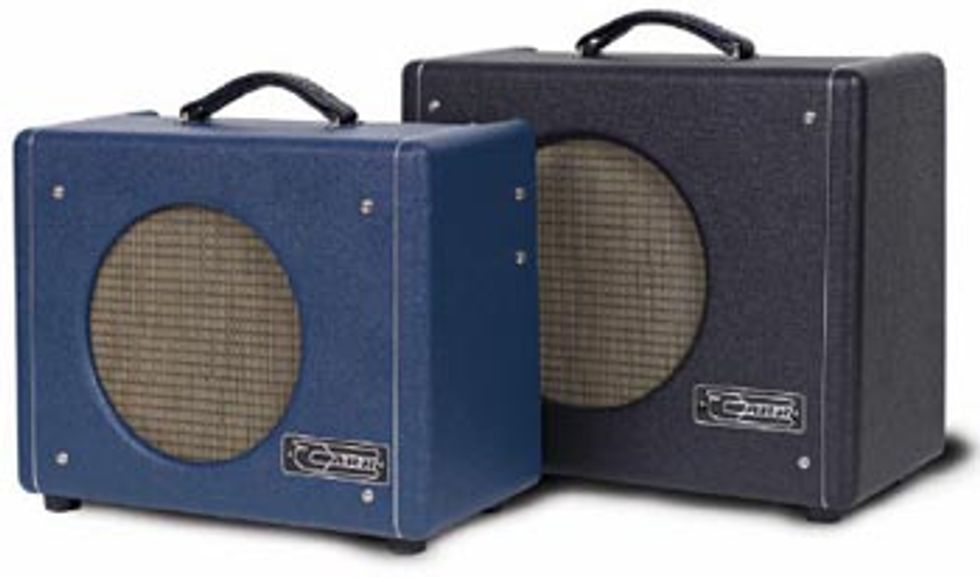 What's your process for creating a new amplifier?
What a huge question! I usually start with a classic design as a platform then collage in other classic designs. Once I feel like I hear something promising I start tweaking. I also try coming up with unique ways to configure the circuit with useful features. For example, the Vincent amp started as a modified Rambler. Although they are both cathode biased, the bias circuitry is very different. Also, the design of the Drive control is a new approach to adding gain and clarity while retaining the reverb character of the amp.
After the electronics come together, we start working on cabinet ideas with different dimensions and façades. We also audition different speakers to find the best amp-tospeaker pairing. Once we have a complete system, more tweaking is involved.
Do you try to fill a niche or are you trying to emulate something similar on the market?
I am usually looking for something interesting and different – then I consider if there is a market for such a tone. I rarely emulate something for its own sake. It is more of a springboard-type process.
Do you aspire to create a specific tone when designing a Carr amp?
My personal preferences are for clear, grainfree clean tones with character, and thick overdrives that retain the sound of the particular guitar. Still, each new design lends its own voice. Although all of our five current models sound different from each other, they all have these similar characteristics. Even when designing an overdrive-focused amp, these sonic priorities and features fall in around it.
What role does the speaker play in the Carr tone?
Speakers are very important, especially considering we make mostly combos. Although I have favorites I rely on, I try a number of speakers with each new design. Our house favorites are the Wizard and the Red, White & Blues for open back cabs and the Cannabis Rex in closed back cabs.
How do you go about finding the right speaker? What factors do you consider?
I start with my favorites from the Eminence line. I feel they have tones that resonate with my taste. If those don't seem right, I get a handful more after consulting with Eminence and try those. Generally, my shortlist works.
Do you prefer custom designed or off-theshelf speakers and why?
We used the custom designed Kingpin 60 from Eminence for the first six years of Carr Amplifiers. This was a great speaker but the basket vendor went out of business. After hearing and liking the Patriot and Red Coat series at NAMM, I decided to work with those. I felt the diversity of tone from our amps would benefit from a variety of speaker models.
How do you decide the power of the amp and what role does the power of the speaker play?
The majority of our amps are 40 watts or less with the most popular, our Mercury, at 8 watts. These days you don't need lots of power. PA systems have gotten much better and clubs tend to be a bit smaller. I use our Mercury live in a five piece band with no volume issues. In fact, I've been asked to turn down a few times. Eight watts is loud! The five to 40-watt range is where I like to work. Speaker-wise, I listen to its tonality in the system with the amp. I haven't found that low-watt amps need low wattage speakers to sound their best. In fact, the standard speakers with 60 to 75-watt ratings seem to sound much fuller in low-watt amps, compared to 15-watt speakers.
For more information on their products, please visit Carr Amplifiers at
carramps.com
.
---
Anthony "Big Tony" Lucas
is a guitarist and Senior Lab Technician at Eminence Speaker LLC, where he specializes in guitar-speaker design and customer support. Big Tony has been with Eminence for over 10 years and is responsible for many well-known guitar speaker designs.