Cool Adventures in Hot Places
When I first picked up a guitar at eight years old and awkwardly fumbled my way through the opening bars of the Peter Gunn Theme, I never expected to find
When I first picked up a guitar at eight years old and awkwardly fumbled my way through the opening bars of the Peter Gunn Theme, I never expected to find myself performing in the Iraqi desert, covered in dirt and directly under the sun, beating down on everything at a blistering 120 degrees. But that's exactly where I found myself, putting on a show for our troops during a USO show in Baghdad. It was also the first time I had plugged into a Marshall Mode Four amp.

When a backline company like Coaxial Events and Production is hired to provide gear for you for a performance, you never know what you'll end up with for an amp – especially in the middle of a place like Kuwait. To prove this point, a number of years ago I was touring with a blue-eyed soul band in Italy. The Italian backline company we hired hooked me up with a two channel Ampeg amp. Channel 1 was clearly marked for guitar, but the second channel was marked for accordion! It also had a three position reverb – the first click was off, the second was Reverb 1 and the third was Reverb 2. It actually didn't sound that bad, but the entire band got a good chuckle out of it. Having had that experience, I thought to myself, "What kind of Saudi knock-off piece of camel dung will I end up with on this trip?" You can imagine my relief when I saw that all-too-familiar Marshall logo waiting for me on the side of the stage.

Suleiman Arora (pronounced solo-man) from Coaxial Productions (coaxialkw.com) has accompanied me on all three tours that I've done with Toby Keith in Iraq. He's the one who hipped me to the solid-state Marshall Mode Four amp. Personally I love tubes – the sound, the smell and the texture. I love tubes for all the same reasons that every guitarist on the planet does. They just sound better! But I realized when it's hot enough to fry an egg on your speaker cabinet, the stability of solidstate might be the best way to go.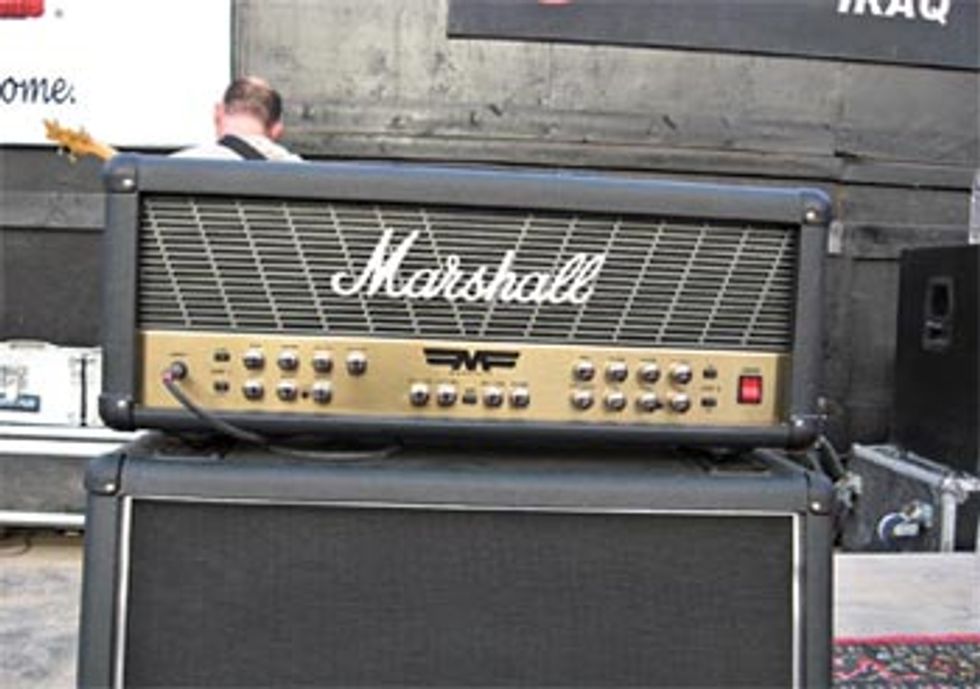 Marshall's Mode Four delivers 350 watts of power,
but stays cool under stress.
It was a lesson that I had learned last year while we criss-crossed the South with Toby Keith. It was 102 degrees everyday; in Atlanta, my tube amps overheated halfway through the set. It was just as hot and even more humid the next night in Tampa, and to no one's surprise, my amps overheated again. Knowing that we would have the same conditions for a third night in West Palm Beach, my guitar tech Sammy Bones and I rigged up an air conditioner unit and duct taped two dryer vents to it. We clipped the dryer vents to fans and pointed them at the back of my Kustom Coupe tube amps. It was as ghetto looking as it gets, but it kept the amps cool enough that they never shut down again. We still use that A/C system for outdoor shows whenever it's over 90 degrees on stage.
But I digress – back to the situation in Iraq. Suleiman described the solid-state Mode Four to me as having "beast power," so I wasn't worried about it having enough volume. Now I just had to create my tone.
One thing I've learned from using Marshall amps over the years is that that they are generally too bright for my taste. As odd as it seems, the first thing I do while setting up my tone on a Marshall is turn the Treble knob to zero. I know, it's absolute heresy, but that's what I've found works for me – believe me, I would never do this with any other amp. From there I'll dial in my bass and midrange, and lastly I'll listen to how the amp responds in the room to decide if the treble needs to be increased or not. Additionally, on fly dates when I don't have the luxury of playing through my regular rig I'll carry a Roland GT-8 multi-effects processor to run my guitar through. I took the time to create a setting in it that matches my big rig tone for tone.
It's always a great adventure getting to perform overseas. In the last seven years I've done six USO tours, covering Iraq, Afghanistan, Germany, Italy, Belgium, Macedonia, Kosovo and Scopjia. You never know what you'll end up playing through. Sometimes you'll find an amp you really love and other times you just have to get through the night in one piece. And you thought it was going to be all sunglasses and autographs!
Keep jammin'.
---
Rich Eckhardt
Rich Eckhardt is one of the most sought after guitarists in Nashville. His ability to cover multiple styles has put him on stage with singers ranging from Steven Tyler of Aerosmith to Shania Twain. Rich is currently playing lead guitar with Toby Keith. His album Soundcheck is available now, with another due this summer.
richeckhardt.com