Effects…in an Amplifier!
Hey Zach, I have one of those Fender modeling amps called the Cyber Deluxe. It has all kinds of controls, knobs, buttons, and a built-in tuner. I used it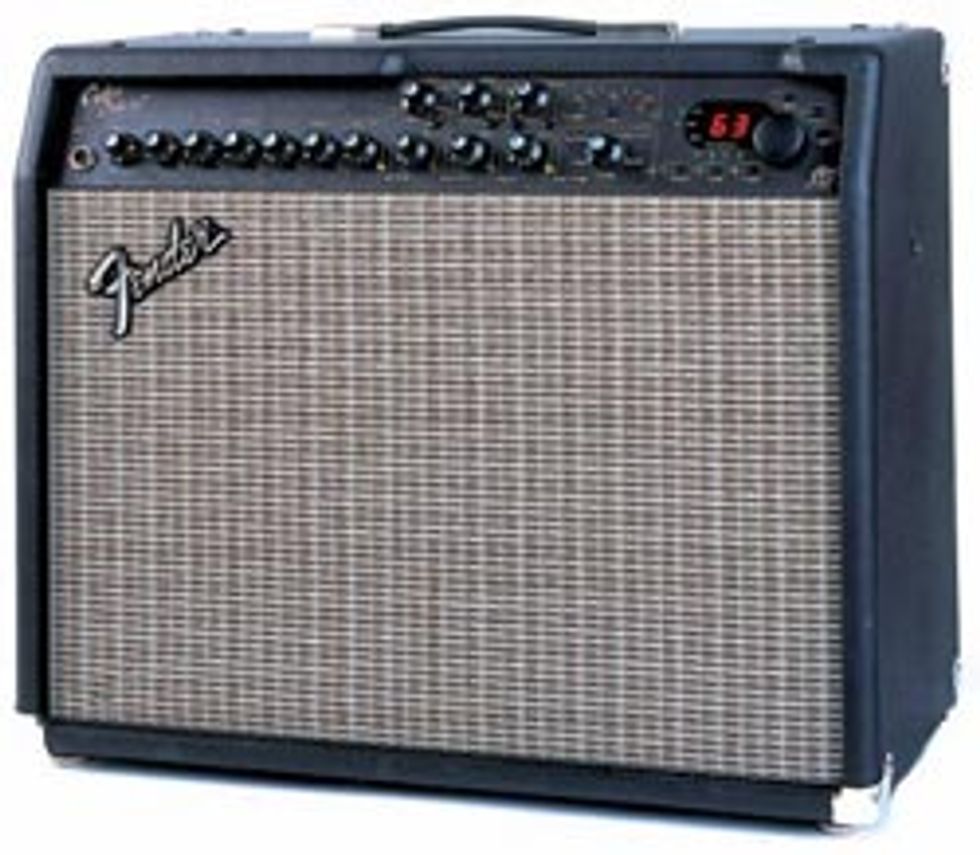 Hey Zach,
I have one of those Fender modeling amps called the Cyber Deluxe. It has all kinds of controls, knobs, buttons, and a built-in tuner. I used it a lot when I bought it new, but it has since worked its way into the storage room. I dug it out the other day to play around with it again, and I remembered how much fun you can have with it. Although it isn't the easiest amp figure out, it is cool nonetheless. I'm curious about modeling amps, their effects, and what this unit is worth today.

Thanks!
Adam Hendrickson
Charlotte, North Carolina
Hey Adam,
"Innovate…Don't Emulate" was Fender's catchphrase for their new line of modeling guitar amplifiers in 2001, which is kind of an oxymoron since these new amplifiers were made to recreate the sounds of yesteryear. Modeling guitar amplifiers became extremely popular in the early 2000s, but they have since subsided a bit and there are several reasons for this. Although there doesn't seem to be much history on modeling amps (tube amps dominate most of the available amplifier books), I'll shed a little light on these multibutton, multi-tasking machines.
Basically, modeling amps simulate or reproduce the sounds of various popular amplifiers and cabinets (Fender, Marshall, Ampeg, and Vox are some of the favorites). Many of them also have several built-in effects (reverb, chorus, delay, distortion, etc.). Most of these amps create these sounds through digital processing, although there have been a few analog designs along the way. The user could select from their favorite amp head/combo and speaker combination, and select from a variety of effects all in one box. This development, for a time, threatened the rest of the amp industry by offering a "one size fits all" piece of equipment. However, modeling amps have not taken off as much as most companies had thought.
Line 6 is most often credited with releasing the first digital modeling amp in 1996 with the AxSys 212. This unit was a 100W, 2x12 combo with both digital amplifier and effect models. Line 6 really captured the guitar modeling market with the release of the POD in 2000. Several other amp manufacturers jumped on the modeling bandwagon shortly thereafter, including Johnson, Tech 21, Roland, and Vox. Variations of modeling amps have also expanded with the use of tubes and other more traditional equipment.
In 2001, Fender introduced their modeling guitar amplifier called the Cyber Twin. This hybrid chassis (containing both tube and solid-state components) featured 35 different amp models (26 of these 35 are based on Fender amps) and 85 custom amp designs with effects. A digital display along with selfadjusting motorized controls added to the Cyber Twin's versatility. A lot of fanfare and mostly warm reviews followed the introduction of the Cyber Twin. To supplement the line, a Cyber Twin Head and 4x12 speaker cabinet was introduced in the same year. The Cyber Deluxe was introduced in 2002, and the Cyber Champ in 2003. An updated Cyber Twin SE combo was introduced in 2005, and is currently the only Cyber modeling guitar amplifier in production by Fender.
Your amp, the Cyber Deluxe, features 65 watts, a 1x12 Celestion G12T-100 speaker, a solid-state chassis, 16 amp collection presets, 16 Custom Shop presets, and an additional 32 presets that can be rewritten by the user. The preamp is actually analog, and the digital effects such as Delay and Chorus are placed post-distortion, while effects such as Touch Wah are placed pre-distortion. Other features include a digital tuner, digital display, and speaker emulated stereo line outputs. The Cyber Deluxe last retailed for $1000 and sold new for around $700. Today, this amp is selling for between $375 and $450 in excellent condition. This may seem a bit low (less than half of the original retail), but it reflects the saturation this amp has in the market, as well as the overall negative feeling toward modeling amplifiers. Also note that the optional Cyber Foot Controller that originally retailed for $250 can add $100 to $150 on top of this value.
As far as I'm concerned, guitar modeling amps will never replace the real thing. Although they provide the user with almost unlimited options for tone, most guitarists I've spoken with often comment that they can hear that the tone is being digitally created and is, at times, incorrect. After all, these amps take the signal from the guitar and convert it to sound like something else that is not natural. While Fender is probably the most worthy manufacturer to offer an amp like this (look at almost any other modeling amp and you'll find a plethora of Fender models on it), don't expect this amp to replace your entire arsenal. These amps are definitely a treasure to the beginner, but for more advanced players and those playing live, traditional amps will sound better.
---
Zachary R. Fjestad
Zachary R. Fjestad is the author of the Blue Book of Acoustic Guitars, Blue Book of Electric Guitars, and the Blue Book of Guitar Amplifiers.
Questions can be submitted to:
Blue Book Publications
Attn: Guitar Trash or Treasure
8009 34th Ave. S. Ste #175
Minneapolis, MN 55425
800-877-4867
www.bluebookinc.com
guitars@bluebookinc.com
Please include pictures of your guitars.