Dear Guitar Trash or Treasure, I am wondering if you can tell me anything about this guitar. I bought it around 1992 at a yard sale for $100, including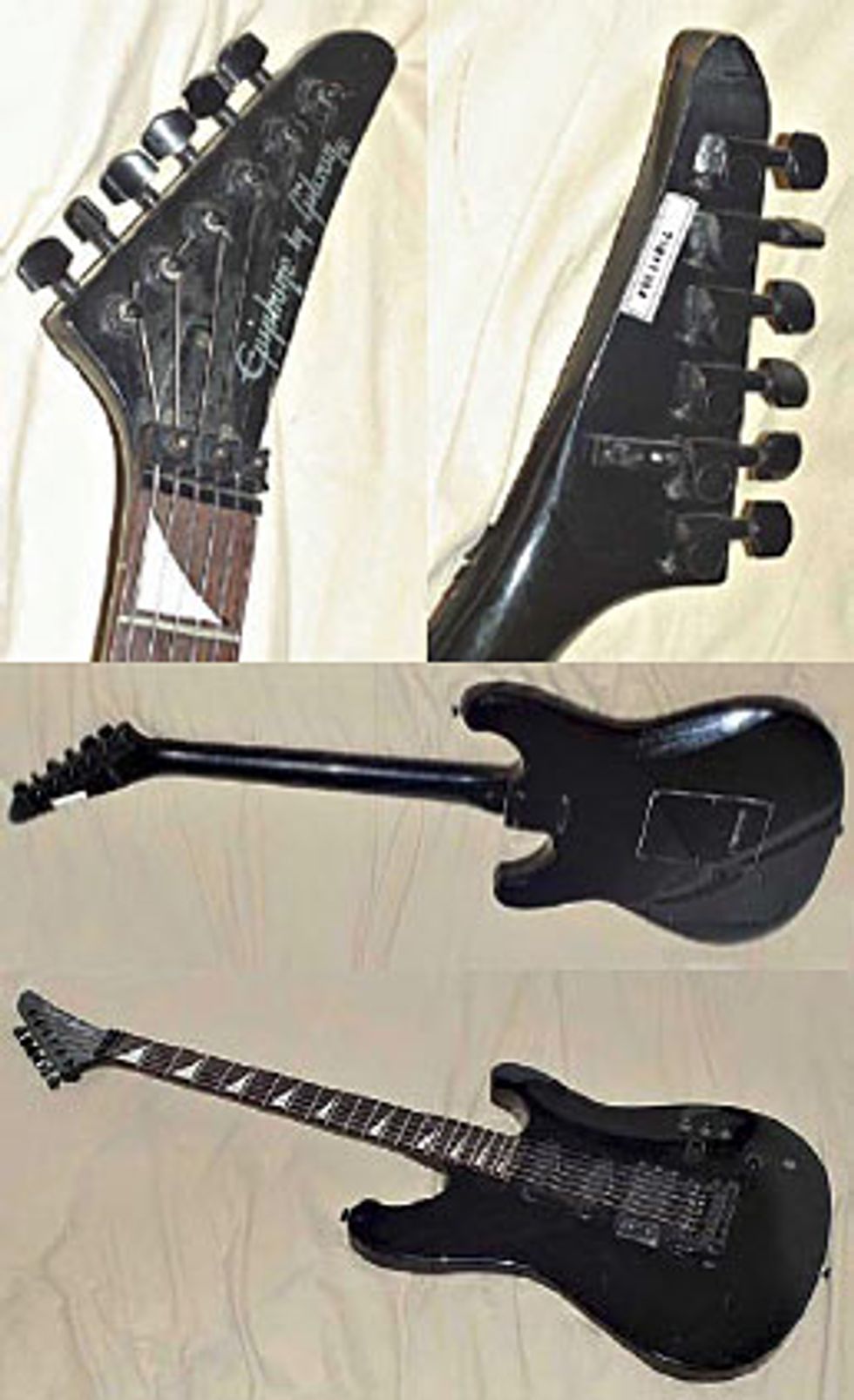 Dear Guitar Trash or Treasure,
I am wondering if you can tell me anything about this guitar. I bought it around 1992 at a yard sale for $100, including a hard case and Gorilla mini-amp. All I know is it says "Epiphone by Gibson" on the headstock and the serial number is 710113XX. I am curious about the model name, the year it came out, where it was made, materials of the body, neck and fretboard, as well as where to locate a replacement vibrato bar. Mucho thanks in advance,

J.C. O'Connell

Hi J.C.,
When Juszkiewicz, Berryman, and Zebrowski bought Gibson in January, 1986, the redevelopment of Epiphone didn't lag far behind. Even though Epiphone was acquired by Gibson in 1957, the company continued to operate mainly as an independent brand under the corporate umbrella. Epiphone was produced by Gibson in Kalamazoo, Michigan, until 1970 when all production was moved overseas to Japan.
Gibson tried many things with Epiphone during the 1970s and 1980s; however, Epiphone's sales had fallen to record lows by the mid-1980 and the brand was in a free-fall to oblivion. Once Gibson was sold to the boys from Harvard, they revived Epiphone and turned it into Gibson's budget brand. Although it seems at this point that Epiphone had lost its identity completely, the fact that Gibson could produce their budget guitars (Les Pauls, Firebirds, Flying Vs, etc.) under the Epiphone name allowed Epiphone to carry on their traditional models (Sheraton, Rivera, etc.) and introduce a few new ones (S Series, Pro Series etc.).
According to Epiphone's catalogs, your guitar is part of the S Series. Epiphone followed the popular industry trends of the eighties by adding a Strat-style guitar to their line and calling it the S Series, as well as a new line of Tele-style guitars called the T Series. Models in the original S Series included the S-310 and S-400, which featured traditional Stratstyle appointments, and the S-600, S-800, and S-900, which had higher-end appointments including sharktooth fingerboard inlays, Steinberger tremolos and advanced pickups/electronics. The S-600 had regular pickups with a five-way switch and the S-900 had the same pickup setup as the S-800, but with maple neck-through-body construction and body binding.
Your model is the S-800, featuring a carved basswood body, maple neck, rosewood fingerboard, and pickups that can be individually turned on or off by three individual switches. There is also a coil split in the tone knob. Although there is no accurate serialization from this era of Epiphone, your guitar was probably built in 1987 by Samick in Korea. Cort and Peerless also produced guitars for Epiphone during the late 1980s, but Samick was the larger provider. The eight digit serial number conforms to Samick's system where the first number of the serial number indicates the last number of the year. According to a 1986 price list, the S-600 retailed for $269 in 1986, but I don't have any record of the S-800 and S-900. It is estimated that the S-800 was produced between late 1986 and 1989.
Replacement parts are widely available today, especially with the popularity of the internet. I would try contacting Gibson first to see if they have a replacement tremolo bar. If they don't, allparts.com is a large website for guitar parts, and JK Lutherie is another company that can be found online or at many vintage guitar shows for parts.
Based on your pictures, the guitar appears to be in Excellent Plus condition and valued at $300. Used Gorilla amps are typically found for under $100, so essentially you bought a guitar and amp for $100 in 1992, a time when popular guitar/amp packages weren't made by most major manufacturers. Today, the whole package is worth less than $400, but the S-800 itself is much better than just about any other guitar available today that is part of a guitar/amp package – especially since no guitar/amp package comes with a hard shell case. It's a treasure indeed.
---
Zachary R. Fjestad
Zachary R. Fjestad is the author of the Blue Book of Acoustic Guitars, Blue Book of Electric Guitars, and the Blue Book of Guitar Amplifiers.
Guitar Trash or Treasure Questions can be submitted to:
Blue Book Publications
Attn: Guitar Trash or Treasure
8009 34th Ave. S. Ste #175
Minneapolis, MN 55425
800-877-4867
www.bluebookinc.com
guitars@bluebookinc.com
Please include pictures of your guitars.