The man who needs no introduction to the world of guitar and outstanding tone: Eric Johnson. The first time I heard Eric was back in 1985 when he did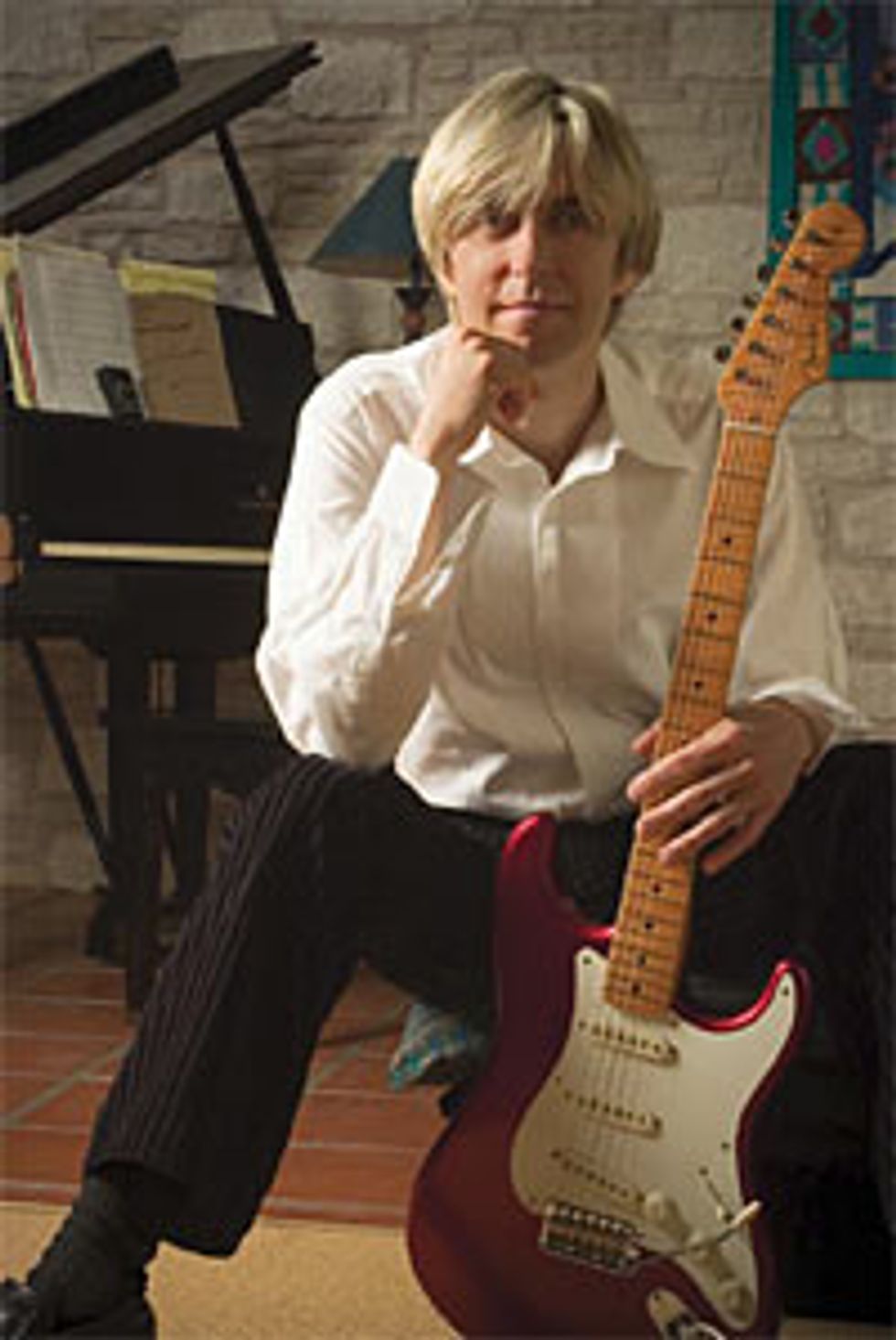 The man who needs no introduction to the world of guitar and outstanding tone: Eric Johnson. The first time I heard Eric was back in 1985 when he did a guest appearance on Steve Morse's solo record, Stand Up. He contributed vocals on the song, "Distant Star," in addition to his signature guitar tone. The following year,
Guitar Player
magazine showcased Eric's song "Cliffs of Dover" on their promo vinyl record that came with every issue. Spinning that song for the first time on the record player had a very powerful effect on me and prompted me to see him at the China Club in New York the very same year. He put on an amazing show and I felt like I had witnessed a great guitar player before he really exploded onto the scene. Four years later, "Cliffs of Dover" earned Eric a Grammy for Best Rock Instrumental, topping fellow nominees the Allman Brothers Band, Danny Gatton, Rush and Yes. Even before this song gave him the recognition he deserved, he had been a session player in the seventies for such artists as Cat Stevens, Carole King and Christopher Cross. In fact, Eric had played on the Grammy sweeping Christopher Cross selftitled album in 1980. Since then, Eric has released several solo CDs, and his most recent,
Bloom
was released in 2005.
The History of "Columbia"
I had the pleasure of talking with Eric about his CD Bloom and the song, "Columbia." For me, that song in particular felt like the CD's signature song due to its "Cliffs of Dover" vibe as well as its positive, upbeat progression. Eric has a keen sense of songwriting and composition, and that has always placed him head and shoulders above other guitarists, hence his Grammy Award which is rare for a rock instrumentalist.
When I caught up with Eric and asked him about the origin of the song he said he wrote it in memory of the space shuttle Columbia which disintegrated over Texas, his home state. Being a born and breed New Yorker, I could relate to his need to express himself over such a devastating tragedy hitting so close to home. Eric told me that he had always been a fan of astronomy and NASA, so when the tragedy hit he immediately felt compelled to sit down and write a song. Written as a commemoration and tribute to the lives that were lost, Eric said, "I wanted to make it more of a positive message, a salute, a celebration rather than just concentrating on a few moments of tragedy, but instead the bigger picture of these brave people's lives." After the song was released, he mentioned that crew-member Kalpana Chawla's husband contacted him and told him that he, along with other astronauts at NASA, really enjoyed the song because it was an uplifting tribute instead of a dirge.
Setup and Gear for Bloom
Eric's typical setup is a BK Butler Tube Driver or an AC Booster through a Marshall JMP Super Lead and a Dunlop Dallas Arbiter Fuzz Face, or an old Ibanez Tube Screamer through a Marshall JTM45. "I have a couple of different Marshalls with a little different circuitry. Some are more Hendrix rhythm, big- Fender-sounding and not as grainy with bigger, thicker rhythm tones and overdrive. Then I have some that are more Super Lead JMP that have a lot of gain within the amp. I'll crank that up and get a lot of distortion from the amp. I also have a Twin Reverb that has Eminence speakers and when you crank it up it has an interesting type of lead tone." For the song "Columbia," Eric used a Strat with the Butler Tube Driver through a JMP Marshall. Eric will sometimes use two amps at a time with a switcher to get a stereo effect, but when overdubbing he likes to concentrate on one amp at a time. Eric says that the BK Butler works really well with the Marshall. It was nice to talk to an artist who really writes from the heart and has true meaning behind his compositions. Check out Eric's genius on Bloom from Favored Nations. Also, expect a new album from Eric later in the year.
---
Brian Tarquin
Emmy Award Winning Guitarist Brian Tarquin scored a Top 20 hit in the nineties with "
The Best of Acid Jazz, vol. 2
" on Instinct Records and enjoyed several top 10 hits on the R&R charts. Founder of the rock/electronica band, Asphalt Jungle and has scored TV music for such shows as, CSI, Smallville, MTV, Alias, 24, All My Children and many others.
bohemianproductions.net
jungleroom@optonline.net
myspace.com/bohemianproductionsmusic