Erich Solomon's path to building guitars began in 1995 with a vision he had as a 17-year-old living in Anchorage, Alaska. He was sitting on a couch in the early
Erich Solomon's path to building guitars began in 1995 with a vision he had as a 17-year-old living in Anchorage, Alaska. He was sitting on a couch in the early morning hours after playing guitar all night with his adoptive brother—head tilted back and eyes closed—when he saw a deep, translucent, non-cutaway guitar that was cobalt blue. The mental image was fleeting and didn't mean much to him at the time; however, it would end up fundamentally changing and shaping the future luthier's life.
Just a few hours later while grocery shopping, Solomon happened to pass the magazine section where he came across a publication with a D'Angelico on the front cover. He bought the magazine because the instrument reminded him of the one in his vision. After reading the short blurb about John D'Angelico, Solomon was "kind of amazed," because he had never considered that such a guitar could be made from scratch by just one person, and not in a factory.
He soon felt the calling to build guitars. "It was that simple and perfect for me," says Solomon. "Within a month of seeing that magazine, I was so bedazzled by those big, beautiful guitars from the 1940s, that I decided I wanted to build archtops, despite the fact that I had never seen or heard one in person." With no tools, no wood, and no idea about how to take the first steps, Solomon began his journey.
Foregoing the traditional route of lutherie school, Solomon is, for the most part, self-taught. The luthier used a combination of instructional materials produced by Bob Benedetto, a week at Tom Ribbecke's archtop construction camp, and valuable time with the Hartvigsons, a family of woodworkers and artists in Anchorage that took Solomon under their wing after the budding luthier expressed an earnestness and passion for the craft.
Almost 20 years later, Solomon now practices his craft in Southeastern New Hampshire where he specializes in building archtops that actually sound more like flattop guitars. "They retain the punch and the essential 'archtopiness' that generally defines the instrument, but have more bass response, articulation, and volume than most jazz guitars," shares the luthier. "I also like for the guitars I make to have excellent sustain, dynamic responsiveness, clarity, and separation." Though Solomon says his guitars are best suited for fingerstyle players, several of his clients are primarily Gypsy-jazz or bluegrass players who are able to utilize the instruments well. "In addition to traditional jazz guitar, my goal is for my guitars to suit a wider variety of music."
Pricing and Availability
The current wait time for one of Solomon's custom instruments is approximately 1 1/2 years. Solomon does his best to keep a couple of slots open for builds that are for new ideas, exhibitions, or the occasional guitar he's able to get to Rudy's Music in New York City. Given the time-intensive nature of Solomon's style of building, he produces only 8 to 10 instruments a year. The builder aims to keep most of his guitars in the $6,000 to $9,000 range so that they are accessible for serious, professional players. More than 50 percent of his commissioned builds from the past two years have been from repeat customers, which he sees as a real compliment to his skills as a builder. "The only downside is that I don't have as many guitars out there in circulation in different geographical areas," shares the luthier.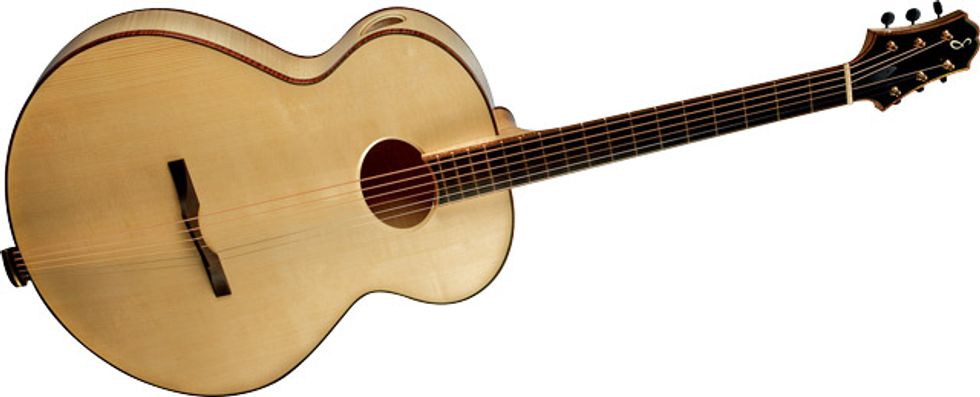 Baritone Phidelity
Solomon's take on a baritone is an 18" noncutaway archtop version of his Phidelity model. It features a handcarved European spruce top with X-bracing and European maple for the back and sides. The beautifully understated Baritone Phidelity boasts a quartersawn, 1-piece maple neck and—like all his instruments—the guitar is fi nished using a hand-rubbed, French-polished shellac. Other features include the laminated soundport on the side, an adjustable African blackwood bridge and saddle, and quartersawn holly or cherry binding.

Sweet Sixteen
The Sweet Sixteen is a more traditional 16" cutaway archtop with f-holes. Also utilizing European spruce for the handcarved, X-braced top, the 25"-scale instrument has an unbound, quartersawn ebony fretboard and a neck/body junction at the 16th fret. Other appointments on this Sweet Sixteen include the traditional brass and ebony floating tailpiece and a handwound Kent Armstrong pickup.

Phi-Tomic
With a distinctive, beveled "atomic-style" soundhole, the Phi-Tomic is a 16" cutaway guitar for those looking for something a bit different than a traditional archtop. The body joins the neck at the 14th fret and this 25"-scale beauty's handcarved, European spruce top is adorned with a decidedly modern pickguard, which compliments the modern lines of the skeleton headstock.

Grand American
The 18" non-cutaway Grand American gives an elegant nod to the golden age of archtops. Utilizing handcarved, master-grade European spruce for the top and master-grade curly European maple for the back and sides, the Grand American's headstock, inlay, tailpiece, and floating pickguard embrace the timelessness of classic art-deco design.

Abraxas
Blending modern with traditional, the Abraxas is an 18" cutaway archtop with a fresh twist to conventional f-holes. This guitar's 25.5"-scale neck joins the body at the 14th fret, and the open and unbound "skeleton" headstock housing the Waverly tuners with ebony buttons mirrors the distinctive skeleton pickguard and tailpiece.

Axis
Weighing in at a very svelte 4 1/2 pounds, the hollowbody Axis is one of Solomon's newest creations. This ergonomic, handcarved archtop gives a nod to the styling of a Jazzmaster and its contoured mahogany body is topped with the European spruce Solomon favors. Outfitted with a single Kent Armstrong humbucking pickup, the guitar's volume and tone controls are located under the eye-catching pickguard.