Practically every piece of musical electronics we use has one or more tone controls. We all use them intuitively, but let's look closer. To make frequency selective networks, we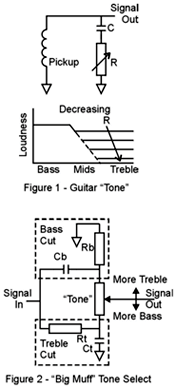 Practically every piece of musical electronics we use has one or more tone controls. We all use them intuitively, but let's look closer.
To make frequency selective networks, we must use capacitors and/or inductors. Unlike resistors, both caps and inductors discriminate against some frequencies in favor of others. Capacitors preferentially pass higher frequencies; inductors pass lower frequencies more easily. Resistors help us set how much gets through, while caps and inductors select which frequencies get through. Inductors are big, heavy and expensive, so almost all tone controls use only caps and resistors.
The simplest tone control is the one inside practically every guitar. That knob is a single potentiometer set up as in Figure 1. The signal from the pickup coil goes through the internal impedance of the pickup itself, then to the output jack. The capacitor C and resistor R are in series to ground from the guitar signal. C shunts signals above some cutoff frequency to ground. R prevents this by resisting the signal flow to ground. As R is made smaller, more and more treble is lost. However, the bass level remains at the same volume as it was before the treble cut.
One step up is the combination of a treble cut and a bass cut, with a single knob to select between them, like the one in the Electro-Harmonix Big Muff (Figure 2). The knob selects a blend of highs left over from the bass cut side and lows left over from the treble cut side. If you make the cut frequencies of the treble and bass sides far apart, you get a persistent midrange scoop, as in the original Big Muff. You can also have the bass and treble sides overlap in the middle and get a midrange hump in response. The near-endless variations you can get by tinkering with the relative values of the parts and the need for only one knob make this a favorite in effects.
Another tone control we almost all come in contact with is the amplifier tone stack, as sketched out in Figure 3. A sequence of evolution at Fender led up to the 1957 Bassman becoming the prototype for most amplifiers' Treble/Bass/Mids control knobs. Marshall and Vox used a similar system. The amplifier "tone stack" is just that – a stack of two or three potentiometers which provide treble, bass, and sometimes midrange controls.

From a perfectionist/engineering standpoint, there is a lot wrong with this circuit. The controls are complexly interactive. There is no really flat setting, as there is a residual midrange scoop unless the Treble and Bass controls are fully down. The action of the Bass control is very uneven for normal taper controls. While the Mid control appears to affect only the mids, it is actually a form of volume control that affects all frequencies, but is the only control that also affects mids. Although it has several imperfections, this tone stack actually helps some of the quirks of guitar, so it works well.
From the standpoint of theoretical perfection, the Baxendall tone control is the opposite of the Fender tone stack. With bass and treble variations that are mostly independent, the frequency response is quite flat when both controls are set to the middle of their range using linear pots. Using the opamp/feedback form of the controls means that there is no signal loss that needs be made up elsewhere. This is virtually the standard for hi-fi tone controls. However, there are some guitar amps which use this form of control, tweaked a bit to match the guitar frequencies.
There are a huge number of different style tone controls in musical equipment; this hardly scratches the surface. If you're interested in what your tone controls do to your sound, agood place to look is at Duncan's Amp Pages, where there is a tone stack calculator that shows frequency graphs of several different types of tone controls. Check out
http://www.duncanamps.com/tsc/
for more info.
---
R.G. Keen
Cheif Engineer
Visual Sound
www.visualsound.net