Orange Amplification introduces the slimmed-down Rockerverb 50 Mk III Combo Neo: all the sonic characteristics of the Rockerverb, all the power, and definition, but now nearly 20% lighter and more portable.
When originally launched, the Rockerverb series became one of Oragne's most popular dual-channel analog amps around. Fast-forward to 2023, and the use of new technology and design tweaks has seen the Rockerverb 50 combo placed on a crash diet, losing nearly 8 kg.
Where has all the weight gone?

Orange first revisited the cabinet construction for the Rockerverb 50 Mk III Combo Neo, slimming the high-quality Baltic birch plywood from 18 mm to 15 mm. Those slimmer walls removed approximately 2 kg without compromising build or sound quality, making it one of the lightest 2 × 12" speaker cabinets on the market.

The existing V30 speakers have been replaced with new UK-built Celestion Creambacks. The neodymium in these speakers is more magnetic than standard ferrite, so less metal is required for the same job, meaning that, at only 1.9 kg each, the Creambacks perform like speakers three times their weight. Designed to be hugely versatile, the twin-channel design of the Rockerverb 50 Mk III Combo Neo retains all the tone-shaping abilities and outstanding clarity of its bigger brothers, from sparkly cleans through to ultra-saturation. It also keeps the much-loved long foot-switchable spring reverb, a built-in attenuator that offers maxed-out textures at neighbor-friendly volumes, switchable power options (25 W or 50 W), and a near-transparent buffered valve-driven effects loop for pedal purists. It's now just leaner, slimline, and easier to carry.
For more information, please visit orangeamps.com.
Orange Amplification
Need to play an acoustic gig on the go? These 10 combos will get you through nearly anything.
Acoustic amplification can be a tricky dragon to tame. With so many sonic forces potentially working against you, it's important to have a rock-solid amp that can deal with feedback, volume issues, and even handle more than one instrument.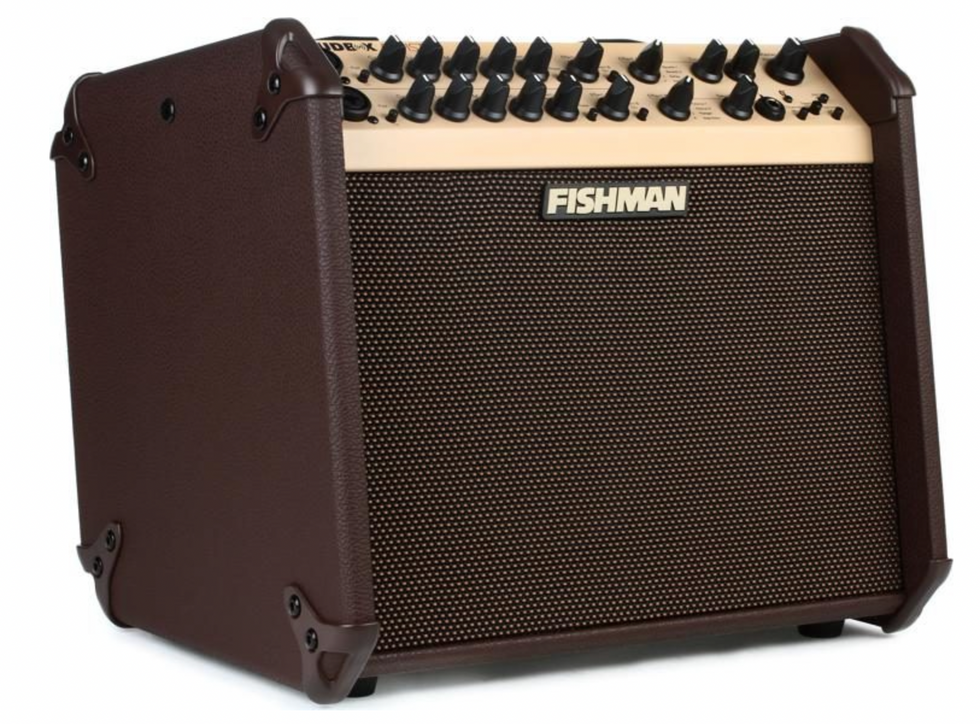 With an impressive 120 watts on tap, this dual-channel combo offers both instrument and mic inputs, aux input, XLR output, built-in modulation and reverb, plus Bluetooth connectivity.
$659 street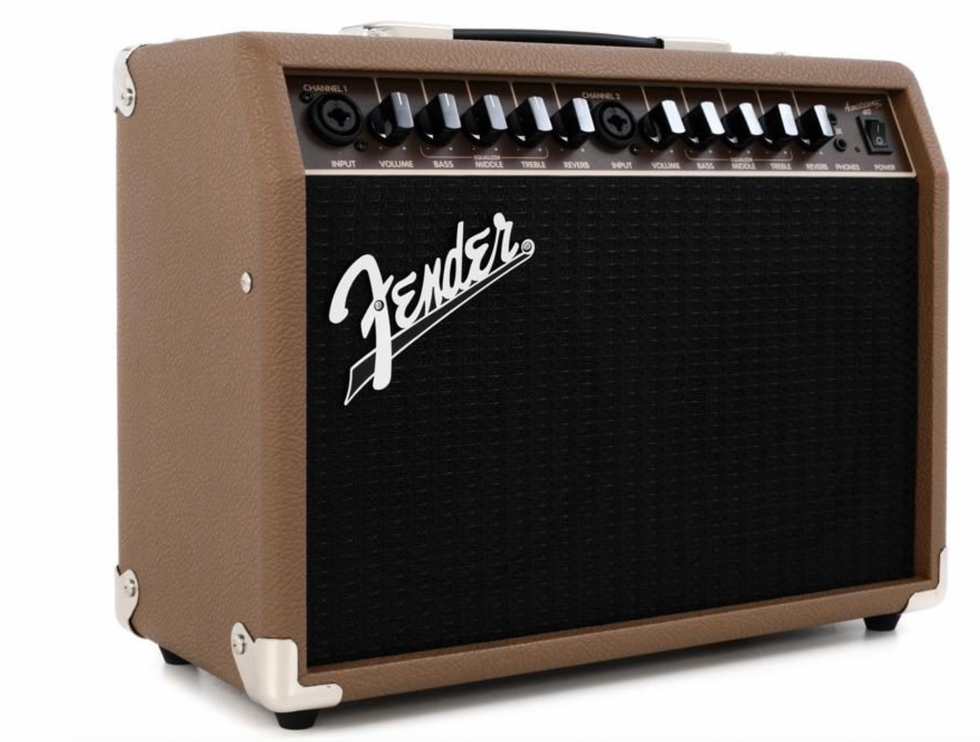 At only a hair over 16 pounds, this grab-and-go combo packs 40 watts into a rather small package. It has two channels with combination input jacks, independent 3-band EQ controls, digital reverb, and an XLR output that you can either use to record or feed FOH.
$199 street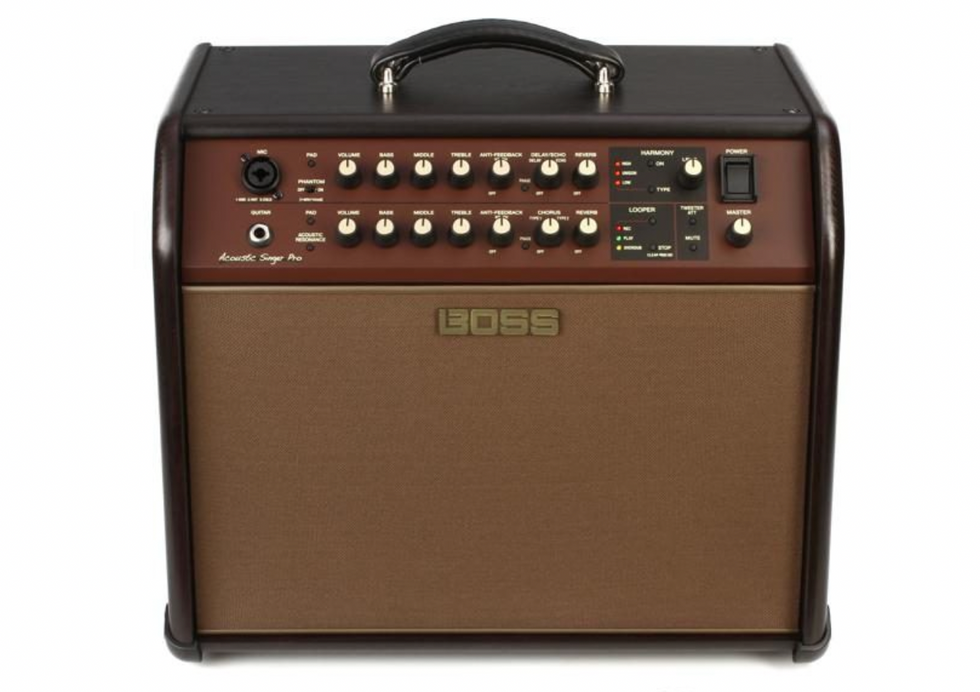 This portable gigging machine is specifically aimed at guitarists who want to add a new dimension to their vocals. Included is an automatic harmony setting that builds harmonies that correspond to your guitar chords in real time .
$789 street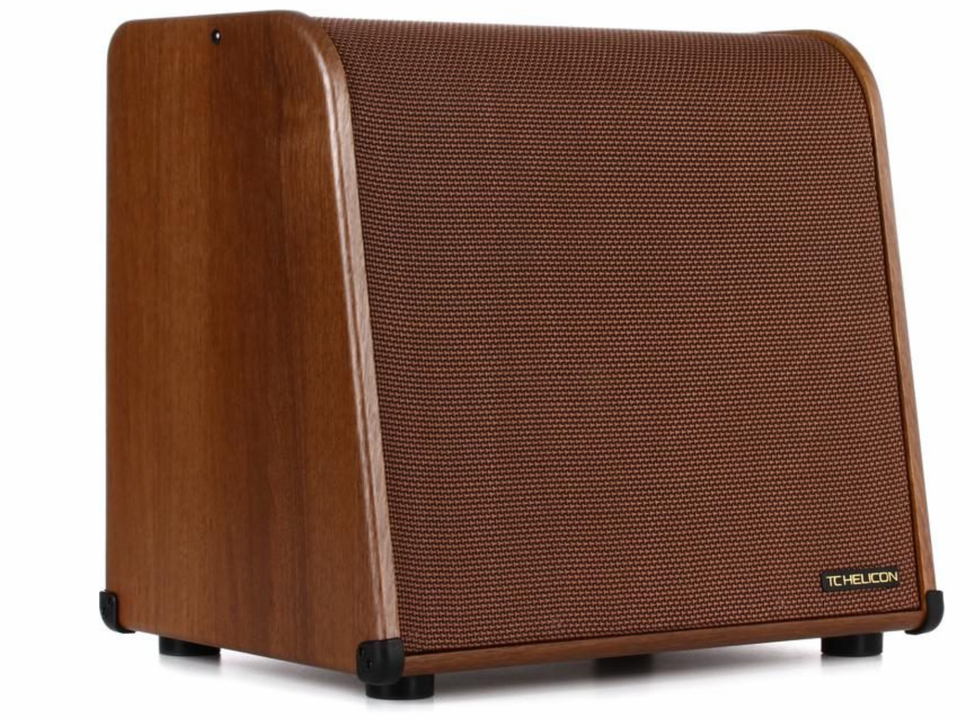 Built around a single 10" Tannoy speaker, this 100-watt combo offers independent channels for guitar and vocals, modulation, and effects such as pitch correction and harmony. Another bonus is the TC's BodyRez control, which adds resonance to acoustic signals.
$639 street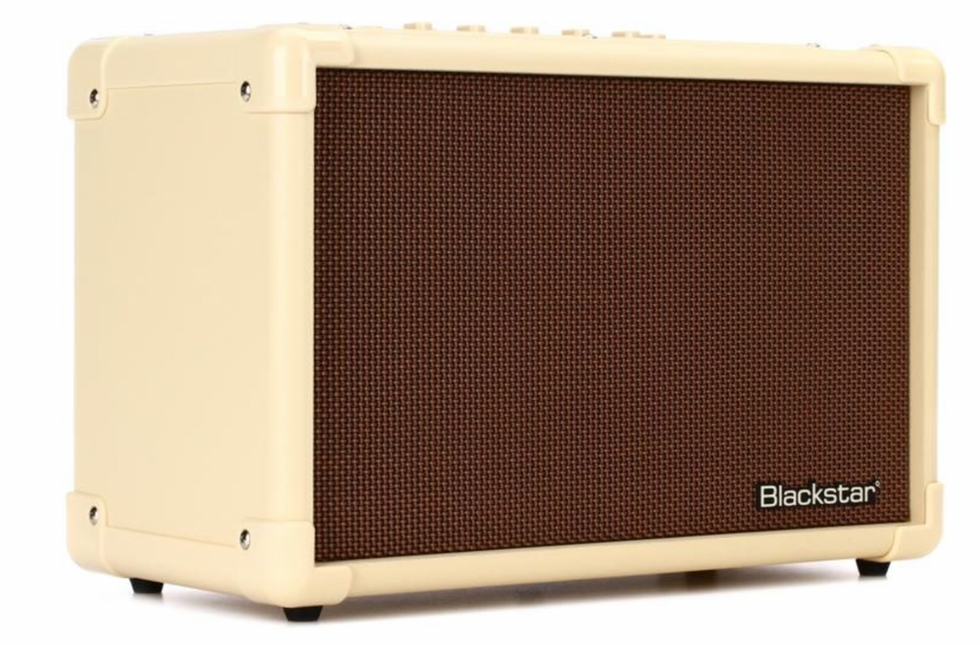 A 2x5" amp that is also an audio interface? Not only does this uber-portable combo offer options tailored for the recording guitarist, it also has independent vocal and guitar channels, built-in reverb and chorus, plus switchable EQ shapes.
$179 street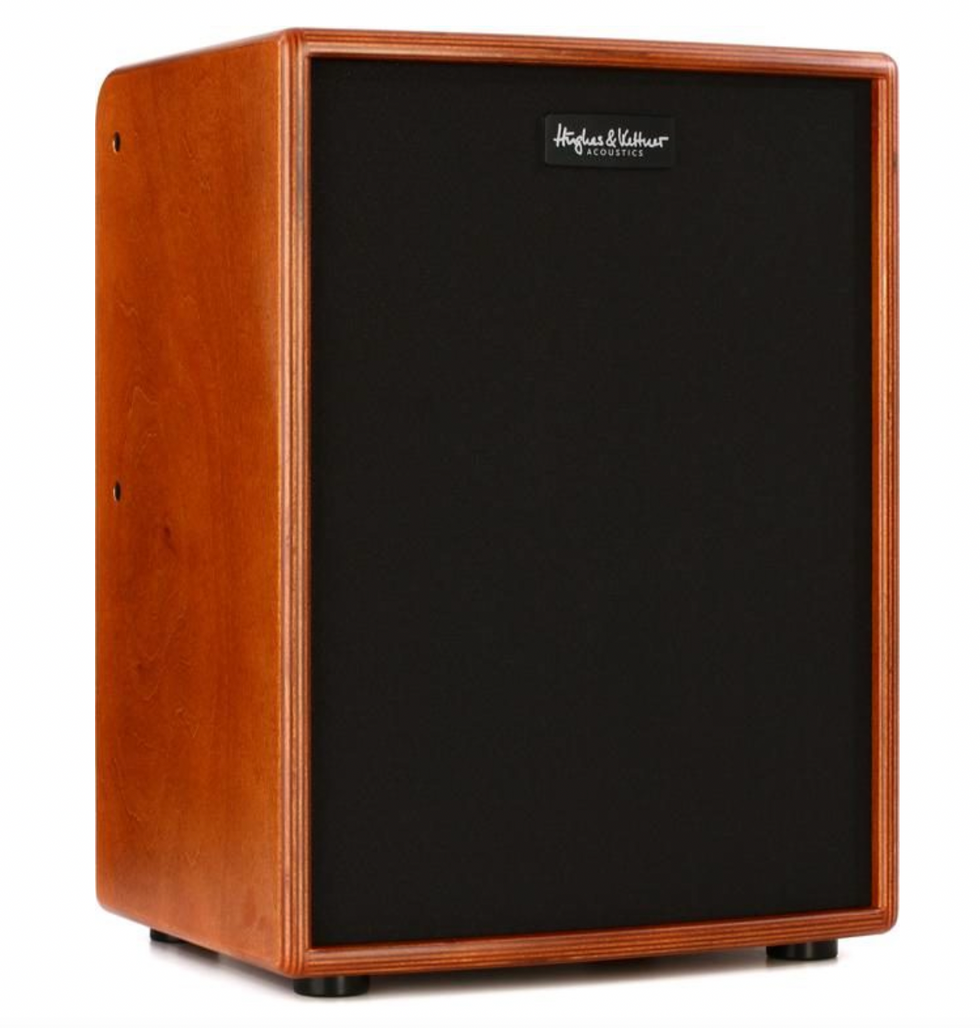 Designed in collaboration with amp guru Michael Eisenmann, this combo—which includes two 8" custom woofers and a 1" dome tweeter—offers a whopping 400 watts along with three different types of reverb plus chorus, flanger, delay, and phantom power for the vocal mic.
$1,219 street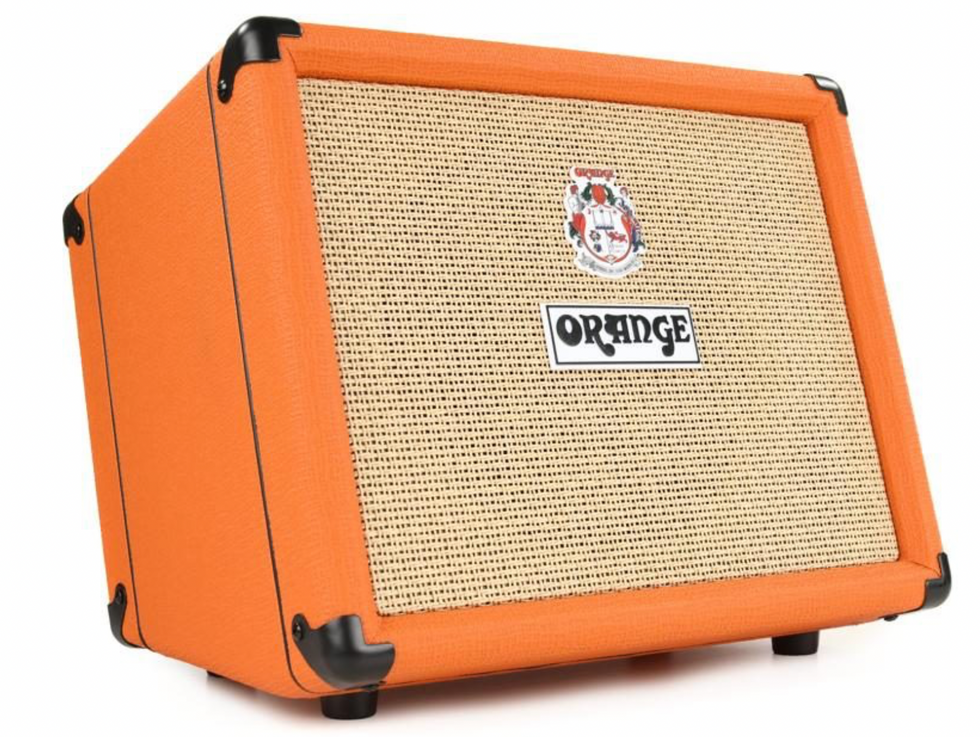 Usually, boxes of this color and shape are found crushing eardrums, but this 30-watt, 8" combo can not only run on batteries, it packs a ton of features in a rather small chassis. Features include dedicated mic and guitar channels, plus dedicated XLR and 1/4" outputs, and an effects loop.
$399 street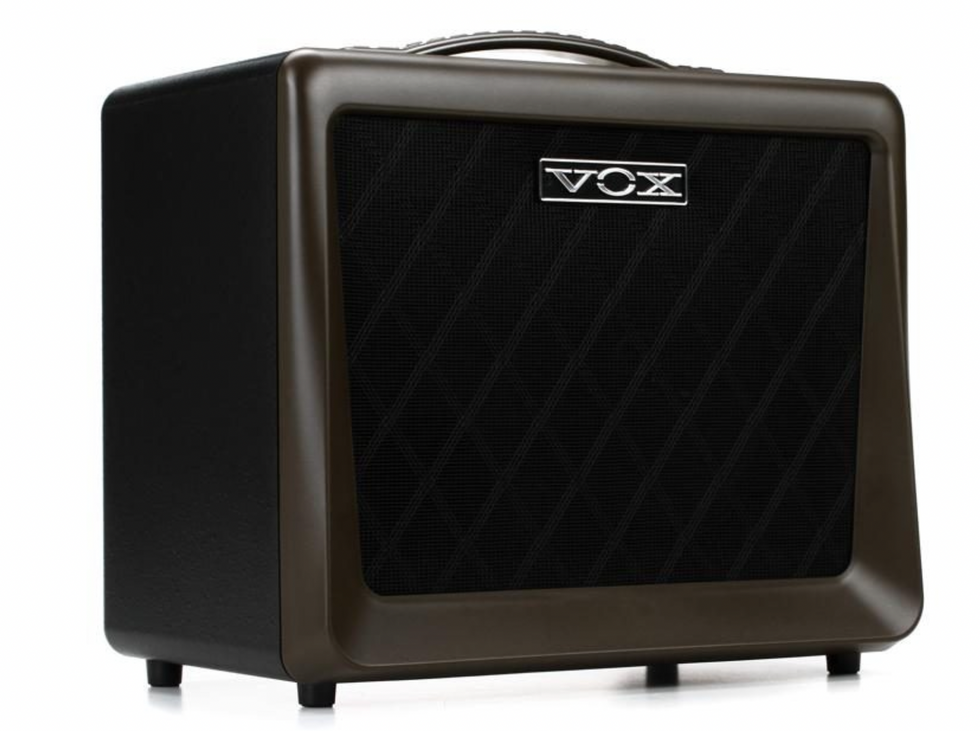 Combining a full 50 watts with the company's Nutube tech, this svelte combo can handle coffeeshop gigs and late-night practice sessions with ease. Each channel features independent EQ controls, digital reverb, and phase/phantom power options.
$299 street
A fully featured, gig-ready combo that can handle nearly any one-person show, this box includes feedback controls, a looper, and Roland's famous chorus effects. It also has a line out, aux inputs, and the ability to run on batteries.
$599 street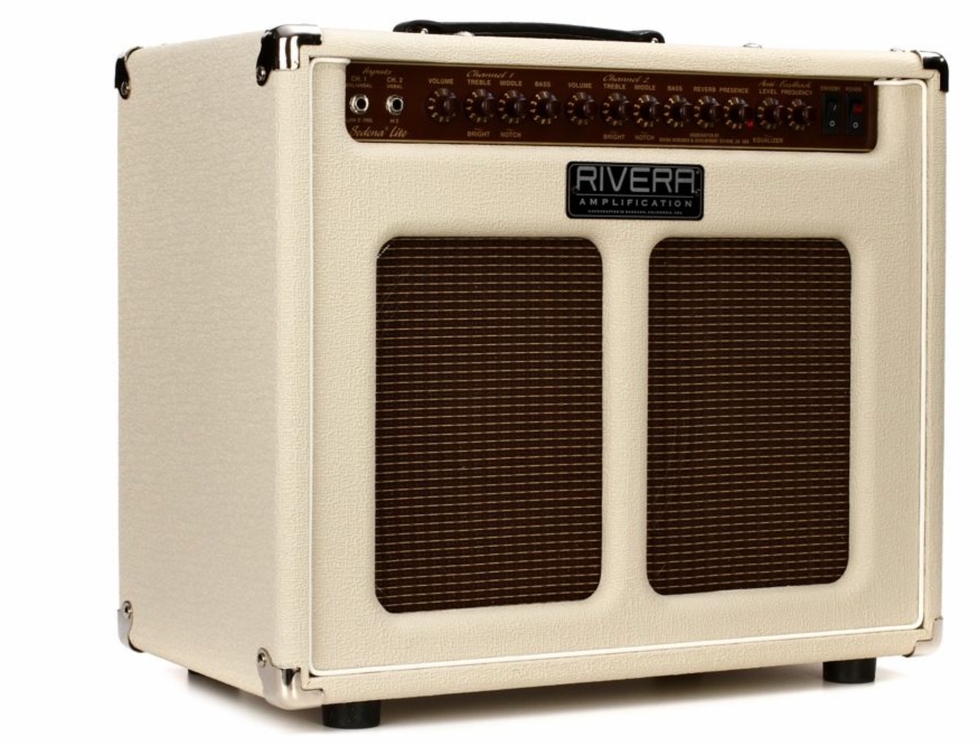 This high-end acoustic combo is an incredible tool if you want to go the hybrid route and need a single amp for both electric and acoustic. It also includes a six-spring Accutronics reverb, an anti-feedback equalizer, plus a customized input for Expression System-equipped Taylor guitars.
$2,249 street
Chasing '60s Fullerton zing and muscular drive, this re-vamped compact combo excels in both realms.
Returning to the lineup after a brief reprieve, the PRS Sonzera is a moderately powered 20 watt 1x12 combo amplifier. The Sonzera offers mid-1960's American-style tone with two independently controlled, footswitchable channels designed for maximum versatility. The Sonzera's gain channel can be set as a boosted clean channel or with heavy distortion, and the spring reverb and built-in effects loop allow players to easily expand their tonal palette. This is a distinct amp in the PRS line up, which also boasts the Archon, HDRX, DG Custom, and MT-15 amplifiers.
"I am very happy to re-release the new Sonzera 20 combo with improved construction techniques, refined voicing, and fresh cosmetics. Their design inspiration draws from the purity and tonal beauty of vintage American reverb amps of the 60s. The two-channel design is currently unique to the PRS lineup in that the Gain channel is simply the Clean channel with additional gain stages and its own tone stack inserted for discreet lead voicing control," said PRS Amp Designer, Doug Sewell. "The 12 to 35-watt classic American reverb amps were very inspirational to me as a beginning amp designer in Texas. I consider the Sonzera amps an homage to those early days, and it was especially satisfying and nostalgic to be a part of their development and production." (Specs courtesy of PRS.)
See how this 100W, 6L6-howlin' head complete with an all-tube reverb and harmonic tremolo—plus a bias tremolo option—takes John Bohlinger's '50s goldtop, a late '60s Tele, and a custom 3-humbucker PRS.
Two-Rock Joey Landreth Signature
Get an early look at this splendid piece of machinery: the Two-Rock Joey Landreth Signature amplifier. It's a beautiful head with 3-band EQ; controls for gain, master volume, and presence; and independent all-tube harmonic and bias tremolo circuits with their own speed and intensity controls. It's also switchable between 100 and 50 watts. It's hand-wired point-to-point and all tube, with a four-6L6 power section. There's a footswitch for the tremolos, and an all-tube reverb circuit, as well. PG's John Bohlinger plays this lux head through Two-Rock's new 3x10 cabinet. And only 75 of the amps are being made. Along the way, Bohlinger switches from a stock 1954 Les Paul to his Telecaster Thinline. You can practically bathe in the warm sound. The reverb is at noon initially, but Bohlinger rolls it back to display the grace of the harmonic tremolo, followed by the bias (a little "Lucy in the Sky With Diamonds," anyone). Next up: the mid, bass, and treble boost switches that dwell over the EQ section of the front panel. And yes, they can all the activated at once. To hear the amp with modern humbuckers, Bohlinger switches to a PRS and demos how the two flavors of tremolo can be combined. (Spoiler alert: It's super sweet and dimensional!) And you can hear John play Duke Ellington's "Don't Get Around Much Anymore." Does the amp have an effects loop? Thought you'd never ask. Yes! And John has a Keeley Halo and a Karma overdrive in line. Not surprisingly, Two-Rock Joey Landreth Signature is also a welcoming pedal platform. And John plays the demo out with a little Fleetwood Mac. If you'd like to learn more about Two-Rock's line of amplifiers, visit two-rock.com, where extensive information on other signature models, the Bloomfield Drive, the Burnside, the Traditional Clean, Classic Reverb Signature, and more can be found.