Photo by Kirt Barnett
On Mommy, the reunited punk-rock outfit picks up where they left off over a decade ago, making infectious, loud, organized noise with fresh, chaotic finesse. Guitarist Jonas Stein tells the story.
In late August 2008, the members of Be Your Own Pet were in London, having just wrapped up the last leg of their final tour. Only two years prior, vocalist Jemina Pearl, guitarist Jonas Stein, bassist Nathan Vasquez, and drummer John Eatherly had been swept into the mainstream punk scene as teenagers, having received critical acclaim for their debut, self-titled album, going from small local stages to sell-out crowds around the world in what felt like minutes. "We were still very green at playing and making music together," reflects Stein. "For whatever reason, it worked." Then, they were waiting for their flights at Heathrow Airport, parting ways for what would become 13 years.
When it did eventually happen, the Nashville-based band's reunion was swift. In late 2021, they met up at an event at Third Man Records (which is owned in part by Pearl's husband, Ben Swank), after having loosely kept in touch over the decade or so prior. They had one rehearsal, Jack White caught wind of it—and they agreed to join him on a couple weeks' worth of dates on his Supply Chain Issues Tour in spring 2022. And just like that, they were back.
Be Your Own Pet's third full-length album, Mommy, was released on Third Man in late 2023. It's their first record in 15 years, following 2008's Get Awkward. The songs are boisterous yet tempered, at times charged, at times playful, and always joyous in their freedom of expression.
Erotomania
"It can be kind of easy to see through something that doesn't feel totally authentic," comments Stein on what makes a great punk band. By those terms, at the very least, Be Your Own Pet is great. On the new record, Pearl's authenticity shines in lyrics that address her experience living with bipolar disorder ("Bad Mood Rising") and sexual assault ("Hand Grenade"). Underpinning those sensitive, personal subjects, Stein's insistent guitar work pushes them further to the forefront with the urgency they deserve.

The explosive, broiling Mommy poises itself like a zealous boxer, delivering one punch after the next in controlled bursts of enthusiasm. While the band picks up where it left off in their way of expertly packaging tumultuous—once teenaged—emotions into zipping, neatly clamoring arrangements, they've also become more articulate in their own musical language, going from pouring out raucous, nervous energy to fusing together beats, screams, and strums that are more confident than they are angsty.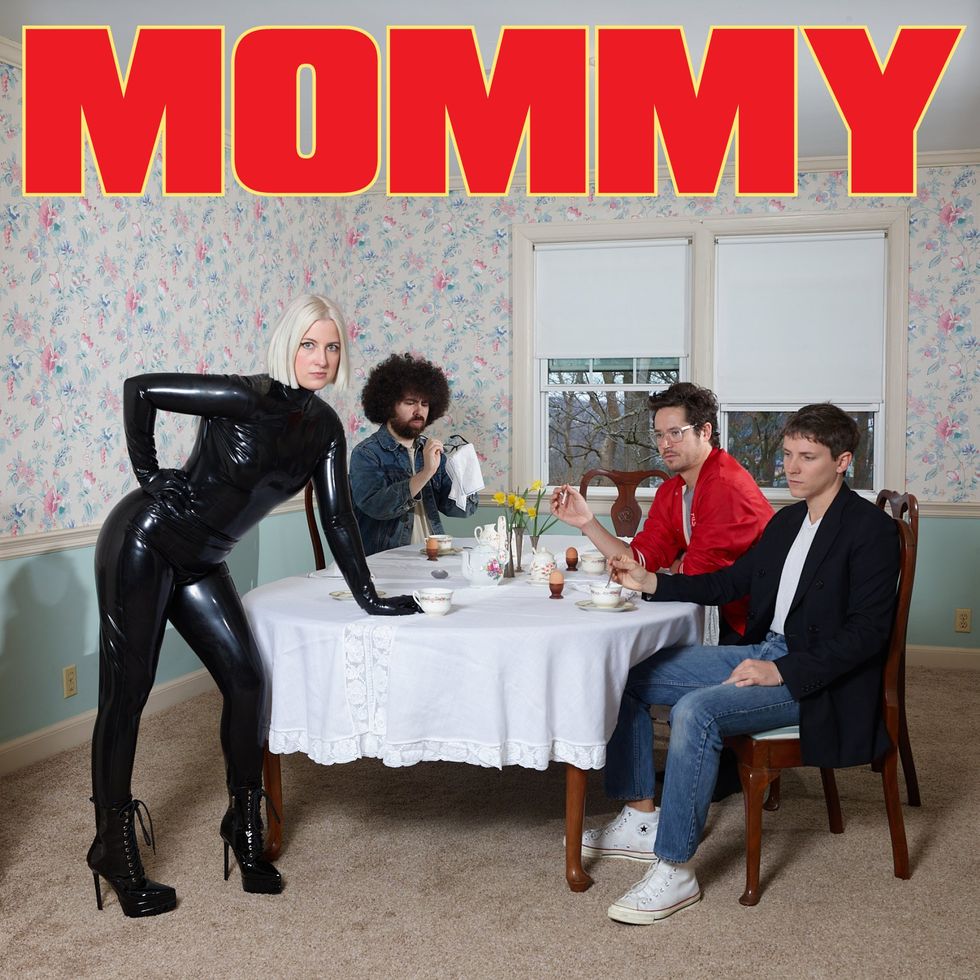 On Mommy, Be Your Own Pet displays a new sense of confidence, channeling an angst that slightly departs from the energy of their teenage years to focus on more mature issues.
But don't worry—they are still angsty. On the opening track, "Worship the Whip," Stein switches between steady, supporting downstrokes to matching the vocal melody with a knifelike lead, as Pearl cries out with insolent commentary on right-wing authority figures. 'Goodtime!" is a lament on becoming an adult with responsibilities, especially as a punk—which Stein fleshes out with sharp, clever riffage. And on "Bad Moon Rising," Stein savvily rides his overdrive back and forth between mild and heavy, paralleling Pearl's shifting, riotous intensity. All the while, Vasquez and Eatherly act as bellows to the blaze, serving the songs with relentlessly energetic and intuitive rhythmic backing.

"In a very funny, positive way, there was always a little bit of hazing on one another, and all that stuff came right back."
The first time Be Your Own Pet played together, Stein was around 15 years old. "I definitely did not have my driver's license yet," he says. "We had to get picked up by our parents to do rehearsals and stuff. Then shortly after, I was the first person to get my license, so we'd all pile into my car and go be rascals around town and play music when we could."
It wasn't long before the band gained traction—they released a demo CD, and soon after played South by Southwest, eventually signing to Thurston Moore's Ecstatic Peace label to release their self-titled debut in 2006. What followed was a somewhat chaotic musical career that, due to the pressures of the industry, ended just a handful of years later. When they reunited, it was their first time seeing each other in person since their disbandment.
"I was always more inspired by the guitar players who can make two or three notes sound really badass."
"Thirteen years sounds like a long time, but it did not feel like it'd been 13 years after we got back in the room together," says Stein. "It just felt like meeting back up with your childhood best friends or your siblings, like 'Oh, we know each other. We don't have to try to figure each other out again.' Aside from the musical chemistry, even the humor and personality traits that we all once carried…. They still carried over. In a very funny, positive way, there was always a little bit of hazing on one another, and all that stuff came right back."
​When Be Your Own Pet rehearsed together in late 2021, it was the first time they'd all seen each other in person in 13 years.
Photo by Angelina Castillio
Despite how quickly they fell back in step, a lot had also changed, but in a good way. The band had grown as musicians from the other projects they'd pursued over the years: Pearl released a solo album that featured Iggy Pop, Eatherly played with a handful of successful acts, and Stein fronted the band Turbo Fruits and built a career in DJing. "Coming back and doing it all again just felt like we were on performance enhancers," says Stein.
During their time apart, Pearl also learned how to play guitar, which now enables her to bring more arrangement ideas to the rest of the band than her past, mostly lyrical contributions. "She's been able to bring some really cool ideas that show up very barebones and rudimentary, which has been really nice because the boys are able to reconstruct and enhance them," says Stein, referring to himself, Vasquez, and Eatherly. Compared to how they worked together when they were teenagers, today, they're more comfortable with giving each other constructive criticism and feedback, and are able to come to agreements more easily. The "greater good" and what works for a song has taken priority over their egos and preferences as individuals.
But since the band was created when its members were in their formative years, there is still a subtle but "goofy pecking order," says Stein. As the two oldest of the group, Stein and Pearl have always borne the "older-sibling responsibilities," and more recently, Pearl has taken on the largest workload, he says. "She's kind of wearing the crown in all this."
Jonas Stein's Gear
​While soloing, guitarist Jonas Stein, who's inspired by bands like MC5 and Buzzcocks, either sticks to pure noise or uses as few notes as possible.
Photo by Jim Summaria
Guitars
Customized Epiphone SG
Customized Gibson SG
Amps
Live: Fender Blues DeVille 212
Studio: Peavey Decade
Effects
Fulltone Full-Drive
Electro-Harmonix Nano POG
Generic wah
Strings & Picks
D'Addario Nickel Wound (.011–.050)
Dunlop Tortex .6 mm
Stein admits that when Be Your Own Pet started playing together again, he hadn't played guitar for about six years, as he'd been spending most of that time focusing on DJing. So, when the band booked their dates with Jack White, he decided to invest in a new axe. He purchased a white Epiphone SG with the intention of hot-rodding it—and brought it to Dave Johnson of Scale Model Guitars in Nashville. He described to Johnson what he wanted the guitar to sound like, and Johnson went ahead with modding. "I just love something that breaks up pretty easily," says Stein. "I don't like my guitars to be too bright. I like them to be sort of easily distorted, really easy to play, and warm-sounding."
Johnson gutted the electronics, adding Seymour Duncan humbuckers and simplifying the knob configuration (from four to two), changed the tuning pegs, replaced the nut, and put a custom Be Your Own Pet graphic over the body. Stein also plays a Gibson SG that Johnson modded years ago, which has an American flag graphic on it to resemble Wayne Kramer of MC5's guitar. The pickups in the Gibson are stock. "I really like it; it's kind of a darker, heavier tone," Stein explains.
Live, Stein likes to play through a Fender Blues DeVille, but in the studio, he goes for "the weirdest, craziest, shittiest, fanciest-sounding amp there is." For Mommy, he ended up recording a lot on a Peavey Decade. He explains how the amp rose to popularity after Josh Homme divulged that they were his "secret weapon" on the Queens of the Stone Age episode of the documentary series Watch the Sound with Mark Ronson. "These tiny little Peavey amps used to be like $40," says Stein, "but now that the word is out there, they're going for like over $1000 apiece."
There are fiery leads and riffs on the album, but not solos in the traditional, elaborately improvised sense. As Stein explains, that's never really been his speed. "I really took to the MC5 when I was a teenager. I liked the messiness and the imperfections of their playing. It made me feel better about myself as a guitar player because they were never perfect.
"I was always more inspired by the guitar players who can make two or three notes sound really badass and less focused on the players that were really well-versed in music theory and could play circles around everybody else. I was more into the energy that I would hear from a two-note Buzzcocks solo."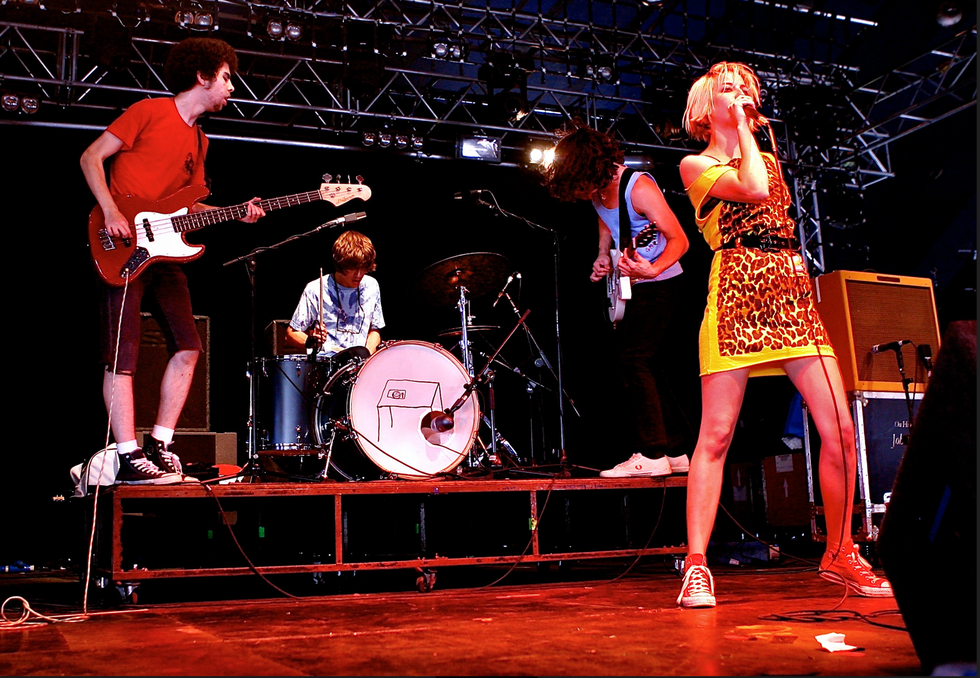 This live performance shot was taken during the first phase of Be Your Own Pet's career, when they were still teenagers.
Throughout the album, Stein captures that energy by bridling it in minimalist, yet galvanized, passages. Sometimes, that means a few measures of pure noise, à la Sonic Youth, heard on "Erotomania" and "Never Again." Alternatively, on "Hand Grenade," he builds a triumphant arc that perfectly suits the song's impassioned, empowering message. And over the "Psycho Killer"-reminiscent groove of "Rubberist," he carefully unravels a series of spacious phrases that climb over the steady bassline and eerie crowd vocals. His approach to that song in particular was influenced by his experience as a DJ, where he's immersed himself in disco, Italo disco, funk, and dance genres.
Stein describes "Rubberist" as featuring "more time and space and less full-on riffage." His disco familiarity comes into the songwriting process in terms of "knowing when to bring the guitar down, to let other things shine a little bit more, let the bass shine, let the vocals shine, let the drums and bass shine together. I think just being around more dynamic music, like some 8-minute deep-cut disco tracks, has shaped the way I would look at writing a song today."
"I started from pretty close to beginner status. But I think that in itself is pretty punk rock."
Citing Giorgio Moroder, Nile Rodgers, and Gino Soccio as influences, Stein shares, "I grew up mostly on punk rock and rock 'n' roll and I was always like, 'Disco sucks,' 'cause that was always the theme. But listening to disco music and classic dance music from the early '70s to early '80s has been really refreshing for my ears. It's so much different from what I was used to playing in all the bands I played in.
"I was on the tail-end of, you had to pick a clan and stick with them," he shares. "In the '80s, you were either a punk rocker, or a metalhead, or you went to discos. You couldn't really cross over. But now, I feel like we've entered an age, probably because of the internet, where everything's so immediately at your disposal that you can like anything you want and everything you want, and it's okay."
Stein was just becoming a musician when the world was in the midst of entering that age. He grew up with a dad who worked in the music industry, and while he was never "force fed" into learning an instrument, the opportunity was always there. When his parents did eventually put him in guitar lessons, he ended up hopping from guitar to drums to bass and back to guitar—which then, of course, led pretty quickly to him performing. "I probably, for certain actually, started playing in bands before I had the skills to play in bands."
When it all began, he says, he strung his guitar with just the bottom four strings. He was mostly playing power chords at the time, and the other strings just got in the way—but as the band started getting more shows, his playing had to catch up to where he was as a performer. "I started from pretty close to beginner status," he says, looking back. "But I think that in itself is pretty punk rock."
Be Your Own Pet @ SXSW - 03/15/2023 - Mohawk, Austin, TX
In a performance at SXSW 2023, Be Your Own Pet rips through two tunes, digging in with unconventional arrangements and raw punk spirit.
The legendary animated metal band is back with Dethalbum IV, a Def Leppard-in-an-arena-sized approach to gruesome, Cannibal Corpse-style riffage. Metalocalypse mastermind Brendon Small tells us how his cartoon came to life.
If fate hadn't intervened, Dethklok's newest album, Dethalbum IV—the first since 2012's Dethalbum III—probably would've sounded quite different than it does. That's because Dethklok mastermind Brendon Small would've enlisted his tried-and-true equipment: enviable guitars up the wazoo, a go-to Marshall cabinet with Celestion speakers, and at least a few mics. Instead, some thieves saw to it that Small take a different approach when they robbed his home studio.
"I think some people saw me carrying guitars back and forth and crowbarred my studio door, so my main A-league guitars were kaput," Small recalls somberly. After the robbery, he moved everything out and went undercover. "I went into the modern world of direct recording," he explains. "It pushed the record into a different place than my normal 'safety gear' would've." In the theater world, one might raise their hands above their heads and exclaim gleefully, "unexpected results!"—the inevitable and, often, positive outcomes of unintended actions.
Metalocalypse: Dethklok | Gardener of Vengeance (Lyric Video) | Adult Swim
If anyone knows a thing or two about unexpected results (and theatrics), it's Brendon Small. Having cultivated a career that he refers to as "whatever it is that I do for a living," Small somehow managed to marry a Berklee College of Music guitar education with Emerson College comedy-writing classes to create a wildly unique career path for himself. Born in 1975, Small first gained widespread recognition as the creator, writer, and co-producer of the animated television series Home Movies, which aired from 1999 to 2004. The show followed the humorous exploits of a young boy named Brendon, his friends, and their amateur filmmaking endeavors. Small's most notable achievement, however, came with the creation of Adult Swim's animated cult classic Metalocalypse. It was the medium through which he finally, successfully, combined his songwriting and comedy-writing talents.
Premiering in 2006 and running for four seasons, Metalocalypse depicted the fictional band Dethklok embarking upon absurdly dark adventures as the self-proclaimed "heaviest metal band ever created." Metalocalypse blended humor, satire, and heavy metal culture with sharp musical performances and scores, creating a unique and, ultimately, beloved experience for metalheads and animation fans alike. Small created and produced the series, provided the voices for several main characters, and composed most of the music featured in the show, including the tracks performed by Dethklok. In August, nearly a decade since the cliffhanger ending of The Doomstar Requiem – A Klok Opera in 2013, Metalocalypse finally returned with a full-length animated movie. Written and directed by Small, Metalocalypse: Army of the Doomstar brings Nathan Explosion (vocals), Skwisgaar Skwigelf (lead guitar), Toki Wartooth (rhythm guitar), William Murderface (bass), and Pickles (drums) back together for another action-packed journey.
Brendon Small's Gear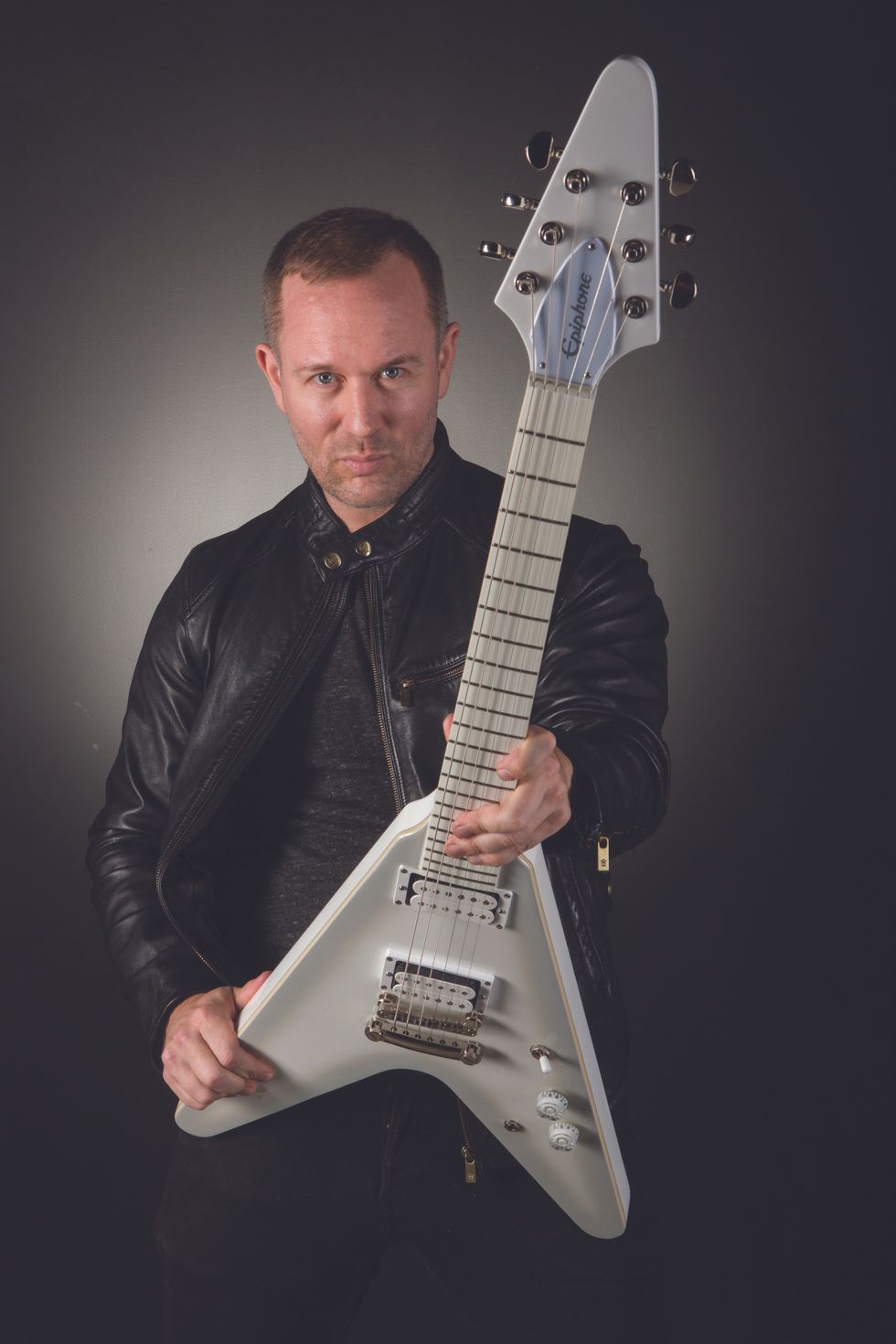 Dethklok creator Brendon Small resurrected the animated band this year after a decade-long hiatus.
Guitars
Epiphone Brendon Small GhostHorse Explorer
Fender Jazz Bass
Gibson Explorer
Gibson Snow Falcon Flying V
Ibanez JS240PS with Sustainiac mod
Ibanez Tom Quayle Signature TQM1
Amps & Effects
Neural DSP Quad Cortex Quad-Core Digital Effects Modeler
Strings & Picks
Dunlop DEN09544 Electric Nickel .095–.044
Dunlop Ultex 1.14mm
Released in conjunction with the movie, Dethalbum IV is a bludgeoning aural assault that showcases Small's knack for combining glossy production with "some of the ugliest sounds" he could conjure. "There's this melding of the putrid and the beautiful that I'm trying to smash together," he attests. Songs like "Aortic Desecration," "Gardner of Vengeance," and "Poisoned by Food" may be lyrically silly and satirical—even gross—but the music is serious business, on par with Mastodon, Lamb of God, and other like-minded metal bands who combine cunning songcraft with stunning instrumental proficiency. Riff-heavy, melodic, and merciless, Dethalbum IV is an expertly crafted record where death growls are overtaken by soaring melodies and vice versa, guitar histrionics are undergirded by monstrous grooves courtesy of drummer Gene Hoglan, and the production aesthetic, perhaps largely due to Small's unintended switch to direct recording, is easily Dethklok's slickest yet.
Simply put, Dethalbum IV is a fierce musical statement that deftly combines hook-laden melodicism with fist-pumping metal. "There was a point where I was listening to this record, and I'm standing back and going, 'This is much more aggressive and much heavier than a Dethklok record normally,'" Small explains. "[Producer] Ulrich Wild really landed the bird with this one, getting it to that aggressive and modern place, which is somewhere between Cannibal Corpse and Def Leppard's Hysteria." Small calls this amalgamation of influences "stuff that hits your DNA" when you're a kid. "The impressionable parts stay with you," he admits.
"Doing a Dethklok show is like storming the beach at Normandy during a laser tag battle."
Despite being Dethklok's de facto studio guitarist, what really sets Small apart from many other contemporary shredders is that he considers himself a writer first and foremost. "Ever since I had a guitar, I was always trying to write music on it," he says. "Even when I couldn't play it, I would just start to write ideas or lines or a riff on the lower strings." Composition first, and then form-fit around it, he likes to say. "I like to come up with stuff, either in the script form or with some kind of instrument hanging around, from keyboard to guitar to spoons—whatever I can do."
Even though he ultimately gravitated towards traditional recording techniques (like a mic in front of a speaker cab), Small admits that having digital options early on made his guitar and comedy-writing career possible. "I don't think I could have made music unless I had that Line 6 POD in the very beginning," he admits. "I'm a writer who happens to play guitar, and I have to find a way to mangle these sounds into something that makes sense. I've got to get the sounds down in the big notepad that is the Pro Tools session."
Though his return to direct recording was a matter of necessity, it was influential to the overall sound of Dethalbum IV, and Small asserts that he tried to let the music unfold naturally. "At some point, I look at the record and go, 'Whatever this is, I can't stop it from being what it needs to be,'" he says. "There's something in the pineal gland that's driving it from the astral plane pushing it forward." Ultimately, he attests, the Dethklok characters start to take over in his mind: "Nathan Explosion is making decisions, and Skwisgaar wants more notes, and I'm like, 'Okay, I'll see if I can make it work because I'm not as good as that guy,' so I have to really work it."
After thieves plundered his home studio, Small decided to record Dethalbum IV without any amps—a homecoming of sorts for the early Line 6 POD user.
Speaking of Skwigelf, Small cites one big difference between Dethalbum IV and previous Dethklok records. "Now Skwisgaar has a whammy bar and 24 frets," he chuckles. "There are dive-bombs on this record that I never did before, but I wanted to be able to do what Jeff Beck did, get a little bit more expressive—go from the fixed bridge to the whammy. I've had guitars with it, but I just wanted to finally put them on the record. There's just a little bit more goose in it."
"I think if you've decided to jump onto the carnival train that is your own creative life, you have to bob, weave, fail, and succeed all in a matter of 20 minutes every single day."
Small's cross-section of music and comedy began during his time at Boston's Berklee College of Music in his junior year. "I started having forward thoughts of my impending doom, like, 'I'm going to graduate, and what the hell am I going to do with this guitar? I love it, I hate it. What am I going to do?'" he recalls. He was also having a hard time corralling the school's curriculum into a solid identity for his own guitar playing. "I'm in a jazz chord lab figuring out what Joe Pass used to do. Then, I'm thinking about Danny Gatton in my country lab, and then I have advanced concepts of prog-rock where I'm learning about Gentle Giant, and then I'm in traditional harmony trying to mimic an étude or learn how to write a chorale, or voice leading, or figured bass, or any of that cool stuff, and I'm having some kind of musical identity crisis and fearing the end of school and the real world."
Instead of going the weekend-warrior route via gigs posted on a corkboard at Berklee, Small pursued internships at two different jingle houses in New York. One was David Horowitz Music Associates, and the other was Michael Levine Music. "Michael Levine wrote the Kit Kat theme: 'Give me a break, give me a break…,'" Small sings. He soon realized that his roommate Jed, from Emerson College, had what he deemed a much cooler internship with Conan O'Brien.
For real-life concert appearances, Small brings Dethklok to life alongside an all-star band that includes Mike Keneally (guitar), Nili Brosh (guitar), Bryan Beller and Pete Griffin (bass), and Gene Hoglan (drums).
Small's fly-on-the-wall experience tagging along with Jed at the late-night talk show prompted him to draw up a plan for his future. "I went back to Berklee in my final year, and I started taking writing classes along with Emerson [students]," he explains. His assignments included writing a spec script and a sample episode of a TV show, and demonstrating he could write character, story, jokes, and tone. "I saw that it's like a good piece of music," he says. "You've got an A theme, a B theme, and maybe a C theme, and how do they all intertwine into this final pocket at the very end?" Conceptually and structurally, it made sense for Small: "It was like the études I was studying. There was something baroque about it that I understood."
These combined college experiences ultimately led Small to start thinking about the intersections of songwriting, screenwriting, and acting, and how that combination might be a viable career path for him. "If you can make sense of your guitar enough to score music, I think ultimately that's a battle of you versus yourself," he says. "Once you prove that you can take this foreign object [a guitar] and make it a part of you, you can do that with anything. You just have to learn where the knobs are, where the frets are, how to bend notes, and how to find your rhythm. Everything's a storyline, from a piece of music to a piece of media. Whatever it is, there's a beginning, a middle, and end. Ultimately, it did me well to think of them as similar things."
"Everything's a storyline, from a piece of music to a piece of media. Whatever it is, there's a beginning, a middle, and end. Ultimately, it did me well to think of them as similar things."
To bring Dethklok to life for this year's Babyklok Tour alongside Babymetal, Small enlisted heavyweights Mike Keneally (guitar), Nili Brosh (guitar), Bryan Beller and Pete Griffin (bass), and Hoglan (drums). While preparing to hit the road, Small was focused on the aspects of live performance that the concert experience demands of him. "Doing a Dethklok show is like storming the beach at Normandy during a laser-tag battle," he chuckles. "There's lights and craziness and fog and haze, and you're like, 'Where am I?' There's a lot of muscle memory and position memory that has to be there. I have to think about the lyrics, the vocalizing, and if all I can see is the low E string, and I'm on the high E string, I have to trust that my hand remembers where it needs to be."
Circling back to "whatever it is I do for a living," Small offers the following wisdom for those interested in pursuing an artistic life: "I think if you've decided to jump onto the carnival train that is your own creative life, you have to bob, weave, fail, and succeed all in a matter of 20 minutes every single day," he says. "How do you stand back and try to conceptualize and solve a problem? I think that's what makes it fun, and treacherous, and terrifying, and filled with failure, and a little bit of success."
YouTube It
Dethklok shreds a live performance of "Thunderhorse" for the Adult Swim Festival Block Party, combining thrilling Metalocalypse-style animation with furious technical performances.
The 24-year-old guitar phenom was born and raised in the cradle of the blues, the Mississippi Delta, but on his new live record, he's at the intersection of tradition and innovation, leading the genre into a new era.
Christone "Kingfish" Ingram just wants to play the blues, man. In late August, the globe-trotting 24-year-old guitar phenom is hanging out in Los Angeles, doing studio work for a few different projects. He's catching his breath after a whirlwind European summer tour that included a stint on a Mediterranean cruise ship with Joe Bonamassa. Ingram and his band returned home with a full-length live recording in hand, Live In London, which was recently released via legendary Chicago blues institution Alligator Records. The performance, captured on June 6 in front of a sold-out, standing-room-only crowd at the Garage in north London, demonstrates what Ingram's converts have been saying for nearly a decade now: His studio records are great, but there's something special about his live show.
Mississippi Night (Live-Instrumental)
"In the studio, I would say I'm more restrained," says Ingram, pondering the differences between his live and on-record sounds. "I'm trying to play for the song a little more in the studio, whereas live, I'm more wild and crazy with my playing." He chuckles: "It's a little more upbeat."
But long-time listeners will recognize more than just energetic novelties on Live In London. Ingram's playing, in its essence, is changed. It's more complex and thoughtful, mixing in different scales and modes than the genre's traditional home turf of major or minor pentatonic. You can hear Ingram dip his toes into jazzy atonal runs throughout the scorching instrumental "Mississippi Night," and oldies like the previously acoustic "Hard Times" are blown wide open with new arrangements that challenge and elevate their spirit. At other points, Ingram does the reverse: The electric rendition of "Something in the Dirt" on record is swapped out for an intimate acoustic performance on the live set.
This all makes perfect sense. Ingram told us what he was gunning for all along. The very first track on his 2019 debut record declared this intention: to celebrate the sacred roots of his home in Clarksdale, Mississippi, while finding his own way. "I could stay here forever, but I just can't stick around," he crooned on the track. "I know that there's life outside of this town!"
Born and raised in Clarksdale, Mississippi, Ingram was perhaps destined to play Delta blues. On his new live album, though, the guitarist expands the borders of his traditional sound.

Photo by Erika Goldring/Courtesy of BMI
It's hard to say if being born in Clarksdale is what set Ingram on his seemingly preordained path to modern blues greatness, but it sure couldn't have hurt. Clarksdale has been either the original or adopted home of blues musicians that pioneered and popularized the genre: Muddy Waters, John Lee Hooker, Son House, Ike Turner, and Willie Lee Brown, among many others. The intersection of highways 61 and 49 near Clarksdale is rumored to be the very crossroads at which Robert Johnson sold his soul to the devil for guitar greatness. "There's magic in the music," Ingram sang on his 2021 LP 662, "but there's something in the dirt."
"I'm trying to play for the song a little more in the studio, whereas live, I'm more wild and crazy with my playing."
It was in this hot melting pot of blues magic and myth that Ingram learned to play the guitar. First came gospel quartet music, a natural love developed through his mother and her side of the family. His mother's family sang, and his uncles preached and played guitar and bass. Ingram started off singing gospel, and at age 8, his father enrolled him in the guitar program at Clarksdale's Delta Blues Museum. The transition felt natural to Ingram, who heard parallels between the musics. "It's pretty much the same thing, just one is sacred," he says.
That's where he learned from mentors like Bill "Howl-N-Madd" Perry, a local who became a nationally celebrated bluesman. It was Perry who gave Ingram his now-iconic nickname, "Kingfish."
For his third album, Kingfish decided to record live during a well-rehearsed performance at London venue the Garage.
"He used to give all the students little nicknames, and we kind of thought of them as stage names," says Ingram. "He got 'Kingfish' from an old sitcom, Amos and Andy. I didn't like it at first, but I kept it because the 'king' kinda reminded me of B.B." During the program, Ingram focused on guitar-playing, but one day his instructors coaxed him into adding his pipes to the mix.
It wasn't long after that Ingram got his first guitar, a Teisco electric. By the time he was a teenager, Ingram was wowing lifelong bluesmen. Alligator Records founder Bruce Iglauer remembers hearing "Kingfish" for the first time at the King Biscuit Blues Festival in Helena, Arkansas. Ingram, then 14 years old, was playing on a tiny stage to an audience of roughly a dozen people. "He was executing wonderfully, but he was playing a whole lot of notes all the time, and singing standard blues songs in the voice of a 14-year-old," remembers Iglauer. "I was impressed with his chops, but thought that he had to learn to tell a story with his playing, including more dynamics, more rests and pauses, more 'tension and release.'"
Five years later, in 2018, Iglauer heard him play again at the Chicago Blues Festival. Things had changed. "He totally knocked me out," says Iglauer. "His talent was much more mature and exciting. He carried himself completely confidently on stage, introducing the songs and bantering with the audience."
That was the year that Ingram cut his debut album, Kingfish, which was released in May 2019 on Alligator. Kingfish is a clean, well-oiled machine, a slick handshake introduction from Ingram. It covers classic, slinking, electric juke joint blues, overdriven blues rock 'n' roll, finger-picked acoustic blues, and even some pop R&B over its 12 tracks, all showcasing Ingram's mastery of blues guitar and singing. 662 covered much of the same ground, but mixed in some production tricks. "Another Life Goes By," Ingram's plea against anti-Black violence, took notes from '90s hip-hop and R&B, with digital drums and clean, contemplative leads punctuating the singer's deep, rich vibrato.
Ingram explains that both of his full-length records were cut with studio musicians instead of his touring band, which includes long-time friend and drummer Chris Black, bassist Paul Rogers, and keyboardist Sean Alexander. This is the crew that backs him on Live In London. "It goes deeper than being a band," says Ingram. "They've been with me during some hard times for sure." On Live In London, Ingram and his trusted road comrades are out in full-force. No studio tricks or assists, just pure blues-music excellence. Even Ingram's sound is simple as can be. These days, he plays his signature Fender Kingfish Telecaster Deluxe through a Fender Twin that he boosts with a Marshall ShredMaster. At a few points on Live In London, he stomps a wah, too. Other than that, he says, he's got a tuning pedal. No aces up his sleeves.
"Blues is life. Blues is always gonna be around us as long as somebody's feeling down."
Listening through Live In London, it's easy to see why. He simply doesn't need them. Even without the rhythm guitars that back him on his studio releases, Ingram's playing somehow fills the gaps with thoughtful phrasings, and the extra space lets all the performances glisten just a bit more. Ingram says that while certain songs have parts that call for specific licks, all the solos are improvised. But where earlier in his career he might have favored speed, these days he aims for sincerity. "I do always try to have in the back of my mind to tell a story, try to paint a picture with the notes rather than just saying a whole lot but not meaning anything," he says.
Christone "Kingfish" Ingram's Gear
Ingram's playing is contemplative and warm on Live In London, filling up the space left by the absence of a rhythm guitar. But he doesn't use tricks to beef up his presence—his rig is dead-simple.
Photo by Steve Kalinsky
Effects
Marshall ShredMaster
Cry Baby Mini Wah
Strings & Picks
"I'm not the best singer, I'm not the best technical guitar player," he continues. "I can't really do all the 'wows!' like other players can, but what I bring to the table, it comes from the heart for me. It's real. I think that's why people are drawn to what I do."
Ingram and his band poured months of work into the Live In London set, rehearsing both in Los Angeles and in London before the date. Ingram wanted the show to tell a story with its sequencing and arrangements, and it helped that he developed some new narrative tools through the pandemic's downtime. Stuck at home, Ingram dug back into music theory and worked on expanding the borders of his playing style, an experience he describes as "wonderful." Those techniques lend the record its most compelling qualities—what Alligator's Iglauer describes as "the energy and spontaneous creativity that [Ingram] delivers every night, plus the extended guitar improvisation that proves what a giant guitar talent he is."
Live In London clocks in at just over 90 minutes with little to no fat—it's a lean, athletic set, and Ingram says that's par for the course, maybe even a touch on the shorter side. "We play two hours max every night," he says. "This is like a normal show, we just added more songs and played 'em in less time."
Ingram's peers might not understand his reverence for the blues, but veteran blues label head Bruce Iglauer says he's part of a wave of young Black American guitarists picking up the genre and making it their own.
Photo by Brad Elligood
In any genre, a youthful prodigy is always destined to raise eyebrows, but perhaps Ingram's commitment to a field with a cultural import that feels shrunk from its mid-1900s heyday is particularly relevant. Iglauer, though, sees Ingram not as an anomaly, but the spearhead of a new wave of young Black blues musicians, originating from all corners of the United States. Iglauer lists off a stream of names: D.K. Harrell, Stephen Hull, Matthias Lattin, Sean McDonald, Dylan Triplett, Jontavious Willis, Andrew Alli, and Joey J. Saye. Some of them are pushing the genre's themes forward with political messages; some are playing with its structure, mixing it with soul or reggae. But the most exciting thing, says Iglauer, is that they're all supporting one another, and building a new era of blues. "Kingfish has already emerged as the most popular artist of this new generation, but there will be more to come," says Iglauer. "It's a rebirth of the blues from within the Black community."Ingram has mentioned before that his youthful peers don't understand his love for the blues. Ingram has ideas for how to stoke interest. "We just come to their level a bit and add what they like to it, and once we get 'em in, we can teach 'em about the real and raw thing." But he also thinks they're missing an elemental piece of the human experience in the music. "This notion that the blues is dead or dying, it's not true," says Ingram. "Blues is life. Blues is always gonna be around us as long as somebody's feeling down."
Christone "Kingfish" Ingram - Midnight Heat (Live)
Live from the Garage in London, England, Kingfish and his band rip through a sweltering performance of "Midnight Heat," a '70s funk-indebted joint. About halfway through, Ingram takes his signature Telecaster Deluxe on a face-melter.
Photo by Calli Cohen
On his latest solo album, Reasons Why, which features a collaboration with Cory Wong, celebrated Canadian guitarist Ariel Posen continues his evolution as a multi-faceted artist.
For years, Ariel Posen has captivated listeners with his tone. Starting with his first solo album, 2019's How Long, and on through successive releases such as 2021's Headway and a sprinkling of EPs, the Canadian guitar virtuoso has distinguished himself for his unique approach to sound. His playing is warm and rippling; it has a way of grabbing you, or at times even jabbing you, but once it does, it changes up and envelopes you like a comfy pillow. His lyrical lines don't just sing—they swoon. All of this is to say that he doesn't do just one thing with his sound. There are nuances and levels to his artistry.
"To me, the sound of the guitar should be just as expressive as the human voice," Posen says. "The biggest part of my sound is just dynamics and getting in touch with the guitar. A lot of people max out the volume knobs on their guitars, but I've found that there's so much tenderness and so many beautiful textures when you're at 6 or 7. It's more of a true sound. Whether I'm using a slide or not, I like to use an overdrive pedal into a clean amp. That way, it's not a harsh overdriven sound; it's clean but with headroom on the edge of breakup." He pauses, then adds, "It's very much like a Jeff Beck thing. There's a poetry to it."
Ariel Posen - Time Can Only Tell
Posen cites his early years of playing with trios in clubs as being crucial to his development. "I became something of a Swiss army knife and played as many different styles as possible—blues, jazz, folk, and bluegrass," he says. "Before then, I tried to emulate my heroes—people like Doyle Bramhall II, Robben Ford, John Mayer, Jimmie Vaughan, and others. By gigging with trios, I realized that I needed to flesh out my own sound more. I didn't have to play what other people expected. I could go for originality."

"To me, the sound of the guitar should be just as expressive as the human voice."
Later, while backing up other musicians before he turned solo, he was schooled in team-playing, and learned important aspects of dynamics. "Because I was surrounded by a lot of other players, I didn't focus so much on the guitar," he says. "I played with a lot of good drummers, and that taught me the importance of groove and having good timing, the kinds of things that make a song feel good and not just sound good. I feel like both experiences came together in what is now my own style and sound."
That beautiful sonic expressionism is one of the hallmarks of Posen's newest album, Reasons Why, a record that also demonstrates the guitarist's remarkable growth as a singer and writer of deeply personal yet highly relatable songs. On the gorgeous, atmospheric single "Didn't Say," he examines how unspoken truths could have saved a doomed relationship. The easy funk groove of "I Wish We Never Met" is juxtaposed by the gnawing pain of missing a lover while on the road. Likewise, "Man You Raised" is a swaggering, butt-kicking rocker highlighted by two chest-beating solos, but the narrative element is tinged with wistfulness and regret.
A Leslie cabinet was among the old-school tools on Posen's new album. And in the studio, Posen relied on just two amps: a Two-Rock Traditional Clean model, and a 3-watt Greer Amps Mini Chief.
"More and more, songwriting is like therapy for me," Posen explains. "It's an opportunity to share something very intimate but in a way I might not be able to do in real life. It's like writing your feelings in a journal. Now, you probably would never share your journal entries with somebody else, but for some reason all those barriers go away with songs—at least for me they do. And it's not even difficult. It's just a way of speaking the truth. When I can get it right, I think other people can listen to one of my songs and say, 'Hey, that sounds like my own experience. That resonates to me.' That's what I'm going for."
Typically, Posen eschews writing while touring, so the extended Covid lockdown period between 2020 and into the early part of 2022 provided him with an unexpected opportunity to hunker down and work out some material. So that's what he did—sometimes with songwriters Jason Nix and Jason Gantt (both of whom contributed to Headway), and other times with fast-rising Canadian singer-songwriter Leith Ross. He wrote "Man You Raised" with fellow guitar star Cory Wong. "Fortunately, a lot of the people I like to collaborate with were home, too, so it worked out," Posen says. "It took a few months for me to get into the creative zone, but once I did, I hit it hard and worked at it every day, like I was going to the gym."
Surprisingly, he employs the exact opposite approach when it comes to playing guitar at home. "When I'm on my own, I just play for the sheer enjoyment of it," he says. "I'm kind of off the clock, without any kind of agenda. Whatever happens, happens." Still, he notes that inspiration can strike at any time. "There will be ideas for songs that hit me when I'm messing around, but I don't force them. I'll just leave myself a voice memo. Even if I don't listen back to it for a year, I know it's there."
Once Posen had amassed some 30 songs, he whittled them down to 10 cuts that ticked off all the boxes musically and lyrically. Working with his usual co-producer Murray Pulver, he made extensive demos of each number, playing guitars and bass, programming drums, and laying down scratch vocals. From there, he turned the material over to his band—bassist Julian Bradford and drummer JJ Johnson, along with percussionist Jon Smith and keyboardist Marc Arnould—and said, "Here's how I hear it. Now, do it better. Do it right. And do it the way you're feeling it." At certain times, he offered strict guidelines—"Don't play the crash cymbal here," or "Simplify the backbeat"—but mostly his rule was, "Do your thing."
"There will be ideas for songs that hit me when I'm messing around, but I don't force them. I'll just leave myself a voice memo. Even if I don't listen back to it for a year, I know it's there."
Despite his reputation as a supreme tone king, Posen asserts that he isn't married to a particular sound—nor even a certain guitar—during writing and demoing, preferring to respond to inspiration in the studio. "Whatever feels right when we're cutting tracks is what I go with," he says. As he did on Headway, he utilized a Fender Custom Shop Jazzmaster on a significant portion of Reasons Why, as well as some of his other go-to guitars, such as an Eric Johnson signature Stratocaster and his Mule Resophonic StratoMule, plus a Case Guitars J1 model outfitted with Ron Ellis P-90 pickups. "The J1 is a Les Paul-style guitar with a chambered body," Posen says. "It delivers a very warm, thick sound that I love."
Ariel Posen's Gear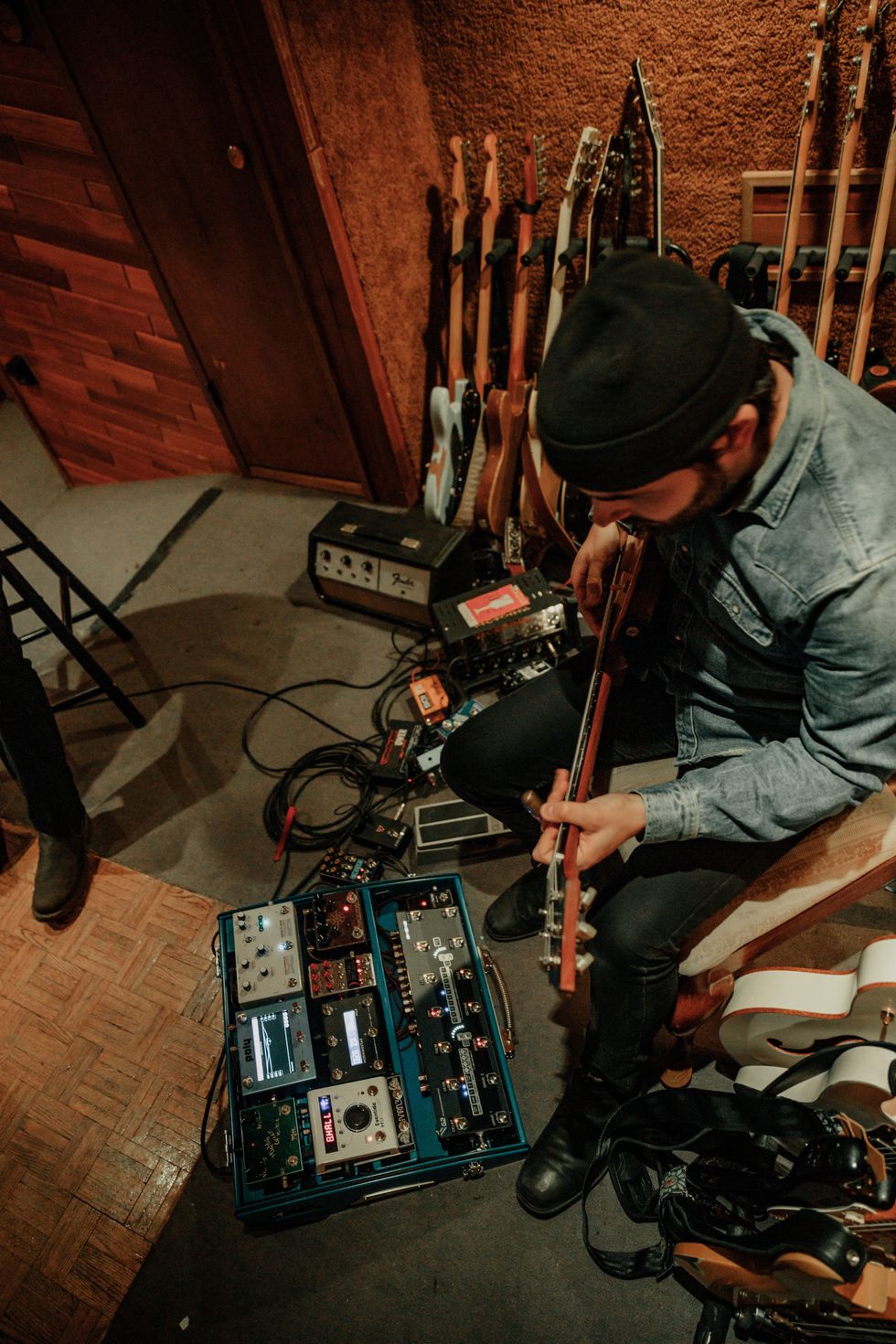 To create the broad spectrum of sounds on his new LP Reasons Why, Posen turned to his favorite tools, like his Fender Jazzmaster, an Eric Johnson Strat, and a Mule resonator, but he also invited some new friends to the party: a Gretsch White Falcon, and a guitar from Irish builder Kithara.
Photo by Lynette Giesbrecht
Electric Guitars
Mule Resophonic Stratomule
Fender Stratocaster Eric Johnson Model
Fender Custom Shop Jazzmaster
Gretsch White Falcon
Case Guitars J1
Kithara Harland
Josh Williams Mockingbird
Acoustic Guitars
Collings D1AT
'60s Martin 000 (tracking down the model)
'60s Gibson Hummingbird
'50s Kay
Morgan Concert Model with Sitka spruce top
Yamaha Dreadnought in Nashville Tuning
Modern Recording King Acoustic
Mule Resophonic Mavis Baritone
Amps
Two-Rock Traditional Clean
Greer Amps Mini Chief
Effects
Hudson Electronics Broadcast-AP
Analog Man King of Tone
Kingtone The Duellist
Kingtone MiniFuzz
Hologram Electronics Infinite Jets
Hologram Electronics Microcosm
Eventide H9 MaxMorningstar MC6
Chase Bliss Audio Thermae
Chase Bliss Audio Tonal Recall
Chase Bliss Audio Habit
Victoria Reverberato
DanDrive Austin Blender
Greer Amps Lightspeed
R2R Electric Vintage Wah
R2R Electric Two Knob Treble Booster
Demedash T-120 Videotape Echo
Mythos Pedals Argo
Keeley Hydra
Leslie cabinet
Strings, Slides, & Picks
Stringjoy (.014–.062) for low tuning
Ernie Ball (.011–.054) for standard tuning
Dunlop Tortex 1.14 mm
The Rock Slide Ariel Posen Signature Slide
In addition to experimenting with a Gretsch White Falcon ("Great for arpeggios and big, open chords"), he also tried out a custom-made Kithara Harland guitar that he designed with the company's founder, Chris Moffitt. "I had this idea for a Strat-style guitar with a Tele bridge and a Bigsby," Posen explains. "It's set up really cool, and it worked out great for a couple solos and arpeggios."
In the studio, Posen relied on just two amps: a Two-Rock Traditional Clean model, and a 3-watt Greer Amps Mini Chief. But in terms of effects, he went wild, calling on well over a dozen pedals and rack units to create absorbing textures and unconventional sounds. He lists the Chase Bliss Audio Thermae and the Hologram Electronics Infinite Jets as two MVP pedals, but he also sings the praises of the R2R Electric Vintage Wah unit. "It's a single enclosure with a switch and a knob, and it gives you all the sweet options of a wah pedal," he says. Posen made dramatic use of the pedal for the squawky rhythm tracks on the gritty rock ballad "So Easy," as well as for the growling, throaty slide solo of the otherwise shimmering "Learning How to Say Goodbye." "I was just looking for something different that didn't sound like what everybody else does," he says. "I was simply trying to innovate to a degree."
Sometimes, he goes old school. On both "So Easy" and the chilling arpeggios in the majestically orchestrated "Didn't Say," he ran his guitar through a Leslie cabinet. "I'm pretty good at getting sounds from all the new pedals," he says, "but sometimes there's just no substitute for the real thing."
Posen says songwriting for Reasons Why was like going to the gym: He had to work hard at it everyday to pull out the tracks that made the record.

Photo by Calli Cohen
Posen likes to use the word "authentic" when describing his goal for record-making, and on Reasons Why, each emotional high he achieves is earned and feels real, whether it's on the haunting, hymn-like "Broken But Fine," or in the way he blends introspection and vulnerability in the aching ballad "Choose." As a lyricist, he gives you just enough to draw you in, but nothing is forced or feels burdened by unnecessary detail—which is great, since explaining emotions is so limiting.
Having first established himself as an in-demand guitar-for-hire with such disparate acts as the Bros. Landreth and Tom Jones, Posen is a true showman at heart, and he knows when to turn on theatricality. Each solo is replete with bravura—the resonant, pinched-harmonic lead in "Feels This Way Too" reaches to the heavens, and he concludes the graceful yet hypnotic album opener, "Time Can Only Tell," with an unexpected, bellowing roar that mimics the human-voice-like quality of a saxophone. He never draws attention to technique, though. There's a casual looseness to the solos; they're not haphazard or sloppy, nor do they meander. They sound wonderfully alive, as if Posen is acting on instinct and losing himself in impulsive, even uncontrollable, bursts of spontaneous creativity.
"I'm pretty good at getting sounds from all the new pedals, but sometimes there's just no substitute for the real thing."
As it turns out, many of the solos were thoroughly premeditated and fully integrated into each track. "'So Easy,' 'Learning How To Say Goodbye,' 'Didn't Say,' and 'Man You Raised' were 70 percent the way I did them on the demo," he reveals. "For me, it's my first take of something where it feels very honest and exciting. After that, I'm just replicating it or trying to come up with something new that's not the original intent. For the solos that I was attached to, we did them a few times in the studio, but I rarely, if ever, veered from the demo. There were some screws that needed to be tightened, but that was about it. Some things were improvised, and usually those were first takes. It's all about being in the moment."
Stuck at home during the pandemic lockdowns, Posen tapped artists like Cory Wong and Canadian songwriter Leith Ross to help him from afar to bring his new record to life.

Photo by Lynette Giesbrecht
Despite the fireworks, the album has an uncluttered feel to it. Posen doesn't weigh his songs down with superfluous guitar tracks, though that's not to say that he isn't big on experimentation. He points to "Didn't Say" as an example of where he used a number of guitars—an electric with a rubber bridge that's double-tracked, two Nashville-strung acoustics panned left and right, another electric on which he plays dyads, and an electric pedal steel for swells. "That one is extremely orchestrated, and there's a lot going on," he says, "but I tried to do it in a way that doesn't take you out of the song."
As for how Posen and his live band, including Bradford and Smith, will pull off all the material when they head out on tour, he's currently working that out. "It's always the same thing, where I go, 'Okay, I've got these awesome tracks. Shit, how am I going to reproduce it on stage?'" he says with a laugh. "So I have to reduce everything to the core elements, where it's just the parts I want to air guitar to. By design, we play live as a trio. I could add people to the band, but we have a really special thing as a trio. I love bands like the Police, Nirvana, and Green Day, and I could always appreciate what they did on record and what they did live. I want us to be the same way. I love the spaces in the music that comes from that approach. It's raw and dangerous, and when you get it right, there's nothing quite like it."
Ariel Posen – "Man You Raised" TELEFUNKEN Live At Sweetwater Studios #gearfest2023
In this recent live studio performance, Posen nails two heat-seeking solos on his trusty "Mule," while leading band members Julian Bradford and Jon Smith through a gutsy version of his new track "Man You Raised."
John Bohlinger has a blast taking an extensive tour of Fender's ambitious, expansive, and intuitive Tone Master Pro modeler.

This amp modeling workstation is designed to allow players to harness endless tonal possibilities, all contained in a powerfully intuitive and easy-to-use interface. The award-winning Tone Master amplifier series, originally debuted in 2019 with the introduction of the Tone Master Twin Reverb and Tone Master Deluxe Reverb, marked a new frontier in digital amplification. The tone, feel, responsiveness and character of the Tone Master Series amplifiers are intended to be virtually indistinguishable from their original tube counterparts, featuring the exceptional tonal qualities of their legendary predecessors with modern capabilities for today's musician.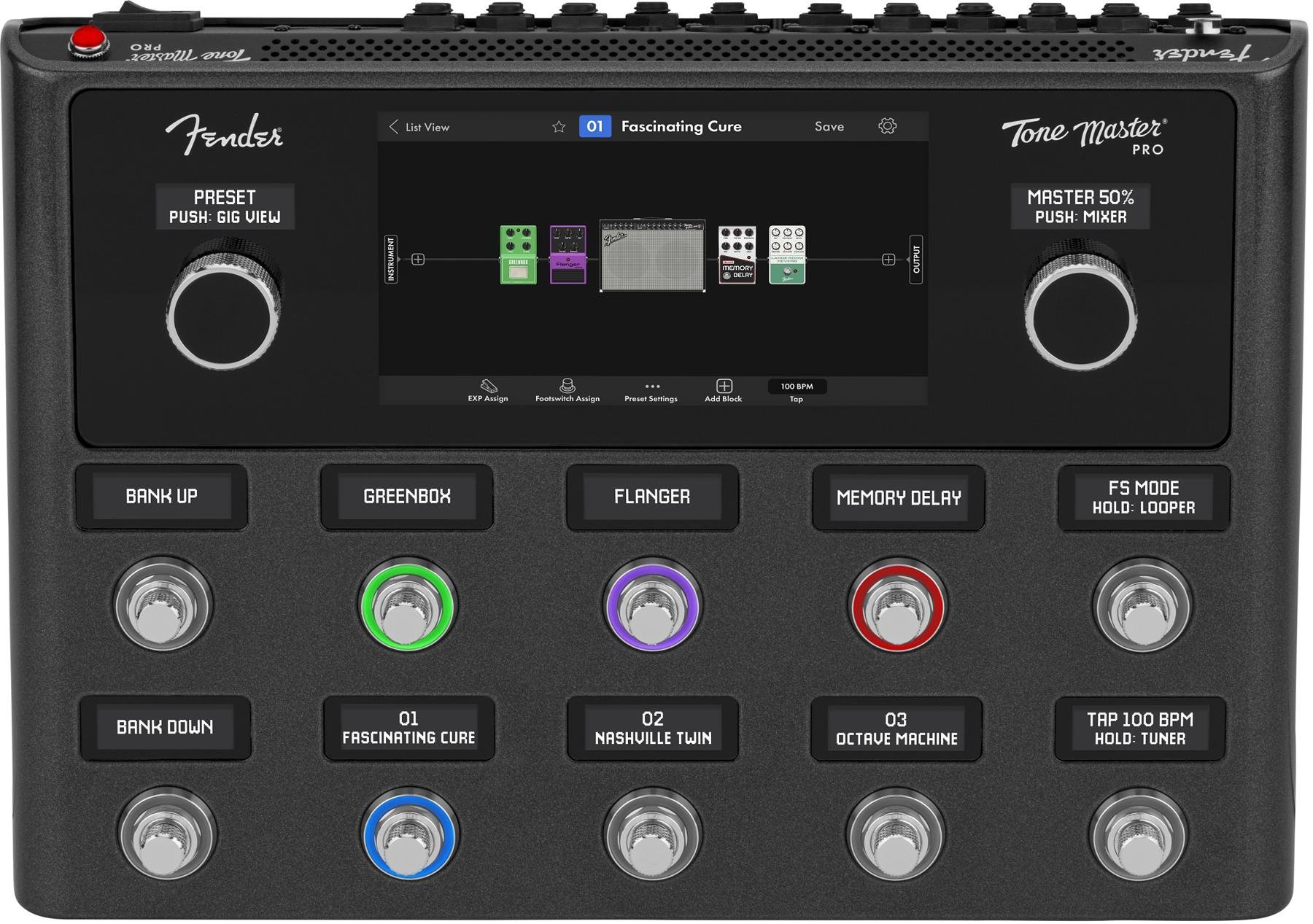 Fender