I bought this guitar around 1972 for $175 including a Kay amplifier, and am the second owner.
GIBSON ES-355TD
Dear Guitar Trash or Treasure,
I bought this guitar around 1972 for $175 including a Kay amplifier, and am the second owner. It's been put away all these years, and now my wife and I are thinking about moving and it's time to downsize. The serial number is A330XX, and it's on an orange label on the inside. What can you tell me about this instrument, and how much is it worth?
- Larry Faffler, MN
---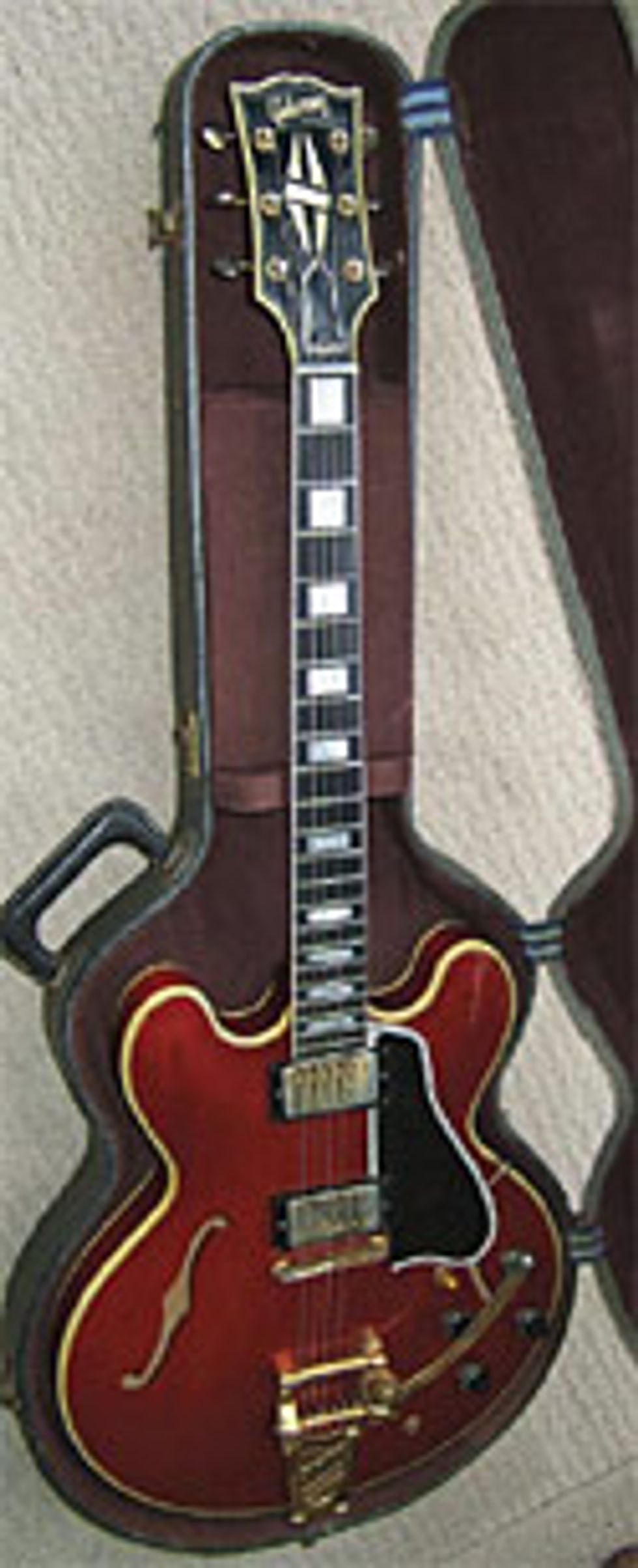 Hi Larry –
you're a lucky dude! This is a killer vintage instrument with a lot of value, and here's why. Your Gibson ES- 355TD with a Cherry finish and original Bigsby tailpiece was manufactured in 1960 (128 instruments were produced that year). At the time, it was Gibson's top-of-the-line semi-hollow body electric guitar and was designed as a deluxe version of the ES-335TD with headstock binding, elaborate inlays, and a standard vibrato bridge. Gibson also made a stereo version of this with a three position/ Vari-tone switch (Model ES-355TD/ SV). The mono version you have was produced alongside the stereo model through the 1960s, but by 1970, it was phased out as the stereo variation proved to be more popular.
Your guitar appears to be in excellent shape, but certain areas need to be addressed. First, there is a "2" stamped into the back of the headstock. This indicates that the guitar is a factory second meaning there was probably a blemish in the finish or some other small imperfection on the guitar so it couldn't be sold at the same price as the regular priced instruments. Gibson designated these by putting a "2" on the back of the headstock, allowing dealers to sell them at a lower price, but included a full warranty on the guitar. At the time (and up until about 20 years ago), a factory second would bring much less money than a normal guitar. However, in today's crazy vintage guitar marketplace originality is the ultimate grading factor. Most dealers look past the factory second label, as you can't find many guitars in this type of original condition.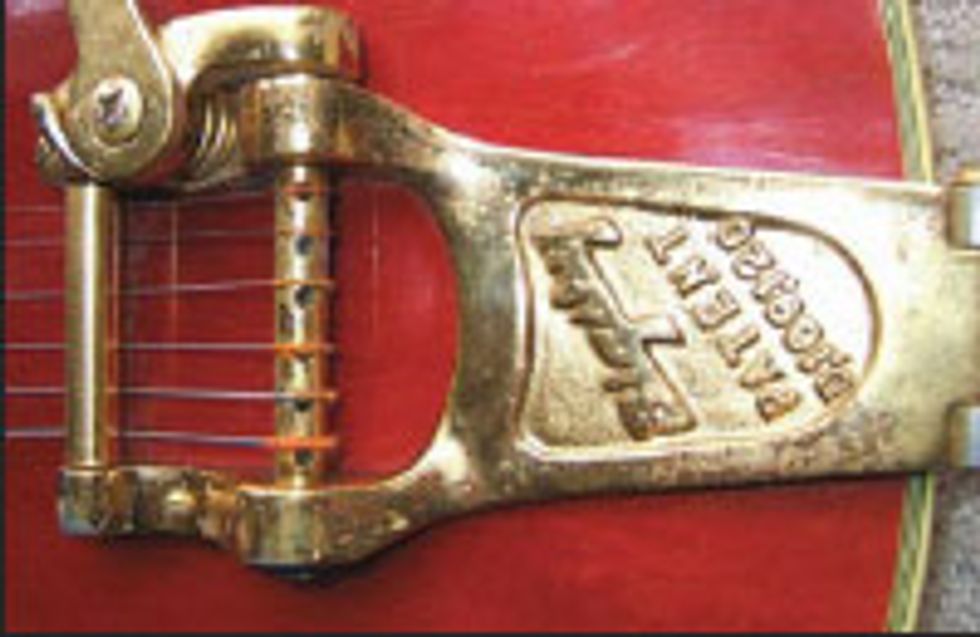 Second, the guitar has been played, but not overplayed. There is minimal wear on the frets, normal oxidation of the pickups and vibrato bridge, and the checkering and cracking of the nitrocellulose finish is typical of a guitar that has spent a lot of time in the case. Lastly, speaking of the case, it appears to be non-original and Gibson cases can add a significant premium to the overall value of the guitar. The good news about this non-original case is that it won't subtract any value from the guitar – it is not unusual for some vintage Gibson guitars to not have original cases. The original case would only add more to the value of the guitar.
I would value your guitar between $27,500 and $30,000 based on the condition I have determined in the provided pictures (90%, excellent condition). This guitar is definitely a treasure – something I'm hoping to stumble upon in my adventures!
---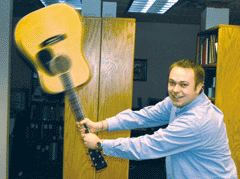 Zach Fjestad is the author of the Blue Book of Electric Guitars, Blue Book of Acoustic Guitars, and Blue Book of Guitar Amplifiers. These publications are available through Blue Book Publications. Guitar Trash or Treasure questions can be submitted to:

Blue Book Publications
Attn: Guitar Trash or Treasure
8009 34th Ave. Ste #175
Minneapolis, MN 55425
800-877-4867
www.bluebookinc.com
guitars@bluebookinc.com
Please include pictures of your guitars.