GT-10B: Bass Effects Processor
BOSS U.S. is releasing the GT-10B Bass Effects Processor
Los Angeles, CA (February 12, 2008) -- BOSS U.S. is releasing the GT-10B, the specially-made sibling to the GT-10. The GT-10B is optimized for the low-frequency domain, and provides bass players both power and creativity with BOSS''s DSP engine and COSM sound-modeling. Other features include OD/DS, Comp/Limiter, EQ, Parallel Chain, Phrase Loop and EZ Tone.
Powered by BOSS' latest custom-made sound processor, the GT-10B provides dozens of effects algorithms and COSM amp models to explore, combine and customize. The pro-grade Comp/Limiter, EQ and OD/DS compliment the full range of effects offerings onboard, from essential to esoteric.
The Parallel Chain offers two effects paths that can be blended, switched by playing dynamics or with onboard pedals. The Phrase Loop allows instant sound-on-sound loop creation, while the interactive EZ Tone wizard allows easy tone creation. The GT-10B is USB capable, and comes equipped with XLR outputs and 1/4-inch jacks.
Click here to see and hear what the GT-10B can do.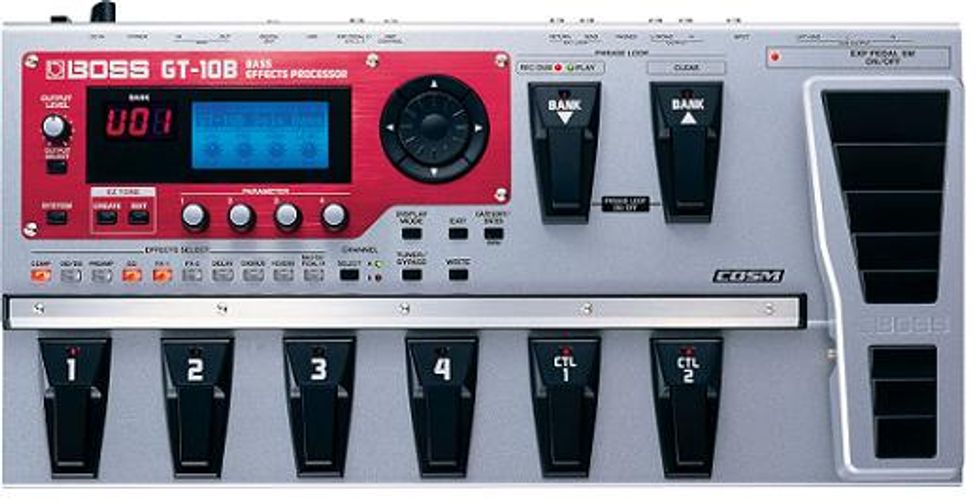 AD Conversion: 24-bit + AF method (*1)
DA Conversion: 24-bit
Sampling Frequency: 44.1 kHz
Program Memories: 400: 200 (user) + 200 (preset)
Nominal Input Level:

INPUT: -10 dBu
RETURN: -10 dBu

Input Impedance:

INPUT: 1 M ohm
RETURN: 220 k ohms

Nominal Output Level:

OUTPUT: -10 dBu / +4 dBu
SEND: -10 dBu

Output Impedance:

OUTPUT: 2 k ohms
SEND: 3 k ohms
SUB OUTPUT: 600 ohms

Dynamic Range: 100 dB or greater (IHF-A)
Digital Output: Coaxial type (conforms to IEC60958)
Display:

132 x 64 dots graphic LCD with backlit
7 segments, 3 characters LED

Connectors: SUB OUTPUT jacks L, R (XLR type), INPUT jack (1/4 inch phone type), OUTPUT L/MONO, R jacks (1/4 inch phone type), PHONES jack (Stereo 1/4 inch phone type), EXT LOOP jacks SEND, RETURN (1/4 inch phone type), AMP CONTROL jack (1/4 inch phone type), EXP PEDAL 2/CTL3,4 jack (1/4 inch TRS phone type), USB connector, DIGITAL OUT jack, MIDI connectors IN, OUT, DC IN jack
Power Supply: DC 9 V (AC Adaptor: Roland PSB-1U)
Current Draw: 800 mA
Accessories: AC Adaptor (Roland PSB-1U), Owner''s Manual, Roland Service (Information Sheet)
Options: Footswitch: BOSS FS-5U, Dual Footswitch: BOSS FS-6, Expression Pedal: BOSS FV-500L/500H, Roland EV-5, Footswitch Cable: Roland PCS-31 (1/4 inch phone plug (stereo) - 1/4 inch phone plug (mono) x2)
Width: 21-3/8 inches
Depth: 10-3/4 inches
Height: 3-1/16 inches
Weight: 10 lbs. 13 oz.
Maximum height: 104 mm (4-1/8 inches) when pedal-up
List Price: $695.00

For more information: BOSS GT-10B.