Guyatone Micro Effects Series Pedals
In my younger days, before the unforeseen plague of responsibilities crept up on me, I was miraculously able to invest in several hobbies outside of the world of music.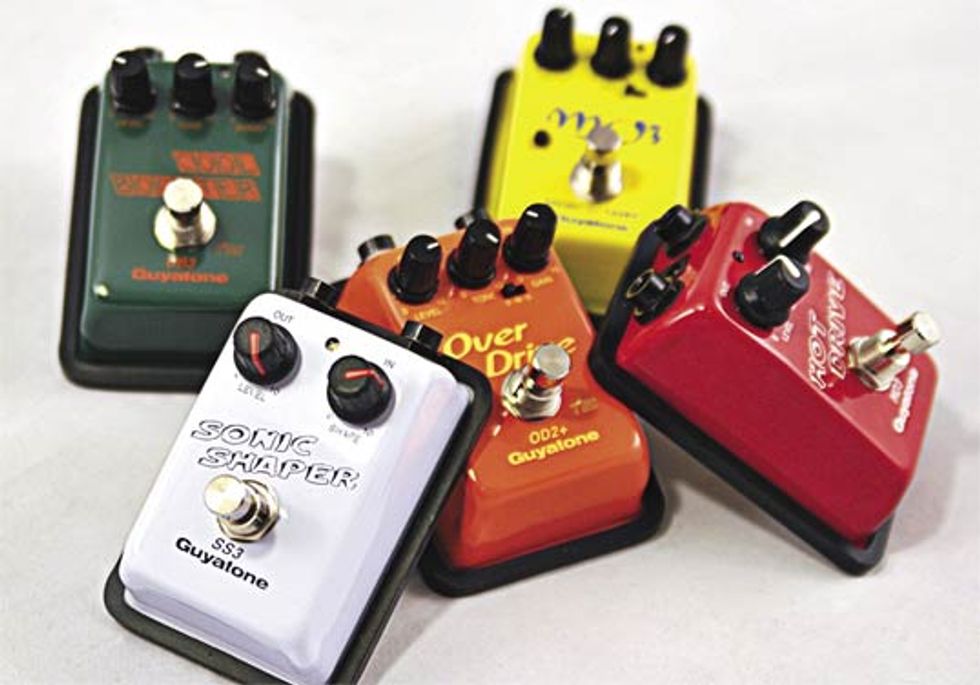 In my younger days, before the unforeseen plague of responsibilities crept up on me, I was miraculously able to invest in several hobbies outside of the world of music. For several years I was an avid cyclist with a taste for finely-tuned, superlight two wheelers. As I cut across the local university campus, I would scoff at those poor souls forced to ride $100 pieces of scrap metal to class. Then, one day I was forced to park my expensive bike outside one of the university buildings and began the terribly long process of locking up my bike with several expensive locks to ensure that I had secured everything that could even remotely be removed by an allen wrench (stay with me here, there is a point to this). As I spent no less than ten minutes wrapping all manners of chains and locks around the bike rack, another student rode up on a steel frame with half-inflated tires, flicked down the kick stand and walked right into class. At that moment it occurred to me that not everyone needed – or wanted – an expensive, finely tuned racing machine, and that every level of ride had its place.
I am reminded of this experience after reviewing five new Micro Series pedals from Guyatone. That's certainly not to say that these pedals are the equivalent of $100 hand-me-down bicycles, but rather that these pint-sized effects represent a great bargain for guitarists residing at the lower-maintenance end of the tonal spectrum, simply looking for a nice palette of sounds to change things up.
These pedals feature stamped steel chassis, LED indicators, AC adapter inputs and true bypass switching on several models (OD-2+, CB-3 and HD-3), all in a small package, making them easier to fit onto an already overcrowded pedalboard. The battery compartment can be entered through the bottom of the pedal by removing a rubber gasket that holds the bottom metal plate to the body. The gasket has a groove on the inside that you must position over the lip created by the union of the main body and the bottom plate – it's no easy feat, but the gasket does double as an appropriate friction device to keep the pedals from slipping around.
Don't be deceived by the compactness of these pedals, which roughly resemble the size of a deck of Uno cards, as they pack quite the punch. Let's take a closer look to see if any of these effects have a place on your rig.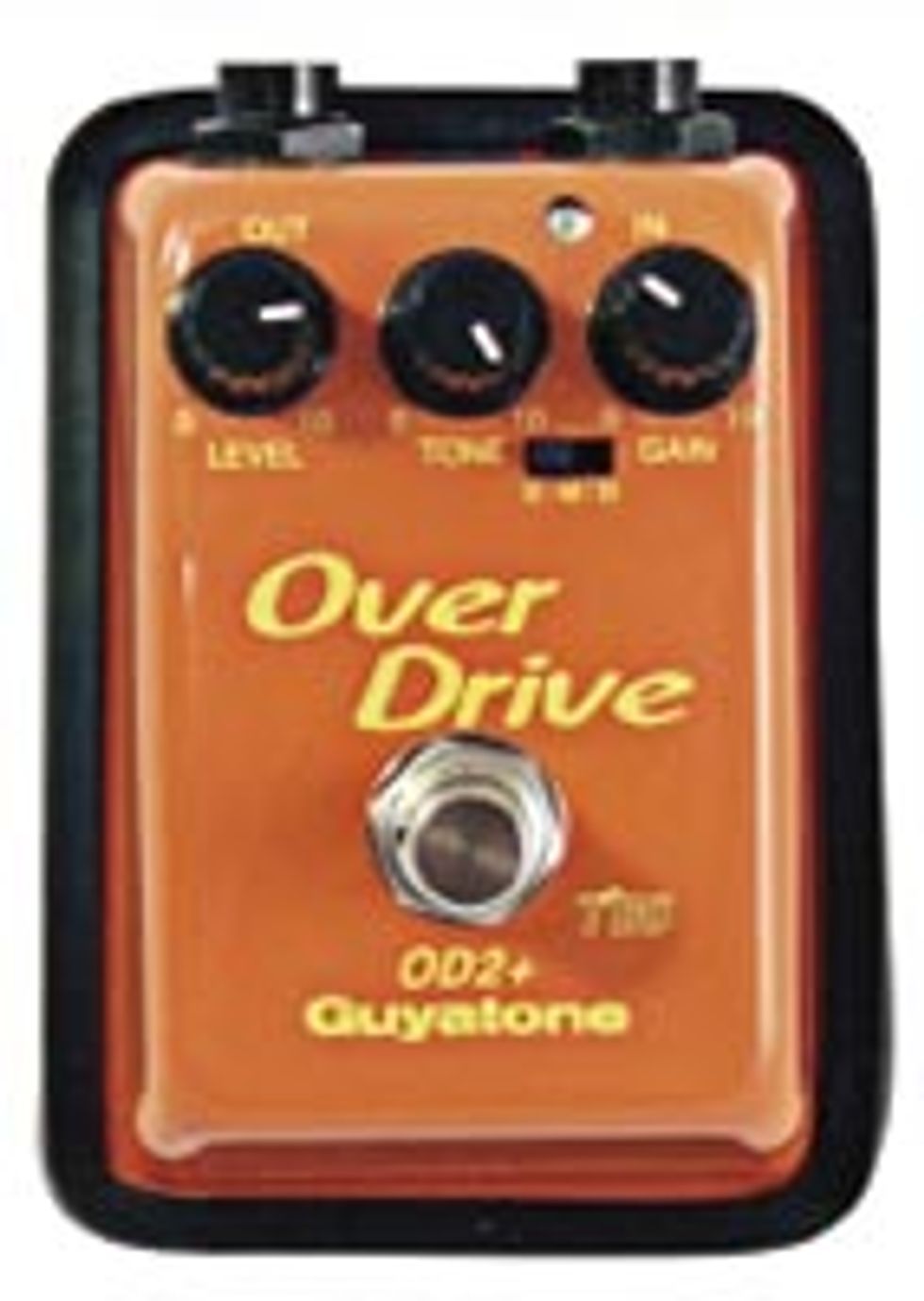 OD-2+ Overdrive
This pedal produces some classic tube-like sounds, reminiscent of the pre-hair band days when you could add a bit of distortion to your sound without completely killing the tone of that lovely Les Paul you spent a fortune on. This pedal also proves to be more versatile than its predecessor, the OD-2, with an upgraded Hi Cut/Hi Boost Tone control and 3-way Overdrive Mode switch, which essentially packs three pedals into one already compact unit.
The first setting, Shallow, serves up a versatile range of sounds, moving from a somewhat clean boost to a rough crunch. This setting will not overpower any of your gear's tonal qualities, but rather add a bit of grit and sustain. Moving the switch to the second position, Middle, will drive the OD-2+ a little harder, resulting in a throatier bite. If that's still not enough for you, the last setting, Deep, produces the most saturated sounds, although the distortion levels here are still a little tamer than others in its class, such as the ubiquitous Tube Screamer.
There's no doubt that there are deeper overdrives available, but the sounds generated by the OD-2+ are respectable and definitely worth checking out.

Buy if...


you are looking for a reasonably smooth, rich overdrive in a compact box


Skip if...
you're jonesing for a Tube Screamer
Rating...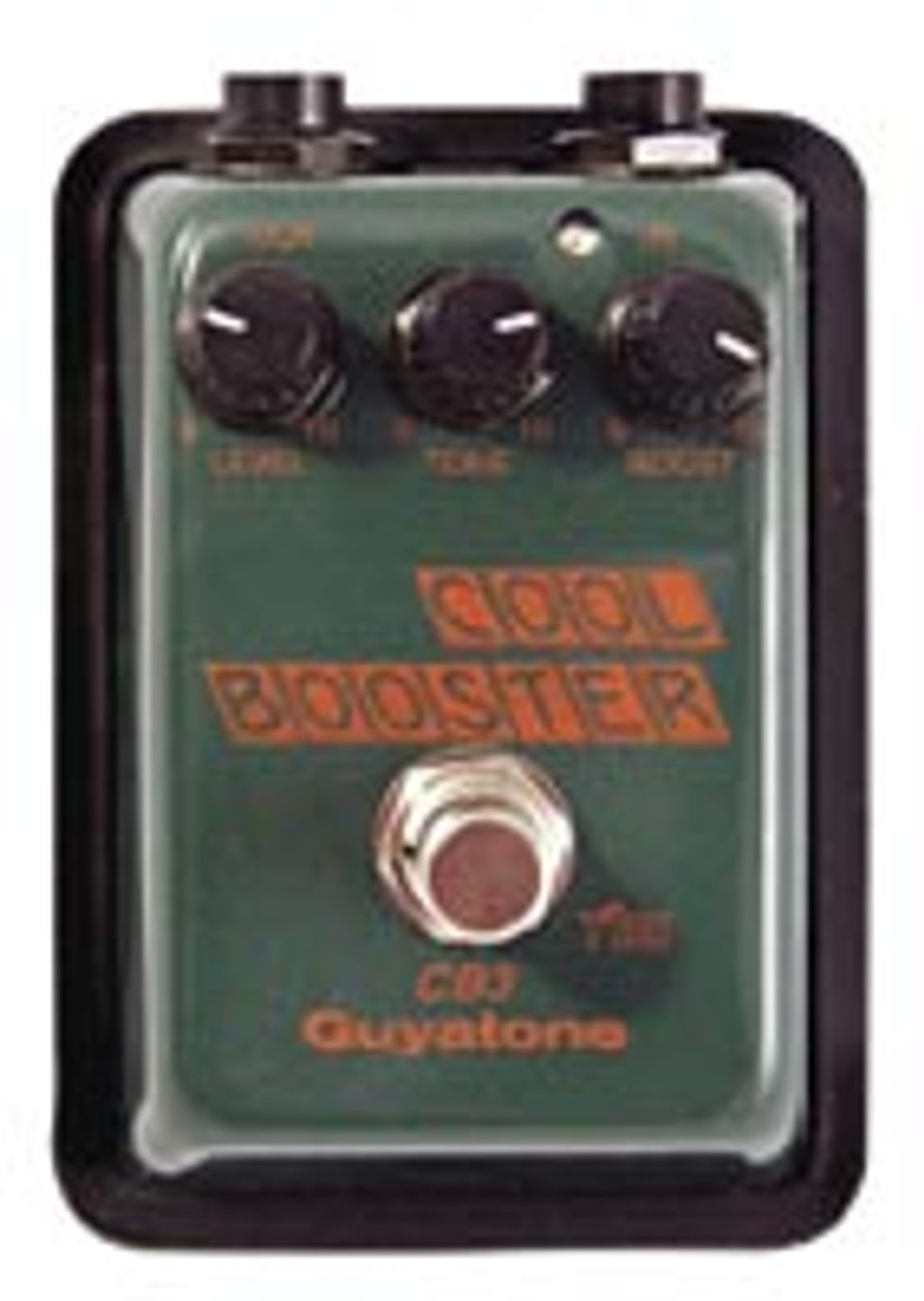 CB-3 Cool Booster
The Cool Booster does exactly what you'd expect it to do, providing up to 18 dB of boost without much coloration of the original signal. It can also be used to distort an input signal by applying gain with the Boost knob. If you turn the Level knob to its maximum while keeping the Boost knob at zero, you'll get a clean boost with a fair amount of headroom. Setting the Boost knob at lower settings will give you even more clean volume without altering your signal; move the knob into the higher ranges and you'll start to hear distortion creeping in at the edges. A careful coordination of the two knobs will enable you to push enough transparent gain through your amp to generate subtle, yet pleasant distortion on the clean channel or jettison you into soloing range on an already-smoking amp.
If you're looking for a milder overdrive, something to give you a little bump in volume without changing the tone you've got, this is a simple solution that won't put you in the poor house.

Buy if...


you need a simple boost that won't discolor your sound


Skip if...


you need inordinate amounts of clean headroom


Rating...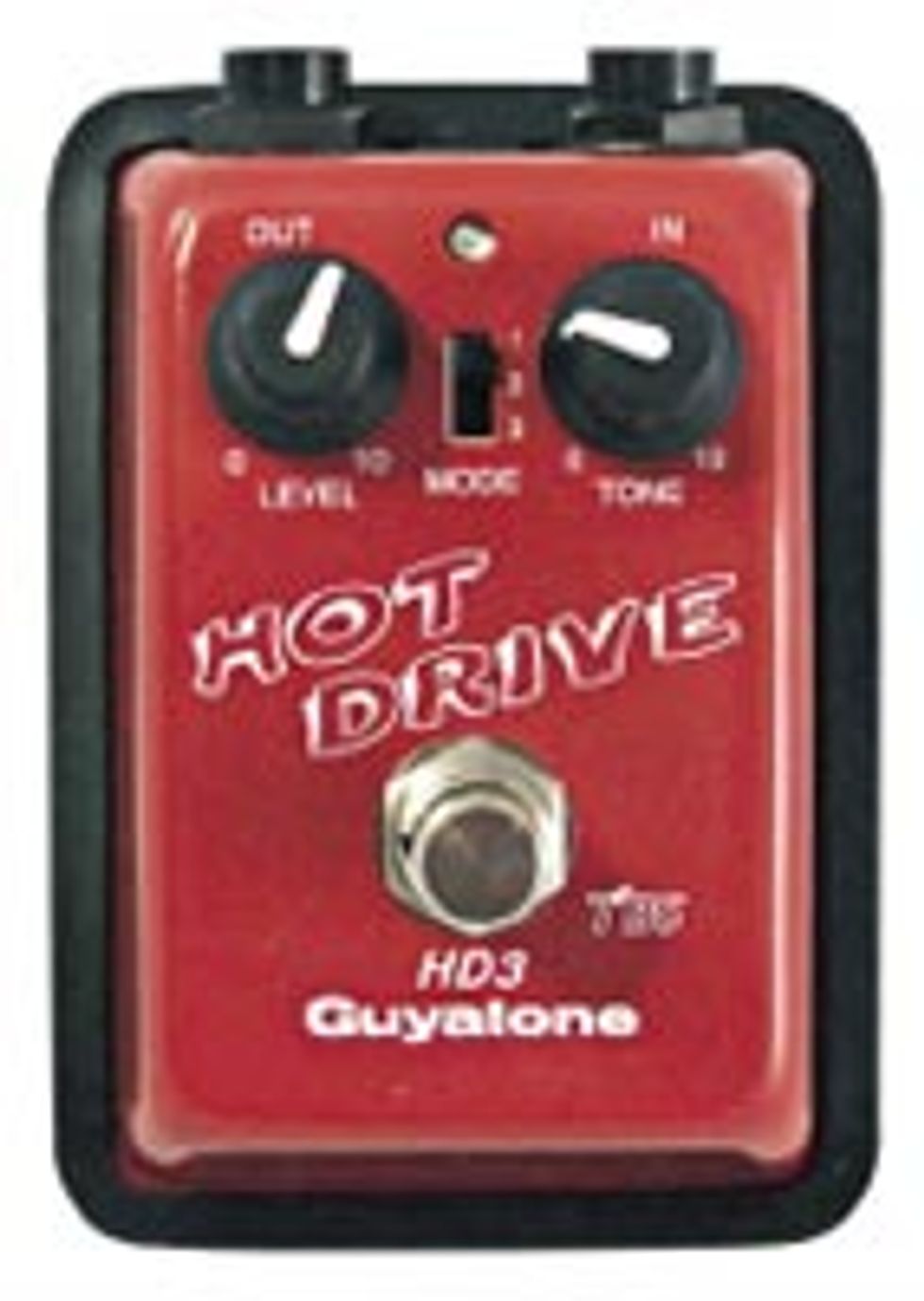 HD-3 Hot Drive
The HD-3 provides an edgy, hot distortion with the potential for mimicking a nice Marshall stack, albeit with no ability to adjust the amount of dirt present. The Tone control and 3-way Mode switch (representing three different peak frequency settings for its High Cut Filter) are all that are available for sonic shaping. The first setting, M1, is what I consider to be the core sound of the pedal – a silky yet bright overdriven sound. The second setting, M2, adds some higher frequencies for a brighter sound with more bite, while the third setting, M3, cuts some of those highs for a deeper and darker tone.
This pedal has the marbles to take a small combo and turn it into a virtual stack, but I did have a few minor bones to pick with it. Rather than cutting some of the higher frequencies to accentuate the lower tones, it would have been nice to actually boost the lower frequencies to avoid some of the fogginess in the M3 setting. Also, the inability to control the pedal's gain may be a deal-breaker for some, but overall, the Hot Drive has the potential to fall into that rare "fell in love from the moment we met" category for some players. If you plug into this box and get that feeling, rest assured that it was meant to be.
Buy if...


you love the sound of an edgy Marshall stack


Skip if...


you need the ability to adjust the amount of distortion


Rating...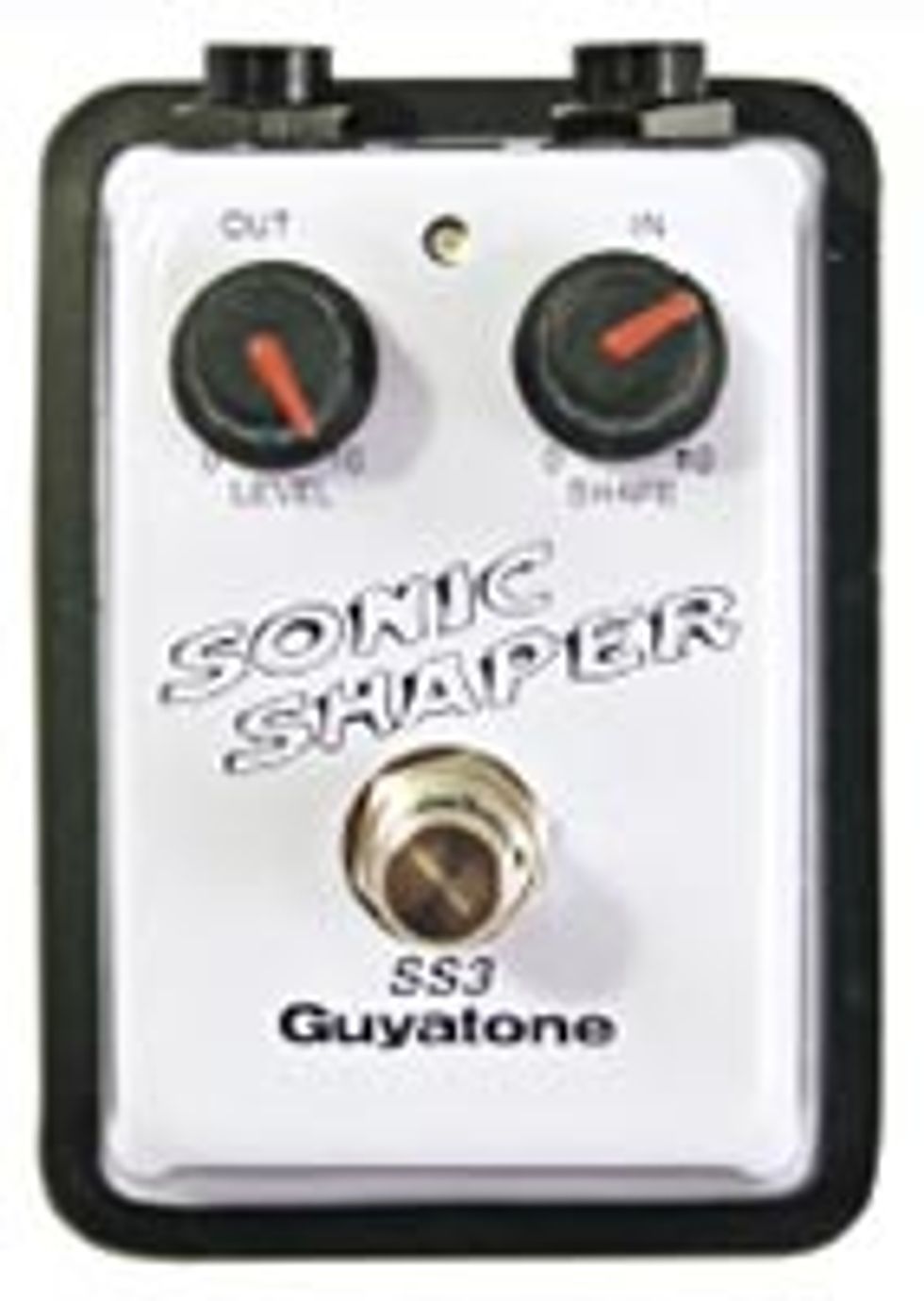 SS-3 Sonic Shaper
Years ago, I remember purchasing a chorus pedal with no other reason than people insisting that I needed one. At the time, I felt that I had to get my money's worth out of each pedal, so I made sure to apply as much effect as possible. As you can imagine, the unmistakable sound of too much chorus left me unimpressed. Eventually, someone hipped me to the seemingly common knowledge that a small amount of chorus can really fatten up an acoustic guitar sound, and my first lesson in understanding that not all pedals are meant, or should be used, to completely change your sound was complete. With a lot of pedals, the keyword is "enhancement," and the Sonic Shaper best fits into this category.
The SS-3 has the subtle ability to emphasize different harmonics generated by the input signal – the spec sheet indicated that the pedal can be used as an acoustic simulator or to merely boost your overall output volume, without the ability to add gain like the Cool Booster. Of course, trying to make an acoustic guitar sound like an acoustic guitar after amplifying it is fraught with enough technical issues, so it's unrealistic to expect one pedal to appropriately simulate an acoustic while using an electric. That said, the Sonic Shaper can gently fatten up certain frequencies of your sound and seems to compliment acoustics nicely – the instructions even recommend coupling the pedal with a chorus for more dreadnought impersonations.
Sure, you could simulate this pedal's effects if you have a 31-band EQ sitting around by adjusting the higher frequencies and adding or removing presence in the sound, but the SS-3 makes doing so a significantly more compact proposition.
Buy if...


you need to add a little presence to fatten up your guitar


Skip if...


you already have a good EQ and a chorus pedal


Rating...
3.0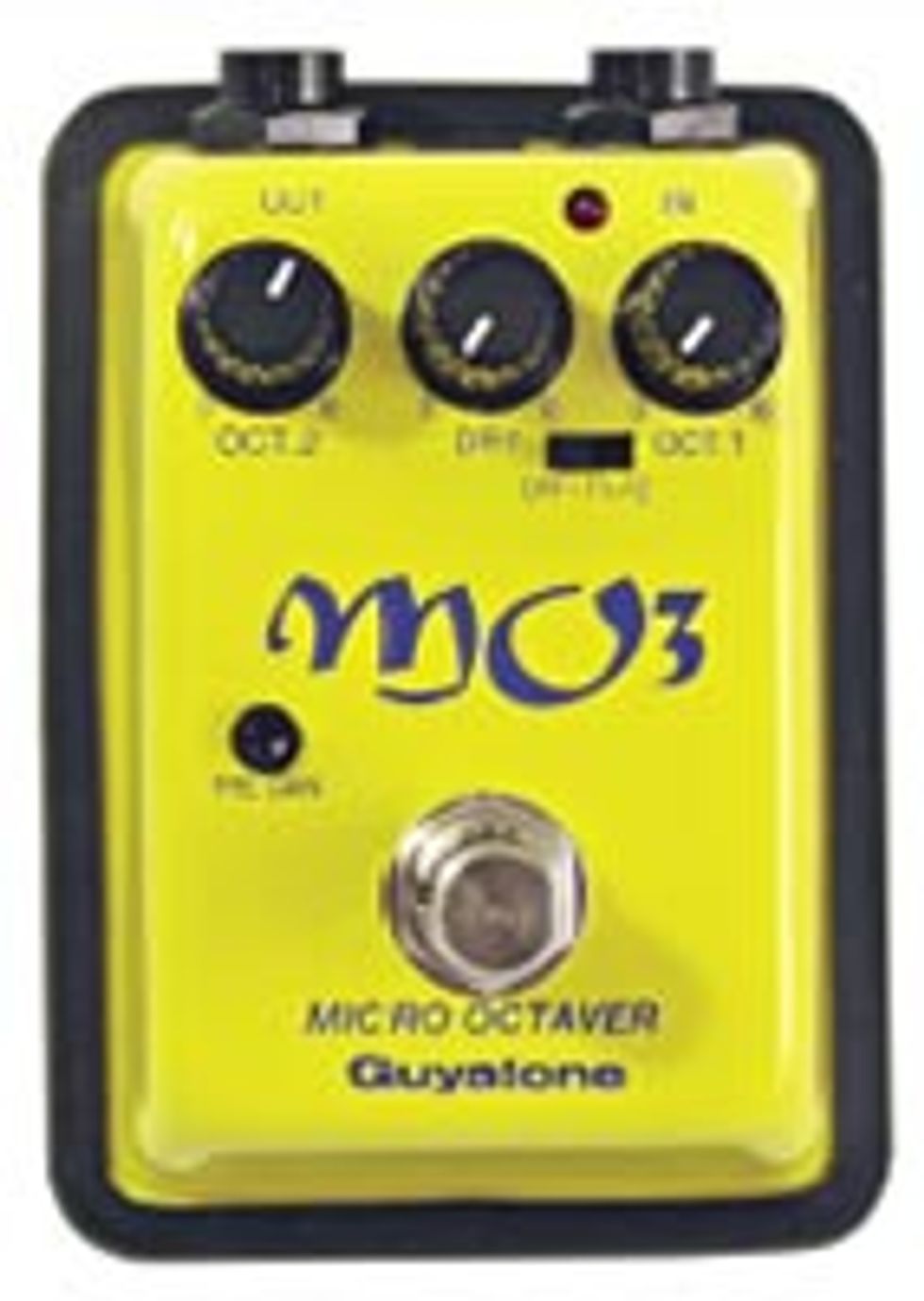 MO-3 Micro Octaver
The Micro Octaver is definitely meant for the more adventurous among us; even the spec sheet states, "If you are looking for pristine octave tracking with super clean tone, we suggest you look elsewhere." Thanks for the honesty.
The MO-3 hosts a mess of controls onboard to create its sonic chaos – a Dry knob adjusts the output level of the unaffected signal, the Oct.1 knob adjusts the output level of the one octave down effect and the Oct.2 knob adjusts the output level of the two octave down effect. A Filter Shift switch allows you to slightly roll off the distortion effect (F1), reduce the distortion further (F2) or turn off the filter completely, so you get the sound of fully distorted octaves – it should be noted that each of these settings affects the octave tracking differently. The Pre-Gain control, which is actually a screw located on the front panel, controls the output level of the preamp feeding into the octave circuit and can be used to make adjustments for high-output and passive pickups.
This pedal has a crazy range of sounds, from deep, crackly, distorted sounds at the lower end of the fretboard to slightly smoother lower octaves when played with higher notes, almost resembling a synth bass at times. The spec sheet recommends picking cleanly and evenly and I found that if notes were struck erratically or with varying force (in particular when struck lightly or played at low volumes), the notes tended to break up, almost like the sound of a bad cable. The MO-3 generated smoother, deeper fuzz-like sounds when playing above the 12th fret, but even then it was nothing even resembling a harmonized guitar. Certainly not for the faint of heart, this pedal could be the magic ingredient in the studio, creating that experimental sound you didn't even know you were looking for.
Buy if...
you are looking for some fun, experimental sounds
Skip if...


you are not independently wealthy and still need to take care of basics


Rating...
 
The Final Mojo
Overall, these tiny offerings from Guyatone serve up some good tones for those looking to avoid breaking the bank. Pedals like the OD-2+ Overdrive and the CB-3 Cool Booster could definitely operate as pedalboard workhorses and the other models will appeal to guitarists looking for a specific sound in their rig. The rubber gasket may be a pain for those planning on using battery power, but if you have a pedalboard and a power supply, you'll sidestep any issues. And while there may be lots of other pedals out there with more versatility, if you're looking to try something new without making a giant commitment, this isn't a bad place to start.
---
Guyatone
guyatone.com
Our expert has stated their case, now we want to hear yours. Share your comments and ratings below.