IK Offering Another Free Download
IK Multimedia is allowing the free download of AmpliTube X-Gear software
Modena, Italy (March 18, 2008) -- IK Multimedia is announcing the free download of AmpliTube X-GEAR 1.1 for all registered StompIO users and registered owners of at least one "powered by AmpliTube" product including: Ampeg SVX, AmpliTube Jimi Hendrix, AmpliTube 2 and AmpliTube Metal. AmpliTube X-GEAR is the first completely expandable guitar amp and effects modeling software system, available as a plug-in or a standalone system for Mac/PC.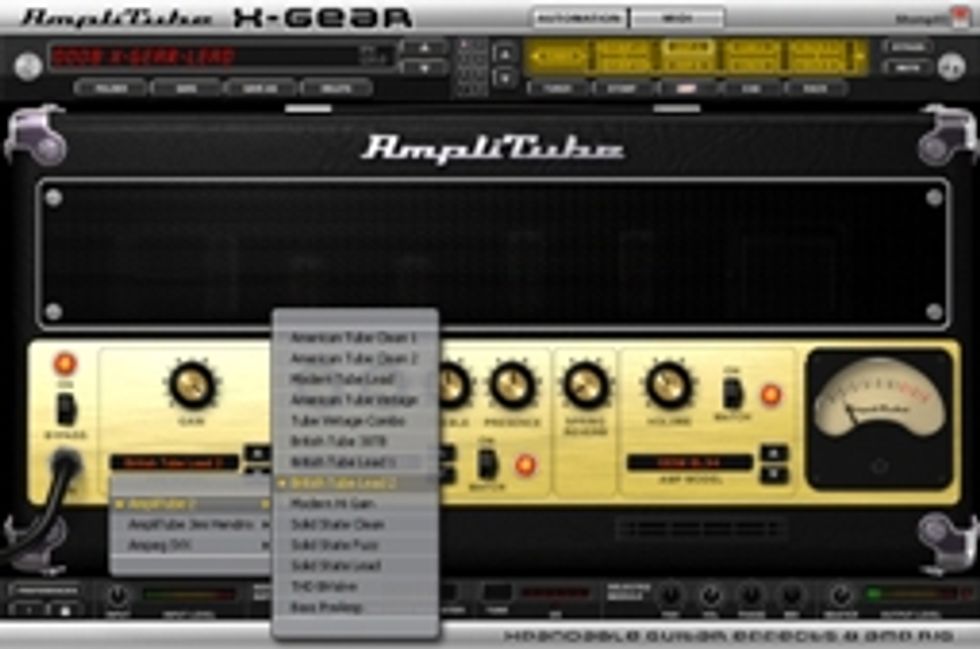 X-GEAR allows you to mix and match the gear models from all "Powered by AmpliTube" products in a single host interface, providing control over every parameter directly from StompIO, or any generic MIDI controller. X-GEAR allows you to build custom guitar and bass tones in both live and studio settings. As the first fully modular, customizable and expandable modeling software environment, X-Gear provides instant access to more than 150 amps and effects from AmpliTube 2, AmpliTube Jimi Hendrix, Ampeg SVX, the soon to be released AmpliTube Metal and all future "Powered by AmpliTube" products.
When these products are loaded into X-GEAR, you can build modeled guitar and bass rigs with (currently) 51 stomps, 26 amps, 33 cabinets, 11 mics and 23 rack effects on 2 series/parallel rigs. With AmpliTube's separate Pre, EQ and Power Amp stage modeling, you can build your custom amp within 180,000 combinations. X-GEAR is also seamlessly integrated out of the box with the new StompIO, USB stage controller and audio interface for AmpliTube.
In a live environment, X-GEAR + StompIO can be operated without a computer screen, mouse or keyboard connection, and with patch switching, pedal control, an amp and effects parameters display and more. You can tweak settings like you would with a traditional hardware floor processor, but with the benefits of a software-based system. When working in the studio working with your preferred DAW, the system allows you to fully record and automate your guitar or bass tracks without putting down your instrument or doing post-editing operations. Additionally, X-GEAR can also be operated with traditional MIDI controllers for basic up/down preset switching, stomp on/off switching and wah/volume operation, with simple association and MIDI learn functionality.
AmpliTude X-Gear

Allows complete integration with StompIO audio interface/floor controller
Allows MIDI controls with MIDI learn functionality
Allows full automation of each opened model's parameters
Free download for all registered StompIO, AmpliTube 2 and "Powered by AmpliTube" product users




Provides a single host interface for all "powered by AmpliTube" products with full mix and match over all the modeled gear
Opens and reads all "Powered by AmpliTube" presets
Works both as a RTAS/AU/VST plug-in and standalone version on Mac/PC
Price: $99.99 (excluding taxes)