Martin Virtual Custom Shop
Martin introduces an online application for their custom shop
Nazareth, PA (April 17, 2008) -- Virtual custom shops have begun to sprout up in the electric guitar realm, starting with Peavey, and continuing with companies like Xotic. These applications provide players with the opportunity to watch their dream guitar materialize in front of their eyes with seemingly limitless options. Now, the same dream-building technology has been introduced for acoustics by one of the world''s most revered acoustic companies: C.F. Martin & Co.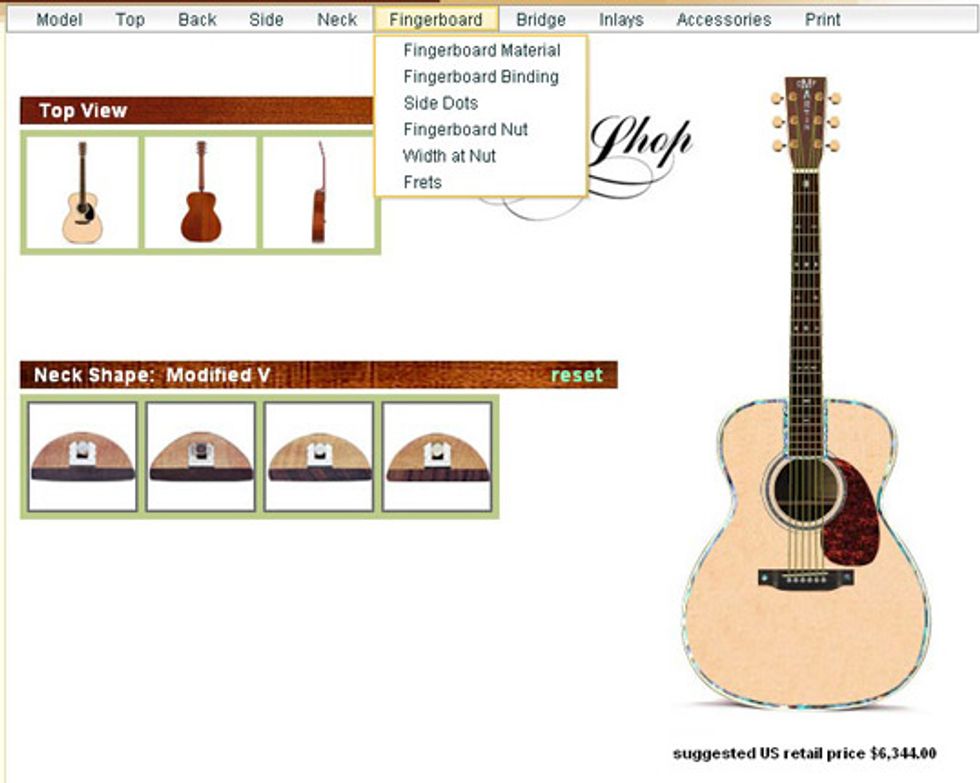 The new virtual custom shop operates though Martin''s existing custom shop, but gives players the opportunity to tweak every option and watch their tweaks take place with the click of a button. All the while, a running price meter estimates the price of each change, making it easier to decide whether you can afford that Tree of Life inlay, or if you''d better stick with simple dots.
The features aren''t all about looks however; in fact, the aesthetic options are secondary to playability. Players can choose from four body sizes in a number of styles and scale-lengths. Lefties can change the orientation of any style. From there, players choose from a variety of tone woods for the top, sides and back; you can upgrade to highly-figured wood, add a contrasting 3-piece wedge and more.
The customizable options are found in easy-to-navigate drop-down menus in the categories of: model, top, back, side, neck, fingerboard, bridge, inlays and accessories. We won''t run down the full list of customizable options here -- it''s pretty much everything on the guitar -- however, different neck shapes and a great variety of binding options are just a couple of the application''s highlights.
Once you finish perfecting every detail, just print out the order, bring it to a Martin dealer who will give you an exact price, and wait four to eight months for your dream Martin to appear.
The folks at Martin tell us they are continually adding more options to the application, so check back often.
For more information: