"I have been blessed to have some awesome repeat customers, including one that owns nine of my instruments."
In the early '80s, Tom Clement had a friend build him an electric guitar to his specs, long before building an instrument himself even crossed his mind. Fast forward to 2002 when Clement decided to go DIY with his appreciation for handcrafted instruments. He'd been playing in several bands in Florida with his trusty '66 Jazz, and found himself wanting to add a fretless bass to his arsenal. Rather than buying off the shelf, Clement decided to have one built and left raw so he could do the sanding and finish work. After contouring the body, reworking the control cavity, and reshaping the neck, Clement was hooked. He enjoyed the process so much that he sold the bass for a small profit and began buying more wood and tools.
Clement started building basses in earnest by selling them through eBay. He soon developed a name for himself and was able to raise his prices enough to pay for more than just his next set of materials, and in 2008, he became a full-time builder.
Self-taught Clement cites music as the main influence for entering the instrument-building arena (prior to this, he had no significant woodworking experience). "I am not a good player, but I do enjoy the back and forth of working with other players—especially the magic that can happen when an audience is paying attention and really enjoying the music," says the builder.
He brings that passion of working with other musicians into his shop, but running a one-man operation doesn't come without its day-to-day challenges. "Balancing the time I spend in the shop with the time spent on the computer looking at woods and materials while dealing with customers and potential customers is challenging," says Clement. "There is also trying to have a variety of wood choices for the customers to chose from with a limited budget and space to store the woods." Clement says his basses are consistently complimented by customers for the feel of the necks and the playability of the machines as a whole. "I have been blessed to have some awesome repeat customers, including one that owns nine of my instruments."
For custom basses, Clement offers a wide variety of body shapes and sizes, and prefers to use lighter-weight woods including cedars, mahoganies, and limbas. For electronics, he prefers a simple, passive setup, but realizes that players may want something more in a custom instrument and will install as needed. Clement also prefers a preamp that doesn't have too large a boost or cut, which is why he regularly equips his instruments with Nordstrand and Bartolini products.
Pricing and Availability
Clement builds approximately 40 basses annually, and an average build time ranges anywhere from three weeks to three months. "A 1-piece swamp ash body is going to come together a lot faster than a 2- or 3-piece chambered body with a book-matched top," says Clement. The base price for a 4-string is $1,450, but because all of Clement's builds are custom, pricing will vary depending on the myriad of options, which are detailed on the builder's site.
clementbass.com


Clement 175 The redwood-topped, swamp ash body of the Clement 175 features a "Kim" body shape, which is a smooth and streamlined take on a Jazz-style body. This 34" scale, 6-string bass has a bloodwood fretboard topping the maple neck and is outfitted with a pair of active Steve Bailey Basslines from Seymour Duncan for electronics.

Clement 211 Built for the bassist in need of both a fretted and fretless, both of the headless necks on the Clement 211 are constructed from quartersawn mahogany and capped with extra thick Macassar ebony. The swamp ash and mahogany body is topped with highly figured redwood. Clement's 211 is loaded up with two sets of Nordstrand Big Single pickups paired with a Nordstrand preamp, and weighs in at an incredibly light 11 3/4 pounds.

Clement 217 The body of the Clement 217 features Clement's heavily chambered "Anne" body shape—a larger, asymmetric style meant for better balance while playing in the seated position. The redwood-topped, swamp ash body is joined by a bolt-on black limba neck, and this 8 1/2 pound 5-stringer is outfitted with a P/J-style pickup configuration from Bartolini, along with a Bartolini piezo buffer for the Hipshot piezo bridge.

Clement 233 The "Jon" body style on the Clement 233 is another heavily chambered design from Clement which helps deliver its 7 1/4-pound weight. The single-cut, mahogany-core body with black limba wings is dressed with a figured koa top and has a single f-hole. Equipped with a piezo bridge from Hipshot, the Clement 233 also features a Stellartone tone control and Graph Tech's ghost Acousti-Phonic preamp.

Clement 254 From his Ergo Bass line, the Clement 254 features Clement's "Wide Joan" body style, constructed from limba with a myrtlewood top. Loaded with a Bartolini 59CBJD1 in the bridge and a Bartolini 58CBP in the neck, the pickups are paired with an Aguilar OBP-3 preamp. After a brief residence in Nashville to be signed by various notable musicians, the bass was auctioned in September 2012 with all proceeds benefiting the Ronald McDonald House.

Clement 275 Clement's Modern Doublecut basses boast a slim body shape that complements a shorter scale length, and this model is highlighted by decorative chamber holes that decrease the instrument's weight by a pound. The 34"-scale Clement 275 was built using swamp ash for the body's "Phoenix" shape, figured swamp ash for the top, and Port Orford cedar for the neck. For electronics, the 275 is equipped with a Hipshot piezo bridge, preamp and pickups from Nordstrand, and a Bartolini piezo buffer.
Looking for more great gear for the guitar player in your life (yourself included!)? Check out this year's Holiday Gear Finds!
Outlaw Effects introduces their next generation of NOMAD rechargeable battery-powered pedal boards.
Available in two sizes, NOMAD ISO is a compact, versatile tool that offers the convenience of a fully powered board plus the additional freedom of not having to plug into an outlet. NOMAD ISO is ideal for stages with limited outlet availability, quick changeovers, busking outdoors, temporary rehearsal locations, and more!
NOMAD ISO builds upon the legacy of the ultra-convenient and reliable NOMAD rechargeable pedalboard line originally launched in 2018. The brand new NOMAD ISO editions feature eight isolated outputs (1 x 9V DC, and 1 switchable 9V/12V DC) for even more versatility and clean, quiet power. With an integrated lithium-ion battery pack boasting 12800mAh capacity, NOMAD ISO can fuel a wide array of pedals, and will last over 10 hours* on a single charge.
Each NOMAD ISO pedal board includes adhesive hook & loop pedal-mounting tape, eight (8) standard DC connector cables, and one (1) reverse polarity DC cable, giving you everything you need to build your ultimate "off-the-grid" rig. A rugged, road-ready padded gig bag with shoulder strap is also included, to safely protect your gear while you're on the move.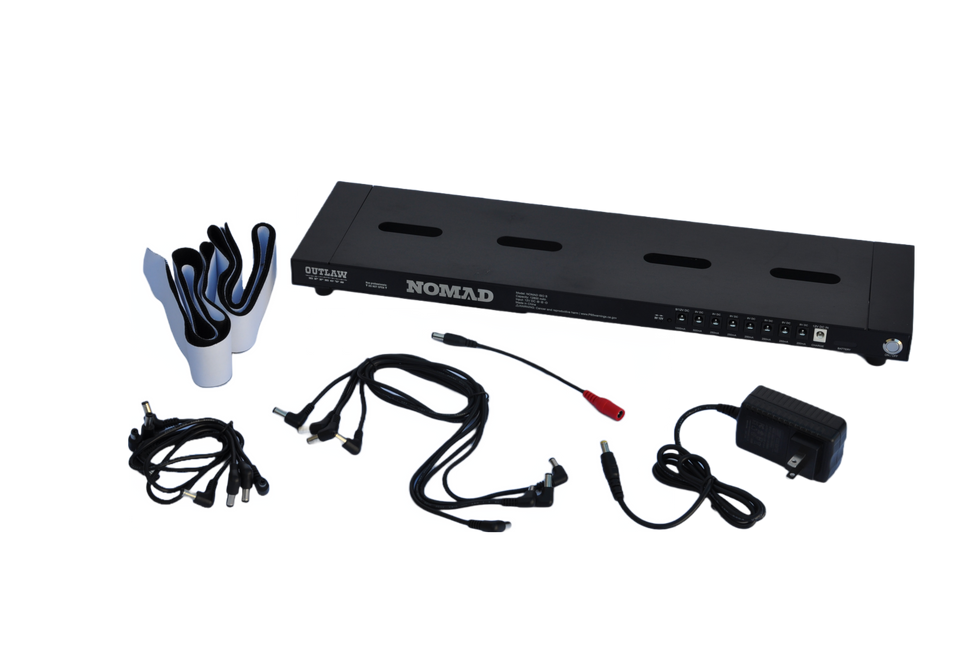 Dunable announce new Minotaur model featuring Grover Rotomatic Keystone tuners.
The Minotaur's DNA is rooted in their classic Moonflower model, which Dunable discontinued in 2017. However, they have long since wanted to create a fresh take on a carved top guitar design, and various attempts to rework the Moonflower led them to a brand new concept with the Minotuar.
Dunable's goal is to give the player a guitar that plays fast and smooth, sounds amazing, and gives maximum physical ergonomic comfort. The Minotaur's soft and meticulous contours, simple and effective control layout, and 25.5" scale length are designed to easily meet this criteria.

Dunable Minotaur!
Features
25.5" scale length
Dual Humbucker
one volume, one tone, push pull for coil splitting
Grover Rotomatic Keystone tuners
Grover Tune O Matic bridge with brass Kluson top-mount tailpiece
jumbo nickel frets
12" fretboard radius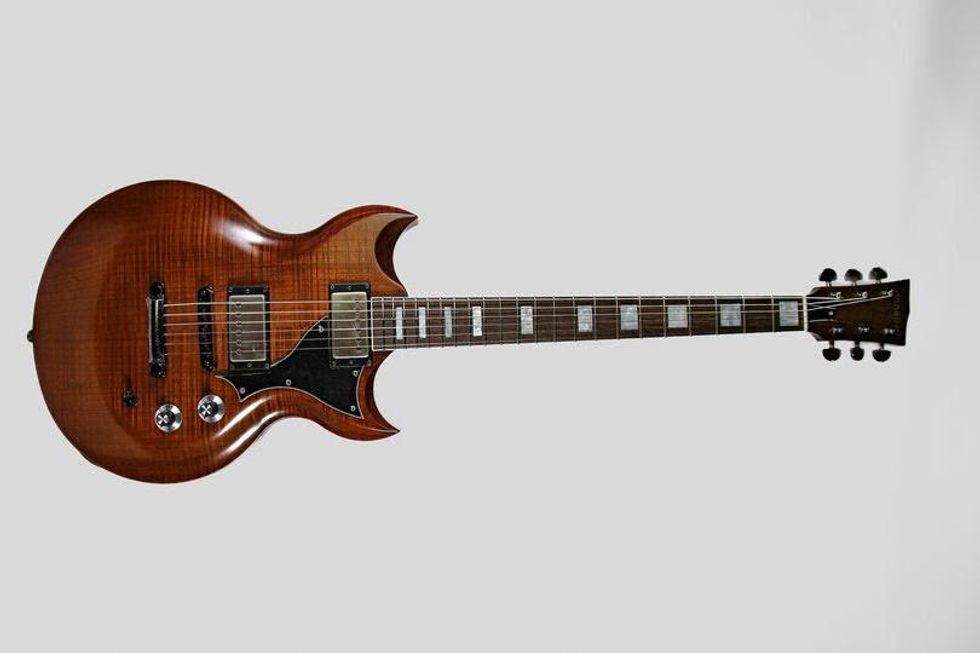 Dunable
This full-amp-stack-in-a-box pedal brings a new flavor to the Guitar Legend Tone Series of pedals, Missing Link Audio's flagship product line.
Adding to the company's line of premium-quality effects pedals, Missing Link Audio has unleashed the new AC/Overdrive pedal. This full-amp-stack-in-a-box pedal – the only Angus & Malcom all-in-one stompbox on the market – brings a new flavor to the Guitar Legend Tone Series of pedals, Missing Link Audio's flagship product line.
The AC/OD layout has three knobs to control Volume, Gain and Tone. That user-friendly format is perfect for quickly getting your ideal tone, and it also offers a ton of versatility. MLA's new AC/OD absolutely nails the Angus tone from the days of "High Voltage" to "Back in Black". You can also easily dial inMalcom with the turn of a knob. The pedal covers a broad range of sonic terrain, from boost to hot overdrive to complete tube-like saturation. The pedal is designed to leave on all the time and is very touch responsive. You can get everything from fat rhythm tones to a perfect lead tone just by using your guitar's volume knob and your right-hand attack.
Features 
Three knobs to control Volume, Gain and Tone
Die-cast aluminum cases for gig-worthy durability
Limited lifetime warranty
True bypass on/off switch
9-volt DC input
Made in the USA
MLA Pedals AC/OD - Music & Demo by A. Barrero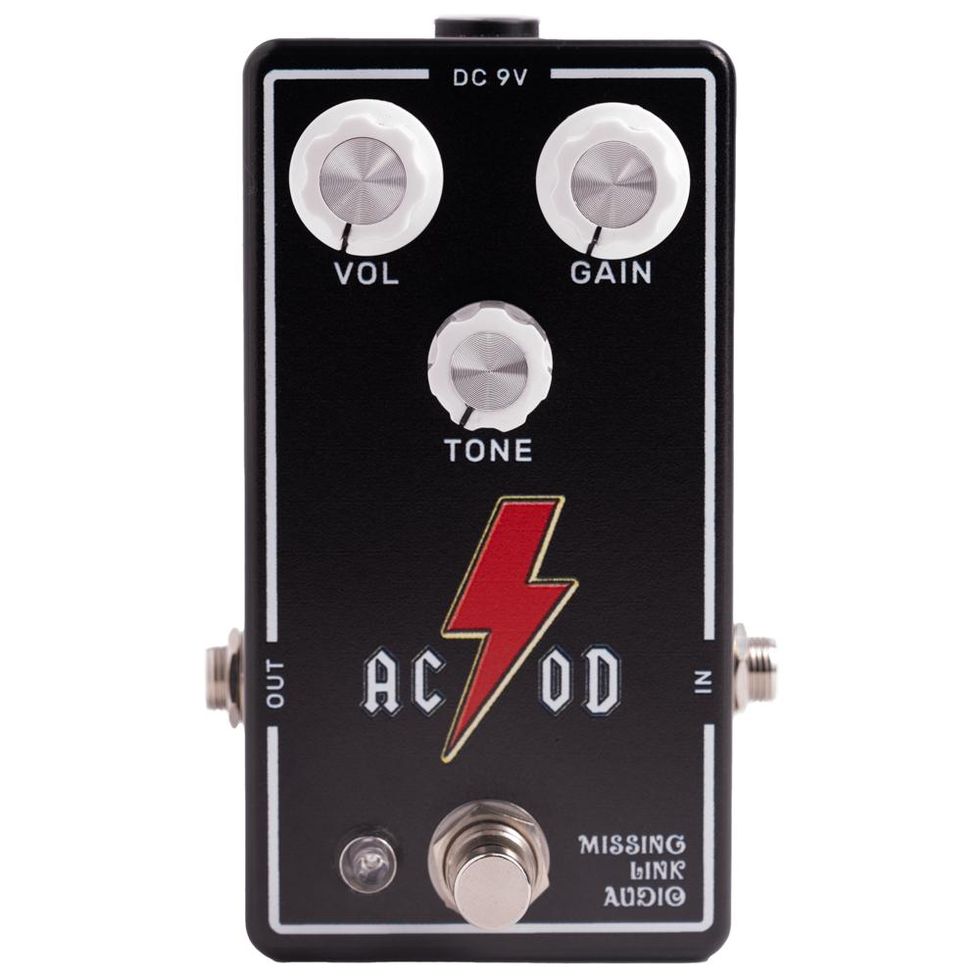 www.mlapedals.com.