NAMM Day 1 Wrapup: Editors' Picks
Anaheim, CA (January 14, 2009) -- The first day of NAMM is in the books. Here''s our staff picks on the coolest things we''ve seen so far: Godin Richmond Dorchester
Anaheim, CA
(January 14, 2009) -- The first day of NAMM is in the books. Here's our staff picks on the coolest things we've seen so far:

Godin Richmond Dorchester with a Bigsby and expanded colors
Godin has added some additional retro flair to their Dorchester model with the addition of a Bigsby and more finish options. We appreciate the company taking an already hip guitar and adding some pizzazz.
Read full news story...
Godin Session and Progression Lines
Also from Godin, the Session and Progression lines were a great addition to their line of electrics that started with the Passion line. With their quality Canadian-made guitars at a wider range of prices, the series of electrics feels complete.
Read the full news story...
Mesa/Boogie TransAtlantic TA-15

Mesa/Boogie's foray into "lunchbox" amps was one of the highlights of the first day of the show. Mesa admits in their own literature that they "may be the last to show at the lunchbox amp party," but their entrant didn't disappoint.
Read the full news story...
PRS Narrowfield Pickups

We first heard the Narrowfield pickups at Experience PRS. Second time around, they blew us away again. The pickups are hum-canceling pickups that react like a single-coil, blending the best of single coils, humbuckers and soapbars. The pickups are on a few of the new PRS models, but we thought they sounded stellar on the 25th Anniversary Swamp Ash Special Narrowfield.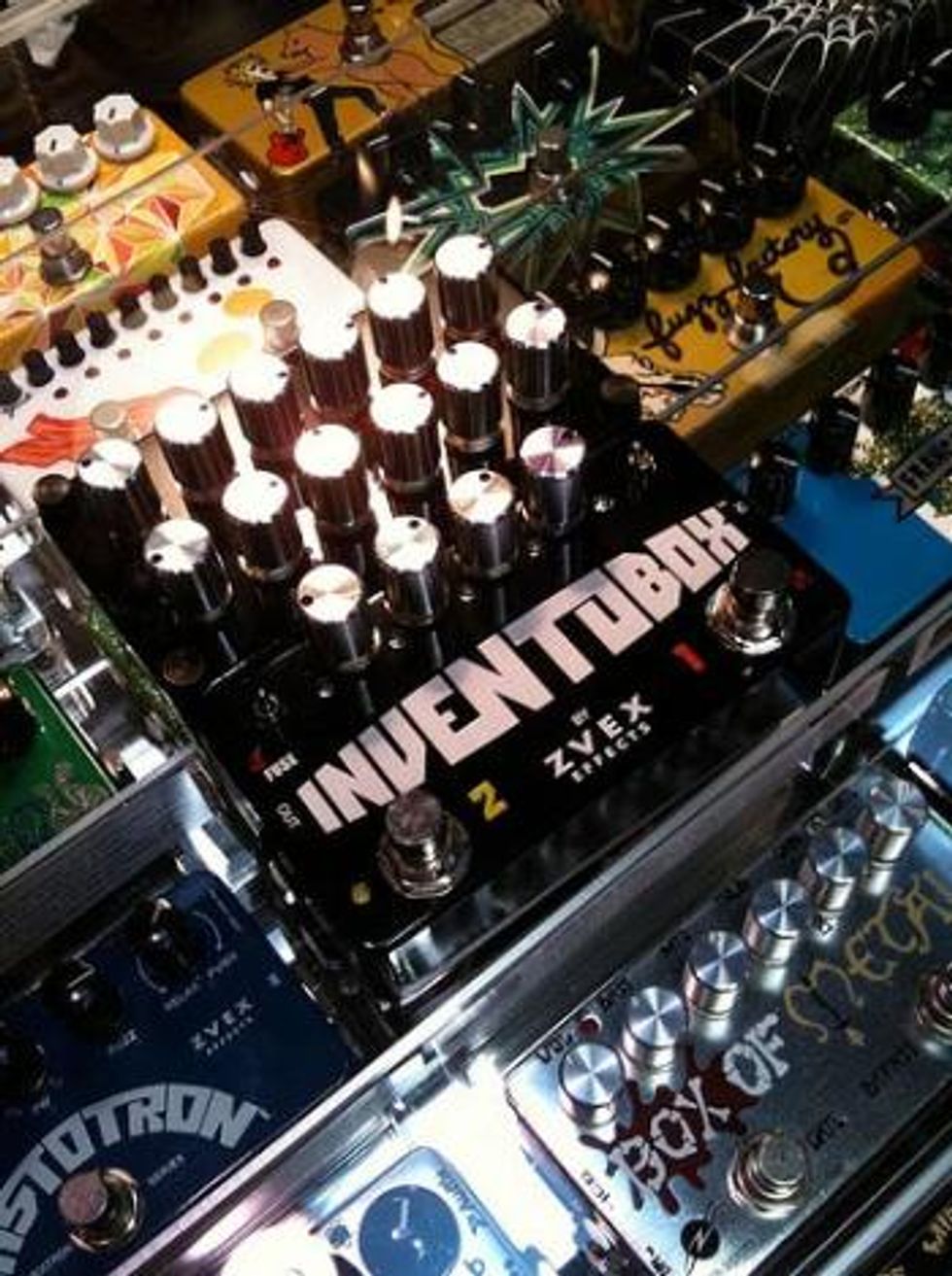 ZVex Effects Inventobox

Zachary Vex is well-known in the pedal circuit for his innovative and ingeneous circuits. His latest pedal is all about something we've never seen before in a production pedal: user modification. This is what Zach has to say about the pedal: "The Z.Vex Effects Inventobox is a unique new product which allows you to quickly design, build and/or modify your own pedals without soldering! The Inventobox comes with two different channels so you can build either one or two different devices into the same box. All of the necessary components are included to make it easy for you... there's a variety of potentiometer values and switches all ready inside the box, quickly accessible through tiny sockets which accept standard experimenter socket wires or included cables. The unit is easily opened by hand to make fast modifications to the circuitry." We love the direction this comes from and are eager to spend some time with it.
Dunlop Reverend Willies Strings/Picks

There's no doubting Billy Gibbons is the man, so when the man comes out with new strings and picks, we pay attention. Thanks, Rev.
Dunlop Jerry Cantrell Signature Wah

The wah features a side-mounted frequency control and is voiced to replicate Jerry's dark, moody vibe. There are a lot of signature wahs out there these days, but with the Alice in Chains revival in full force, we're on top of this one.
Eminence Flux Density Modulation Speaker

Eminence revealed a new speaker with a dial on the back that attenuates your sound. It's as simple as that, and it sounds great -- though a Tomo Fujita demo of the product certainly didn't hurt to convince us.
Read the full news...
Marshall JMD:1 Series
A Marshall amp that delivers the tones of all other Marshall amps that came before it with a mixture of high-tech digital technology and an EL34 power amp section? Intriguing at the least. Luckily, it sounded good too.
Read the full news...