NAMM Day 3 Wrapup: Editor's Picks
Anaheim, CA (January 16, 2010) -- More NAMM, more gear. Here''s a sampling of what our editors found cool on the floor today... Aristides Arium Guitars 010 - While we
Anaheim, CA
(January 16, 2010) -- More NAMM, more gear. Here's a sampling of what our editors found cool on the floor today...

Aristides Arium Guitars 010 - While we were skeptical of the claims of being able to pull of the range of tones it claimed, we were happily surprised at the demo we heard. Read the full product description...



Blackstar's HT Series includes the HT Club 40, HT Studio 20, HT Stage 60. The amps are new to the UK, but won't be hitting the US for a while. They're the company's mid-priced line.



Brazen Guitars solidbody carved from single piece of wood.



Hanson Guitars T90 prototype. A Hanson-designed Broadcaster-inspired pickup in the bridge and a P-90 in the neck. Will retail for $799 and be available in June.



Hayden Mini Mofo. 15-watt version of the Mofo, imported for a lower price point.



Heritage H-530 - a ES335-style guitar with a 25.5" scale neck.



Kay K775V Jazz II reissue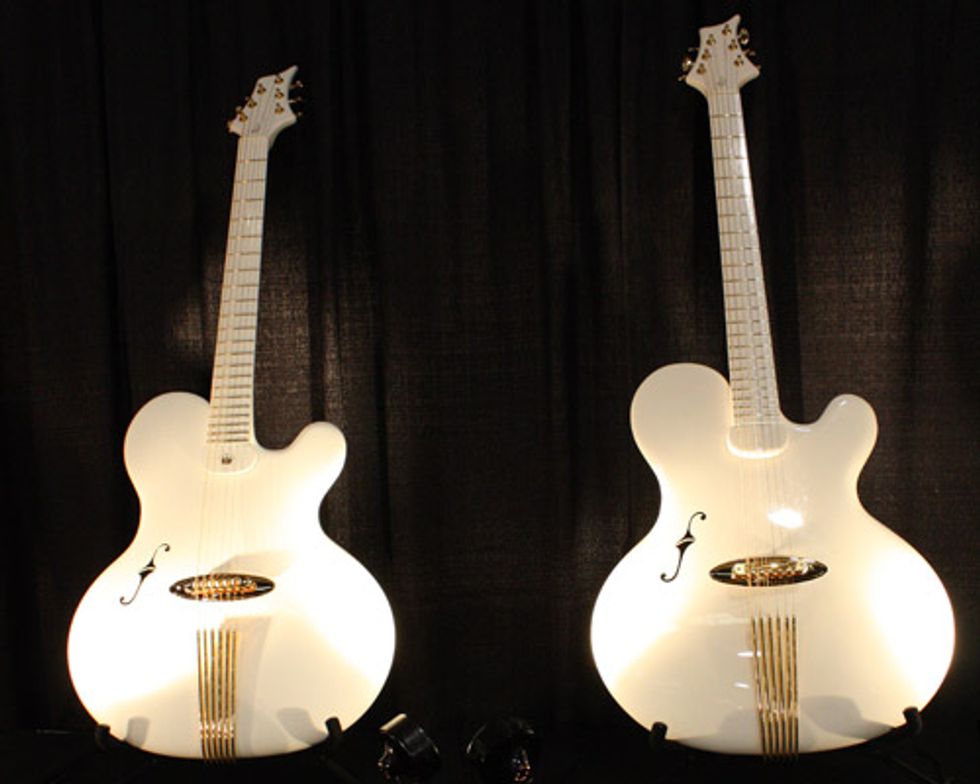 Jens Ritter's first electric guitar, the Princess Isabella. A super-thin solidbody jazz guitar. Read the full news story...



Source Audio's new SoundbloxPro line: Multiwave Distortion and Classic Distortion. Read the full news...



Spector RX-GT Set Neck guitar



Based on the Little Elvis, with 6V6s, the Tupelo goes for the sixties American classic amp, but with improved overdrive.



Budda Mark Nason 3-channel MN-100 - A fully featured three-channel tube guitar amplifier head and 4x12 enclosure, featuring a custom Italian leather exterior by renowned footwear designer Mark Nason. Read the full news story...



Radial Forest F11 bass tube preamp


Custom Normandy aluminum hollowbody

Voyage-Air VE-R1 folding electric travel guitar. 24 3/4" scale, alder, 2 "Vintage 90 Soap Bars" Alnico II P-90s, TV yellow.