A sampling of new and cool products from Musikmesse: Orange, Morpheus, Markbass, Line 6, Vox, TC Electronic, ENGL, EBS, Ibanez, ESP, Fender, Hofner, Italia, Maton, Cort, Aguilar, Warwick, Framus, Danou, and Eko.
Frankfurt, Germany
(March 28, 2010) -- The global musical instrument trade show, Musikmesse, has officially wrapped, and we're working on compiling all of our photographs and press materials of the show's big releases. Until then, here are some quick hits on some of the most intriguing and coolest things we saw at the show, including an Orange computer-in-an-amp, a new Steve Vai floral Ibanez, TC Electronic PolyTune iPhone app and more. Enjoy, and watch for all of our video and written coverage of the show right here on premierguitar.com in the coming weeks.

New Orange O PC with guitar input, 8" speaker and modeling software.

---

Morpheus EFX Capo pedal with remarkably clean digital pitch transposition.
---

DV Mark DVM Little 40 head with reverb and variable wattage knob that goes from 40 to .5 watts.
---

New Line 6 US-made Variax guitars designed by James Tyler. Seymour Duncan pickups, piezo & Line 6 modeling. Read the news release...

---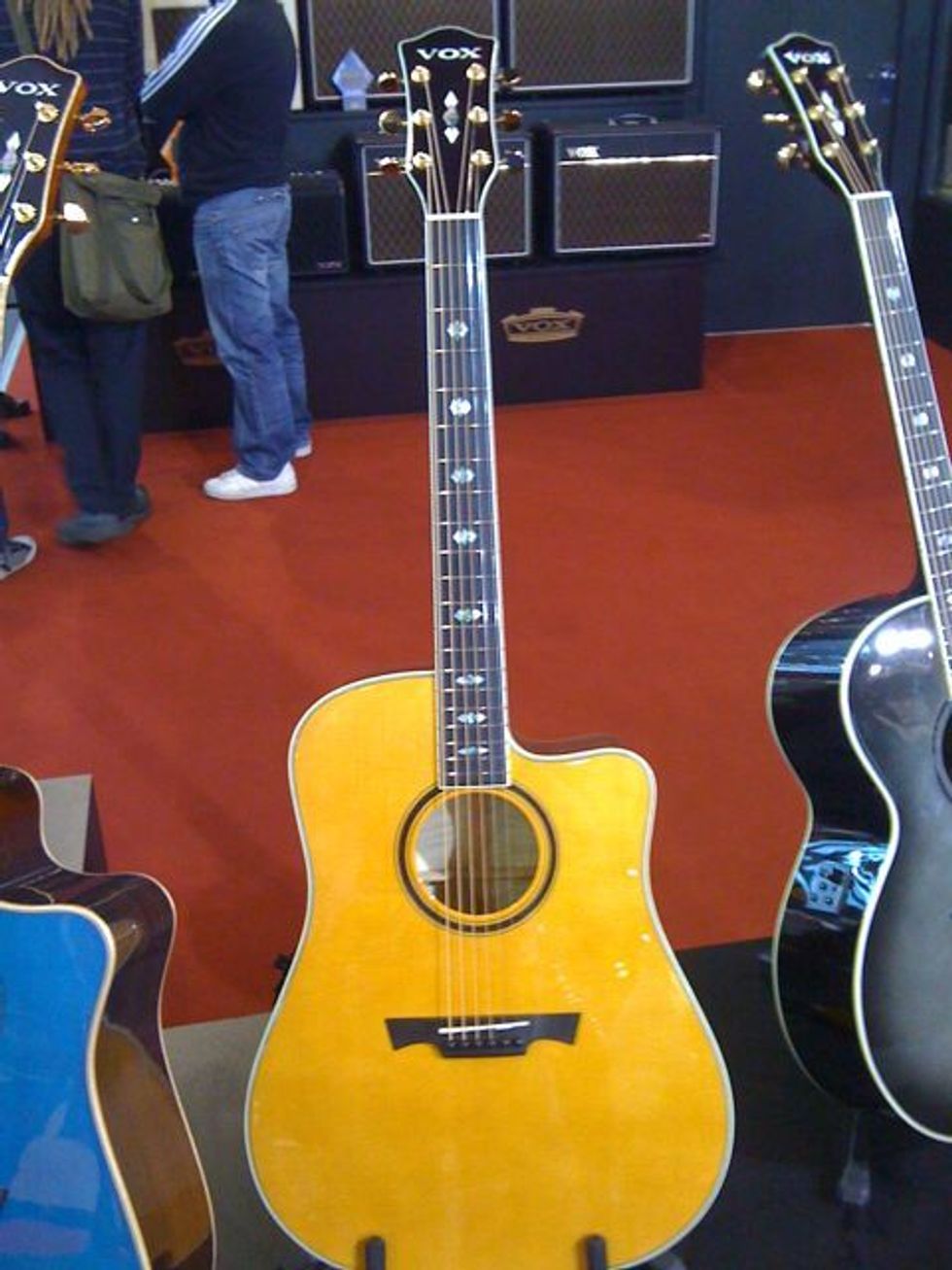 Vox flattop prototype with single cutaway and honey finish.
---

Vox Virage II semi-hollowbody with natural finish and matching pickguard.
---

TC Electronic releases the iPhone app version of the PolyTune tuner.
---

ENGL Powerball II amp head. Read the news release...
---

ENGL's first bass amp: the Bass Rackhead 260 has a tube channel and a solid state channel.
---

EBS Classic T90 90-watt tube bass head.
---

EBS Fafner 750 Extreme bass head.



Ibanez Jet King bass (JTK300B)
---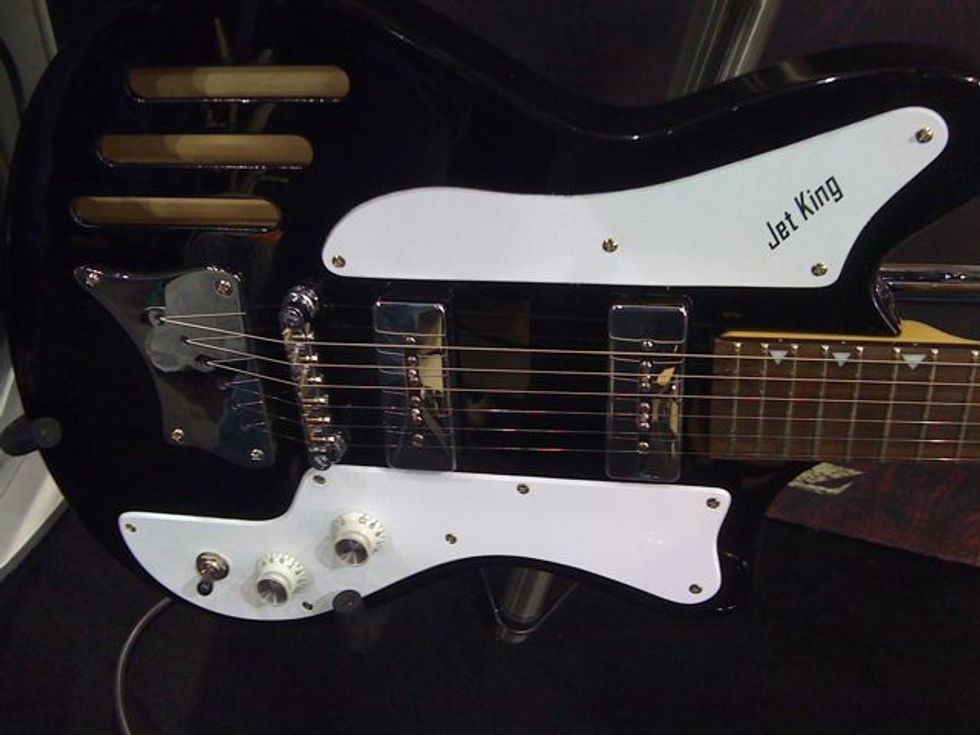 Ibanez Jet King semi-hollow guitar (JTK30H).
---

Ibanez JEM77 Steve Vai signature FP2 (floral pattern 2).
---

Ibanez Ashula 6-string bass with four fretted strings and two fretless treble strings.
---

Ibanez DN1PRM DarkStone
---
ESP MANA E-JF-X with graceful, gothic curves (part of ESP's Edwards line, available only in Japan).
---

ESP Custom Shop angel guitar with amazing detail work.
---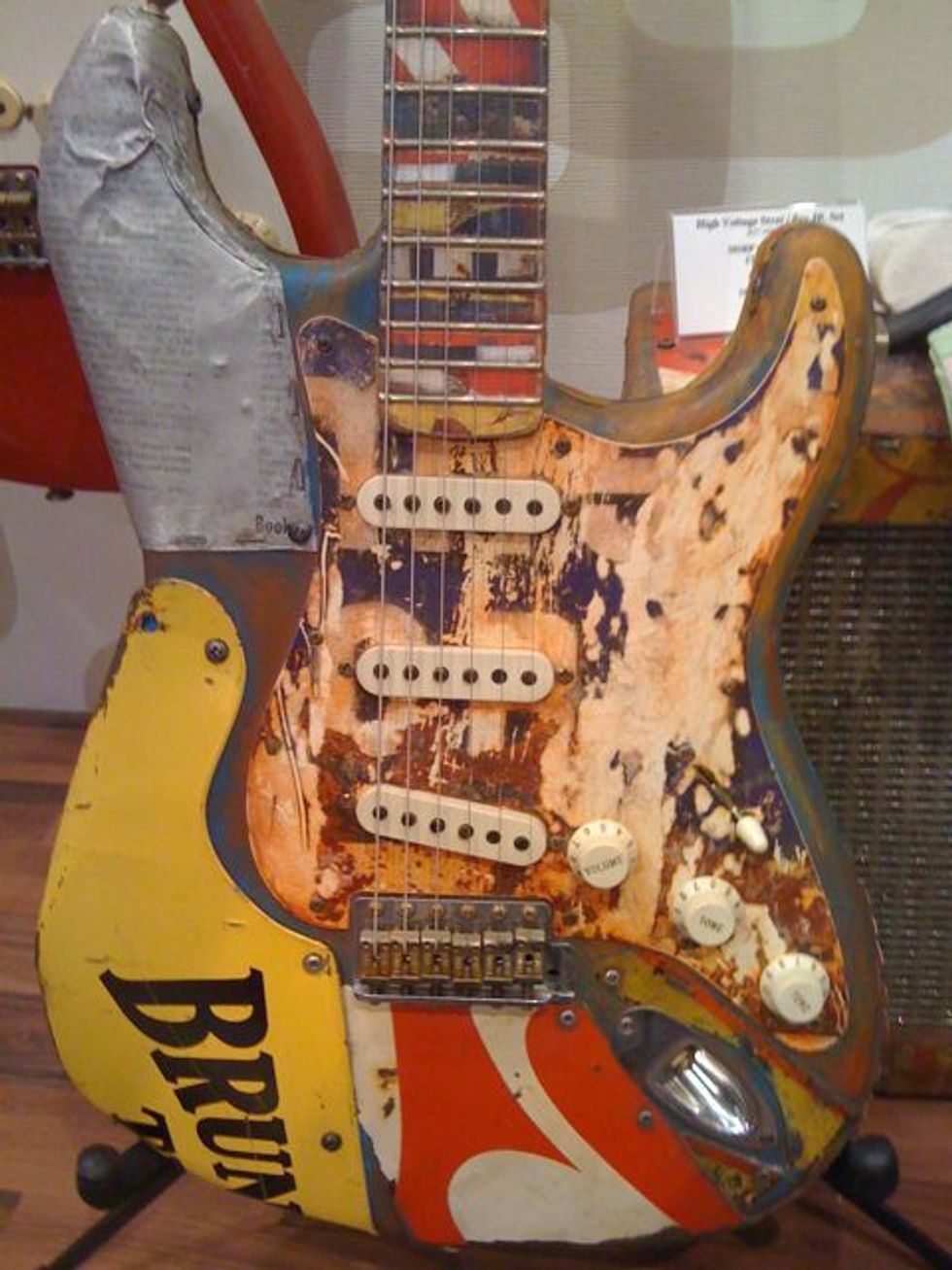 Fender Custom Shop High Voltage Strat.
---

Fender Dick Dale Malibu CE acoustic with totally tubular graphics.
---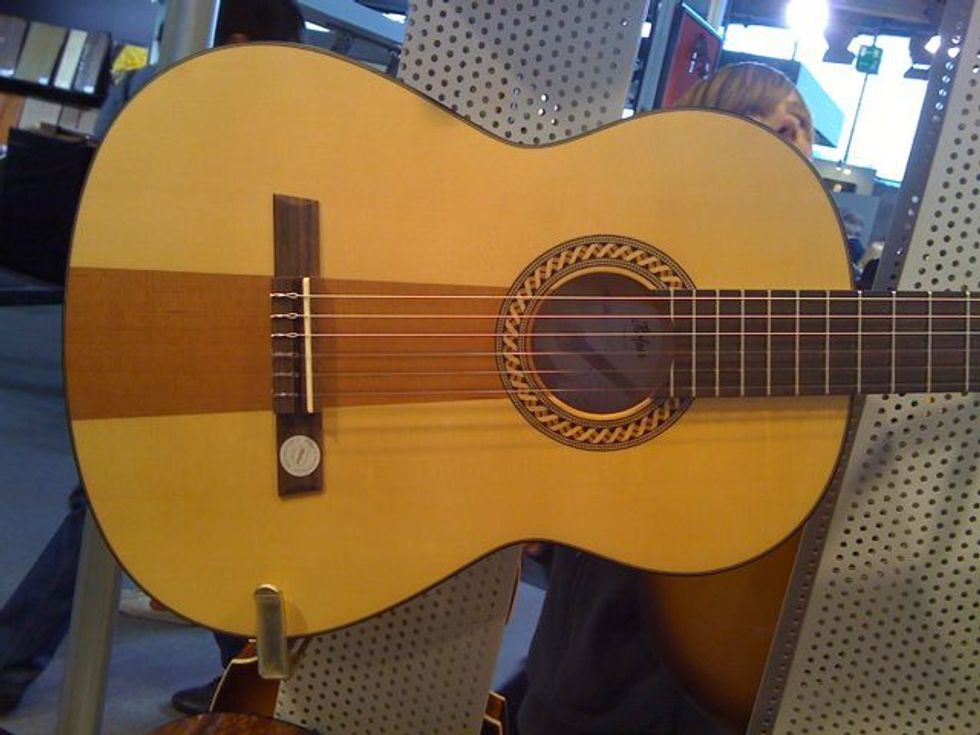 Hofner HF 14 classical
---

Hofner Club 50 with carved top and slider switches.



Italia Maranello Custom w/Bigsby and delectable water-sanded finish.
---

Maton MS500HC w/vintage-style selector switch and bridge coil tap.
---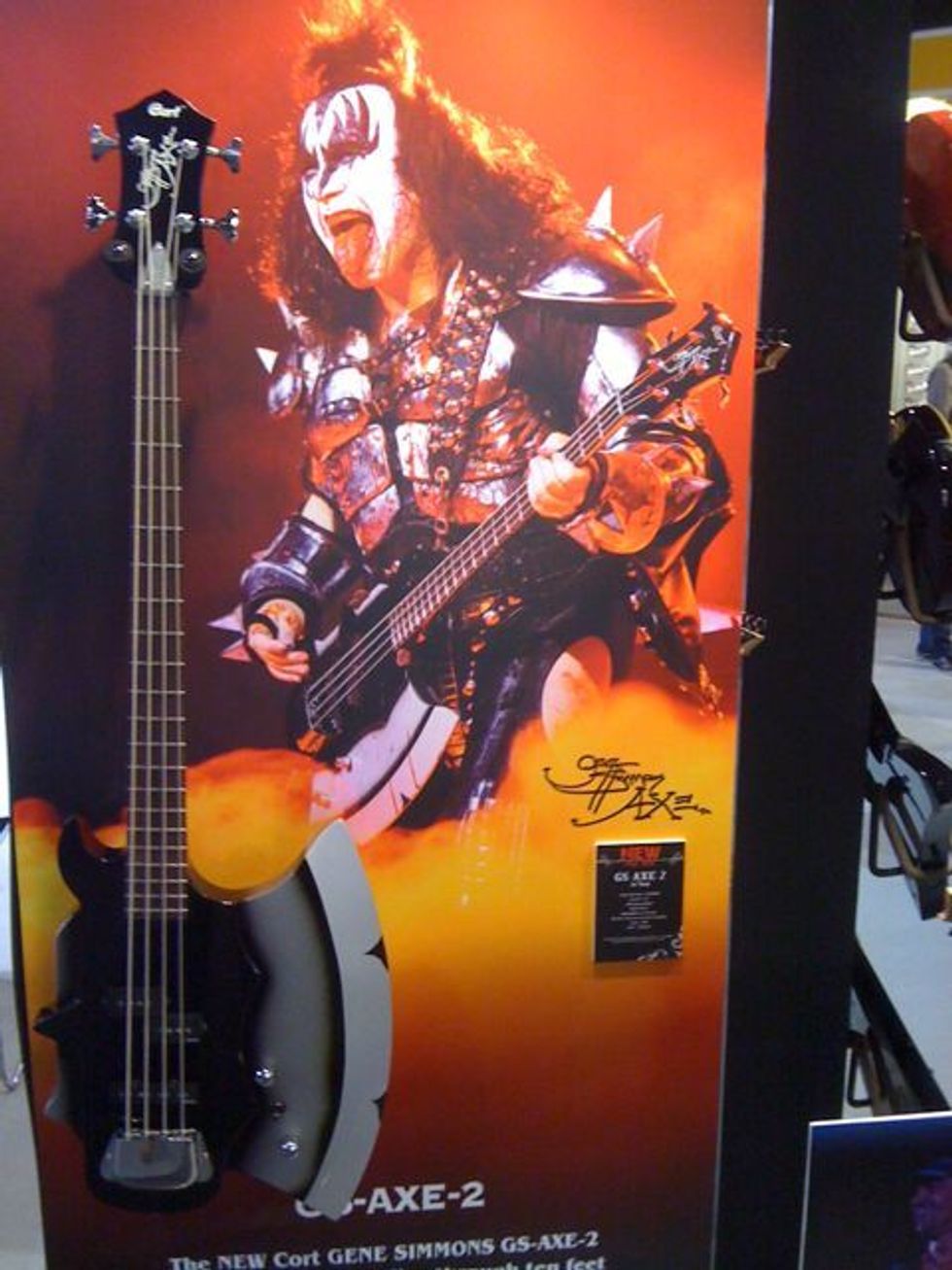 Cort GS-AXE-2 Gene Simmons bass.
---

The first in a new line of Aguilar pickups, the AG 4-J: Alnico 5 and heavy formvar wire.
---

Warwick Thumb Singlecut 5, Robert Trujillo Signature, Bootsy Collins Signature. Read the news releases:Trujillo, Thumb SC

---

Framus Panthera Supreme
---

Framus Diablo
---

Jägermeister Warwick Corvette bass from the Framus Custom Shop.
---

Custom Danou (danou-guitars.ch) with Haussel pickups, chestnut body, maple cap, and bot yew neck
---

Eko Lorenz ApplePie 3 three-watt class AB head and 2x12 cab


Looking for more great gear for the guitar player in your life (yourself included!)? Check out this year's Holiday Gear Finds!
Created in collaboration with legendary guitarist George Lynch of Dokken and Lynch Mob fame, the Mr.Scary Mod adds an adjustable tube gain stage and an onboard Deep control, which together are designed to enable an amp to have increased sustain while still retaining note definition and dynamics.
LegendaryTones, LLC today announced production availability of its new Mr. Scary Mod, a 100% pure tube module designed to instantly and easily expand the capabilities of many classic amplifiers with additional gain and tone shaping. Created in collaboration with legendary guitarist George Lynch of Dokken and Lynch Mob fame, the Mr.Scary Mod adds an adjustable tube gain stage and an onboard Deep control, which together are designed to enable an amp to have increased sustain while still retaining note definition and dynamics.
Originally released as the Lynch Mod in February 2021, the updated Mr. Scary Mod features the same core circuit as the Lynch Mod but is now equipped with a revised tube mix combo per George's preference as well as a facelift in a newly redesigned electro-galvanized steel enclosure. As with the Lynch Mod, each run will be limited and the first run in Pumpkin Orange with Black hardware is limited to just 150 pieces worldwide.
​The Mr. Scary Mod adds an adjustable tube gain stage on top of the cathode follower position, keeping note definition and articulation while further increasing sustain. Each Mr. Scary mod is meticulously built by hand in the USA, one at a time, and tuned using high-grade components. Equipped with a single ECC81 (12AT7) in the first position and ECC83 (12AX7) in the second, the Mr. Scary Mod can clean up beautifully when rolling down your guitar's volume, and still adds scorching gain when you roll it back up. This is a gain stage that's been tuned and approved by the ears of the maestro George Lynch himself.
"The Mr. Scary Mod excels with dynamics and is incredibly touch-responsive, allowing me to shift from playing clear, lightly compressed cleans to full-out aggressive sustain and distortion –and control it all simply by varying my guitar's volume control and picking," said GeorgeLynch. "In many ways, it's an old-school approach, but it's also so much more natural and expressive in addition to being musically fulfilling when you can play both the guitar and amp dynamically together this way."
The Mr. Scary Mod installs in minutes, is safe and effective to use, and requires no special tools or re-biasing of the amplifier. Simply insert the module into the cathode follower preamp position of compatible amplifiers (includes Marshall 2203/2204/1959/1987 circuits) and

immediately get the benefit of enjoying a hot-rodded amp that delivers all the pure harmonic character that comes with an added pure tube gain stage. The handmade in the USA Mr. Scary Mod is now available to order for $319.
For more information, please visit legendarytones.com.
October Audio has miniaturized their NVMBR Gain pedal to create two mini versions of this beautifully organic-sounding circuit – including an always-on gain device.
The NVMBR Gain is a nonlinear amp that transitions gracefully from clean boost to overdriven tones. Volume increases from just over unity to about 10db before soft-clipping drive appears for another 5db of boost. Its extraordinary ease of use is matched by outstanding versatility: you can use it as a clean boost, push a stubborn amp into overdrive or create a just-breaking-up sound at any amp volume.

October Audio's new family of mini NVMBR Gain pedals includes a switchable version that allows you to bypass the effect: one option features brand logo pedal graphics, while the other sports a fun "Witch Finger" graphic with a Davies knob as the"fingernail".
The second version in the new lineup is an always-on device featuring the Witch Finger graphic and Davies knob, with the same NVMBR Gain circuit that lies at the core of the switchable version.
Features:
Knob controls gain and clipping simultaneously
Stunning silver hammertone finish
Switchable versions are true-bypass, available with classic or witch finger graphics
Authentic Davies knobs, including the "fingernail"
9V center negative power supply required
Dimensions: 3.63 x 1.50 x 1.88 in​
Witch Finger (always on NVMBR Gain) demo
​All October Audio pedals are assembled in Richmond, VA, and available for purchase directly through the online shop. Street price is $109 for NVMBR Gain footswitch versions and $89 for the always-on device.
For more information, please visit octoberaudio.com.