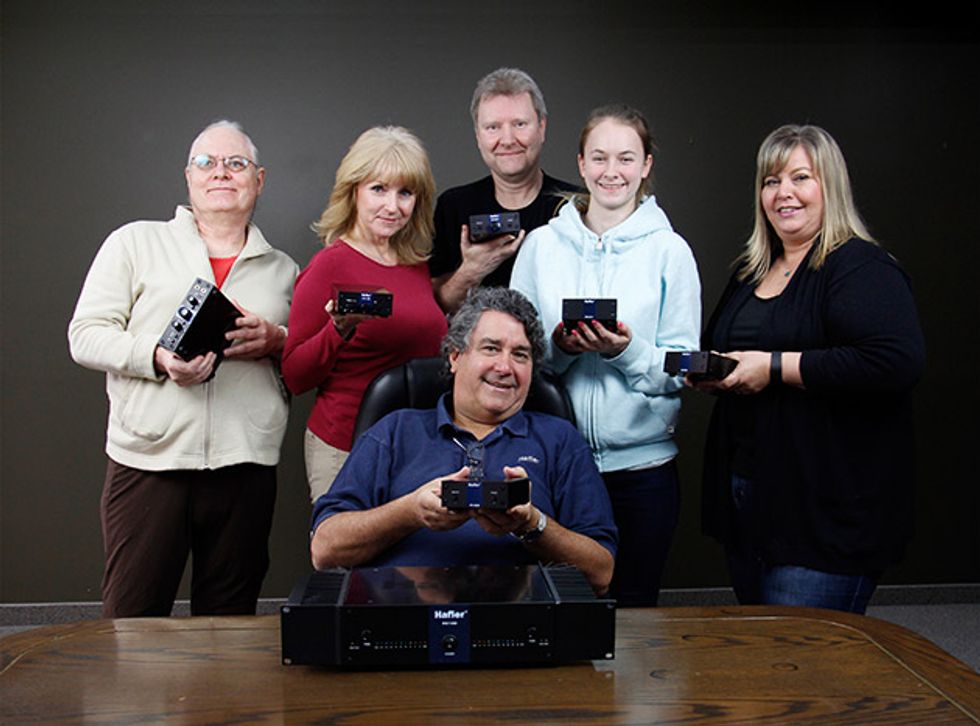 Radial President Peter Janis (foreground) with some of the Hafler-Dynaco development team

Vancouver BC - 60 years later... Hafler and Dynaco reunite! Two of the most prestigious brands of all-time have come together under the umbrella of Radial Engineering Ltd, Hafler's former Canadian distributor - turned manufacturer.
David Hafler is often cited as one of the true pioneers of high-fidelity audio. He began making the Dyna-Kit in the 1950s and in the 1960s gained international acclaim by producing the Dynaco ST70, what would become the most popular amplifier of all time selling over 350,000 units during its lifespan. In the 1970s, Hafler relaunched a company under his namesake and pioneered the use of Mosfets. In the 1990s, Hafler moved away from the crowded hi-fi market to focus on the emerging home studio craze. This is when Radial and Hafler first united.
Although unknown in most hi-fi circles, Radial is a market leader in professional audio. The company produces industry-standard direct boxes that are used by Paul McCartney, The Rolling Stones, Mark Knopfler, Sting, Madonna, Andrea Bocelli and just about every other artist on the planet. It also owns the Reamp brand, devices used to re-record tracks, and Primacoustic, an acoustical division that provides acoustic treatment for boardrooms, studios, home theater, audiophile listening rooms, schools, gyms and restaurants. Located in Vancouver, Canada, Radial began operations in 1992 and encompasses a team of 90 employees.
According to Radial President Peter Janis: "Back in the 1990s, we enjoyed tremendous success selling Hafler amplifiers in Canada. After Rockford-Fosgate decided to shelf the brand to focus on car audio, we approached them to take it on and have been diligently working to put together our first series of Hafler products. As a small box specialty manufacturer, we decided to begin by focussing our attention on items that we could build using our current production techniques. With the incredible proliferation of turntables and headphones, the path was clearly defined by the market. So we have started with six products: two step-up transformers equipped with world-class Jensenâ"¢ transformers, two active phono stages - one for moving magnet, the other for moving coil, and two headphone amps - the first powered by valves, the second 100% discrete. Retail prices range from $500 to $1200 USD and these products are now available."
"Well before acquiring these brands, we always followed the same tradition set by David Hafler whereby quality and value would guide our product development. In other words, we will focus on building the very best quality we can while trying to keep pricing affordable so that the average person can partake. We have already sent demo units to world class recording and mastering engineers and the response has been nothing short of terrific. When the guys that actually make the records use Hafler, it provides the audiophile a sense of trust and confidence. Some of the big name engineers who use Hafler include Tom Coyne (Adele), Chuck Ainlay (Mark Knopfler), Al Schmitt (Frank Sinatra) and Alan Parsons (the Beatles).
"One of the first questions we regularly receive is whether the products are truly made in Canada or are they simply relabelled offerings from some Chinese OEM supplier. The answer is a resounding YES - Hafler and Dynaco products are currently and will always be made in Canada! The huge benefit here is being in control of every facet of our production. From concept to engineering to production, each stage is done right here under out watchful eye. Last year, we shipped over 90,000 electronic products to our pro-audio distributors around the globe. This success has come from delivering a quality product and growing the brand steadily with our wonderful distribution partners around the globe. We intend to follow suit with Hafler and Dynaco. Another common question we receive is if we will be remaking some of the legendary Dynaco products such as the ST70? Again Yes. We will be showing an updated version of the venerable Dynaco ST70 at the High-End show. Although the new model looks dramatically different, it has the same sonic character as the original with improved signal-to-noise and damping in order to better address the source material and loudspeakers that are in use today.
"Our primary goal at the High-End Show is to get to know distributors around the globe so that we can appoint exclusive partners for the audiophile - hi-fi market. I have been on the pro-audio side of the business for 40 years so being new to the hi-fi industry is both fun and refreshing. We have just begun chatting with distributors around the globe and the response has been terrific!"
For more information visit www.hafler.com