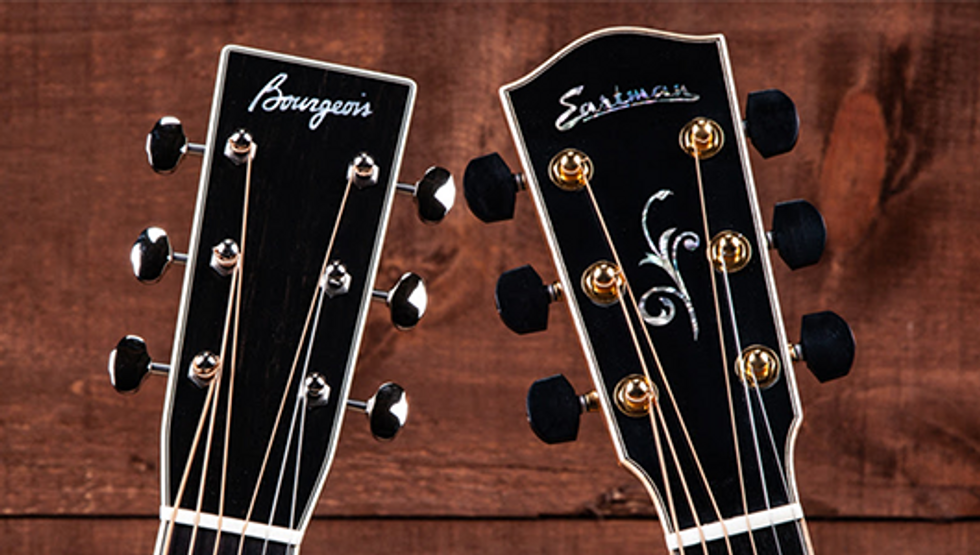 Bourgeois Guitars Partners with Eastman Music
Bourgeois Guitars, long renowned for handcrafting high-end acoustic guitars, has entered into a strategic partnership with Eastman Music, a widely respected global distributor and manufacturer of diverse musical products, including acoustic and electric guitars, mandolins, woodwind and brasswind instruments.  
Discussions between Bourgeois and Eastman began earlier this year, motivated by Bourgeois' desire to enter new markets with a partner whose core values closely align with its own, and Eastman's ongoing dedication to high quality, handcrafted musical products. In the coming year, Eastman's international distribution network is expected to open foreign markets for Bourgeois Guitars, while Bourgeois Guitars' design expertise and technical knowledge will add depth and prestige to Eastman's portfolio of product offerings.
New product collaborations will be announced in the upcoming year. Bourgeois and Eastman are currently working to co-produce a series of guitars designed to take advantage of the respective strengths of each company. Bourgeois will be responsible for design, materials selection, voicing, setup, and quality control. Eastman will contribute efficient manufacturing and sourcing capabilities and expertise in global distribution. This project builds upon a successful model pioneered by Eastman and its other boutique manufacturing partners.
Dana Bourgeois will retain an ownership position in the company he founded, and will remain as CEO. COO, Christopher Fleming, will continue to lead operations, with James Cook remaining as Sales Manager. "Indeed," says Mr. Bourgeois, "our entire team will continue to produce acoustic guitars of the highest quality in our Lewiston, Maine, workshop. For many years to come, our partnership with Eastman will allow us continued control over product quality, quality of service, and pricing. We look ahead to an exciting future."
About Bourgeois Guitars: Bourgeois Guitars is committed to providing players with hand-crafted, professional grade acoustic steel-string guitars, characterized by exceptional balance, clarity, presence and character. Bourgeois guitars are offered in a variety of body styles, and decorative appoints, and are produced from the finest available tonewoods.
Eastman Music Company: Founded in 1992, Eastman Music Company has earned a reputation for creating many of the finest instruments and accessories enjoyed around the world. The company's portfolio includes the exceptional lines of Eastman handcrafted strings, winds, guitars and mandolins, in addition to respected flute, brass and clarinet companies, Wm. S. Haynes Co., S.E. Shires Co., and Backun Musical Services.