Photo by Julien's Auctions
In his final Bass Bench, our columnist ponders what innovations will come next.
Roughly 70 years into the history of the electric bass, I find myself wondering: Is there a target in the evolution of our instrument? Are we aiming for superb playability, the highest tuning stability, tonal superiority and versatility, ergonomics and comfort, or even all of these things?
In our capitalistic world, there's usually one thing that rules it all: money! The site ventured.com features statistics and lists relating to the value of just about anything, and that includes the most expensive basses ever—right next to the most expensive fish and banjos. So, is this list full of the most cutting-edge instruments with advanced technology, giving us a glimpse into the evolution of the bass guitar?
Well, the basses at the top of the list do not give us that impression. Instead, they're rather old tech. In first place is a 1969 Fender Mustang played by Bill Wyman on the Rolling Stones' 1969 and 1970 tour, which sold at auction for $384,000. Of course, the Mustang was originally designed to be a budget bass, featuring racing stripes to appeal to young students.
The second on the list is a $250,000 luxury bass made from "premium materials" by luthier Jens Ritter, featuring 24-karat gold inlays and hardware, plus knobs topped with diamonds. It might still be a good, well-playing bass, but that's obviously not where the money went.
A Hofner 500/1 sporting Paul McCartney's autograph is third on the list of the most expensive basses ever.
Photo courtesy of wikimedia.org
In third is another collectible piece: a Hofner 500/1 Violin bass signed by Paul McCartney, followed by James Jamerson's 1961 Fender Precision. The list continues with either signature models, ornamental inlays, or sought-after, rare custom colors. The Rickenbacker 4005 "Lightshow" bass, featuring lights all over the body that change color based on the notes played, even makes an appearance.
This list is further proof that it's the story of a bass—its origin, rarity, who owned it, or who signed it—that drives its value more than innovation. And, of course, it's collectors and not players that spend that much cash. But what if all those efforts would have gone right into a musician's practical or tonal needs?
Our basses have to be visually appealing, and it's fun for them to have a cool story, but instruments aren't just collectibles or fashion, and a little innovation here and there wouldn't hurt—especially since so many manufacturers' sites praise exactly that. Every other industry accepts R&D as a cost factor that customers must pay for. The music industry instead invests in either cost savings or ornamental luxury, keeping customers amused with an ever-recurring cycle of fashionable items. And besides tradition, fashion is often the real enemy of innovation.
Besides tradition, fashion is often the real enemy of innovation.
Remember those optical pickups from "A Closer Look at Optical Pickups" [May 2021]. An evolutionary product that requires an idea and costly efforts in R&D and, finally, patents? Or how about Just L. Pauls from Spain, who, almost a decade ago, thought he invented a 3D pickup and convinced his family to spend a small fortune on the patent? In the end, there was no money for a good website or even a demo musician and the project soon folded. What innovation will come along and actually succeed at capturing our imaginations and finding an audience?
On a personal note, this is the 120th Bass Bench column, which means it's been running for exactly a decade now. It's time for me to take a break and focus on my main business and get down my backlog that has skyrocketed in recent years.
It wasn't only 120 deadlines to meet, but also some details I wasn't super-interested in and never intended to learn about, but had to, knowing it was going to meet an expert audience. In the end, it has helped me to connect a lot of dots, both historically and technologically, which I'm extremely thankful for.
A huge thanks to all the great people at PG for allowing and helping me to do this, and to all who commented and read what I had to say. I feel honored I could do this, and, who knows, maybe—or hopefully—I'll return at some point. Thank you!
Photo by Susana Millman
The Grateful Dead leader's guitar playing traveled a long and complex road that begins in the dusty fields of American music. Here's your guide, from the Black Mountain Boys to Workingman's Dead to Dawg.
Twenty-eight years after his death, Jerry Garcia may be more famous than ever. There are reputed to be over 5,000 Grateful Dead cover bands in the U.S. alone. Guitarists in towns small and large mine his electric guitar solos for existential wisdom, and his bright, chiming tone and laid-back lyricism continues to enthrall successive generations. What is less talked about is his acoustic guitar playing, which is, after all, where it all began.
One cannot fully understand the man without knowing how powerful and enduring the acoustic guitar remained in his life. Picture the West Coast in 1962; this is before everything went electric. What's in the air is the Folk Revival. A generation of young urban kids had discovered American folk music, old-time, bluegrass, ragtime, and Delta blues, whether it was Woody Guthrie, Clarence Ashley, Bill Monroe, or Reverend Gary Davis. Plenty of future rock 'n' rollers, including Jorma Kaukonen, John Sebastian, and Mike Bloomfield, absorbed this music, but none climbed as deep into its corners as Garcia.
Our recorded evidence goes as far back as 1961, when Jerry played banjo and guitar with the Black Mountain Boys, the Hart Valley Drifters, and other Bay Area outfits that included contemporaries like Eric Thompson on guitar, future Grateful Dead lyricist Robert Hunter on bass, and multi-instrumentalist Sandy Rothman. What strikes the listener is how burning these early recordings are. Jerry, barely out of his teens, mostly on banjo, has gone straight into the hardcore stuff. This music, coming from the likes of the Stanley Brothers, Bill Monroe, and the Osborne Brothers, is not for the faint of heart. It's virtuosic, wild, and, in its purest form, downright scary. Death and violence run amok in many of their lyrics. As Jerry's longtime ally, mandolinist David Grisman, put it, "Back then, all of it was pretty hardcore compared to the 'pop grass' of today."
Jerry followed Bill Monroe around for close to a year and is reputed to have approached the father of bluegrass to audition for his band. He studied numerous lesser-known figures, too: Dock Boggs, flat-picker Tom Paley from the New Lost City Ramblers, Mississippi John Hurt. In the mid-'60s, he set aside the banjo to focus on guitar, because as he put it, "I'd worn the banjo out."
"In the mid-'60s, he set aside the banjo to focus on guitar, because as he put it, 'I'd worn the banjo out.'"
Garcia's voracious appetite for American musical history drove him to dive into a subject and completely exhaust it, absorbing new influences like proteins. A set in those days might include bluegrass staples like "Rosa Lee McFall" and "John Hardy," but also folk tunes that Peter, Paul and Mary or Joan Baez might cover: "All My Trials," "Rake and Rambling Boy," "Gilgarra Mountain." There were also classics from the old-time repertoire, such as "Shady Grove" (a Doc Watson favorite) and "Man of Constant Sorrow," along with Mississippi John Hurt's "Louis Collins" or Lead Belly's "Good Night Irene."
The locus for this outpouring of West Coast roots-music activity was the South Bay, Palo Alto, and Menlo Park—community gathering spots where the culture turned from beatnik to hippie. The precursor of the Grateful Dead was the Palo Alto-based, all-acoustic Mother McCree's Uptown Jug Champions. Jug bands had roots in early African American history, but at that time the main influence among the young, white players in the genre was the Jim Kweskin Jug Band.
Hot dawgs: Garcia and his acoustic-mandolin-playing cohort, David Grisman, clearly enjoyed hanging out together on the 1993 day in Mill Valley, California, when this shot was taken.
Photo by Susana Millman
When most musicians play traditional American tunes, especially bluegrass, they hew to a set of timeworn principles and licks from which they extrapolate. Jerry didn't do that so much, though he knew plenty of those licks. He made the music his own. He accompanied himself as a singer on acoustic guitar as much as he did on electric, with a simple, strong picking hand. In solos, he ranged freely around the neck, not content to stay close to first position, like bluegrassers Jimmy Martin or Carter Stanley might. You never feel that he's relying on much besides his ear. We hear the ever-present pull-offs, the chromatic approach tones, the hints at Tin Pan Alley harmony, and even the note-bending—all the stuff you find in his electric work.
"Calling himself 'lazy,' he suggested that playing acoustic could be a battle, and that this guitar generally made life easier."

Consider "The Other One," which often became a springboard for the Grateful Dead's long electric jams. In more fiery renditions of this staple, Jerry plays long lines of eighth notes—a relentless stream that builds the energy much like a bluegrass solo, where the right hand never stops and rarely slows. In "Deal," you hear the pre-war Tin Pan Alley sound, with echoes of early jazz. In "Cold Rain and Snow," "Wharf Rat," and "Loser," you hear the modal drones of early country gospel, and the way Garcia solos evoke the primeval fiddle lines and moaning vocals of the nascent 20th century, back when death, murder, destitution, and lost love made up a lot of the lyrical subject matter. It's a perfect mating. His flatpicking is at the heart of "Me and My Uncle," "Cumberland Blues," and "Brown-Eyed Women." You hear some of early Merle Haggard and the Bakersfield sound, too.

In the mid-'60s, Garcia set aside the banjo to focus on guitar, because as he put it, "I'd worn the banjo out."
Photo by Jerald Melrose
And what of the gear that Jerry used through four decades of creating his signature approach to acoustic American roots music (which includes rock 'n' roll)? Let's start in 1980, when the Grateful Dead did an acoustic and electric tour of 25 shows with three sets per gig—the first set unplugged.
Jerry had grown tired of dealing with the sound of a miked acoustic. It was too unpredictable, too woofy. The sound of the guitar, he said, comes at you from a number of directions. To simply put a mic near the soundhole captures only a portion of the sound waves. When the first guitars with built-in pickups were made, and could be plugged straight into the soundboard, he went for it, bought a Takamine EF360S, and never looked back. Compared to, say, a Martin, these guitars are rather snappy in tone, emphasizing highs and mid highs. Jerry sometimes opted to further emphasize the brightness by picking close to the bridge. He told interviewer Jas Obrecht that he also favored the Takamine for how easy it played, compared to some of his earlier dreadnoughts. Calling himself "lazy," he suggested that playing acoustic could be a battle, and that this guitar generally made life easier.
Way back in the early '60s, Garcia played a big-bodied Guild F-50, and then a Martin D-21. As the decade progressed, he chose an Epiphone Texan, and a Martin 000-18S and 00-45. During the rail-riding 1970 Festival Express tour—captured in the excellent 2003-released film Festival Express—he was spotted playing a Martin D-18 and a D-28, and in 1978 he was using a Guild D-25. Jerry reportedly revisited his Martins in later years, but most often he performed and recorded with the Takamine or an Alvarez Yairi GY-1, aka the Jerry Garcia Model. The GY-1 was designed with Garcia's input by Kazuo Yairi in the early '90s. It boasts solid rosewood back and sides, an ebony fretboard, gold tuners, custom fretboard and headstock inlays, and Alvarez System 500 electronics. Today, vintage GY-1s sell for between $850 and $1,500, depending on their condition.
"He had the three T's: tone, time and taste. And, most importantly, he had his own unique voice, immediately recognizable and distinctive."—David Grisman
Jerry's acoustic playing is at the heart of early Dead albums, such as Workingman's Dead and American Beauty. When you hear "Ripple," "Friend of the Devil," "Dire Wolf," "Uncle John's Band," and later, "Standing on the Moon" or "Mississippi Half-Step Uptown Toodeloo," you're hearing an incredible evolution of American song, in part thanks to his stellar fretwork.
The Alvarez Yairi GY-1 became known as the Jerry Garcia Model. It was designed with Garcia's input by Kazuo Yairi in the early '90s. It boasts a solid rosewood back and sides, an ebony fretboard, gold tuners, custom fretboard and headstock inlays, and Alvarez System 500 electronics.
Photo courtesy of Dark Matter Music Company/Reverb.com
I was at a couple of the Grateful Dead's shows at San Francisco's Warfield in 1980, during their acoustic and electric tour, and the experience was a revelation. It showed how strong the songs were, without the hue and cry of electricity. Sure, the Dead were a dance band, and a decidedly psychedelic band, but their acoustic playing revealed depths of intimacy that were a lovely counterpoint to all that. Some of Jerry's most mournful material, Garcia's "To Lay Me Down" and American Beauty's "Brokedown Palace," is even more heartbreaking when he's in this setting. You feel the band's subtle chemistry in a new way.
But as an acoustic player, Jerry is most clearly represented in his side projects, such as Old & In the Way, a first-class bluegrass outfit (with Jerry back on banjo) that stretched past traditional repertoire into songs by the Rolling Stones as well as mandolinist Dave Grisman's and guitarist Peter Rowan's "newgrass" originals. The Jerry Garcia Acoustic Band of the late '80s harkened back to the Black Mountain Boys. The fiddle player in the band, Kenny Kosek, says the group started when some of Jerry's old friends gathered by his hospital bed when he was recovering from his diabetic coma in 1987. They encouraged him to use the band as an opportunity to heal and renew.
During his early years in bluegrass and old timey music, Garcia's first recording instrument was the banjo, which he played in groups like the Black Mountain Boys.
Photo by Jerald Melrose
A charming piece of history is also found in the album The Pizza Tapes, an informal 1993 jam—released seven years later—with Grisman and bluegrass-guitar icon Tony Rice that was recorded in Grisman's home and released after a bootleg began to circulate. It's useful to contrast Garcia's solos with Rice's. Save for Doc Watson, Rice was possibly the greatest bluegrass guitarist to walk the planet, with enough technique to steamroll you right off the stage. But Jerry doesn't flinch. He just wanders up and down the neck being Jerry—a little behind the beat, playing melodies … always melodies. He's not out to compete with Rice, and, indeed, his collaborative approach was one of the Grateful Dead's pillars. But it's clear Garcia is no visitor to these stylistic realms as they play songs by John Hurt, Lefty Frizzell, Dylan, and even the Gershwins. He lives there.
The final act of Jerry as an acoustic guitarist was captured on the four Garcia/Grisman recordings of the '90s. Talking to Grisman, who coined the term "Dawg Music" to describe the mix of bluegrass, folk, and jazz which he and Garcia loved, one can infer that this trove of material, recorded over many sessions at his house, came about partly because the Dead had become such a monolith. Stardom had its burdens, and Jerry didn't care much for the pressure of being an object of worship. This music was a refuge, and Grisman describes the undertaking as "providential." It's moving to hear Garcia reach back to his roots with accumulated wisdom and gravitas … before he leaves us. His playing is deeply relaxed, his voice authoritative, resonant. He is an emotional interpreter, getting right to the soul of the tunes. These lesser-known recordings are some of the true gems in Jerry's protean career, and luckily there are deluxe editions with a lot of music at Grisman's acousticdisc.com.
The musicians who played acoustic music with Garcia all note the wide reach of his repertoire. Kenny Kosek describes feeling fully supported by Jerry, who infused that support with a sense of openness and playfulness. Grisman adds, "He had the three T's: tone, time and taste. And, most importantly, he had his own unique voice, immediately recognizable and distinctive, reflecting his heavy addiction to listening to great music of all types."
Joel Harrison wishes to thank David Grisman, Eric Thompson, Steve Kimock, and Jack Devine for assistance with this article.
YouTube It
Hear the Grateful Dead tackle an acoustic rendition of the 1920s song "Deep Elem Blues," alluding to Dallas' historic African American neighborhood. Yes, Jerry solos!
Get Some Jerry in Your Ears
If you're not already familiar with Jerry Garcia's acoustic playing, here are a few recommended recordings:
"Uncle John's Band," Workingman's Dead, The Grateful Dead (1970)
"Jack-A-Roe," Reckoning, The Grateful Dead(1981)
"Whiskey in the Jar," Shady Grove, David Grisman and Jerry Garcia (1996)
"Louis Collins," The Pizza Tapes, Jerry Garcia, David Grisman, and Tony Rice (2000)
Before the Dead, four-CD/five-LP compilation of Jerry Garcia's pre-Dead bands (2018)
From the giant, hefty beasts of yore to their modern, ultra-portable equivalents, bass amps have come a long way. So, what's next?
Bassists are often quite well-informed about the details of their instruments, down to the finest technical specs. Many of us have had our share of intense discussions about the most minute differences between one instrument and another. (And sometimes those are interrupted by someone saying, "It's all in the fingers.") But right behind our backs, at the end of our output cables, there is a world of tone-shaping that we either simply ignore or just don't want to dive into too deeply. Turning a gear discussion from bass to amp is a perfect way to bring it to an abrupt end.
Since the beginning of our instrument's history, bassists have faced the fundamental and existential problem of trying to be heard. It's solved now, but too many players don't seem to be interested in how we got here. And it's not just bassists. Even some amp manufacturers haven't been concerned with the details. A few readers might remember that in my September 2019 column, I discussed class-D amp technology. As part of my research, I called a very respected amp manufacturer to get his insight into class-D technology. His stunning response was: "We simply checked some Asian-made modules and chose the one we thought sounded best, but I don't know and never cared how they work." Even the offer of a short technical introduction was met with blissful ignorance. So, if anyone thinks they don't need to know how their amp works, at least you're in good company!
Over the course of the last 80 years or so, the fundamental technology used in our amps has been replaced—and not just once. The technological changes came in several waves and another might be on the way.
Here we are now after this last wave of amp-tech: down from 300 watts at 40 kilograms or 88 pounds in the 1970s, to 500 to 1000 watts at 1 to 3 kilograms or 2 to 7 pounds today.
For the greater part of the last century, bass amps relied on tube circuitry, and it took until the middle of the century to make decently powerful, but heavy and fragile, amps. Unfortunately, guitarists used the same technology—and sometimes even the amps that were initially made for us. (Remember that our low-end needs about 10 times the power of a guitar amp to cut through!) So, as their volume increased, our need for more power just became greater. Our problem remained until the 1960s when amps like Ampeg's B-15 Portaflex and SVT entered the scene. High-output amplification manufacturers sprouted everywhere, enabling loud rock bands to move from clubs to stadiums.
Though the transistor quietly altered the landscape of radios and small solid-state amps during the early 1950s, it took until the late '60s before this technology made it into our rigs. The first companies to make solid-state amps were those who possessed a higher engineering background. Vox, for example, released one of the first solid-state bass amps, thanks to their prior experiences with solid-state circuits from their organs. Many smaller companies soon followed, although most earned a reputation for unreliability. But the technology developed at a breathtaking pace.
This Ashdown Little Giant is more powerful than the mighty SVT at less than 1/10th the weight!
​
Photo courtesy of wikimedia.com
During the 1980s, clean and powerful hi-fi-esque synth sounds became trendy. This benefitted bassists with the development of clever tone-shaping options, hybrid circuits with tube preamps, bi-amping, internal DIs, and even more power.
Once we were sure to be heard, it was time to look for other advantages, like reduced weight and size, and along came another wave of new amp technology: class D. (See my column "Signal Processing in Class-D Amps," September 2019.) The basic principle behind class-D technology is pulse width modulation (PWM), which sounds as if those with higher engineering skill would once again be in the lead. Instead, there are just a few manufacturers building class-D power modules, and amp builders can use those as the foundation of their own amps. Just get one of the modules, which come in different power ratings, add a power supply and a tone-shaping circuit, and you're done. With several competing manufacturers offering identical power amps, the individual strengths have fully shifted to the qualities of their tone-shaping circuitry and other add-ons or gimmicks.
Here we are now after this last wave of amp tech: down from 300 watts at 40 kilograms or 88 pounds in the 1970s, to 500 to 1000 watts at 1 to 3 kilograms or 2 to 7 pounds today. What could be the next move? It looks as if the power-to-weight ratio has reached an end for quite some time, but tone-shaping capabilities in preamps might shift from classic circuitry to profiling or modeling amps as a fourth wave. And this time it's clearly engineering competence that will make the difference. Can you imagine what instruments we'd be playing today if our basses had made similar progress?
Courtesy of Wikimedia
A rumination on the history of bass speakers and how they compare to their guitar-amplifying kin.
Musicians rarely see the huge effect a speaker or cabinet has on their sound, as our relationship to our instrument is way more emotional and intense than with what comes after the output jack. In 1915, Peter Jensen perplexed those who attended his Magnavox speaker demonstration with the amplification of a human voice. The construction of that speaker—a conical membrane and a voice coil in a magnetic field—is principally the same as what we use today, although the Celestion speaker from 1924 looks quite different to what we are used to seeing (Photo 1). The tonal goals in the world of hi-fi speakers are pretty clear: a wide frequency range and high linearity, which is far from what our rigs require.
While the membrane of a guitarist's speaker is almost always made from paper or cellulose, bass speakers also sport carbon, Kevlar, or polypropylene for enhanced stiffness. Added mass and stiffness contribute to frequency response in the bass range. Extra ribs on the conical membrane and chemical coatings can further enhance stiffness and rigidity. And, as opposed to our instruments, where we often have tonally dominating parts like the pickups, almost all parts of a speaker are interacting.
On a guitar speaker, the shell of the voice coil is most often made from paper, making it both light and sensitive, with a detailed upper range, but highly sensitive to heat. The bass version sports bigger voice coil diameters, for better thermal flux, and Kapton or fiberglass shells. As guitarists initially swore on alnico and, later, ceramic ferrite magnets, the bass world has now moved on to neodymium—which is 10 times as powerful and more lightweight than a ferrite magnet—as the norm. As we know, compared to guitar gear, ours is typically bigger, heavier, and way more powerful.
As guitarists initially swore on alnico and, later, ceramic ferrite magnets, the bass world has now moved on to neodymium—which is 10 times as powerful and more lightweight than a ferrite magnet—as the norm.
Another common difference is that guitarists mostly rely on one speaker size for their whole rig—mainly 12". Bassists, on the other hand, are used to mixing several sizes, using crossovers, or even bi-amping, mainly because of the hard realities of reproducing a good low end.
In the heyday of our instrument, those huge and heavy Ampeg SVTs and their 9x10 cabinets were at the heart of many a bassist's dream rig. The 300W SVT came in around 88 pounds, while a modern 300W class D head might be just a mere 3.3 pounds. The evolution of speaker cabinets is quite similar, with lighter cabinet enclosures sporting highly efficient speakers. If we want to quantify efficiency or sensitivity per watt, we have to look at their sound pressure level (SPL) and remember what logarithmic scales mean for perceived loudness and necessary wattage: Raising SPL by 3 dB requires twice the wattage. Or, similarly, a speaker's 3 dB of higher efficiency is like doubling an amp's power.
Image 1: Here are two almost identical SPL and impedance plots, despite their fundamentally different magnet materials, with neodymium shown in blue and ferrite in red. The SPL plots are the wild upper curves, while impedance curves have just one peak.
Copyright SICA/Jensen Speakers, Italy
SPL measurements are most often shown as frequency response curves in the audible range of 20 Hz to 20 kHz, with decibel (dB) versus frequency (Hz). Image 1 shows a comparison of two 12" guitar speakers with an additional impedance plot in ohms (Ω). The two speakers use different magnet materials, with neodymium shown in blue and ferrite in red. Since neodymium is 10 times as powerful, that means a speaker's heaviest part, the magnets, can be 10 times lighter without much of a different tone and efficiency. Notice that both materials create almost identical results.
While frequency response curves are a common way to compare speakers, they can be misleading. Once SPL ratings are just given as one value in decibels, they are either measured as the level resulting from 1 watt at 1 kHz in 1 meter distance from the speaker—an old and not very helpful standard from the days of portable transistor radios—or as an average of a frequency range. Some manufacturers use complete audible range or parts of the prominent midrange in their spec info. So, as valuable as these frequency response curves can be, keep in mind that, without knowing the details, comparability between manufacturers has its limits.
Wireless technology is thriving in all parts of the techno-sphere and it's time for bassists to catch up.
What were the most dangerous times for bassists, guitarists, and singers? Surely the '60s. Not because of wild backstage parties, drug abuse, or high-risk early international travel, but simply because of electrocution caused by amateurish electrical installations with missing grounds.


That's exactly what inspired Leo Fender to develop the TR-105, the first "Wireless Remote Unit," as they called it, back in 1961. Unlike the P-bass, this was really a world's first, but unfortunately a rather unsuccessful one. The unit was directed at guitarists, bassists, and accordionists, and had a radius of 50 feet—enough distance for those pre-arena stage dimensions. It looked surprisingly similar to modern units: a set-top box and a belt pack. Its transmitter, which weighed only 5 ounces, had an impressive frequency range of 20 Hz–75 kHz, while the receiver covered 20 Hz–20 kHz, with 100 to 150 hours of operation on one mercury battery. The system came with a hardcase, weighed 15 pounds, and cost $269.50—roughly $2,500 today. For whatever reason, it didn't catch on and Fender only offered it for around a year.
It wasn't until 1976 that Nasty Cordless, Inc. (later renamed Nady Systems) and Ken Schaeffer's Vega Diversity successfully entered a broader market. Both were analog devices and used a process called companding: a word-mix of compression at the sender side and expansion on the receiver side.
The specialty of the Vega was an integrated audio circuit that was known to colorize tone. This doesn't have to be a bad thing, as AC/DC's Angus Young is still using his today, even in the studio, and sees it as a central device for his signature sound. (See PG's AC/DC Rig Rundown from September 2016.) These systems also had greater operation ranges, so they were good for stadium stages.
Today, wireless technology is thriving in all aspects of electronic products, with cables nearly a thing of the past, except among—astonishingly—many musicians who still like to knot and tangle them.
Wireless systems got a bad reputation because of their early teething troubles, which included dropouts and problems picking up radio transmissions. Some guitarists really look down on them because of these initial foibles. Today's budget analog wireless systems can have companders with a fixed ratio, and this can make them sound unnatural. Better ones have more natural sounding companders that make it much harder to tell the difference between wired and wireless sounds. And the newer digital systems are even topping these, with their high-quality A/D converters.
In the foreground of today's discussions about wireless systems are most often things like tone, dynamics, range, energy consumption, bandwidth, and dropouts, while electrocution isn't that much of an issue. Although it should be for anyone touring exotic places with lesser-controlled electrical environments.
Today, wireless technology is thriving in all aspects of electronic products, with cables nearly a thing of the past, except among—astonishingly—many musicians who still like to knot and tangle them. As with all things mechanical, cable breakage isn't such a rarity and one might even be tempted to say that newer wireless devices excel in reliability. And—opposed to many early transmitters—they've switched to USB-equipped accumulators and far lower energy consumption. Choosing a system is almost a no-brainer, even though the sheer number of models is vast. With the exception of low-end budget models, almost all units fulfill the criteria of reliability, tone, ease of use, and operational range.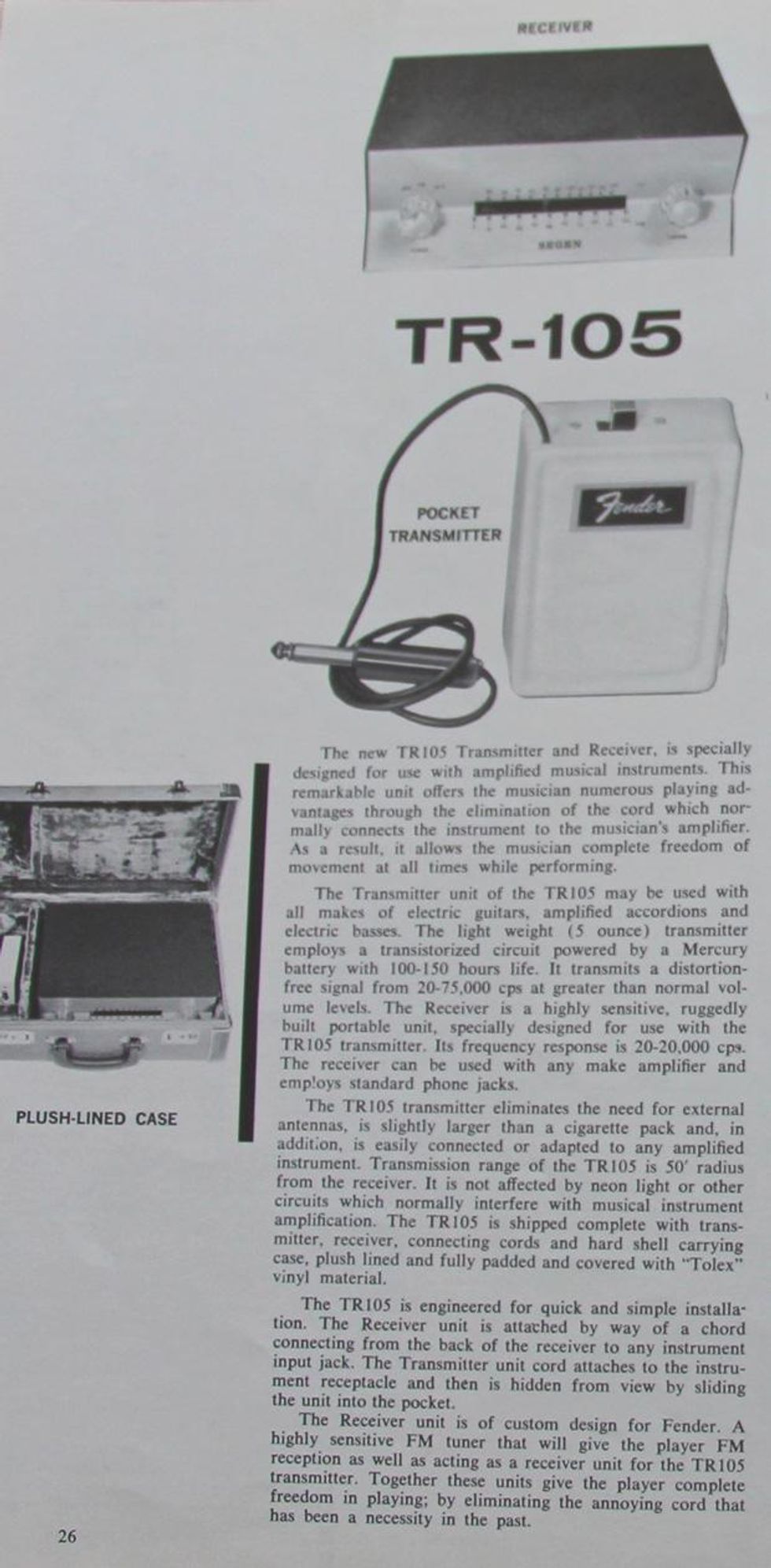 Fender was first in the wireless game with its unsuccessful TR-105 in 1961.
For us bassists, there are a few extra points to keep in mind. Our signal is pretty dynamic, so our wireless system should be as well. Analog wireless systems need to compress the dynamic range of the audio before it can be carried on a radio wave. Not only can this have an impact on tone; it also limits dynamics. Therefore, digital is the way to go, especially since these have a better low-end range.
All those owning basses with active pickups or preamps should check compatibility before buying, plus keep a few other things in mind. It's sometimes not mentioned in a system's spec lists whether it will work with an active instrument's stereo output jacks, due to a TRS-related connection issue that can occur. Output levels of active pickups can be another issue, which is why many devices come with a gain-adjustment at the transmitter. And finally, there can be whining and noise caused by insufficient shielding of the preamp on your bass, once the transmitter is plugged in and close to the electronics housing. To solve that, just look for a cable-equipped belt pack to keep the receiver's antennas farther away from it.
Some other common features to look for are capacity-load cable simulations, which are more directed at guitarists, and durable metal body packs, for the touring artist. Multiple transmitter supports could be nice to have, but are not essential.
Some research will help you find the right system. Don't be afraid to cut the cable! You might enjoy your new freedom to roam the stage.