Review: Baden A-Style Acoustic
The Baden a-style is modern and minimal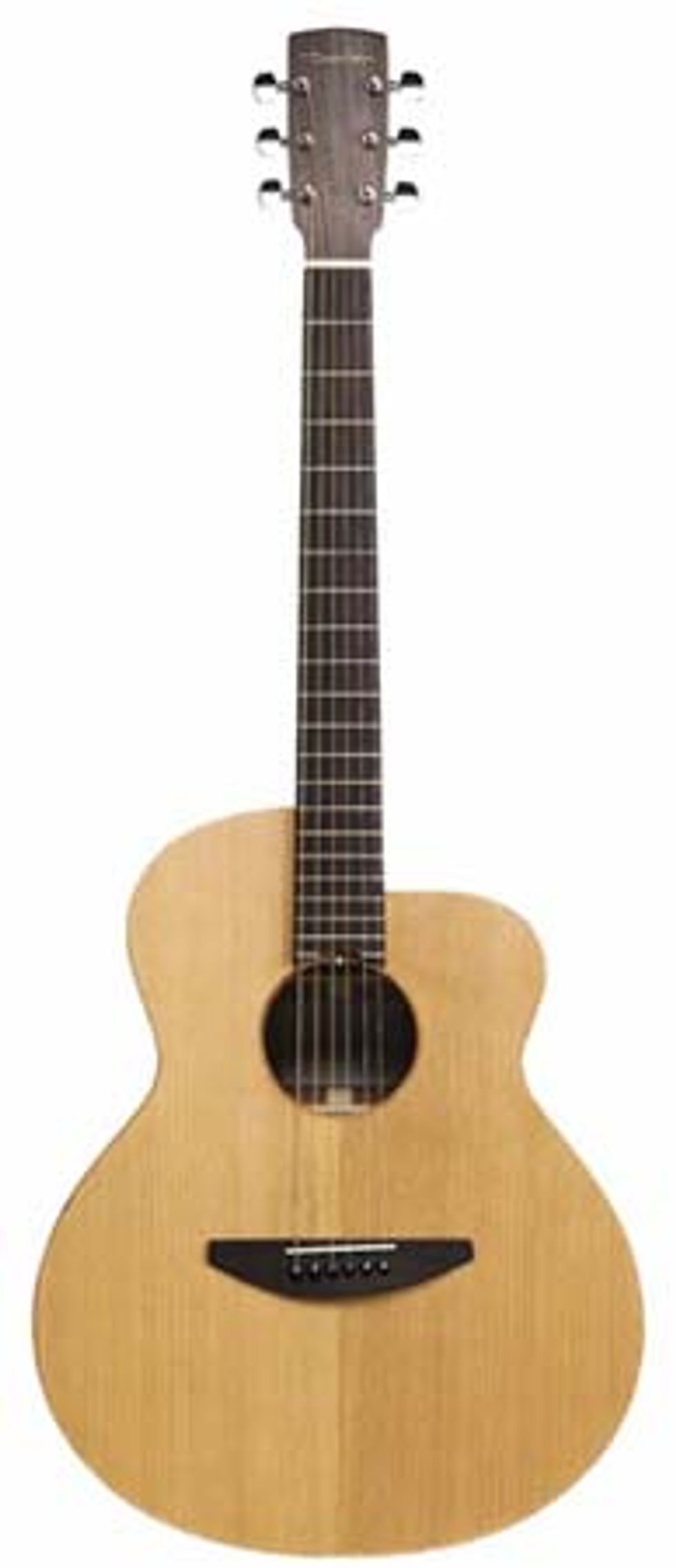 When T.J. Baden hit the scene with Baden Guitars in the middle of 2006, introducing the staid acoustic market to his stripped-down, deconstructed approach, he inadvertently started one hell of an argument. One camp of critics maintained that the lack of ornament on his guitars spoke to a renewed interest in getting back to the music—the fact that there were only two guitars in the Baden catalog, an auditorium and a dreadnought, available in three different wood configurations, confirmed this; another camp found the lack of flash, not to mention fret markers, oddly pretentious—it seemed like just another designer hiding a dearth of ideas behind a veil of minimalism.
Even our July cover story on the company ["Acoustic Simplicity"], examining the company two years after its successful launch, was met with some dichotomous commentary in the story's online comment section. GregY posted, "I don't need T.J. Baden telling me, 'the world doesn't need another abalone inlay' guitar just because he chose to cut corners and omit any rosette, body purfling, fret markers or any decorative inlay... I'm tired of new co's looking for gimmicks simply to be different. Personally, I'd worry about building a guitar that plays and sounds great... before I'd jump on my soap box." A poster going only by Larry later responded, "The guitars are great... for those out there who appreciate the simplicity of design, Baden offers a blank canvas for artists to make their own statement, no inlays necessary."
And so the great Baden debate continues. But no matter your leanings—whether you prefer blank canvases or ornate works of art—the fact remains that we're all looking for a good guitar to call our own. And the requirements haven't changed much. It needs to sound good, play well and hold up to the abuses of life. It needs to be able to channel the musical thoughts in your head without getting in the way. So this month, I set out to see if Baden's a-style acoustic could pull it off.
In the interest of full disclosure, I should say that I am a supporter of minimalism – I've always gravitated towards artists like Mark Rothko and have long contended that Dieter Rams is a genius (if you don't agree, go play with an iPod and then Google "Braun T3"). So it's probably no surprise that I was quickly drawn in by the a-style's simplicity. There are no ornate inlays, no dots, no bindings—just beautiful mahogany and cedar woods on display (maple and rosewood options are also available). Even the brand on the headstock remains true to Baden's aesthetic, bypassing the abalone and carving the name "baden" (all lowercase, of course) directly into the peghead overlay. The stark cutaway-but-not-a-cutaway— a major point of engagement between the pro and anti crowds—is a bold move that pays off in my book, providing both fret access and Picasso-esque abstraction to the design. On a certain level, it would seem that T.J. has succeeded in his goal of bringing attention back to the guitar itself; the lack of ornament makes you focus even more on the guitar's bare, curvaceous shape.
Part of what makes the a-style's bold minimalism work is the craftsmanship; these handmade guitars, produced by master luthiers in Vietnam, should redefine the expectations for foreignbuilt instruments. The body work is flawless at all points, inside and out, and the hand-carved mahogany neck, shaped into a shallow C but still maintaining enough "meat" to feel solid, is both fast and substantial. The Fishman Ellipse Aura electronics and its accompanying wires are tucked neatly into the soundhole and seem like a legitimate part of the whole, not just a belated add-on. From the neatly cut bone nut and bridge to the guitar's perfectly understated gloss finish, everything about this guitar feels thought out and well done.
Stripped Sounds
Of course, there has been so much debate over Baden's unique visual style that it seems little attention has been paid to how they play. From the outset, I discovered some clear Taylor influences cleverly hidden within the guitar—no surprise, considering T.J. cut his teeth with the company. Combining a 25 1/2" scale length with a 1 23/32" nut width, the guitar is quick and responsive, and has an ease of play that harkens back to the instruments emerging from El Cajon, California—something that, depending on your acoustic allegiances, you'll either dig or detest. The cutaway (technically not a cutaway; the guitar is built in two halves) provides easy access up to the 18th fret, and the a-style's playability will encourage you to make good use of it.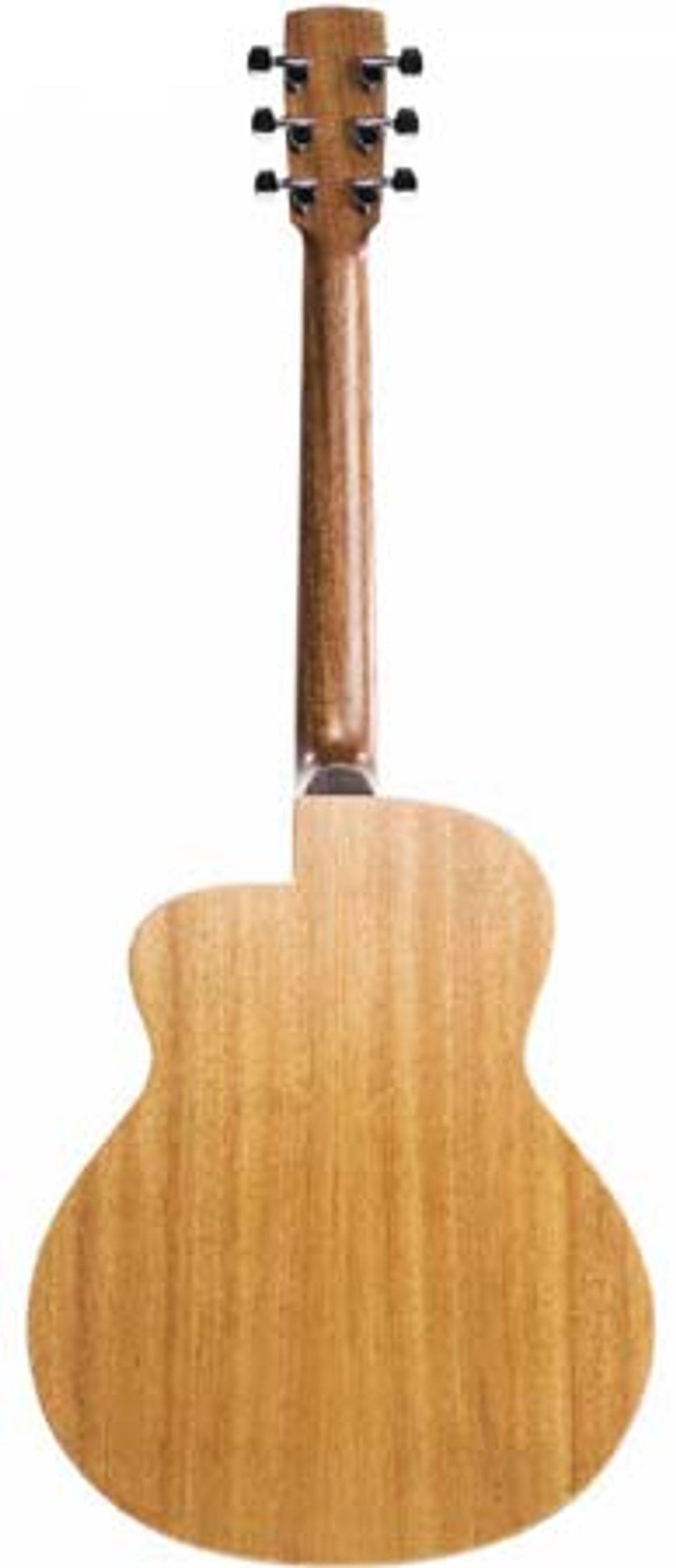 For those familiar with cedar-topped acoustics, you'll find many of the same acoustic properties in this particular model. The cedar provides an enveloping warmth to the guitar's inherent sweetness and clarity, making it an appropriate choice for solo fingerstyle work or easy strumming. In fact, searching for the right word to describe the guitar's personality continually brought me back to the word balance; there's just enough of everything across the entire sonic spectrum. No one string or timbre jumps out of place here, and when played with a delicate enough touch the notes all ring and chime like gorgeously orchestrated bells. The a-style would be a great choice for players seeking nuance in their instruments, as well as for the newer breed of fingerstylists who rapidly shift between strumming and picking and need a guitar that can keep up.
That said, at times the cedar top could be a double-edged sword. Using a heavier hand caused the top to "break up," and that previous combination of warmth and clarity transformed into something a little harsher and undefined. There was some punch missing from the guitar at louder volumes, although that can be attributed both to its body size and the cedar—a spruce top would likely give this guitar a little more voice, although you'd be trading the subtle warmth found at lower volumes for more brightness and clarity. You definitely need to be cognizant of your playing style with this guitar, and if you're looking to pound out basslines and rhythms, you should probably be looking at a dreadnought anyway. It should also be noted that cedar is a physically softer wood than spruce; the absence of a pickguard either solidifies the fact that this is really a fingerstylist's guitar or just means you need to be extra careful with a pick.
Perhaps the most inspired decision made on the a-style is the inclusion of Fishman's Ellipse Aura electronics. The semi-circle control surface sits directly inside the upper half of the soundhole and combines Fishman's onboard preamp with their highly-lauded Aura technology, which essentially models "images" of microphones and allows you to blend those images into your pickup signal. While space does not permit me to go into depth about the details, I can say that it is a perfect match for the a-style, in both responsiveness and fidelity. It doesn't mess with the tone of the guitar, and it provides numerous tone shaping options that you just can't find anywhere else. With a variety of feedback busting tools at its disposal, this guitar would also work well for those depending on acoustics in live or high-volume settings.
The only complaint I can raise with the Ellipse system is the placement of the controls on the upper half of the soundhole. I understand the reasoning, and part of me agrees—it keeps things clean and appealing on the outside— but I initially resorted to flipping the guitar over and looking inside the soundhole while I set my levels. I don't really have a solution to this, but it should be pointed out that this is likely something you'll either truly appreciate or deeply hate; my fingers eventually learned to identify the switches and sliders sight unseen, but you'll need to decide for yourself if you want the learning curve.
The Final Mojo
The a-style from Baden is a definite departure from tradition, from its modernist design roots to its advanced electronics. There's no question that this guitar will turn off, if not infuriate, traditionalists who grew up with D- 41 appointments, but odds are if you're still reading this you're ready to test out a new aesthetic. If you're looking for an all-around performer, a nimble guitar with lots of heart, you'd be wise to put this on your shortlist.
Buy if...


you're a modern musician looking for a modern instrument


Skip if...


martinownersclub.com is your homepage


Rating...
 
Our expert has stated their case, now we want to hear yours. Log on and share your comments and ratings.