Selecting Speakers for Two-Rock
This month, we were able to speak with Joe Mloganoski, of K & M Analog Designs, LLC, about the process of designing Two-Rock amps and their speaker selection process.
This month, we were able to speak with Joe Mloganoski, of K & M Analog Designs, LLC, about the process of designing Two-Rock amps and their speaker selection process.
In case you're not familiar with the company, K & M Analog Designs, LLC, was founded in 1999 by Bill Krinard and Joe Mloganoski, a collaboration driven by a desire to produce the best-sounding amplifiers possible. With long histories in music, sound and electronic design, the duo's first efforts revolved around playing and tweaking the best production tube amps of the last 60 years.
K & M's first ten amps were labeled K & M Analog Designs (no model name/number), although the company was building amps in close proximity to Two Rock, California, which struck the two as a cool name for their growing company. As luck would have it, tworock.com was taken, at a time when an identifiable internet prescence was increasingly crucial to business, so they put a hypen in the name. All subsequent amps have carried the name Two-Rock; K & M Analog Designs, LLC, remains the parent company of Two-Rock Amplifiers, along with a handful of other custom shops.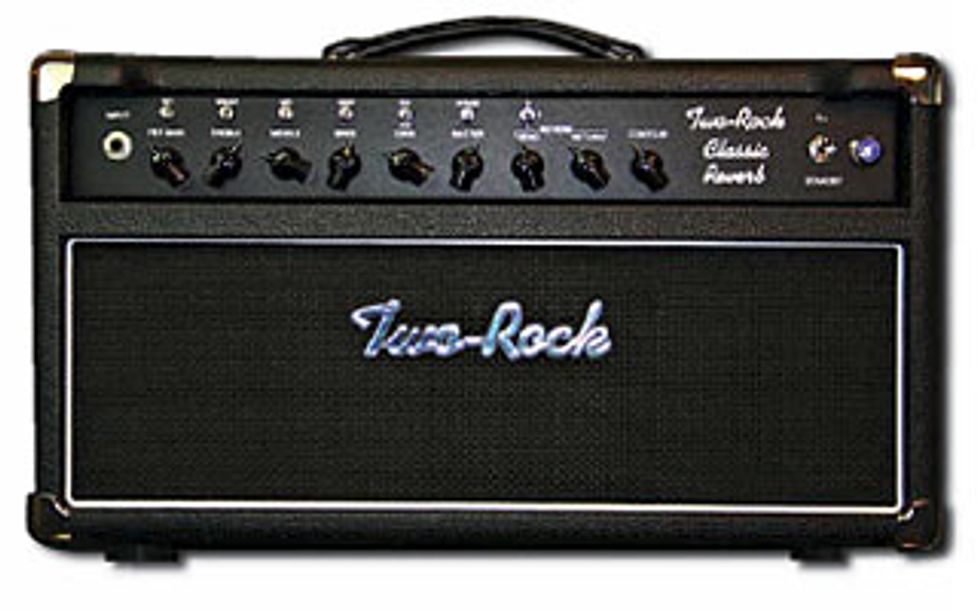 What is the process for creating a new amp? Do you approach it trying to fill a niche or are you trying to emulate something similar on the market?

Well, actually, a little of both. Our current line is a continuation of a basic theme. That theme is a dual 6L6, Class A/B circuit with cascading gain and spring reverb. We constantly improve build techniques, component choices and layout during the development and production stages. We are often compared to Fender, Dumble and others, relative to feel and voicing. Every guitar amp ever made has influenced our designs, but we have our favorites. We have taken our basic platform and engineered it for 100 watts, 50 watts, and even down to 20 watts in the Jet. At this point, I think we have our own distinct look, tone and vibe. It's reminiscent of other amps, but unquestionably our own.
Do you aspire to create a specific tone when designing a Two-Rock amp?

Sometimes! Over the past few years, we've focused more on a certain application. For example, starting with a single channel clean amp and then making the platform as versatile as possible – the Classic Reverb turned out great in that respect. It can do blackface clean, provide grit and grind, and even imitate a Marshall-type tone with the FET stage engaged.
What role does the speaker play in the overall Two-Rock tone?

Speakers are pretty important. If you remove the guitarist from the equation, it comes down to the guitar, the amp and the speakers. We choose speakers that provide the most accurate reproduction without much coloration – we like to hear our amps. That said, there are obviously desirable characteristics in our speakers that impart some flavor.
Do you design the amp around the speaker or design the amp and find a speaker that compliments it?

We used to have a couple different cabinets loaded with vintage speakers that were used for prototyping, but we realized not everyone could buy P12Ns. We began looking for suitable speakers that were readily available and could be fine-tuned to our specs. We currently offer two Eminence speakers that really suit us tonally. We use both speakers individually, and also pair one of each in our 2x12 cab for final tuning on all our products.
What factors do you consider in finding the right speaker?

We went down that road prior to partnering with Eminence. We tried a variety of speakers, many of which sounded great, but it ultimately came down to tone, availability, cost and consistency.
Do you prefer custom designed or off-the-shelf speakers?

Our current speakers are variations of existing Eminence models. We like being able to offer something a little different to complement our amps. At the same time, there are many speakers that can add a different flavor if that's what the player wants. It's great that there are so many choices available these days.
How do you decide the power of the amp and what role does the power of the speaker play?
We have always built performance amps and the speaker should be able to handle the power with plenty of reserve for reliability. Also, we like a higher power speaker so that clean headroom is always there without the speaker going flat.
What features of your amps are you pleased with – what's cool and different about your amps?

Our amps are pretty unique. We have taken a basic platform and circuit and morphed it into a unique-sounding amp. We use components only available to us and perform a few proprietary procedures that no one else provides. It's difficult to build, market and support a limited production, handmade electronic product in this day and age. We focus on customer service, education and tone. You'll be hard pressed to find another boutique amp company where the founders still answer the phone every day.
For more information on Two-Rock amps, please visit
two-rock.com
.
---
Anthony "Big Tony" Lucas
is a guitarist and Senior Lab Technician at Eminence Speaker LLC, where he specializes in guitar-speaker design and customer support. Big Tony has been with Eminence for over 10 years and is responsible for many well-known guitar speaker designs.