Soloway Guitars Swan NYA Review
The NYA by Portland, Oregon builder Jim Soloway is an unusual guitar to say the least. Its most noticeable feature is its 27" scale length neck. Although this scale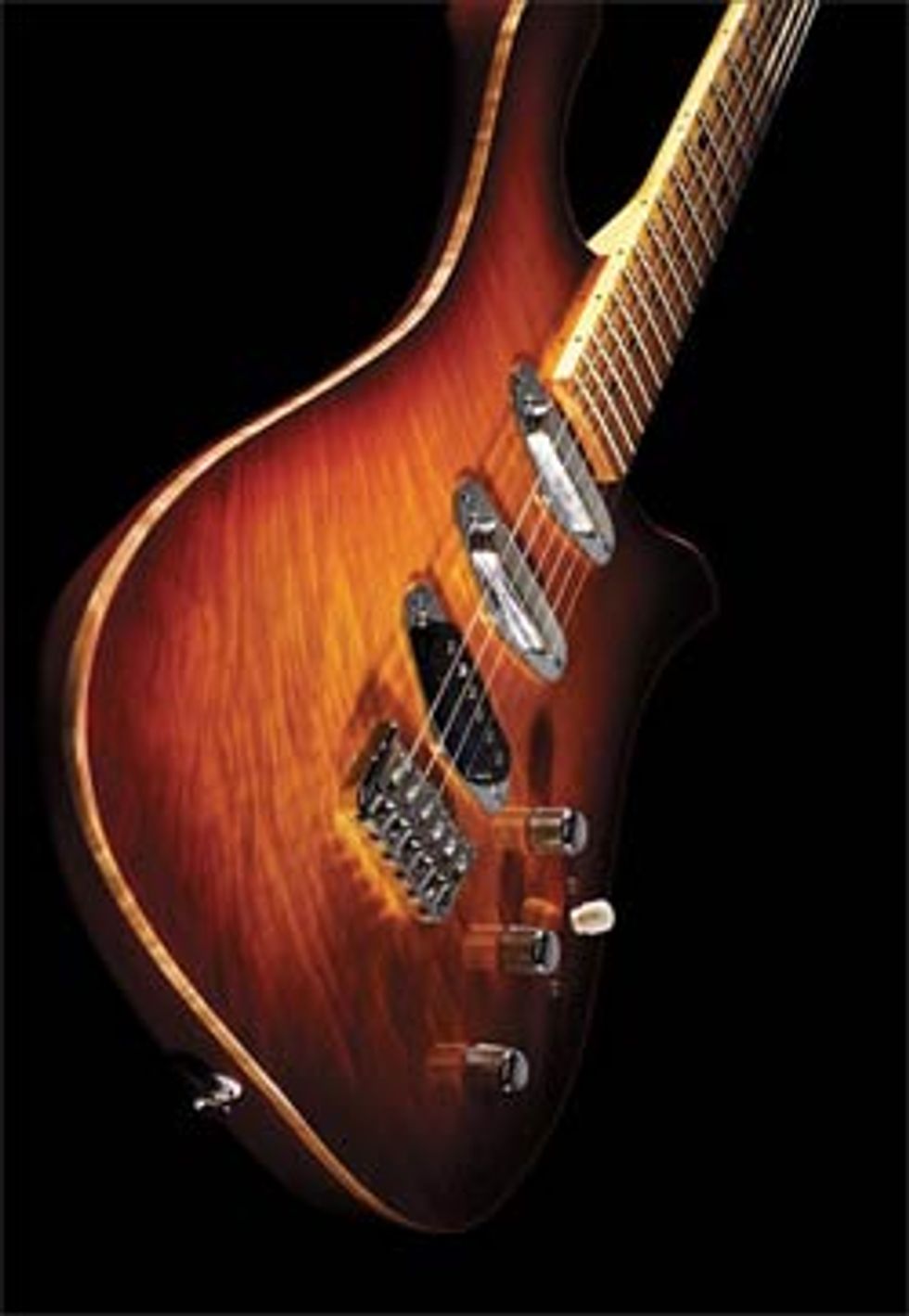 The NYA by Portland, Oregon builder Jim Soloway is an unusual guitar to say the least. Its most noticeable feature is its 27" scale length neck. Although this scale length has been used on baritone guitars before, most baritones are tuned anywhere from a perfect fifth to an octave lower than standard tuning. Jim, however, came to this design by way of playing a seven string guitar tuned to standard A440. Jim has used his tried and true Swan platform as a launch pad for his Soloway Swan, Not Yet Another (NYA). That said, the NYA represents both a refinement of and departure from his previous efforts. Jim was dissatisfied with the string tension and muddy bass response he was getting out of his seven string guitars. In his quest for a more suitable instrument Jim contacted fellow Oregon guitar builder Ralph Novak. After several lengthy conversations with Ralph, Jim decided they needed to take a new approach. The NYA is the result of six years of hard work, and it's Jim's personal statement of what he, as a player, wanted out of a guitar.
When talking about the NYA, Jim proudly states, "It was the first chance I've had to build something I really wanted rather than guessing what our customers wanted." Jim also wanted to add that the NYA heralds a radical departure from how his previous guitars were made. It also sheds light on the future of Soloway guitars.
"I've just sold all of my swamp ash blanks that were under 13" and I've just bought about 300 board feet of new lumber and now, if possible, all newer guitars will use single piece backs and tops."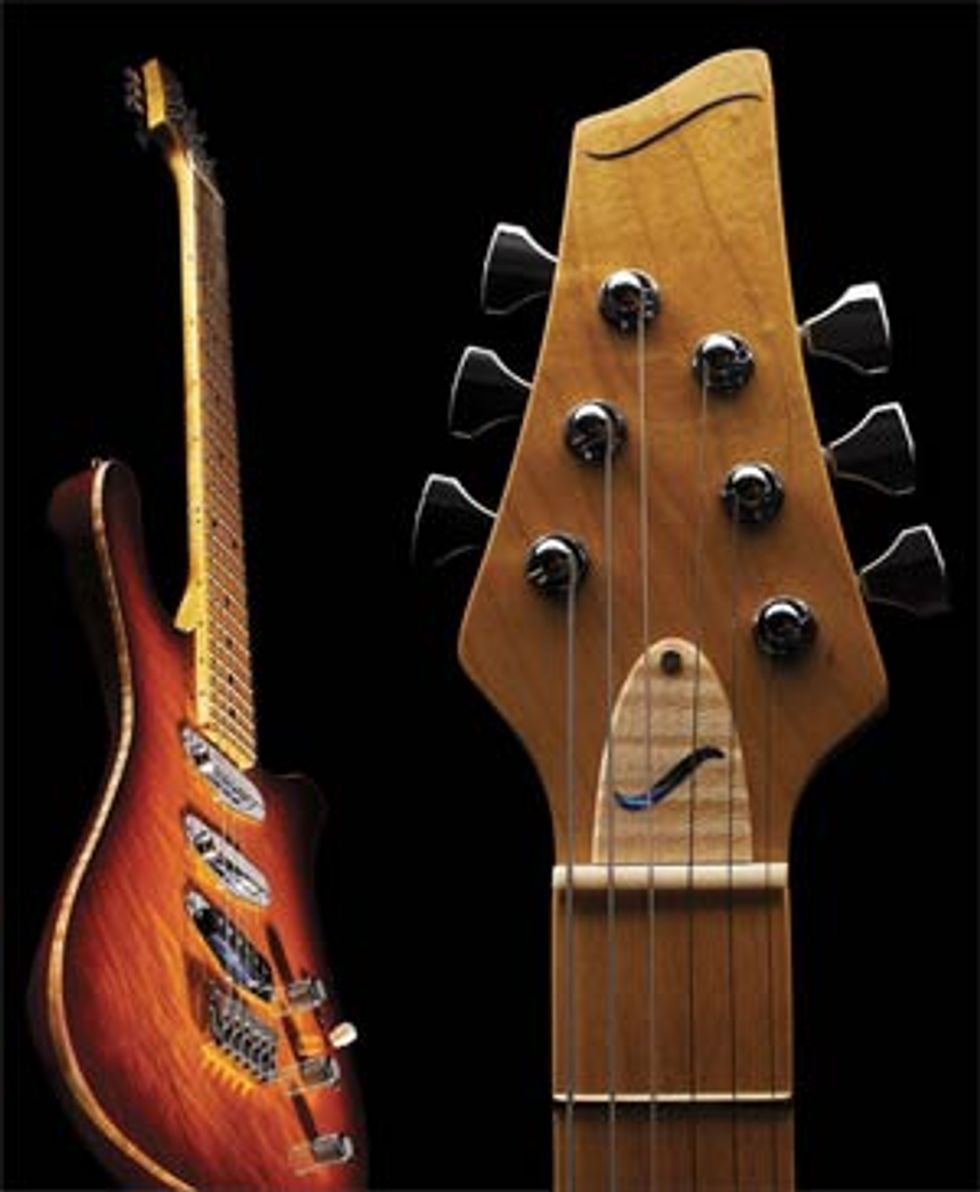 Not only is the neck slightly out of the ordinary, the body shape is also somewhat unusual. Although the body is a "double cut" visually, you can see hints of Fender, PRS, Rickenbacker, and early B.C. Rich in its design. Turning the NYA over exposes a deep heel carve around the neck's back plate and offers excellent upper fret access. Whether playing seated or standing, the NYA is an extremely well-balanced guitar and is light and easy to play, with minimum need of adjustment for your playing style. In fact, I found that with the added neck length, arpeggiated runs were far easier to play on the NYA than they ever were on a 24.75" neck. One of the things that Jim guarantees is that his guitars will never be neck heavy—an astonishing claim, given the fact that the NYA is crowned with six Hip Shot Grip-Lock tuners. The NYA also uses an unusual 16" fretboard radius. Jim points out that classical guitars use flatter fretboard radii than many electrics. Overall, the feel of the neck is similar to a late-eighties Jackson than to that of a more conventional jazz box. Some of that "feel" is due to the ultra-thin nitro finish on the neck and fretboard. I was convinced that Jim was using an oil finish because the finish was so thin, but he said that wasn't the case at all.
Powering the NYA was a trio of DiMarzio Tele-style pickups with an Area-T in the neck and middle, and a Virtual Solo in the bridge. Jim took yet another unexpected approach to setting up his pickups in that the mid-pickup isn't wired through any tone controls. Jim stated that it lent to a more usable pickup and didn't muddy its tone. Revealing yet another unexpected twist, Jim had wired the traditional neck/middle combination to select a neck/ bridge selection with the five way toggle. "I personally find that to be a really useful and more Tele-like sound," said Jim.
Clean is as Clean Does

Playing the Soloway NYA through my Princeton Reverb was a beautiful experience. The sound was lush, buttery and organic with a hint of a big box's openness but without a lot of the boom associated with large bodied guitars. With the five position toggle and three Strat configured pickups, you may find yourself boldly going where no Strat has gone before. Your jazz and bebop lines will have never sounded so funky. While scrolling through the NYA's pickup options, the middle pickup I mentioned earlier really caught my ear. Not only did it not exhibit any of the nasal like quality that so many Strat midpickups have it was so open and spacious that it almost sounded like playing a dreadnought with a high quality piezo through an amp. Although the NYA may not replace an acoustic guitar for a gig, you may just want to give it a try. Overall, playing the NYA back to back with a more conventional Strat is like the difference between playing a spinet and a concert grand.
Getting Dirty

Oh, the Mesa Reverb Rocket, you nasty junkyard dog of distortion… let me hear you bark!
Plugging the NYA through the Mesa Reverb Rocket's Lead and Contour channels was a wild ride. A lot of semi-hollow body guitars I've played through the Mesa's particularly nasty brand of distortion either are able to make it across the junkyard unscathed or are mauled by its jagged teeth. I am happy to say that the NYA escaped without a scratch, a little sweaty and out of breath maybe, but alive and well. The NYA sounded huge through the Mesa and absolutely menacing when tuned to dropped D.
The Final Mojo

Perhaps I'm looking for a different rating scale for a guitar that's so different. Jim's carving of the top of body for the NYA model is a master builder's tour de force. Playing the NYA after an even good Strat style guitar will make you realize how muddy and indistinct your guitar is. The NYA may not be for everyone, but for those who are willing to take a chance, the NYA is a wonderful instrument. At one time Jim lent his considerable guitar playing skills to JazzKat amps, but even he is surprised by the stylistic directions other people have taken his creations. For players who can think outside the box chord and who are willing to take a chance, the Soloway NYA is a beautiful guitar that will open up new channels for your playing. Unconventional? Yes, but in all the right ways.
Buy if...
you''re a risk taker with your playing and want a "big" sounding guitar.
Skip if...
you think the evolution of the guitar stopped before 1960.
Rating...

Our expert has stated their case, now we want to hear yours. Share your comments and ratings below.