Sonic Research ST-122 Turbo Tuner
We're an odd lot around here. When a really high-end piece shows up for a review – last month's Moonstone Vulcan Extreme, for instance – everyone seems intimidated at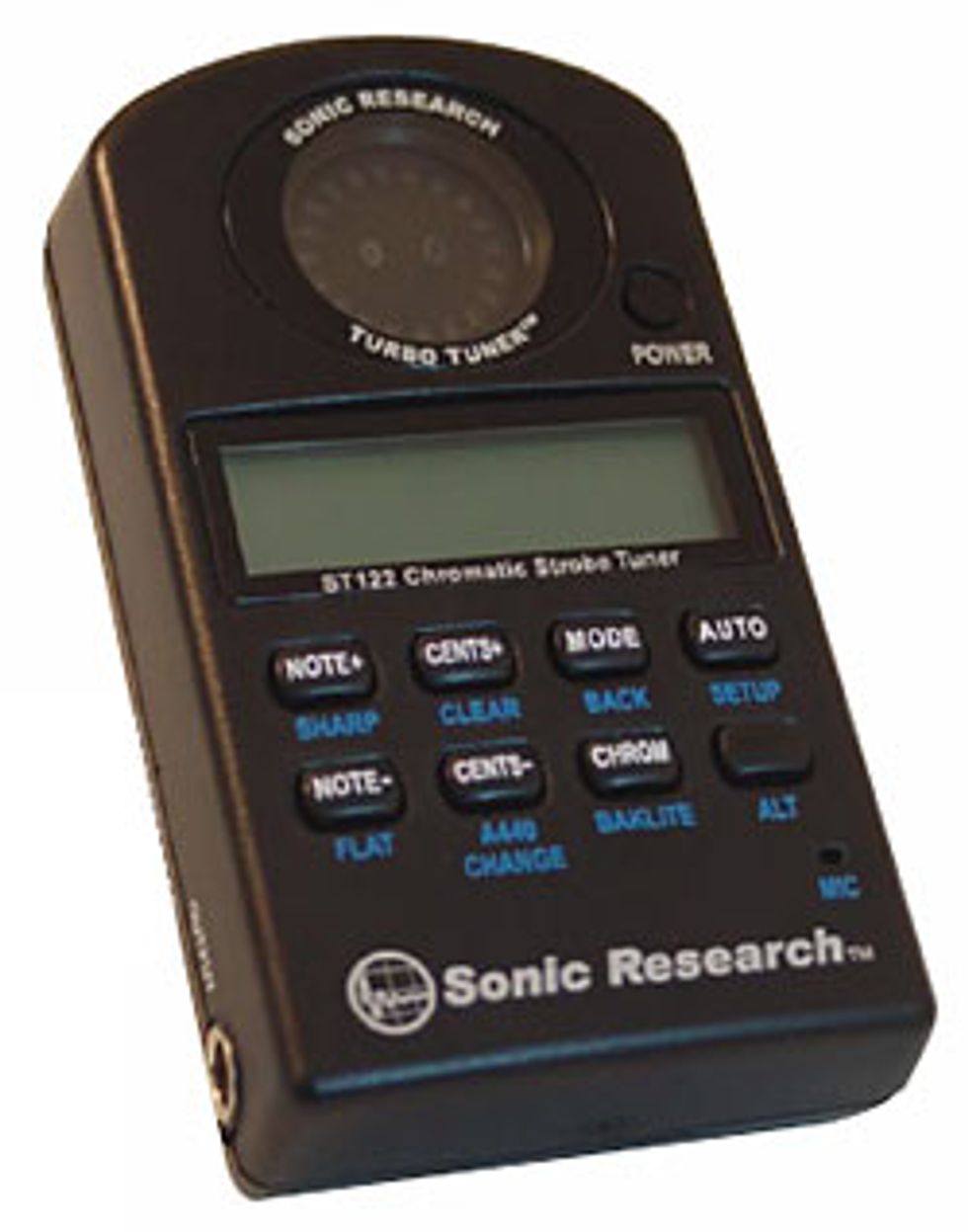 We're an odd lot around here. When a really high-end piece shows up for a review – last month's Moonstone Vulcan Extreme, for instance – everyone seems intimidated at first, like when a really cute new girl would show up at school. Eventually, it will get picked up and played, but only after several rounds of "Oh my God, that's beautiful!" and "How much is it?" But send in something less rarified – some cool pickups, a new stomp box, or a nice mid-level guitar – and all hell breaks loose. Everyone tries to horn in on the action, even our Production Manager, which is sad only when you discover he's really a drummer. So when Sonic Research sent their compact ST-122 Turbo Tuner chromatic strobe tuner for us to review, history's most pathetic catfight quickly ensued, with myself eventually emerging as the shallow victor over my editor, owing in part to my almost superhuman slapping skills, but mostly because I run surprisingly fast for a big guy.
After hiding safely behind locked doors, I decided to lose the instructions – it is a tuner, after all – and just live with the thing for a while. I easily tuned up my battered acoustic, with the Turbo Tuner being simple enough for even me to understand; hit the power button, place it in the general area of the guitar, and tune up. The built-in mic had no issues, performing well even with the extraneous racket of Adam banging on the door. Automatic note selection was fast as hell. Out of the box the ST-122 defaults to Auto/Chromatic mode, so it's basically power up, plug in or start playing, and tune, with the strobe being bright enough to see clearly and the LCD large enough to read comfortably for even the worst of eyes.
Next, I decided I'd try intonating a Strat after slapping on a fresh set of strings. Again, it was ridiculously simple to get where I wanted by simply winging it – no manual referencing for this man's man. However, curiosity eventually got the best of me, and scrolling through the ST-122's various modes gave me a taste of this tuner's capabilities, so, coming down from the high of my previous coup d'état over my editor, I admitted my fallibility and popped open the manual.
The buttons are straightforward, with the primary functions labeled on the buttons themselves, and the secondary functions, accessed by holding down the ALT button, labeled underneath their respective buttons. The BAKLITE [sic] button scrolls through Off, On, Key or a unique Sound function, lighting up when – you guessed it – a sound is made. The MODE button scrolls through the various tunings and instruments available while in alternate- tuning mode, offering everything from DADGAD to cello tunings. To get back to Chromatic mode, simply hit the CHROM button. Manual or Automatic operation is available in any mode, chromatic or alternative-tuning. The reference pitch can be changed from A=440Hz by hitting the ALT and A440 CHANGE keys simultaneously.
Many other secondary features are accessible here, such as Auto Power Off, Show Note Frequency, Power On settings and the all-important Restore Defaults, among others. Of note is the ability to enter in your own tunings, so whether you do a lot of Sonic Youth covers, or play dobro and pedal steel in a honky tonk band, the Turbo Tuner is worth a look. Heck, you could even merrily tune up your cello for that upcoming performance of Cabaret, and I wouldn't judge you. Not after what I've just been through.
Rating...
Craftsmanship...
 
Features...
 
Value...
 
Overall...
 
---
Sonic Research
MSRP $199.99
turbo-tuner.com
Our expert has stated his case, now we want to hear yours. Log on to premierguitar. com, click on "Forum" and share your comments and ratings.