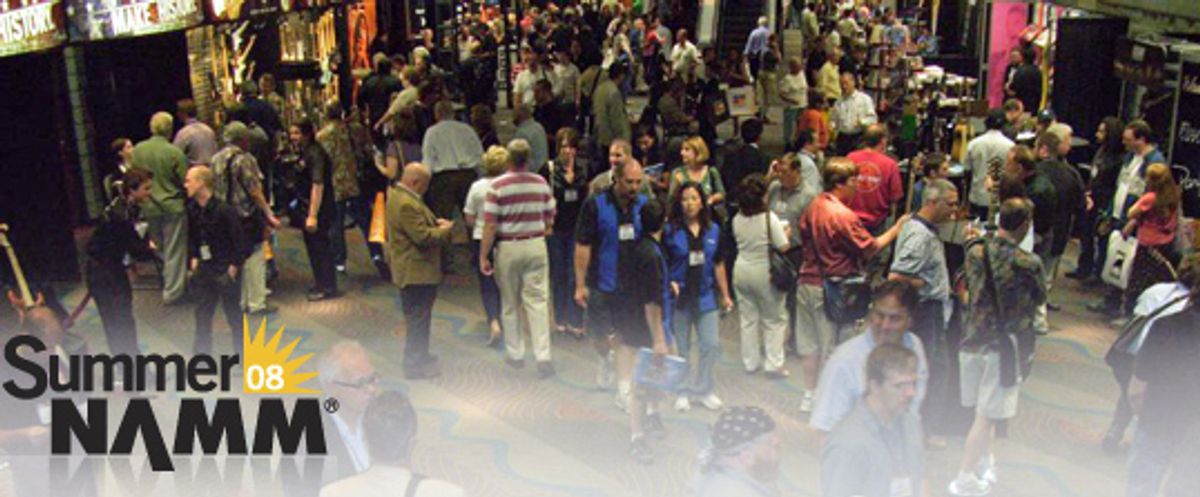 Brent Mason and PG''s Trent Salter Nashville, TN (June 25, 2008) -- For many people, going to a trade show is like pulling teeth. Luckily, we''re not a dental




Brent Mason and PG''s Trent Salter

Nashville, TN
(June 25, 2008) -- For many people, going to a trade show is like pulling teeth. Luckily, we''re not a dental magazine. NAMM is generally a monster of a show, but the focus is on gear so we actually look forward to going twice a year. Winter NAMM in January is the industry''s biggest show, but Summer NAMM, which was held in Nashville this year, is no slouch. These shows give us the chance to hang out with friends in the industry, check out the latest stuff to hit the market and, of course, pass along that info to you. Somewhere along the way we tend to party a bit, too -- something you''ll get a taste of as we bring you coverage from the NAMM party scene.
There was a noticeable increase in volume and density of people from last year''s show in Austin, and as Sunday came to a close, most of the people we asked responded with a fatigued, but favorable, response to the question, "Did you have a good show?"
Eric Gales, John D''Amato and Billy Cox
Keep an eye out for highlights of some killer parties we hosted with Duesenberg Guitars and St. Blues Guitars. As you would expect, there was some great live music involved. Imagine seeing Eric Gales and his band in a gritty Printer''s Alley blues bar wailing into the night as the legendary Billy Cox jumps on stage to sit in.
We also rocked the country vibe with a show featuring the Pat Buchanan Band and Jedd Hughes. By the end of the night Brent Mason, Vince Gill, Seymour Duncan, Rodney Crowell and other great musicians were up on stage tearing it up. We hit up Gibson''s Summer Jam bash and got to see Johnny Winter throw down some mean blues as only he can. Slash and Larry Carlton joined him at one point, showing everyone that an Firebird, a Paul and a 335 make for a mean triad of tone.
Johnny Winter (seated), Paul Nelson, Larry Carlton, and Slash
As for the show itself, the biggest guitar-related news has to be the introduction of the Moog Guitar. Utilizing a completely new approach to manipulating string vibrations into music, the guitar involves some heavy new technology that allows you to do things you haven''t been able to do before, like achieve infinite sustain without any pedals.
This was also the first time many people have heard a Bugera amp up close. (We were knocked out by Bugera at the
NY Amp show
so we were prepared.) The music industry hasn''t heard that kind of tone for that price in decades. Fender has number of new Hot Rod Deluxe enclosures that caught our eye and made a great showing with the Costello Jazzmaster, the Yngwie Strat and the American Standard Strats but we were particularly taken with the ''65 Princeton Reverb reissue.
Ronny North demos his Tregan

Ronnie North fired up his new Tregan for us, as did Rob Marcello with his new Paradise guitar and
Danny B. Harvey with a killer James Trussart
. I''m still tripping over 17-year old Carl Bradychock''s channeling of Danny Gatton at the
Hahn Guitars booth
. The combination of his fingers on a Hahn through a Louis Electric was incredible.
New acoustics were everywhere, requiring us to spend hours with dozens of handmade instruments just to get to know them and their makers.
Blueberry Guitars
have a completely new approach as luthiers, relying on Balinese wood carvers to use centuries-old techniques to carve decorative art into tonewoods -- something the band Little Texas was proud to show off.
Santa Cruz
busted into the show with some very impressive guitars as did Huss & Dalton and James Goodall. Martin''s new Merle Travis D-28 got a lot of attention as did Taylor''s display of wood choices for their new built-to-order guitars.
Richmond Dorchester bridge
Ibanez rolled out a new but very familiar Satch guitar in one of its display racks that also featured the new George Benson Limited Edition. Talk about eye candy. There was also a strong retro-chic vibe at the show with
Godin''s new Richmond guitars
making their first appearance. Campbell American Guitars, Burns of London and a few other companies also showed that various combinations of retro, deco and new can make for a slick instrument.
As you can imagine, we''re excited to bring you up to speed with everything. Keep an eye out for video demos and write-ups on what we encountered in Nashville, we''ll be cranking them out as quickly as possible.