Sweet Pedal Maker's Bout With Cancer Unites Gear Community
Gear and music communities have come together to help combat Bob Sweet''s cancer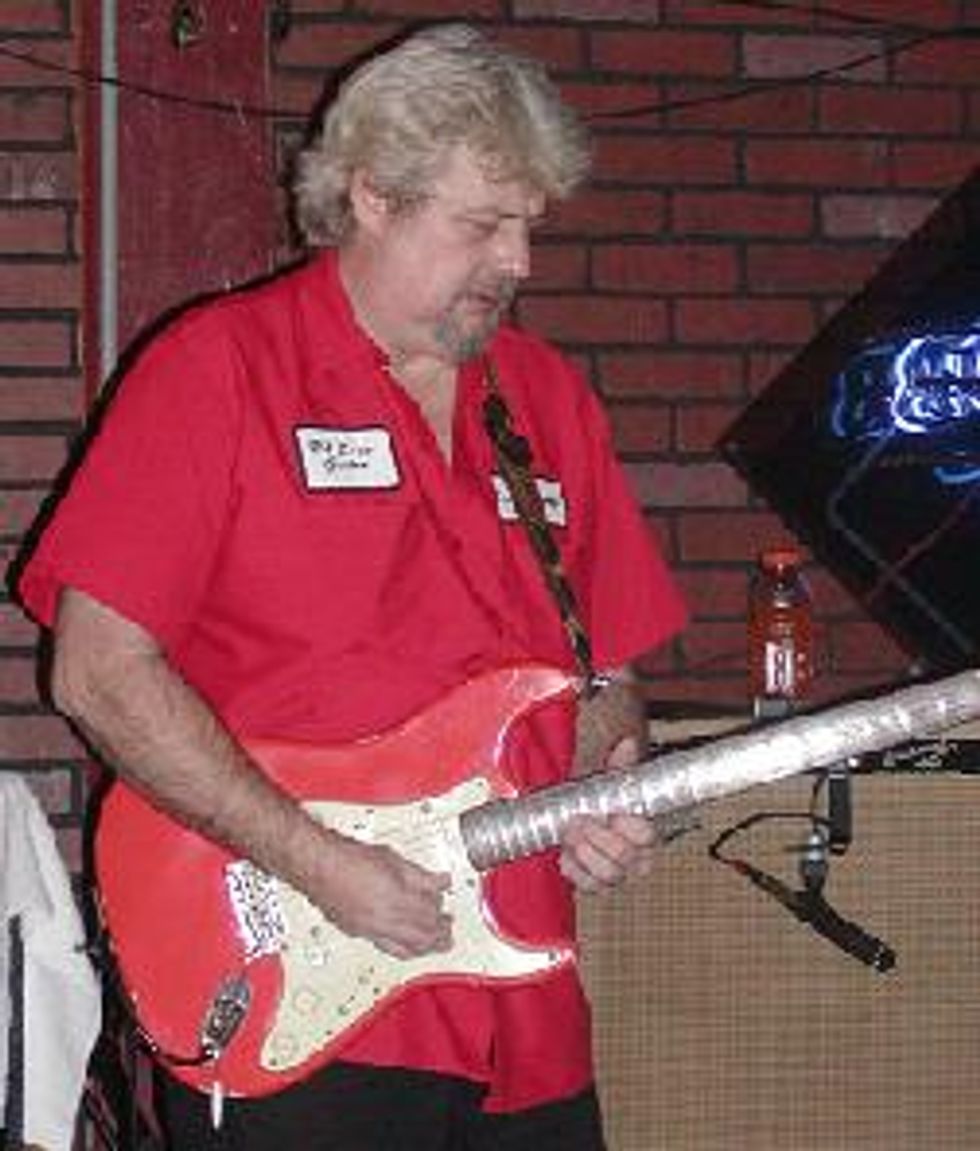 Bob Sweet playing at Buzz''s before he found out about the cancerous tumor in his neck
Fort Lauderdale, FL
(May 7, 2008) -- Considering the harsh and sometimes downright nasty tone of online gear forums, you''d think such a venue might be an unlikely place for mobilizing musicians and gear makers to work together for a worthy cause. That''s exactly what happened when word got out that one of their own had fallen hard. In fact, the collective efforts of these gearheads is still at work.
Bob Sweet is a pedal maker out of southern Florida whose line,
Sweet Sound Electronics
, is often noted for its simple designs, high quality construction and truly sweet sounds. In December, Bob found out that he had a cancerous tumor in his neck (squamous cell carcinoma). 
Needless to say, the cancer is trying to take him down. Since the start of chemotherapy he has encountered problems with his back. Several of his vertebrae have cracked as a result of calcium depletion. This has required more surgery and brought additional debilitating pain, beyond what was caused by the tumor alone. The back surgeries forced Bob to put off some of the chemo treatments and have limited his ability to make pedals that people continue to order -- pedals that he desperately wants to make.
In an interview with Premier Guitar, Bob described the pain, saying that at times he cannot even write an e-mail without pain shooting up his back and forcing him back to his bed -- a reclining chair that keeps his back at an appropriate angle.
Besides being an emotionally and physically draining experience, the actual cost of fighting the cancer is staggering -- chemotherapy costs up to $3500 a week. As we all know, being a professional musician and independent builder usually means having no health insurance and Bob''s situation is no different. However, Bob is not fighting this alone, thanks to a charity started by Musictoyz.com owner/Administrator, Ted Rasch, and user Paul DiBenedetto.
Since the public announcement of Bob''s situation on forums like forums.musictoyz.com and The Gear Page, both noteworthy and under-the-radar gear makers and musicians, most of whom compete with or have never met Sweet, are pooling resources in an effort to raise money for the electronics maker. Fundraising methods have included community-based fundraisers, direct donations to Sweet''s PayPal account, b0bsweet@bellsouth.net (with a zero), forum-based auctions and eBay auctions.
The wealth of items contributed to eBay auctions for the self-described "old musician making pedals" could restore anyone''s faith in humanity; it surely has for Bob, who, along with others, had previously grown impatient with negative comments in the forums. With the help of manufacturers like Dunlop, Wah-Wah and Lovepedal, and musicians like Slash, Steve Vai and Steve Stevens, the call to action started resonating quickly. Gear already auctioned includes an Ibanez Jemini Distortion Proto-Type #2, signed by Steve Vai; a Lovepedal 200lbs of Tone - Eric Johnson pedal; a Teese Picture Wah, autographed by J Mascis of Dinosaur Jr.; a Teese Wizard Wah, autographed by Moby; a Dunlop Slash Wah, signed by Slash; a Pro Analog MKIII fuzz, signed by Billy Gibbons of ZZ Top; and an assortment of custom-built pieces designed specifically for the Bob Sweet Charity.
More items are expected to be posted in the upcoming months, each listed without shipping fees, which -- along with eBay''s posting fees -- are being taken care of by Rasch.
In addition to the enormous help generated through eBay auctions, the South Florida Blues Society hosted a Bob Sweet Fundraiser. The Happy Hour Open Mic Jam at Red''s Club in Fort Lauderdale, immediately following the SFBS monthly meeting on Friday April 25, featured 2006 International Blues Competition winner Joey Gilmore and Premio Estrella Music Latin Rock Award winner Galo Rivera. Sweet is a member of the Blues Society, so the event consisted largely of fellow players, friends and family from the region. Bobby Weinberg, president of the South Florida Blues Society, put the event together after a suggestion was made by Bob''s friend Jack Carchio. The following morning, Carchio, on behalf of the Blues Society, handed Bob an envelope containing cash and checks totaling $1000.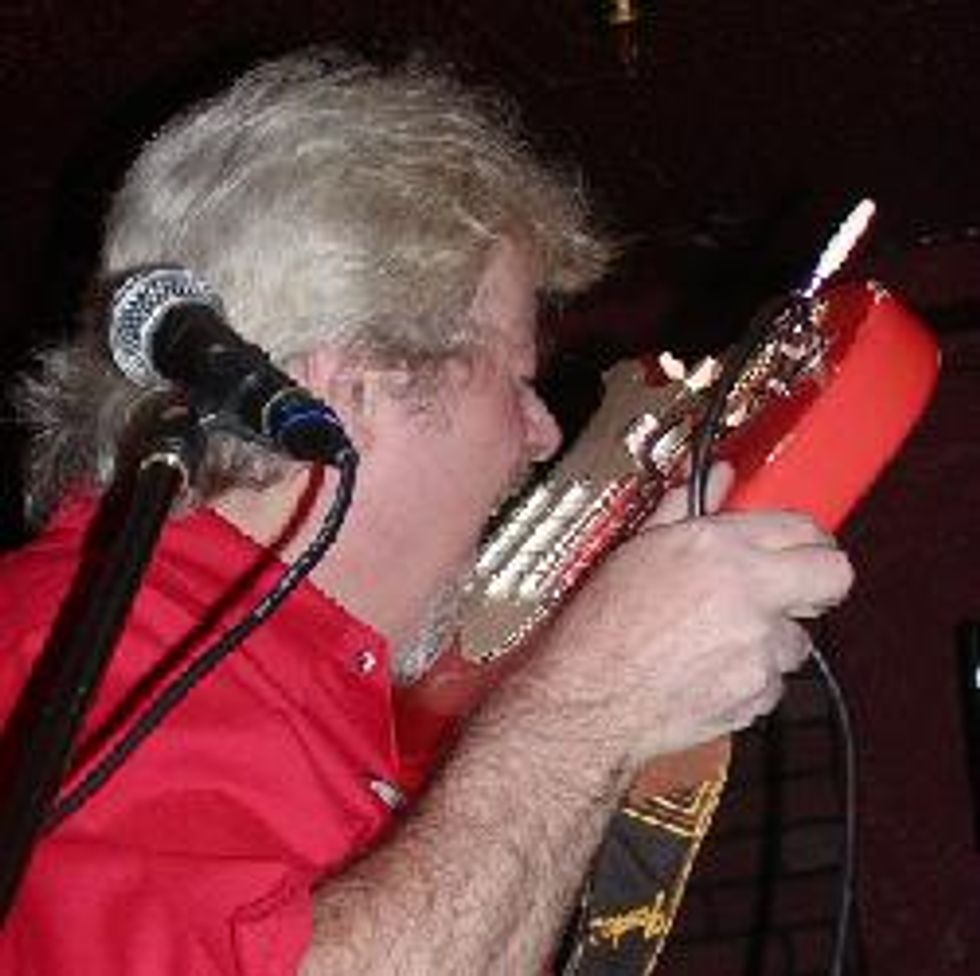 Bob playing his guitar with his teeth
You have to wonder what is motivating so many people to come together to help someone they don''t even know personally. We went to the forums to find out.  In a turnabout for such venues, some overwhelmingly positive themes emerged. People mention hearing about his efforts to help victims of Hurricane Katrina, and others share stories of his excellent customer service.
Bob''s response to the help and positive comments is pretty typical for someone in his position -- he has no words. In a voice cracking under the pressure of tears (Ted Rasch says he''s a big softy these days), Sweet told Premier Guitar, "I cannot find the words that will relay the extent of my feelings of what the online community is doing for me. From manufacturers, dealers, rock stars, wannabe rocks stars, musicians to non-musicians and just plain old good folks from Norway to Singapore, Japan to Germany and everywhere in between, and of course across the United States; I don''t know what to do to thank people. It can really change you. I really look at things differently."
As for Bob''s condition, the tumor is responding well to the chemo treatments he is able to make. He is in his third round of chemotherapy (once a week for about eight hours) and radiation (39-40 treatments five days a week) started in February.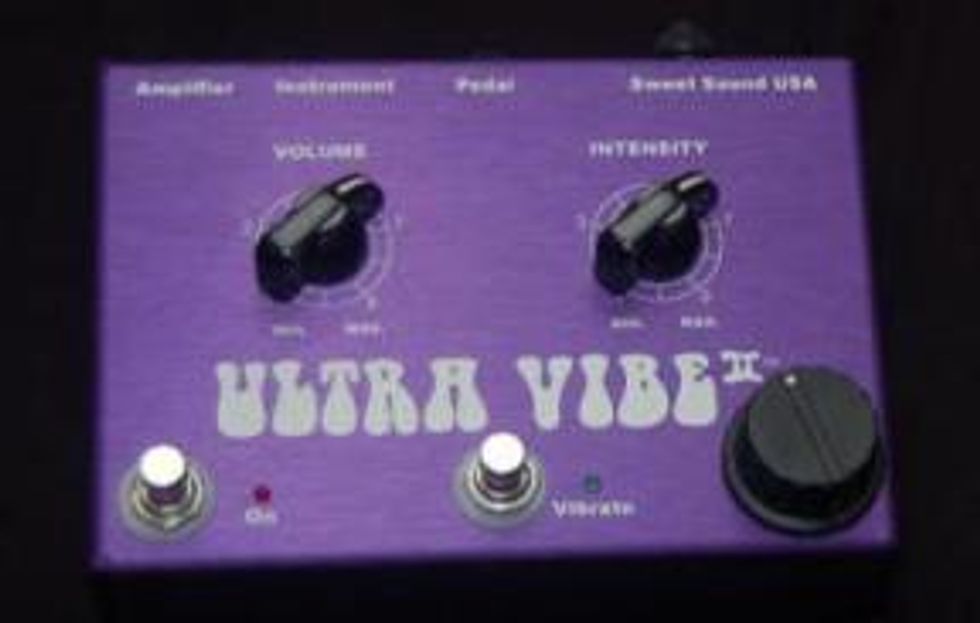 The Ultra Vibe pedal is part of Bob''s Sweet Sound Electronics line
Though it isn''t easy, making pedals is Bob''s way of keeping both his sanity and a source of income. With the help of his wife Barbara, who he often refers to as an angel for her support and increased contribution to his business during this process, Bob hopes to increase the output of his products after finishing treatment. He said that while he appreciates everything more than words can describe, he does not want to be put in the charity position again. 
Want to know how you can help? According to Rasch and DiBenedetto, the best way is to contribute any amount to Bob''s PayPal account (b0bsweet@bellsouth.net -- with a zero). Otherwise, go to
Sweet Sound Electronics
to see what Bob makes, keep a lookout on
eBay
for Bob Sweet-related items or visit the forums at
Musictoyz
,
The Gear Page
and
Plexi Palace
.