Fender announces Road Worn Band Competition featuring a prize package worth more than $50,000
Scottsdale, AZ (January 21, 2009) --
Calling all road-ready bands! Fender and Toyota are teaming-up to create a prize package worth more than $50,000 to help America's most "roadworthy" band take their act on the road and to the next level.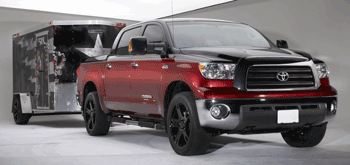 The Road Worn Competition is a national band competition calling all musicians (and the dealers who support them) to submit their music for a chance to win the grand-prize package featuring a fully-customized Fender Road Worn 2008 Toyota Tundra complete with a matching trailer (customized by Studio Number One and Obey Giant). But that's not all--the customized trailer will be filled with Fender Road Worn series instuments, Fender electric guitar and bass amplification, a Gretsch drumset, and an allowance of $1,500 for fuel while hitting the road.
Starting January 15 until May 25, 2009, all bands in the U.S. are encouraged to submit their road-ready music at
getroadworn.com
. The Road Worn Competition submission site is being powed by FameCast. The site will rank the bands using a variety of platforms such as online fan voting, community engagement and a judging panel of music industry experts. In addition, participating Fender dealers will be hosting "casting calls" throughout the competition to help provide bands with more opportunities to showcase their talent. A series of rounds will take place during the contest in order to help narrow down the bands to one grand-prize winner.
For more info: 
Fender.com