The luthier currently offers six base models, all boasting inspiration from the classic designs of the past century while incorporating D'Agostino's ideas and the invaluable experience he acquired while apprenticing at Hamer.
"Persevere and perfect detail work. Think out your designs and trust your gut." These are the words of advice Todd D'Agostino would give a budding luthier today. Though he might sound like a 40-year veteran of guitar building, it wasn't that long ago the luthier was doing something else altogether.
As an electrician in New England, D'Agostino grew tired of the cycle of getting laid off and rehired in a wildly fluctuating construction industry. He wanted something stable that would keep him busy 40 hours a week, year-round, and something inside so he'd no longer have to deal with the "wicked cold" winters in the Northeast.
In 2000, D'Agostino was perusing a local periodical when he came across a job posting that read, "Like Guitars? Like to Work with Wood?" He'd played the guitar since age 10, and was mechanically inclined with his hands, so the opportunity certainly sounded interesting. After interviewing for the open position with Hamer Guitars in New Hartford, Connecticut, D'Agostino was hired by (PG columnist) Jol Dantzig to join the crew.
Though he didn't set out to be a luthier, D'Agostino believes it was a calling of sorts and he quickly caught the guitar-builder bug. It was only a year later that he started LaRose Guitars as a side project while still working at Hamer. "I laid down my roots the first two years and my interest in the craft went through the roof," says D'Agostino. "I'd come home from Hamer and research, seek out vendors, buy woods, and build. I recollect routing some of my first guitars in the hallway of my small one-bedroom loft apartment—it took weeks to get the dust cleaned up!" Adds D'Agostino, "The point is that I couldn't not build. I was a bit out of control in a great way."
D'Agostino left Hamer in 2005 to build on his own in the shop he opened in Farmington, Connecticut, and then later moved the operation to Tyler, Texas, in 2008. Since then, he's been running LaRose Guitars out of Tyler where he handles all the building, finishing, and the business logistics, while managing a staff of three others who assist with research and development, electronics, and setups. The luthier currently offers six base models, all boasting inspiration from the classic designs of the past century while incorporating D'Agostino's ideas and the invaluable experience he acquired while apprenticing at Hamer. "Jol Dantzig and Michael Shishkov shared a world of knowledge and skill that truly helped fuel my desire to branch out on my own," says D'Agostino.
Like most luthiers, D'Agostino has a serious passion for beautiful woods. "I find great satisfaction in discovering an amazing piece and imagining the instrument I could create out of it." He offers a number of wood options, but his favorites to work with are Brazilian rosewood, Madagascar rosewood, white limba, and curly movingui.
When it comes to electronics, D'Agostino is a champion for a particular pickup company although other pickups can be and do get requested. "Lollar is the standard," he says. "You just can't go wrong with them. When working with the quality of woods I work with, Lollars just let the wood sing and allow the true voice of our instruments to be heard."
After two years of research and development to find a chambering design, neck, and electronic placement that would create a unique voice all its own, the 1 Ton Hollow Boy is the model D'Agostino considers to be his signature. But the luthier approaches all of his instruments uniquely. "Tonally, they have characteristics that we're used to, but that surpass and stand alone in the sonic spectrum," he says. "And aesthetically, they have a familiar yet different look, but not too far from the norm—just enough to make you say, 'wow.'"
Pricing and Availability
LaRose Guitars builds approximately 50 guitars annually, with plans for expansion. Direct sales make up about 95 percent of orders, the dealers order for customers on occasion. The wait time for both custom and standard models is currently five to six months. Prices range from $2,500 to $8,000, with most models falling in between $4,000 to $6,000.
larose-guitars.com
Classic 6 Jr. DC
This 25"-scale Classic 6 Jr. DC features a double-cutaway body carved from white limba that's topped with highly figured curly redwood. Also using the optional white limba for the neck, it's capped with a Brazilian rosewood fretboard adorned with mother-of-pearl inlay work. Other appointments include the ivoroid headstock veneer, ivoroid body binding, and the Bigsby B5 vibrato. For electronics, this Classic 6 Jr. DC is outfitted with tortoise-inlaid Lollars, with an SCFH in the bridge and a 5-percent underwound SCFH in the neck.
Classic 6 Jr. SC
The SC version of D'Agostino's Classic 6 Jr. model comes standard with a curly maple top but is shown here with gorgeous, quilted sapele atop a white limba body. Loaded up with a pair of optional Lollar P-90 pickups, other options on this particular SC include the ebony fretboard, white limba neck, gold hardware, neck and headstock binding, and a Bigsby B5.
1 Ton Hollow Boy
It's easy to see why D'Agostino calls the 1 Ton Hollow Boy his signature model. This 'Boy boasts an optional Brazilian rosewood top on a hollow, white limba body, and features Brazilian for the neck and fretboard, which is adorned with turquoise marker dots. With a Lollar J-Street single-coil resting in the Joe Barden vintage-style bridge, this 25.5"-scale classic-looking axe is outfitted with a 5-percent underwound Lollar P-90 in the neck position.
Thin 6
The distressed mint-green finish on the swamp ash, ivoroid-bound body of this Thin 6 gives it the look of a guitar that's already seen its share of action over a few decades. With matching finish on the headstock, the rock-maple neck is capped with a Madagascar rosewood fretboard that's kissed with mother-of-pearl dots. For electronics, this Thin 6 model houses a trio of Lollars with a Special T in the bridge, a Vintage T in the neck and a Vintage Blonde Strat-style in the middle position.
Classic Jazz
D'Agostino's Classic Jazz is a spec-on nod to a vintage Jazzmaster and the worn-blue-jean distressed finish of this particular piece is decorated with hand-drawn graphics from artist/ musician Sherri Dupree Bemis. Loaded up with Lollar Jazzmaster-style pickups in both the neck and bridge, other appointments on this classic-looking machine include the roller bridge from Schaller and TonePros Kluson tuners.
Classic 6
The Classic 6 (offered in both SC and DC versions) is the only carved-top instrument made by D'Agostino, and this double-cutaway Classic 6 features superior-grade quilted maple for its eye-catching topside. The Madagascar rosewood neck is topped with an abalone dot-adorned fretboard carved from Brazilian rosewood. With optional Brazilian rosewood inlay capping the pair of Lollar humbuckers, the Classic 6 model comes standard with an Imperial in the neck and a High Wind Imperial in the bridge. For acoustic tones, this Classic 6 is also outfitted with an optional ghost piezo system from Graph Tech.
Canadian luthier Michael Dunn has spent most of his life experimenting with interior resonators.
Decades ago, while working as a classical flamenco guitar maker in Spain, Michael Dunn ran across a steel-string guitar with a D-shaped soundhole and an interior sound box and reflector. "I thought this was a whole new world," says Dunn. He took measurements of a similar guitar he found in London, and from there, the experiments began. The Canadian luthier has spent most of his life experimenting with interior resonators. "I've taken that technology and modified it, reshaped it, and re-jigged it in every imaginable way," says Dunn.

The original interior sound box idea came from Mario Maccaferri in the 1930s. Maccaferri placed a smaller sound chamber into the main body of his guitars. Based on Maccaferri's patented design, Dunn's interior sound boxes are typically mandolin-sized boxes attached to the underside of the soundhole. These chambers have their own ports that redirect sound waves into a reflector. This acoustic technology allows the instrument to project more at higher frequencies, according to Dunn.

As a Django Reinhardt fan, Dunn builds a lot of Selmer-style guitars. Nearly half of the guitars he makes have his interior resonator boxes. However, he additionally builds archtops, Weissenborn-inspired lap slide guitars, harp guitars, OM guitars, and other types of instruments. Dunn is still thinking outside the box and implementing innovative designs. He is currently working on a cello that a musician can wear while playing. "They give me all the crazy stuff to build," says Dunn with a laugh.

Dunn has made well over 500 instruments in the last 45 years. "I try to make the guitar as responsive and balanced as I can," he says. "By responsive, I mean the sound of the guitar is what the musician is going to do with it—not what I did to it. I think a good guitar should be able to sound a half dozen different ways in the hands of a half dozen good players."


The Cubist
Inspired by Cubist artist Juan Gris, this guitar looks off-centered and as if it's constructed from various parts of other guitars. It features fanned frets and a soundboard made of Sitka spruce and cedar. The back comprises panels of rosewood, ironwood, ebony, bloodwood, blackwood, satinwood, purpleheart, and sumac. Instead of the traditional soundhole, there is a rear "sound slot," which is formed by one panel being more elevated than another.
Mystery Pacific
This Gypsy guitar features a D-shaped soundhole and a 25 3/16" scale length. It also sports Dunn's internal sound chamber, which enhances the guitar's upper frequencies. The front wall of the interior sound box is located on the straight side of the "D," and the sound box has a hole that directs sound into the parabolic reflector.
The Bugatti
Dating back to the early 1900s, French Bugatti automobiles were exotic, handbuilt touring machines. Dunn's Bugatti guitar is made of ebony and satinwood with a yellow cedar soundboard inspired by Bugatti cars that were painted black and yellow. This guitar's body is 19" long with a 14" lower bout. Two panels on the back represent the sides of the car's hood, and the horseshoe-shaped soundhole is modeled after the car's grille.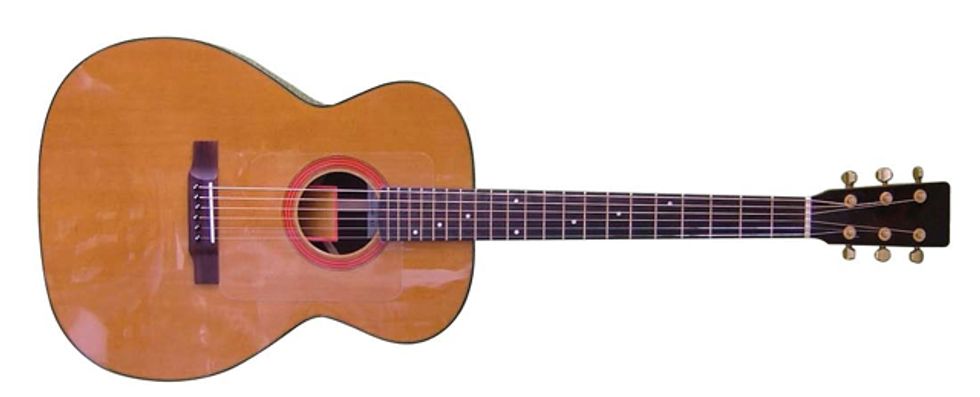 The OM
This orchestra-model guitar is the most recent addition to Dunn's line. It looks like a traditional OM guitar, but features an internal sound box and refl ector. Knowing that the market for Gypsy and Selmer-style guitars is more limited than that for OM guitars, Dunn hopes to increase awareness of his interior resonators with his new OM design.
Hawaiian Guitar
The square-neck Hawaiian lap-slide guitar has a 25 3/16" scale length and a thin body that's hollow up to its neck block. This particular guitar is made of wenge wood. Dunn's Weissenborn-inspired instruments typically range from $3000 to $3500.
Pricing and Availability
Pricing is determined on a per-instrument basis due to custom specifications of each guitar. The base price of Dunn's non-resonator custom guitars is around $4000. The models with interior resonators, such as the Mystery Pacific, Ultrafox, and OM guitars, typically fall between $5000 and $6000. The Bugatti model runs about $15,000, and the Cubist guitar costs roughly $10,000. Dunn builds around 15 guitars a year. Some of his Gypsy-jazz models are available immediately. Otherwise, the availability ranges from six months to a year.
michaeldunnguitars.com
In an effort to go head-to-head against Fender's Jazzmaster, Gibson turned to Ray Dietrich, a famous Detroit automobile designer, to help create an entirely new line.
Given that the Gibson Firebird line was developed with the help of car designer Ray Dietrich,
it's no wonder it looks so good next to this 1950 Chevrolet Deluxe 5 pickup.
In the early 1960s, Fender's increasingly popular solidbodies compelled Gibson to develop new strategies to reach young guitarists. While the SG series helped Gibson's sales, company managers knew they needed even bolder guitars in their catalog if they wanted to reach an emerging generation of rockers. In an effort to go head-to-head against Fender's Jazzmaster, Gibson turned to Ray Dietrich, a famous Detroit automobile designer, to help create an entirely new line.
Introduced in the spring of 1963, the new Firebird series consisted of four guitars (the Firebird I, Firebird III, Firebird IV, and Firebird VII) and two Thunderbird basses (the Thunderbird II and Thunderbird IV). The Firebirds had a unique, asymmetrical body shape consisting of two mahogany "wings" attached on either side of a long mahogany neck that ran all the way to the bottom strap button. Seth Lover designed the Firebird's mini-humbucker pickups, and in a departure from Gibson's traditional three-on-a-side array, six banjo-style tuners were positioned in a row along the right side of the headstock (the opposite side of Fender's iconic arrangement). The standard finish for these guitars was a dark tobacco sunburst, but you could also order 10 custom colors that imitated Fender's palette, only with different names.
This '64 Firebird I sports a Seth Lover bridge-position mini-humbucker, Volume and Tone controls, a compensated bar bridge, a Vibrola tailpiece, and an engraved Firebird logo on the pickguard. Vintage Firebirds have a distinctive neck-through-body design consisting of two mahogany "wings" attached to an extended, multi-ply mahogany neck that runs from the headstock to the tail end of the lower bout.
This Firebird has nickel banjo-style tuners mounted on the right side of the headstock.
The Firebird I pictured this month—serial number 191966—has features common to the entry-level Firebirds made in 1964. These include a mini-humbucker in the bridge position, a 24 3/4" scale, an unbound rosewood fretboard with dot inlays, a compensated bar bridge, and a short Vibrola tremolo. This guitar is finished in a vibrant cardinal red.
To learn more about Firebirds and other Gibsons of the '50s and '60s, check out
Gibson Electrics - The Classic Years
by A.R. Duchossoir.
Dave 's Guitar Shop
Dave Rogers' collection is tended by Laun Braithwaite and Tim Mullally and is on display at:
Dave's Guitar Shop
1227 Third Street South
La Crosse, WI 54601
davesguitar.com
Photos by Mullally and text by Braithwaite.