One creation that sets Hartung apart is his unique "flow-carving" design, which he developed in 2002 and uses on many of his instruments.
Frank Hartung considers his work a calling more than an occupation. He first became attracted to the world of lutherie because of the dissatisfaction he experienced with an expensive guitar made by a large, American company. The issues this guitar had were intriguing, and forced him to deal with materials and construction details and how they relate to each other. Eventually, this led Hartung down the road to building his first guitar.
It was a success for a few reasons: his vocational training as a carpenter, experience with the particularities of woods, and some valuable advice from fellow German luthier Ulrich Teuffel. Hartung quickly drew the attention of experts and musicians who encouraged him to continue building. While the budding luthier appreciated the accolades, it was the satisfaction of building with his own hands that inspired him the most, and he went on to craft instruments on a part-time basis for several years under the name of Forge Guitars. Over time, the awareness of his guitars increased and the orders piled up—so much that he quit his day job to become a full-time luthier under his own name.
Hartung cites Teuffel as the builder who inspired him to become a luthier himself, but when asked what builder or manufacturer has had the most influence on his designs, Hartung maintains that no one did. "I never intended to copy anyone's style," he says. "Instead, I always wanted to realize my very own designs and establish them in the market. My guitars are supposed to look and sound distinctive and comparable to none. I think things have turned out quite well."
One creation that sets Hartung apart is his unique "flow-carving" design, which he developed in 2002 and  uses on many of his instruments. With contour lines running fluidly into the surface of the body as if two top planks are melting into each other, flow carving is what gives the bodies their 3-D appearance. "With my flow-carving design, I have found my own aesthetic style, which is distinctive yet full of character," he says.
Hartung's twin brother, Andi, occasionally assists with paint jobs, but Frank Hartung Guitars is primarily a one-man shop, and the luthier believes there are many advantages to working in this manner. "I can do my work very precisely, with the utmost flexibility for my customers, and with the highest quality standards possible," he says. "I closely collaborate with my customers and we discuss every detail and create drafts during the run-up." Later, he'll send pictures of the designated woods to the customer and they'll decide together how everything will be done. "Having close contact with my customers is something I really like," he explains. "All the feedback flows into new projects, which makes this part of building very exciting for me."
hartung-guitars.com
Pricing and Availability
Hartung's guitars start at approximately $4,000, but depending on choice of woods and specifications, the sky is the limit and prices can reach upwards of $10,000. Currently, Hartung builds 30 to 35 instruments per year, with an average wait currently at eight to 12 months. "Most customers are well aware of the waiting time and don't mind it," shares Hartung. "The joy of anticipation grows each day, and I contribute to it by sending them pictures of their guitar's status throughout the process."
Enigma Scratchburst
This 25"-scale Enigma model finished in scratchburst brown utilizes mahogany for both the neck and body. In contrast to the dramatically figured quilted maple top the ebony fretboard boasts a minimalist approach for its inlay work. The guitar also features a Tune-o-matic bridge, through-body stringing, Schaller locking tuners, and a pair of Ray Gerold custom pickups.
Embrace Hollowwood Deluxe
The Embrace Hollowwood Deluxe is a virtual treasure trove of top-quality tonewoods. Boasting exhibition-grade quilted maple atop a Honduran mahogany body, the guitar features a 1-piece Brazilian rosewood neck capped with a snakewood fretboard. For electronics, the Embrace Hollowwood Deluxe is outfitted with a pair of Ray Gerold Custom Shop pickups.
Glowing Moon
Appropriately named, Hartung's custom Glowing Moon guitar glows via the 32 toggle-switch-controllable LEDs located in the aluminum ring outlining the instrument's body. The ash body is stained in a "used violin brown" finish, and the flamed-maple neck is topped with a heavily inlaid rosewood fretboard. The Glowing Moon is outfitted with a Häussel Hot Special B in the bridge, a Häussel HB Blade in the middle position, and a Sustainiac Stealth Pro in the neck.
Diavolo Glacierblue
The Diavolo Glacierblue features a distinctive ace-of-hearts playing-card inlay adorning the otherwise understated, ebony fretboard. The cedro body is topped with quilted maple and finished in glacier blue. This version of Hartung's Diavolo is loaded with dual Bare Knuckle Steve Stevens Rebel Yell signature humbuckers.
Caligo
With a nod to futuristic minimalism, Hartung's new Caligo series of guitars employs ebony for both the fretboard and the fixed bridge, and Hartung chose red alder for the bodies and curly maple for the necks. The guitar is outfitted with Caligo Special humbuckers and features a distinctive upper horn that can be ordered with custom woods and finishes.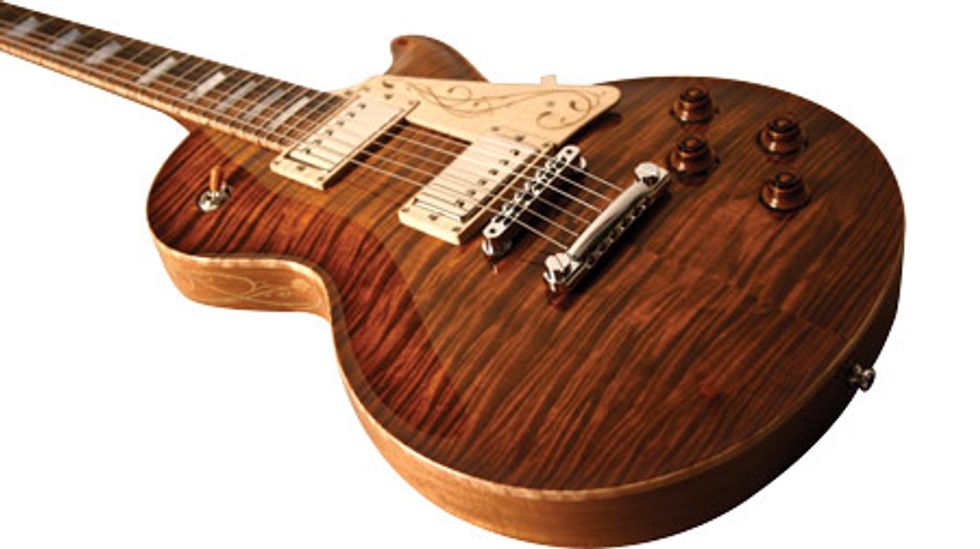 LP Special Custom
Mother-of-pearl crown inlays adorn the Brazilian rosewood fretboard of the LP Special Custom, which also features a Brazilian rosewood neck. Tigerburst-finished curly maple tops the mahogany body, which is equipped with a set of Ray Gerold Custom Shop humbuckers.