Prime Big Deal Days Rundown: Top Picks for 2023!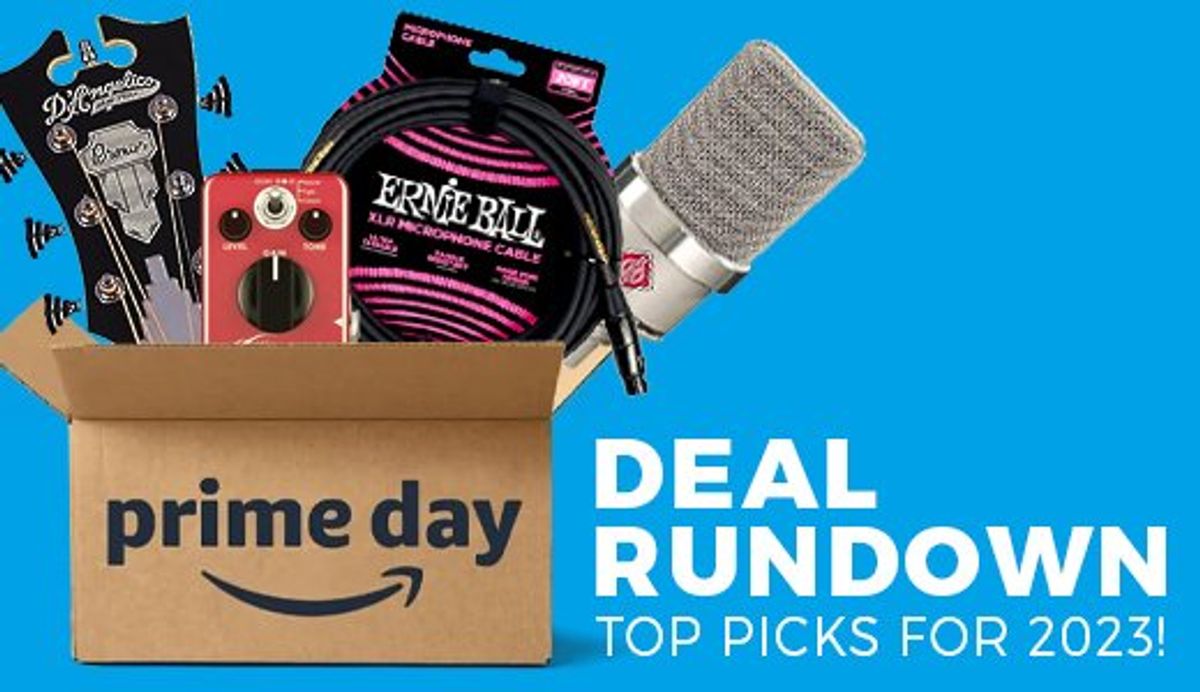 Dive into 10 exclusive Amazon Prime gear discounts, only on October 10-11. Upgrade your sound and save big!
---
PREMIUM GUITAR STRING - NYXLs are our premium uncoated electric strings, delivering unrivaled strength and tuning stability, plus enhanced mid-range.
CUT THROUGH THE MIX – The premium nickel-plated steel wrap wire used for NYXLs provides accentuated frequency response in the 1 - 3.5 kHz range, so you get more presence and crunch to cut through the mix.
STRONGER STRING - Fusion Twist technology assures NYXL electric guitar strings stay in tune 131% better than standard strings, while the NY Steel core wire makes them up to 40% stronger.
D'Addario
The D'Angelico Premier Bowery LS offers a distinguished look and mature response at a groundbreaking price. Its top, back, and sides are built from laminated mahogany and treated to a natural mahogany stain and rich satiny finish. The result is a robust and balanced play that delivers on all fronts: looks, tone, and cost. The cutaway dreadnought body supplies big projection and unfettered access to all positions up the easy-playing slim C-profile mahogany neck, which joins the body by way of a dovetail joint for maximum tonal transfer. An onboard MG-30 pickup system with 3-band EQ and visual tuner allows you to sound your best in any performance setting, live or unplugged. D'Angelico's lusted-after Art-Deco appointments — Skyscraper, Tuners, Shield and logo — are beautifully rendered in chrome and acrylic here in the Premier Bowery LS, for an unforgettable presentation on your wall and wherever you play out.
D'Angelico
In 1973, effects legend Craig Anderton and John Lang launched Seamoon Inc., releasing their flagship fuzz pedal the same year: the Fresh Fuzz. Initially, a fragile plastic enclosure design caused these Bakelite pedals to shatter when guitarists stomped on them, so Seamoon began recasing them in metal enclosures within a few months. Despite inaccurate reviews that the Fresh Fuzz was "thin sounding," it gained popularity and has been used extensively by artists like Tom Scholz (Boston) and guitar virtuoso Eric Johnson . This is our tribute to the rarer single op amp 741 version (Version 1).
JHS
The Katana-50 MkII EX expands on the capabilities of the popular Katana-50 MkII model, providing more performance versatility in the same portable design. GA-FC and GA-FC EX support allows you to select Tone Setting memories, turn effects on/off, and more with our dedicated foot controllers. There's also a line output for sending mix-ready tone to a house PA, plus the ability to link a second Katana MkII amp with the Stereo Expand feature.
Boss
Designed to Fit Gibson Les Paul Style Electric Guitars
ATA Roto-Molded Polyethylene Outer-Shell, with Black Powder Continuous Valence and Ergo-Grip Injection Molded Carry Handle
TSA approved Locking Latch with Impact Diversion Housings and Red Release Triggers. Includes set of (2) Keys
Gator
[High-Gain Distortion] As a High-Gain distortion pedal, Donner's Morpher sounds like a crossover between MI Crunch Box and Suhr Riot. Great for hair metal/glam metal/pop metal.
[3 Distortion Modes] Designed for richer playability. Wide dynamic range and high definition, suitable for both shredding and riffing.
[Durable and Solid Construction] A well made durable and whole aluminium-alloy design. The indicator lights clearly show the working state of the pedal.
Donner
99.99% oxygen-free copper to resist corrosion
Dual-shielded design for durability and low noise
Flexible, tangle-resistant performance
Ernie Ball
Compact microphone with genuine Neumann large diaphragm capsule
Uniform cardioid pattern
Transformerless circuitry for high SPLs without distortion
Neumann
The PreSonus AVB-D16 is the first plug-and-play endpoint that bridges AVB and Dante networks. Now you can send and receive up to 16 audio channels between an AVB and Dante network with one simple device, making it the perfect solution to connect your StudioLive Series III AVB ecosystem to your favorite Dante-equipped products like the PreSonus CDL-12 constant directivity loudspeaker. Built-in Asynchronous Sample Rate Conversion ensures that the AVB-D16 provides precision clock isolation between your AVB and Dante networks for pristine, clear audio with no dropouts or artifacts.
PreSonus
DURALIN MATERIAL - Made from Duralin (also known as Acetyl or Delrin), a material known for its ideal combination of strength, grip, durability and abrasion resistance
BRIGHT SOUND - Duralin picks are known for their bright clicking sound when hitting strings and are preferred by many soloists for their clear articulation on fast single note passages.
STANDARD SHAPE - Standard shape for comfortable playing.
D'Addario
From Your Site Articles
Related Articles Around the Web