A limited-edition instrument that celebrates the career of multi-instrumentalist, songwriter, and producer Bruno Mars.
About creating the guitar, Mars said "I don't think of myself as a guitar player. I'm more of a frustrated songwriter. Every song is like a puzzle you have to solve, and a good guitar can bring something out of you that can help take you to the finish line. That's what I wanted from this guitar." He added, "It was also important to have a workhorse that I could depend on for performing live and writing in the studio, whether it be rhythm or lead."


The Bruno Mars Stratocaster is crafted from resonant ash with sculpted American Ultra body contours for superior comfort and unparalleled access to the upper registers of the fingerboard. The Mars Mocha Heirloom nitrocellulose lacquer finish creates a gracefully aged aesthetic while allowing for maximum resonance and pure tone. The 9.5"–12" compound-radius maple fingerboard and stainless-steel frets provide a silky, polished feel for smooth bending and effortless playability. The custom Bruno Mars Stratocaster pickups are fine-tuned to achieve Bruno's favorite tones for classic Strat sparkle and singing lead sounds. The 2-Point Synchronized Tremolo and Deluxe Locking Tuners provide enhanced tuning stability with modern convenience, while a full complement of Heirloom Aged Gold Hardware gives this high-performance guitar the broken-in look and feel of a well-used, treasured instrument. Also included are a custom leopard print strap and an extra 3-ply mint green pickguard.
For more information, please visit fender.com.
"We wanted to fashion a guitar that shows Fender's respect for the artists marking today's musical hall of fame, as well as displays Bruno Mars's supernova qualities," said Justin Norvell, EVP of Product at FMIC. "Bruno has been a tried and true Fender player since the early days of his career and we're thrilled to include his signature among our roster. Between the all-new finish to the custom-voiced pickups, we're confident this will be one of our largest signature launches to date."
Exploring the Limited Edition Bruno Mars Stratocaster | Fender Artist Signature | Fender
Fender releases two new colors for Cory Wong's signature Strat: Daphne Blue and Surf Green.
Cory Wong's signature model has a scaled-down alder body – slightly smaller than a typical Stratocaster – combined with a Modern "D" neck and sculpted body contours deliver a sublimely comfortable playing experience. Outfitted with a set of Seymour Duncan Cory Wong Clean Machine pickups, this guitar provides a classic Strat quack and chime, fine-tuned to achieve Cory's distinctive tone.
When asked about the new colors, he said: "I've wanted to release the Cory Wong Stratocaster in other colors since the original Sapphire Blue Transparent version was released in 2021. I'm a visual person and believe the look of a guitar can affect the approach one takes to playing it. Certain instruments can draw things out of a musician, and the vibe of the instrument definitely plays a role in that. With the release of these two new colors, my goal was to provide players with a guitar that exudes a bright, fun energy."

Cory Wong Strat Features
Scaled-down alder body with sculpted contours
Maple American Ultra Modern "D" neck
Custom neck plate
Rosewood fingerboard with rolled edges
Seymour Duncan Cory Wong Clean Machine pickups
Push pot on Tone 2 that bypasses the 5-way switch and defaults to "Position 4"
Vintage-style 6-screw synchronized Tremolo
Deluxe locking tuners for tuning stability and easy string changes
Cory Wong hair tie included (for muting the tremolo springs to achieve Cory's rhythm tone)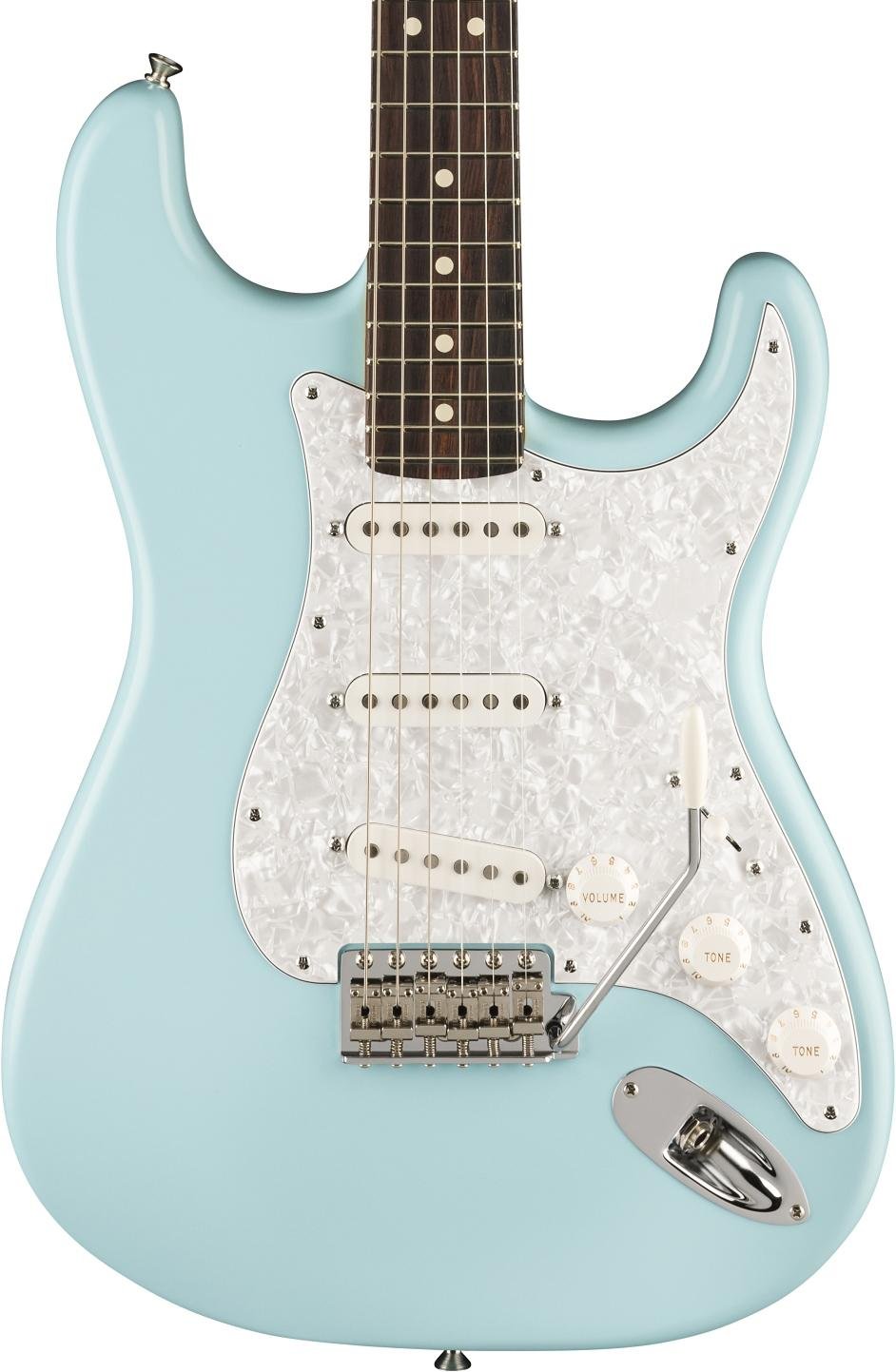 Fender
The ferocious guitarist—and singer-songwriter and bandleader—has a brand new rig for 2023. Check it out!
Two months ago, Lindsay Ell released her latest single, "Sweet Spot," plus she's on the way to issuing a new album, following up 2020's Heart Theory. And for the tour leading into her next record, she's also got a passel of updated gear since her 2018 Rig Rundown. No surprise, since there's always something new happening with Ell—whether it's touring under her own banner or with Shania Twain, scooping up Canadian Country Music Association awards, or serving as a judge on Canada's Got Talent.
When it comes to guitars, Ell's 6-string tastes run to the classics and custom-builds, and she's got her signature OD aboard, so let's take a look.
Brought to you by D'Addario XS Strings.
Play Mary Kaye
"I'm a Strat girl," Lindsay Ell attests. And this one, a Fender Custom Shop '56 Strat in aged shell pink, was a gift from Keith Urban. It's got jumbo frets and has become a studio and road favorite.
Stitched-Up Heart
On her last Rig Rundown, Lindsay was touring with several Strats that she had handpainted. This tour, she's continuing the tradition with this funky-beautiful Fender Standard Strat she calls "Just Another Girl." Note the humbucker-and-two-single-coils combination, and, of course, the stitched-up heart.
Paint It, Blue
The backside of Ell's Fender Standard Strat that wears the title of popular track from her 2017 album, The Project.
High-Flying Strat
Ell was asked by John Mayer to play in the video that announced the release of his PRS SE Silver Sky, the lower-priced version of his signature Paul Reed Smith model. This is the guitar she played in that video.
Lil' Red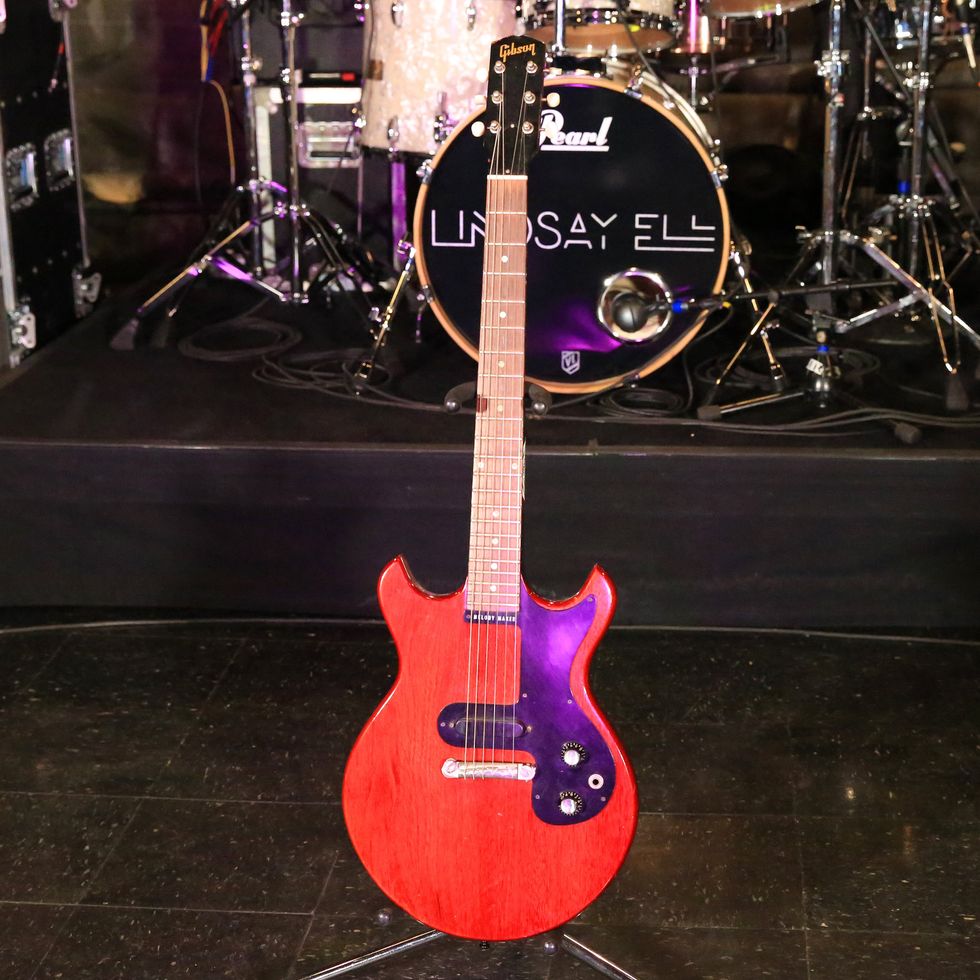 This vintage, all-stock Gibson Melody Maker from the 1960s was also a gift from Keith Urban—a thank you for opening dates on his spring 2023 tour.
Ultra, Man
This Fender Ultra Strat, in an aged ash natural finish, is currently Lindsay's main go-to onstage. This hot rod is outfitted with Fender's noiseless single-coil pickups. Elle's guitars are strung with a variety of sets, including green DR Strings (.010–.048s0, Stringjoys (.095–.048), and D'Addario .010–.052s and .011–.052s. Her picks are D'Addario heavies.
Mahogany Marvel
Ell's main acoustic is a custom-built Rockbridge OOO made of mahogany by Brian Calhoun in Charlottesville, Virginia. It's a major switch for this longtime Martin player.
Amp Duo
Ell plays through a pair of amps: a Vox AC30 head and a Ceriatone Overtone Special. That's a Furman power conditioner beneath the pair of heads.
Cute Cabs
The AC30 hits a 2x12 with Celestion Greenbacks and the Ceriatone slams a 1x12 Dr. Z cab with a Celestion Gold speaker.
Lindsay Ell's Pedalboard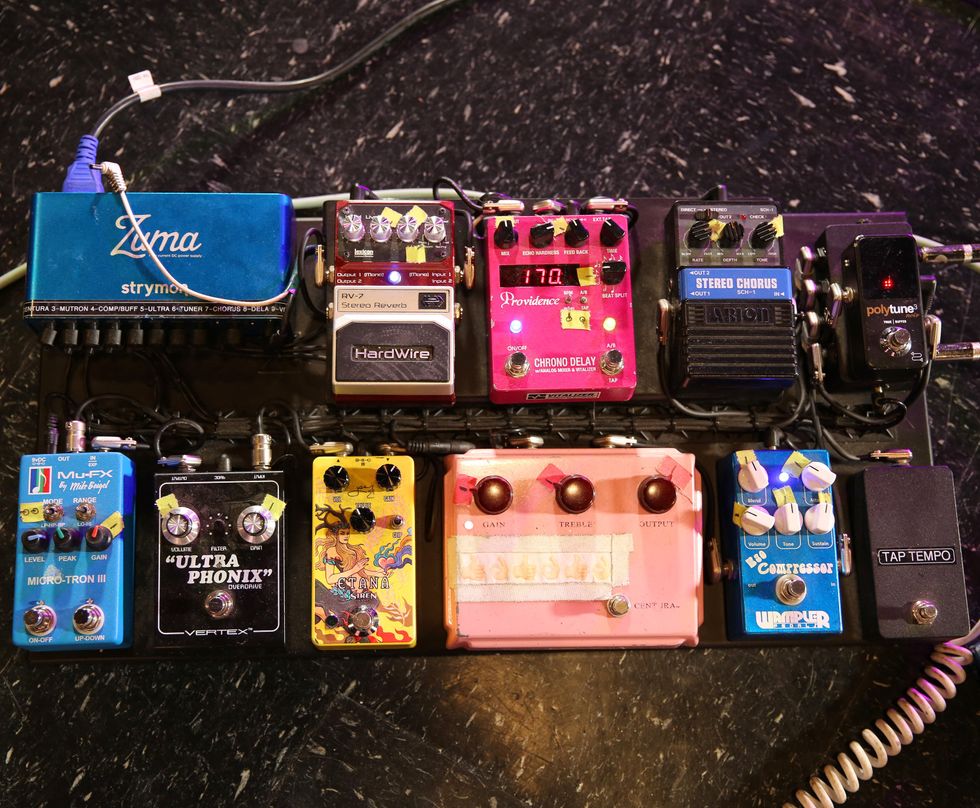 Lindsay's pedalboard contains a PolyTune 3 Noir, a Wampler Ego Compressor, a Ceriatone Centura Professional Overdrive, a signature Siren Etana drive, Vertex Ultraphonix OD, an MU-FX Micro-Tron III filter, an Arion Stereo Chorus, a Providence Chrono Delay, a HardWire RV-7 Stereo Reverb, and a Strymon Zuma power supply.
Dabbling with Digital
In addition to her trad tube amp-and-pedalboard combo, Lindsay also has a Neural DSP Quad Cortex on tap that has modeled tones of her amps.