Oscillation, octave, out-there sounds, and Bozo-the-Clown dive bombs take shape with a trusty offset, some pissed-off P-90s, and a pedalboard stocked with interactive tone tanglers.
Crobot's hard-riffin', smooth-groovin' rock anthems often ride on the back of guitarist Chris Bishop's handiwork. The guitarist carefully corrupts his tone with creative pedal tweaking, but he's never lost sight of his role within the quartet.
"The groove is the most important thing in the song and, being the only guitar player, my main focus is to make sure that's there," explains Bishop to PG in 2016.
And when you're opening for the party-rocking Steel Panther, no goal can be greater than making the crowd move 'n' groove. Before Crobot's set at Nashville's Marathon Music Works, Bishop welcomed PG's Chris Kies onstage to detail his trio of guitars—a beloved offset and a pair of P-90-loaded Teles—his parti-colored pedalboard, and the Victory VS100 Super Sheriff and Kemper Profiler that work together to create his massive sound.
Brought to you by D'Addario XS Strings.
The Bodacious Berly
Crobot cronies will note that Bishop has favored Telecaster and T-style guitars for most of the band's existence. Unfortunately, their trailer got stolen during a recent tour, so the guitarist had to rebuild his rig. His current go-to is this J-Master that was built (and beaten) by Berly Guitars.
"This guitar has the Lollar P-90s in it, which are really awesome and probably my favorite pickups that I got. They can be noisy, and I play loud, but it's not like riding a bull [laughs]."
The other thing Bishop really enjoys about his new squeeze is its big, chunky neck that has a V profile and is heavily sanded down for primo movement. The guitar was modified to have an AllParts Buzz Stop to help with string rattling. All of his guitars take a custom set of DR Strings (.010–.048).
Red Right Hand
Bishop's Fender Telecaster Custom was overhauled with a Seymour Duncan P-90 in the bridge and a Railhammer Tel90 Neck pickup. This T used to enjoy more time in the spotlight, but for this opening-slot run, it only saw the stage during Crobot's newest single, "Golden," which utilizes double-drop-D tuning (D–A–D–G–B­–D).
Long Distance Call
This Fender Telecaster Deluxe used to reside in Europe, where it was part of Bishop's international rig. But when the band's trailer got jacked, the guitarist called it back to the States. It features two main mods—a Mastery M6 Hardtail Bridge and a Seymour Duncan P-90 in the bridge. The red button is a kill switch.
A Little Bit of Everything
Orange Terror amps were Bishop's backline for years. Looking to change things up, he tried out a Victory VS100 Super Sheriff and fell in love with the first gain mode of the Hot Rod channel, where he now lives all night. The VS100 runs into an Orange Crush Pro 4x12 cabinet. To create a stereo effect, Bishop sends a signal from a Kemper Profiler Stage to FOH. The engineer blends his direct sound with the two mics on the cab, making it sound like there's two Bishops blasting riffs. The remaining Kemper Profiler is for bassist Tim Peugh.
Chris Bishop's Pedalboard
Spaceship landings, airplane flybys, otherworldly madness, and what Bishop describes as "Bozo-the-Clown-sounding, flanger-like dive-bombs" are generated by this team of stomps: (top left) a Vox Joe Satriani Time Machine Delay, an Old Blood Noise Endeavors Dark Star, Ibanez AF2 Paul Gilbert Airplane Flanger, an expression pedal to control the Boss PS-6 Harmonist. On the bottom row is an Ibanez ES2 Echo Shifter Analog Delay, a Coppersound Pedals/Third Man Triplegraph, an Electro-Harmonix Micro POG Polyphonic Octave Generator, a DigiTech Whammy Ricochet, an EarthQuaker Devices Tentacle Analog Octave Up, and a Morley 20/20 Bad Horsey Wah. A Shure GLXD16+ wireless unit keeps him untethered, and a Voodoo Lab Pedal Power Supply MONDO brings the juice.
UA takes their top-flight analog modeling to the pedal sphere again with two beautiful time-manipulation machines.
Galaxy '74 Tape Echo & Reverb
Galaxy '74 Tape Echo & Reverb captures the warm, warped, relentlessly analog effects of the iconic mid-'70s Roland Space Echo hardware.*
Key Features:
The most authentic emulation of the classic mid-'70s Roland Space Echo* hardware
Full modeling of the classic multi-head tape delay mechanism
Exacting emulation of original hardware's spring reverb
Definitive capture of iconic analog preamp section
Doubled delay times for effects that go beyond the original hardware
Tweak footswitch functionality, adjust realtime effects, and customize unique oscillation sounds with UAFX Control app
Includes silent switching, buffered bypass, analog dry through, spillover/trails, and stereo operation
Del-Verb Ambience Companion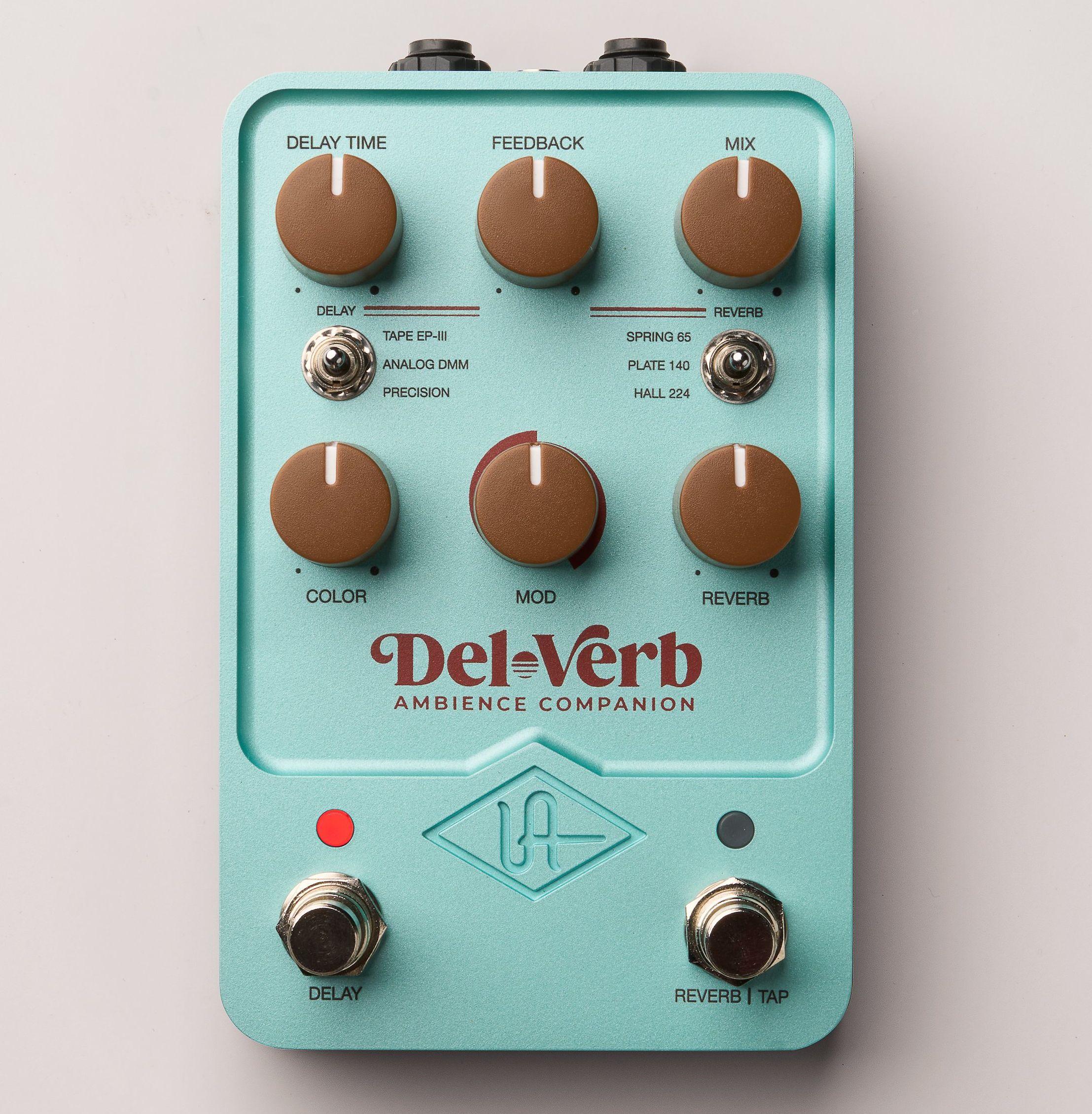 Del-Verb Ambience Companion packs ready-to-wear emulations of classic reverb and delay effects in a pedal designed for immediate inspiration.
Key Features:
The most authentic vintage reverb and delay effects ever captured in a single effects pedal
"Golden unit" spring reverb tank, pulled from classic '60s American guitar amp
Vintage German studio plate reverb sourced from The Plant in Sausalito, CA
Bit-for-bit vintage studio digital reverb algorithms from the late 1970s
Definitive emulation of iconic tape echo unit and legendary preamp
Classic bucket-brigade analog delay effects with the color, texture, and tone of the original hardware
Pristine, studio-grade digital delays with dynamic and inspiring modulation textures
Download custom effect voicings, add tap tempo and more with the UAFX Control app
Includes silent switching, buffered bypass, analog dry through, optional spillover/trails, and stereo operation