The Aristocrats' Bryan Beller
Photo by Manuela HäuBler
Starting at top right, Bryan Beller's board has a pair of Xotic EP Boosters to bring up the output of his two passive instruments to match his Lull bass. Next comes a Demeter COMP-1 Opto Compulator that's always on, followed by a TC Electronic Hall of Fame Reverb, Boss CE-2B Bass Chorus, Boss DD-3 Digital Delay, and a TC Electronic Flashback Delay/Looper. Moving to the bottom left, there's a Boss OC-2 Octave and an Xotic Bass BB Preamp (Beller's main overdrive). The Darkglass Electronics Vintage Microtubes and MXR M109S Six Band EQ are used for a beefier, RAT-like sound. Then there's an EHX Micro POG set to an octave up and an old DigiTech X-Series Bass Driver that pushes the BB Preamp and runs into the Dunlop 105Q Cry Baby Bass Wah pedal (white), giving vocal-like sweeps more definition. Beller also has a Dunlop DVP3 Volume (X) Volume and Expression pedal and a Boss TU-2 Chromatic Tuner. Beller has incorporated the Behringer FCB1010 MIDI controller into his rig so he can provide some "low-rent Geddy Lee" moments in the set via a Roland JV-1010 64-Voice Synth Module.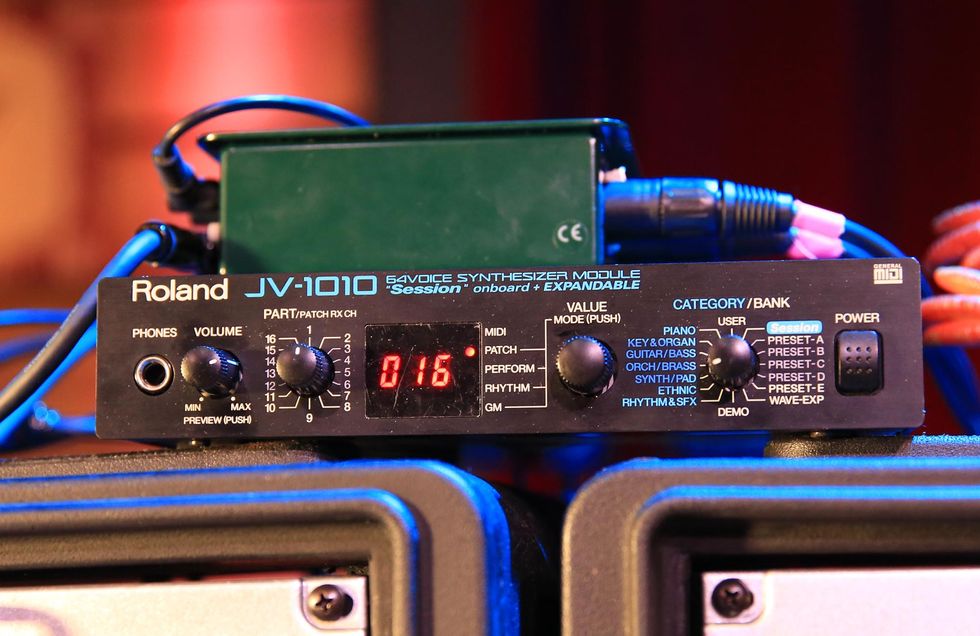 Beller has incorporated the Behringer FCB1010 MIDI controller into his rig so he can provide some "low-rent Geddy Lee" moments in the set via a Roland JV-1010 64-Voice Synth Module.
Using the Raven Labs MDB-1 Mixer/Direct Box/Buffer for his pedals and running the Roland JV-1010 into his amps allows Beller to employ both his bass and the synth module at the same time.
Rig Rundown: The Aristocrats' Guthrie Govan & Bryan Beller [2022]
Nitty Gritty Dirt Band's Jeff and Jaime Hanna
Jeff Hanna
Jeff Hanna, who co-founded the Nitty Gritty Dirt Band in 1966, runs his acoustic guitars through a Fishman Aura Spectrum DI and a Boss TU-3 Chromatic Tuner. The electric side of his board includes another Boss TU-3, a Paul Cochrane Tim V3 Overdrive, a Keeley Katana Clean Boost, a J. Rockett GTO, a Keeley-modded Boss TR-2 Tremolo, and a Keeley Mag Echo.
Jaime Hanna
His son Jaime combines acoustic and electric pedals on one board. The acoustic side features a Fishman Aura Spectrum DI, Boss TU-3 Chromatic Tuner, and a Radial JDI direct box as a back-up. For electric, there's an Ernie Ball volume pedal that feeds a TC Electronic tuner. The main out hits a Mesa/Boogie Stowaway Class-A Input Buffer, a Keeley Compressor, a Paul Cochrane Tim Overdrive, a J. Rockett Archer, an MXR Super Badass Distortion, a Boss GE-7 Equalizer modded by Nashville's XTS, and a Line 6 M9 Stompbox Modeler Multi-Effects pedal. A Truetone 1 SPOT PRO CS12 provides the juice.
Rig Rundown: The Nitty Gritty Dirt Band's Jeff and Jaime Hanna
Tetrarch's Diamond Rowe
Photo by Amy Harris
Shredder Diamond Rowe keeps things succinct. Her stage setup features an always-on Ibanez TS9 Tube Screamer and a DigiTech Whammy for pure fun and note obliterating. A pair of utilitarian Boss stomps—an NS-2 Noise Suppressor and TU-3 Chromatic Tuner—keep her strings clean and accurate. There's also a Voodoo Lab Pedal Power ISO-5 and Ground Control Pro MIDI Foot Controller.
In a separate rack, Rowe hides her "freak tone" patch. There lurks a Boss RV-6 Reverb, Boss DD-7 Digital Delay, Boss CE-5 Chorus Ensemble, and a MXR Uni-Vibe Chorus/Vibrato, plus a pair of tucked-away MXR Carbon Copy Analog Delays. The rack toys are fired by a Voodoo Lab Pedal Power 2 Plus.
Rig Rundown: Tetrarch's Diamond Rowe & Josh Fore
Marcus King
Roots powerhouse MarcusKing runs his guitar's cable into a Dunlop Volume (X) 8. Then his signal hits a Dunlop Cry Baby Wah, an MXR Booster, an Ibanez TS9 Tube Screamer, a Tru-Fi Two Face Fuzz, MXR Micro Chorus, Dunlop Rotovibe Chorus/Vibrato, MXR Phase 100, Tru-Fi Ultra Tremolo, Dunlop Echoplex Delay, MXR Reverb, and a Radial Shotgun signal splitter and buffer. Juice? That's via a Voodoo Lab Pedal Power 3 Plus.
Marcus King's Pedalboard
Foo Fighters' Chris Shiflett
The mega-rockers' Chris Shiflett starts his pedalboard with an EHX Micro POG, followed by a JHS Muffuletta, an MXR Flanger and EVH Phase 90, an EHX Holy Grail reverb, a Strymon Deco, and a Klon KTR. The next row sports a Boss CE-2W Waza Craft Chorus, a couple of Strymon TimeLines (one for each amp), and down below is a trio of Xotics—an EP Booster, SP Compressor, and an XW-1 Wah. Utilitarian boxes include a Lehle Little Dual II Amp Switcher, a Palmer PLI-05 Line Isolation Box, a Boss FS-5L Foot Switch (to toggle between clean and dirty on his Friedman Brown Eye), and a TC Electronic PolyTune.
Chris Shiflett's Pedalboard
Mammoth WVH's Wolf Van Halen
Wolf Van Halen brought every EVH pedal (aside from the 5150 Overdrive) for his band's 2022 tour. The Dunlop EVH95 Cry Baby Wah gets a workout for the solo of "You'll Be the One." The MXR EVH 5150 Chorus and the MXR EVH Phase 90 have become interchangeable for him. The MXR EVH117 Flanger gets sprinkled in, and for the solo on "Distance," he always uses the Boss DD-3 Digital Delay and the EarthQuaker Devices Afterneath. An acoustic DI and tuner consume the rest of the real estate.
Wolf Van Halen's Pedalboard
Full
Rig Rundown
: https://bit.ly/MammothWVHRRSubscribe to PG's Channel: http://bit.ly/SubscribePGYouTubeMammoth WVH's leader details and demos the series of ...
Mammoth WVH's Ronnie Ficarro
Ronnie Ficarro
Ronnie Ficarro's bass stomp station hosts a trio of EVH-inspired pedals: an MXR EVH 5150 Chorus, a MXR EVH 5150 Overdrive, and the MXR EVH Phase 90—plus an EHX Pitch Fork for approximating the low B roar that Wolf recorded on the song "Epiphany." The nondescript silver box is a channel switcher for his Fender Super Bassman, and a Peterson StroboStomp HD does the tuning.
Rig Rundown: Mammoth WVH
El Ten Eleven's Kristian Dunn
As half of this bass and drums duo, Kristian Dunn used to use three pedalboards, crouching down and manipulating settings all night. Today, he depends primarily on a Line 6 M9 Stompbox Modeler, although it's two Boomerang III Phrase Samplers that make an El Ten Eleven show happen. In line, they're separated by the DigiTech Bass Whammy. Dunn routes his signal this way so he can use the Whammy to shift octaves or keys on entire loops in Phrase Sampler one. The second Phrase Sampler, after the Whammy, allows him to pitch-shift specific loops without impacting the whole song or other loops. The Strymon TimeLine conjures precise repeats and specific delay settings not in the M9. The EHX Superego Synth Engine is a secret weapon, for reverse-sound passages. When he holds down the freeze function and plays the next note, it's not audible until he releases the switch, and then the ongoing audible note blends into the second note. Cool, right? The remaining two pedals are a Nu-X NFB-2 Lacerate FET Boost and a Marshall GV-2 Guv'nor Plus. His tuner: a Boss TU-3 Chromatic. A Custom Audio Electronics RS-T MIDI Foot Controller makes Dunn's scene changes easier, talking with the M9 and Strymon to alleviate some tap dancing.
Rig Rundown: El Ten Eleven's Kristian Dunn
Shinedown's Zach Myers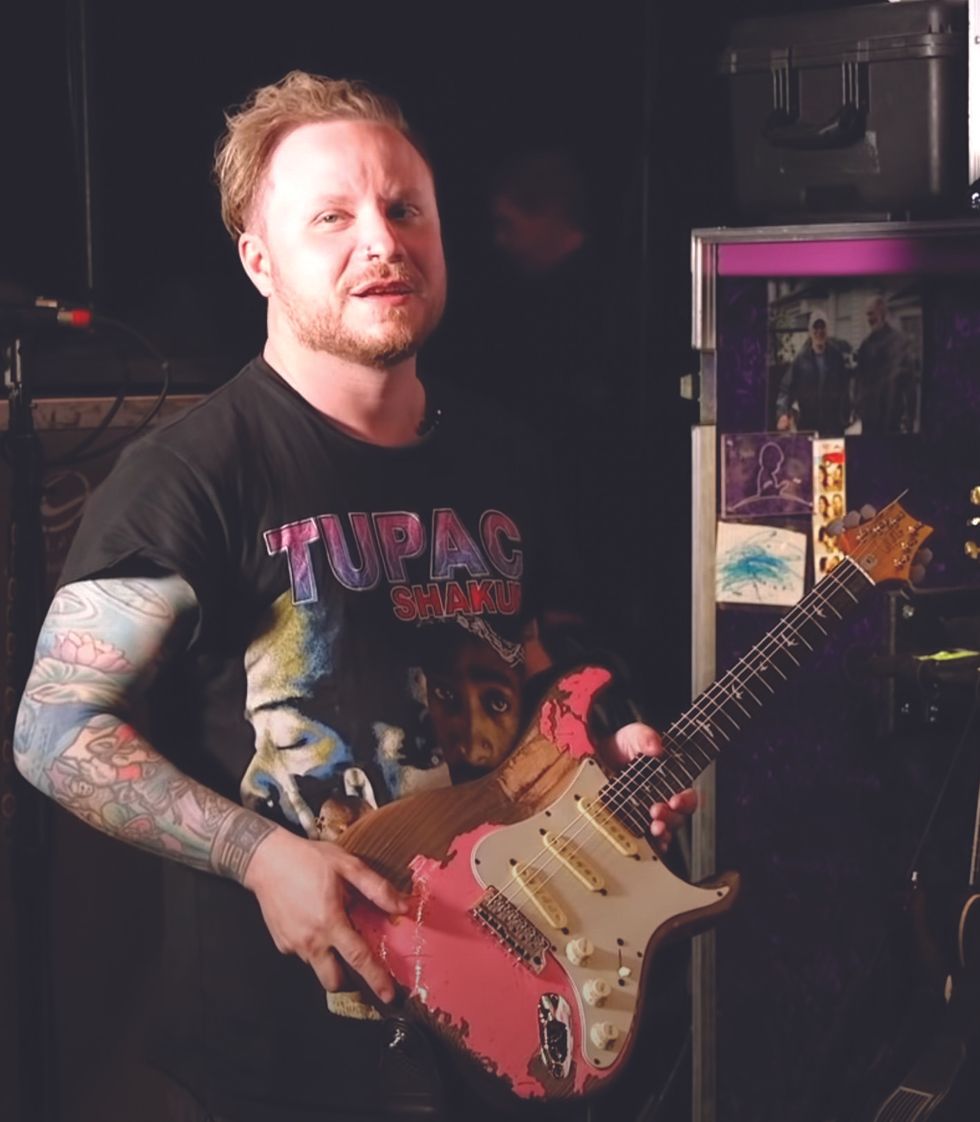 For the Shinedown guitarist, everything starts at the Fractal Audio Axe-Fx IIIs—a main and a backup. There are four channels of Shure UR4D+ wireless units (three for electric and one for acoustic). An AES digital out runs to an Antelope Audio Trinity Master Clock and Antelope Audio 10MX Rubidium Atomic Clock. This helps fatten the fully stereo, digital rig by converting it to analog. After that, IRs off the Axe-Fx (left and right) channel into a pair of Neve DIs that then feed a Fryette G-2502-S Two/Fifty/Two Stereo Power Amplifier. (There's another for backup.) And finally, parallel signals go to two ISO cabs and two Universal Audio OX Amp Top Box reactive load boxes. Altogether, there are eight channels of guitar.
While tech Drew Foppe handles the racks, Zach still has some control at his toes via a Dunlop MC404 CAE Wah, DigiTech Whammy 5, Ernie Ball 40th Anniversary Volume Pedal, and the Fractal Audio FC-6 Foot Controller. A Voodoo Lab Pedal Power 2 Plus gives life to these pedals.
Rig Rundown: Shinedown's Zach Myers & Eric Bass [2022]
Shinedown's Eric Bass
Eric Bass' Prestige basses hit the Shure UR4D+ wireless units (similar to Myers, he has three channels for electric and a channel for acoustic), then a Neve DI, and then a Radial JX44 signal manager that feeds into an Ampeg SVT-7 Pro for clean tone (with an extra for backup).
His onstage pedalboard includes a Dunlop 105Q Cry Baby Bass Wah, a DigiTech Bass Whammy, and an MXR M299 Carbon Copy Mini Analog Delay. The 'Gas' switch engages a Mojotone Deacon, and a Radial SGI-44 1-channel Studio Guitar Interface connects with his rackmount JX44, while a Boss TU-3W Waza Craft Chromatic Tuner and Voodoo Lab Pedal Power 2 Plus complete the lineup.
Hannah Wicklund
Photo by John VandeMergel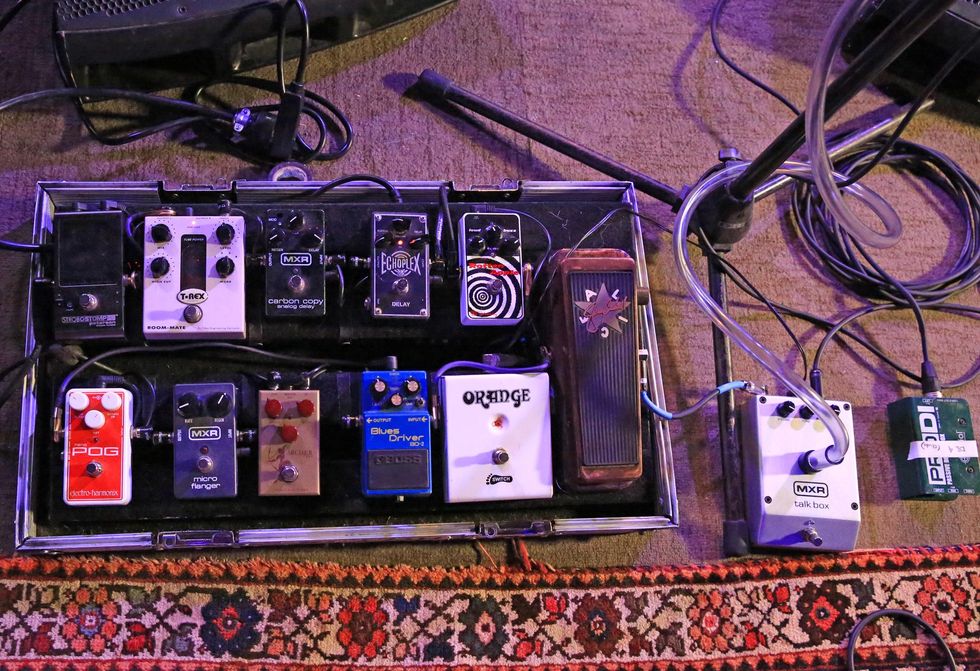 Blueser Hannah Wicklund's pedalboard is stacked for bruising. Once the signal gets past her MXR Talk Box and Dunlop JC95 Jerry Cantrell Signature Cry Baby, it hits the channel switch for her Orange head. That stays in overdrive mode for about 75 percent of her set, which she says gives her sound its grizzly-bear lows. Next up is a classic—a Boss BD-2 Blues Driver. But this one has a Keeley mod that opens up the low end and keeps mids and highs better defined. The BD-2 gets some atmospheric help via a Dunlop EP103 Echoplex Delay, and the J. Rockett Archer also pairs with the BD-2. There's an MXR Micro Flanger and an EHX Nano POG, a T. Rex Room-Mate Tube Reverb (on a hall setting), and a Peterson StroboStomp HD, plus an MXR Carbon Copy and a Keeley Rotten Apple OpAmp Fuzz.
Rig Rundown: Hannah Wicklund
Code Orange's Reba Meyers
Reba Meyers' tone starts with her signature ESP LTD RM-600 guitar and her 5150 head, but from there her sound is processed via a Fractal Audio Axe-Fx III run through the effects loop of her amp and used to coordinate channel switching. Meyers notes that for some songs she uses it only as a gate, while for others she adds in precise modulation, delay, reverbs, and "noise." The rest of the rack features a Two-Notes Torpedo Captor X that she uses for cab sims and sending a pure, direct signal to FOH so they can mix that with the SM57 mic on the 4x12s. A Shure GLXD4 Wireless unit keeps her untethered and a RJM Mini Amp Gizmo uses MIDI to switch the amp via the Axe-Fx III.
Her actual board has two always-on pedals: the ISP Decimator II Noise Reduction and the Ibanez TS9 Tube Screamer. They're joined by a Moog MF Ring Mod, a Boss PS-6 Harmonist, an AMT Electronics WH-1 Japanese Girl Optical Wah, and an Universal Audio Astra Modulation Machine. Everything is controlled by the RJM Mastermind PBC/10.
Reba Meyers' Pedalboard [Code Orange]
Joe Bonamassa
For his 2022 tour, Joe Bonamassa kept his pedalboard stocked with a Way Huge Smalls Overrated Special Overdrive, a Tone Mechanics/Racksystems Loop Box, a Tone Mechanics/Racksystems Splitter, a Fulltone Supa-Trem, a Hughes & Kettner Rotosphere, a Boss DD-2 Digital Delay, an MXR Micro Flanger, an Ibanez TS808 Tube Screamer, an EHX Micro POG, a Dunlop Joe Bonamassa Fuzz Face, a Lehle A/B/C Switcher, a Dunlop Joe Bonamassa Signature Cry Baby Wah in Pelham blue, and an on/off/fast/slow dual switch for his Mesa/Boogie Revolver rotating speaker cabinet. Juice came from a Voodoo Lab Pedal Power 2 Plus.
Joe Bonamassa's "Boomer" Pedalboard
Exodus' Gary Holt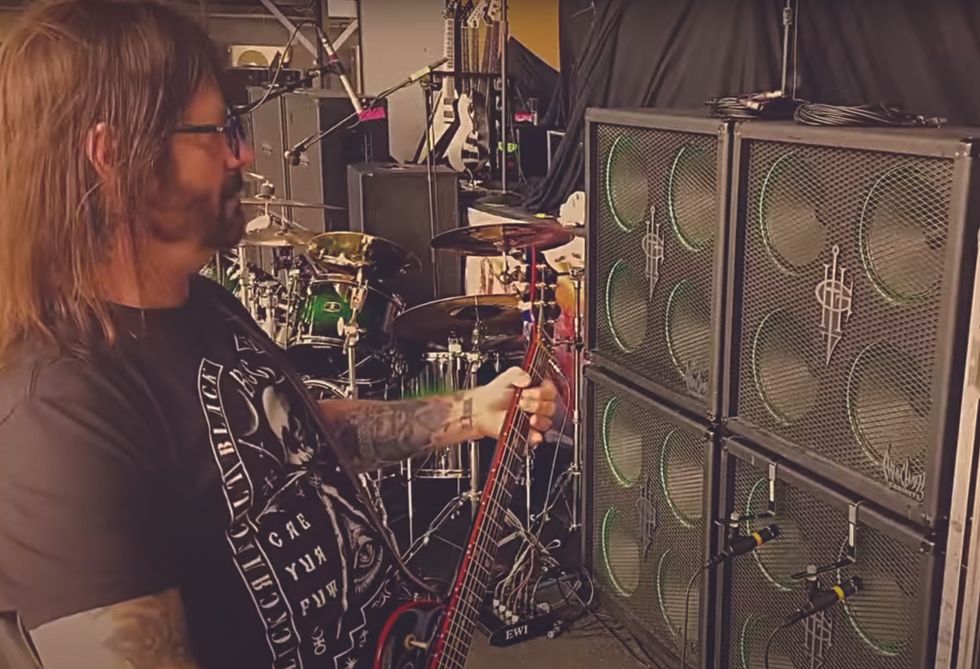 Thrash-metallurgist Gary Holt trusts most of his switching to his tech, Steve Brogdon, who triggers everything with a rack-mounted Voodoo Lab GCX Guitar Audio Switcher that coordinates with a Voodoo Lab Ground Control Pro MIDI Foot Controller. The pedals in Brogdon's care include a Boss SD-1 Super Overdrive, Pro Tone Pedals Gary Holt Signature Mid Boost, Maxon OD-9, MXR Bass Octave Deluxe, Maxon FL-9 Flanger, TC Electronic Corona Chorus, Boss NS-2 Noise Suppressor, and a Darta Effects Bonded by Delay. A BBE Supa-Charger provides juice.
Holt still stomps these boxes himself: a Does It Doom Doomsaw, Mooer Tender Octaver, Mooer Green Mile, and a Dunlop JC95SE Jerry Cantrell Special Edition Crybaby Wah. A Shure GLXD16 Digital Wireless Guitar Pedal System lets him rock untethered.
Rig Rundown: Exodus' Gary Holt [2022]
Dinosaur Jr.'s J Mascis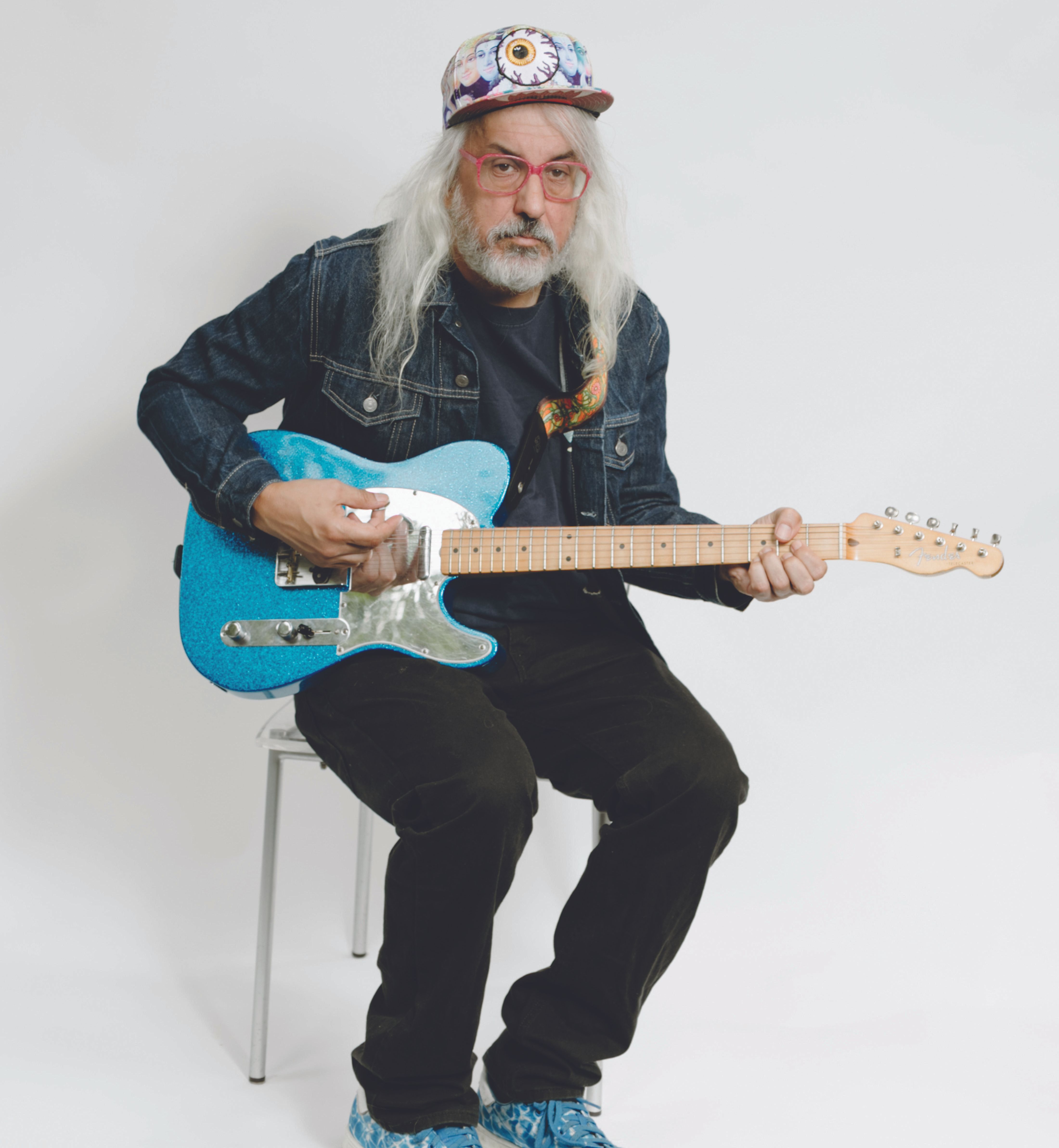 For at least 10-plus years, J Mascis has used a Bob Bradshaw-built Custom Audio Electronics switcher as his mission control. His longtime stomps include a Tone Bender MkI/Rangemaster-clone combo pedal made by Built to Spill's Jim Roth (bottom right corner), Mascis' first EHX Ram's Head Big Muff Pi (top right), a vintage EHX Deluxe Electric Mistress, an MC-FX clone of a Univox Super Fuzz (lower right, blue box), a pair of ZVEX pedals—a Double Rock (two Box of Rock stomps in one) and a Lo-Fi Loop Junky (both bottom left), a Tube Works Real Tube Overdrive, a Moog Minifooger MF Delay, and a Boss TU-3S Tuner. His recently added pedals are a Homebrew Electronics Germania 44 Treble Booster (lower right), a JAM Pedals RetroVibe MkII, an Xotic SL Drive, a Suhr Jack Rabbit Tremolo, a Dr. Scientist Frazz Dazzler fuzz, an EHX Oceans 11, and a Dunlop Jimi Hendrix '69 Psych Series Uni-Vibe Chorus/Vibrato. Everything receives juice from an MXR MC403 Power System or an MXR M237 DC Brick.
J Mascis' Dinosaur Jr. Pedalboard
Photo by Julia Marie Naglestad
After seven albums with her trio, the avant-garde Norwegian guitarist branches out and collaborates with the Trondheim Jazz Orchestra on a concept album, Maternity Beat, which explores themes of empathy and parenthood, inspired by displaced persons fleeing war.
For a stiff contraption of metal and wood, the guitar can convey an extraordinary range of human emotions. Combine it with an 11-piece ensemble and the options expand like a flower. Norway's Hedvig Mollestad, her blonde Gibson ES-335 in hand, revels in these myriad possibilities on her latest album Maternity Beat, a commissioned project with the Trondheim Jazz Orchestra. (Previous TJO guest collaborators include Chick Corea and Joshua Redman—not too shabby.)
It's a logical progression. Over the course of seven albums for Rune Grammofon since 2011, the Oslo-based Mollestad remained focused on the decidedly rock-edged sound of the Hedvig Mollestad Trio, with Ellen Brekken on bass and Ivar Loe Bjørnstad on drums. Then came a shift in 2020, which led to the release of two solo albums, Ekhidna and Tempest Revisited (2021), also for Rune, that changed the sonic equation.
Instead of electric bass, Mollestad recruited two keyboardists for Ekhidna and added trumpet. On Tempest Revisited, the lineup grew to include three saxophonists and two drummers. She may not have known it right away, but she was laying the foundation for Maternity Beat and the expanded sound world made possible by the TJO.
Hedvig Mollestad & Trondheim Jazz Orchestra - All Flights Cancelled
Part of the catalyst was motherhood and the huge personal and professional changes it can bring. "My first child was born in 2015 and the second in 2017," she explains. But more than this, it was the plight of migrants, including many children, during this same period that triggered Mollestad's artistic response. "At that time, it was mostly people fleeing the Syrian war," she observes, "and a lot of them came to Norway. They were treated in a harsh manner, picked up in the middle of the night and driven up north where the weather was minus 40. It was so inhumane. This was happening while my children were very small, and it had a big impact on me."
The disconnect between this hardship and her own relative comfort proved jarring for Mollestad and others in her circle, and it prompted a search for new modes of expression. "You go around in your perfect everyday mood, happy to play with your children while people are experiencing real traumas so close to us. I wasn't doing anything in particular, except thinking about it. So, it made me wonder: What is caring for other people? What is it that makes us care? Do we have to be parents? What does it take to care for another's child? The title
Maternity Beat
grasps at our only common experience, that we are all born from someone. It's not an homage to perfect parenting or motherhood, but it comes from an experience of deep caring, and a kind of awakening on the question of what makes us care, what makes us act."
"It's so dangerous to play in a band with Ståle because he's such a box of extreme surprises and wonderfulness that you really have to step up and get your game on to match what he's doing."
To convey any of this, Mollestad realized, she needed words. And so, as a first, she wrote lyrics. More than sung melodies, they are mainly short spoken-word passages voiced by Mai Elise Solberg and Ingebjørg Loe Bjørnstad. At times the two also harmonize wordless melodies as part of the orchestra (joined by Mollestad herself on the culminating epic "Maternity Suite"). "Is there a boat on the horizon?" they intone on the album's leadoff track. "With mothers and children and fathers? … / Life is all they bring / Life is all we bring."
It wasn't just the heightened turmoil of this period that led Mollestad away from the direction of her trio. "I'd always been true to this guitar-only concept," she says, "but I found myself wanting to break it up a little more." This didn't necessarily mean downplaying the guitar, but rather featuring it in different settings to explore its capabilities more fully. In this respect, she mirrors the influence of a major role model, veteran ECM recording artist Terje Rypdal.
Hedvig Mollestad's Gear
Mollestad uses various Fender amps on tour, but her go-to setup is an early-'70s Fender Dual Showman Reverb atop a 2x15 cabinet.
Photo by Julia Marie Naglestad
Guitars
1988 Gibson ES-335 Showcase Edition (modified with'57 Classic pickups, Bigsby tremolo, gold hardware)
1970 Gibson ES-335 (for "On the Horizon, Part 2")
Gibson ES-345
Amps
Close to home:
Fender Dual Showman Reverb, 2x15 cabinet (approx. 1972)
For the road (options requested for backline):
Vintage Fender Super Reverb
Fender Bassman with 4x10 cabinet
Fender Deluxe Reverb
Orange Rockerverb 100 MKIII
Effects
EarthQuaker Palisades V2 Overdrive
Vulk Audio Germanium Fuzz
Boss TU-3 Chromatic Tuner
Moog Moogerfooger
Empress Superdelay
Boss DD-7 Digital Delay
Ernie Ball volume pedal
Roland EV-5 Expression Pedal
Strings and Picks
Elixir or Ernie Ball, .011–.048
Dunlop 1.0 mm (default)
Dunlop Jazz III 3 mm (for jazz)
Dunlop .73 mm (for strumming)
One priority was moving away from electric bass—and yet Brekken, who had always doubled on upright bass with Mollestad's trio for the more jazz-oriented numbers, had made herself indispensable enough to get hired on upright for Maternity Beat. "It's easy for a guitarist to play with bass guitar," Mollestad maintains. "It's the same kind of riffing, the same kind of fingering, and it's beautiful, but I wanted to move away from that, which is why I first chose the double keyboards on Ekhidna. But I still needed Ellen's presence on Maternity Beat. Her sound is so full, and her beat is so concise and steady, and I really needed her energy. It was also nice to involve her in such a personal project because we're close friends."
On keyboards, Mollestad brought in the formidable Ståle Storløkken, from the influential electro-acoustic improvising quartet Supersilent. Storløkken's toolkit includes otherworldly synths, warm Rhodes textures and a raw, earthy Hammond organ that can recall Jan Hammer with John Abercrombie on Timeless (or perhaps Larry Young with the Tony Williams Lifetime).
When she spoke to Premier Guitar, Mollestad was on the road with Storløkken as part of a new trio called Weejuns (a play on "Norwegians"). "It's so dangerous to play in a band with Ståle," she says, "because he's such a box of extreme surprises and wonderfulness that you really have to step up and get your game on to match what he's doing. There are so many beautiful details coming out and he's so musical. You can't dwell on your choices when you play with him, you just have to act."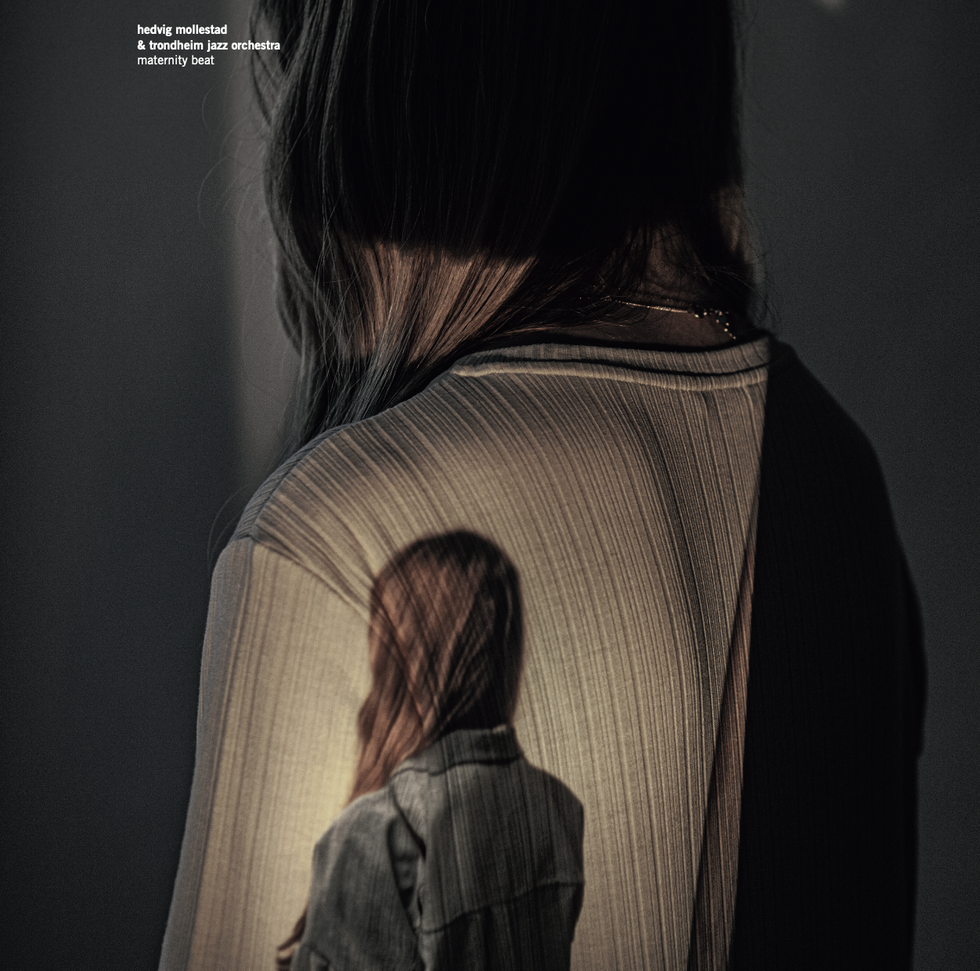 Hedvig Mollestad's Maternity Beat is a collab with the Trondheim Jazz Orchestra. Mollestad was moved by the plights of refugees and wanted to explore themes of empathy and how that relates to parenthood.
While Maternity Beat is a departure, one thing that hasn't changed for Mollestad is her main axe, the semi-hollow ES-335, chosen precisely for its versatility in jazz and rock settings. That plus vintage Fender amplification and a pedalboard full of fuzztones and delays keeps Mollestad in her happy place. "I need my tuner," she clarifies, citing fairly extensive use of the Bigsby tremolo arm, which can wreak havoc during a set. "Also, with the trio there are songs where we have to tune to drop D in the middle of a song. In 'Leo Flash' Return to the Underworld,' for example, we have to retune on the last drum break."
In aesthetic terms, Mollestad wanted her encounter with the TJO to depart from a mainstream big band sound. To that end, she enlisted not only Storløkken but violinist Adrian Løseth Waade and flutist Trine Knutsen as prominent melodic voices to supplement the guitar, two saxophones, and trumpet. There are complex, meticulously-notated lines and counterpoint but also room for the breath and collective release of improvisation. Elements of chamber music, prog rock, and fusion intermingle as Brekken, drummer Torstein Lofthus, and percussionist Ingvald André Vassbø lay a robust rhythmic foundation.
"You go around in your perfect everyday mood, happy to play with your children, while people are experiencing real traumas so close to us."
Mollestad's guitar is a shapeshifting constellation of sound, from the crunchy overdriven speed-riff of "On the Horizon, Part 2" to the fractured, echoing wails of the markedly dissonant, slow-grinding "Do Re Mi Ma Ma." Her glassy, expansive chording meshes with Storløkken's eerie melodies in a marvelous five-minute duet that opens the title track, before a transition to some of the richest ensemble orchestration on the album. And on "Maternity Suite," she goes full-on arena rock, with big anthemic chords that give way to a striking and truly imaginative flourish: a unison passage for fuzz guitar and flute.
"All Flights Cancelled" is an outlier, a song conceived for (and recorded by) Mollestad's trio but reworked for Maternity Beat as the one track without the full TJO ensemble. "I felt that we really needed a combo piece," she explains. "The album starts with dark, heavy emotional stuff and then this song is a little break in the middle, a fun song to play, focusing on Ståle with [Torstein and Ingvald] both playing drum sets."
Mollestad switches up her picks depending on what she's playing. Her default is Dunlop 1 .0 mm, but she'll use a Jazz III for jazz runs, and a .73 mm pick for strumming.
Photo by Arne Haug
Amid the lyrical guitar balladry and lush ensemble adornment of "Her Own Shape," the voices return, reciting words on what Mollestad calls parenthood's "extreme gift and responsibility." "My cell within me / Will split to become larger / Part to become stronger," they speak about watching one's offspring separate and blossom.
"It's so strong and sad at the same time," Mollestad says, "because they will always be your biggest concern and you will carry it with you everywhere. At the same time, they're here to live their own life. And they are perfect as they are. You don't have to interfere at all because they're the most equipped to be perfect people. You just have to be yourself because that is what they need from you."
But how to get through those difficult moments? On "Little Lucid Demons/Alfons" Mollestad recommends a way forward. In unison and with impeccable timing, Solberg and Bjørnstad offer a staccato pep talk of sorts for when the kids "pull your hair for you, and paint it gray." Think of everything, they suggest, in terms of music:
look for swing
look for flow
look for beat
and then
take it away.
Hedvig Mollestad Trio - Beastie, Beastie (Live)