"We wanted to see more craft and soul come back into the guitar market and wanted to be a part of that," says Bousley.
Not so long ago, Boston-area musicians Austin Bousley and Travis Alexander found themselves suffering from the same affliction that plagues countless guitarists. The gear-junkie friends had budgets that simply couldn't satiate their taste for the vintage, custom, and unique instruments they'd "constantly drool over" at local shops. And feeling that many modern-day production instruments lacked what they loved in vintage and custom guitars, they decided they wanted to do something about it. "We wanted to see more craft and soul come back into the guitar market and wanted to be a part of that," says Bousley.
About six years ago, the two started out slowly by hot rodding and refinishing guitars they already owned. Not long after that, they partnered with two other friends and officially launched Venture Guitars as a team of four. Today, the mostly self-taught group of builders works out of a shop in Pawtucket, Rhode Island, where they build custom instruments in whatever style and configuration their customers can dream up.
Bousley says his crew's community mindset and passion sets them apart. "We love music, the scene that surrounds it, and the players themselves," he says. "We work closely with each customer and try to deliver the guitar they want, and we're willing to try and build anything." He thinks this willingness is the main difference between Venture Guitars and other builders. "We haven't just built guitars we liked and sold them," he continues. "We've been building fully custom guitars for each customer, so we can bring that connection between the player and their instrument back to life."
Though Venture has been building only completely handmade, 100 percent custom guitars thus far, the outfit will soon offer a production model of sorts with their Anna Lee design, which incorporates the use of CNC. That said, their custom offerings will remain completely handmade. The production-model aspect of the Anna Lee is certainly a departure for the company, but the planned price point of $2,200 will be more accessible for many than a typical custom build. "We are currently going nuts experimenting with the sound for the Anna Lee," says Bousley. "We still haven't officially decided what we're going to put into them, but we have a pretty good idea where we're going to go."
Venture is "pretty all over the place" when it comes to inspiration for their designs, but Bousley says the entire team loves the newer, prog look that some builders are doing, as well as soulful, vintage Fenders. "I know it's cliché, but it's a P bass from the '70s that really gets me, or an old SG or Rickenbacker," he says. "There's just something about a guitar that old that has a story to it. And that's where we all come together—making something with a story."
VG #00080
Venture also accommodates low-enders, and this is a fine example of the luthier's custom bass offerings. Built for a southpaw, the P-style body is carved from alder and paired with a 1-piece maple neck that's topped with a quarter-sawn-maple fretboard. Both the block inlays and pickguard are cut from 5A-rated flame maple and stained green. An Aguilar AJ-60 Jazz-style pickup in the neck and a Music Man humbucker in the bridge give it the ability to deliver a wide range of bass tones.
VG #00117
Painted "plum crazy," this solidbody one-off has a head-turning silver-sparkle finish and a pair of silver racing stripes. Built for New Found Glory guitarist Steve Klein, the 25.5"-scale guitar boasts other aesthetic standouts like the grouping of mother-of-pearl inlay along the length of the ebony fretboard and the Venture logo—also cut from MOP. The deep purple #00117 is packed with a single EMG 81 humbucker in the bridge.
VG #00013
For this classic-looking semi-hollowbody, Venture didn't hold back on the master-grade, 5A-rated flame maple, using it for the top, truss-rod cover, control-cavity cover, and back of headstock veneer. Other appointments include the Gibson Super 400-style block-inlay markers that grace the ebony fretboard, mother-of-pearl side markers, and a bone nut. Choosing a classic pickup combo, #00013 is outfitted with a Seymour Duncan JB in the bridge and a Jazz in the neck.
Pricing and Availability
The typical wait for a custom-built guitar from Venture Guitars is currently 6–10 months, depending on the build. With plans to produce the Anna Lee in batches of 10, players will likely be able to get their hands one of these models quicker. Venture does direct orders through an online quote/order form, where buyers list all the components and specs that will make up their custom instrument. Pricing for a custom Venture guitar varies with build, but typically falls in the $3,000 to $4,500 range.
Châteauneuf says that any form of art, be it architecture or African art, can be a source of inspiration for him.
Pierre-Marie Châteauneuf, who handcrafts guitars out of a one-man workshop in the small town of Montferrier-sur- Lez outside Montpelier in Southern France, says it was Slash that "injected the guitar venom" into him when he was 14. That same year, he got his first taste of lutherie when he sought someone to fix his very first guitar that was "just impossible to play."
Châteauneuf had always been good with his hands—growing up he built toys with his amateur-woodworker grandfather. At age 16, he made his unofficial start as a luthier when his best friend approached him to fix a broken-in-two guitar. Because the result was so successful, several other guitar-playing friends started coming to Châteauneuf with their instruments.
But Châteauneuf didn't jump into a fulltime building career right away. He was still primarily interested in playing the guitar, so he went the prestigious Paris Conservatoire to study music for a few years. It wasn't until 2003 that he built his first electric guitar with help from friends, books, and the internet. After a one-year apprenticeship in 2005 building acoustic guitars with French master-luthier Claude Fouquet, Châteauneuf opened his own shop the following year.
Châteauneuf says that any form of art, be it architecture or African art, can be a source of inspiration for him. He also says that shapes—from that of a snake to the curves of a woman—can inspire him as well, but that he's always trying to create his own thing. This is quite evident with some of his more unique instruments like the guitar/oud hybrid Byblos models and the futuristic-looking Mamba.
One unique characteristic of Châteauneuf's building philosophy is his approach to finishes. While he utilizes many finishes, he prefers to use oil for his electric guitars instead of the lacquer used for most mass-produced instruments. The luthier favors oil because it permits the natural aging of tonewoods to continue more than lacquer, it feels unique, and allows for easier modifications and repairs.
When it comes to electronics, Châteauneuf's current favorite combination is a single-coil in the neck position and a humbucker in the bridge, as seen on the Blast Montréal. Though he uses a wide variety of pickups, he prefers French boutique makers, especially Benedetti and SP Custom, who offer a "custom-made sound and look." At least for the near future, it looks like Châteauneuf will continue to search out the best possible pickup options for his instruments rather than make his own. "I like woodworking, but winding a wire around a magnet is not my cup of tea," shares the luthier.
To Châteauneuf, "custom" means everything is possible and he offers his customers the widest possible range of customization possible. He encourages clients to be involved with selecting not only the woods and colors of an instrument, but also the shape, and possibly even coming up with an entirely new instrument concept. Handcrafting each instrument with traditional woodworking machines, Châteauneuf enjoys the one-on-one interaction with his clients, and keeps them involved throughout the entire process by sending them emails and pictures at every step. It's no wonder the luthier cites dealing with the search for excellence while trying to deliver instruments on time as his biggest day-today challenge.
Pricing and Availability
Châteauneuf builds 10-15 guitars per year and the current wait time for a custom instrument is approximately four months. His electric guitars with an oil finish start at $2,000 (excluding shipping and taxes), but Châteauneuf says that can vary greatly with the large selection of woods, neck joints, electronics, finishes, and inlay options he is able to offer. Pricing for the Acoustic Byblos starts at $4,500. PMC guitars can be purchased directly through Châteauneuf or by contacting Kelcey Alonzo with Custom Guitar Boutique in New York.
pmcguitars.com
Blast Montréal
The Montréal version of Châteauneuf's "Blast" design— his flagship model—features a one-piece body constructed of African mahogany and a bolt-on, handcarved Peruvian walnut neck that's capped with an Indian rosewood fretboard. Sporting a glossy Tru-Oil finish, the 25.5" scale Blast Montréal is outfitted with a Hipshot Hardtail bridge, Grover locking tuners, and for electronics, a Benedetti Single Rock in the neck and a Benedetti Cream in the bridge.
Electric Byblos
The Electric Byblos is cross between an oud and an electric guitar. With African mahogany at its core, the tung oil-fi nished top, back, and bolt-on neck are all constructed from 20-yearold African padauk. The 25.5" scale, fretless Electric Byblos has an ebony fi ngerboard with padauk fret markers, and like the acoustic version, has a total of 11 strings. For electronics, the instrument is outfi tted with a pair of Seymour Duncan SHR-1 Hot Rails that are loaded directly into the body, which forgoes the need for pickup rings.
Xav
The Xav's one-piece, classic-looking body is constructed from a single piece of African mahogany that's topped with highly fi gured spalted maple, and fi nished with natural lacquer. Also utilizing African mahogany for the neck, Châteauneuf topped the neck with an ebony fretboard that's subtly decorated with rosewood inlay work between the 12th and 15th frets. Loaded up with Seymour Duncan pickups with a TB4 in the bridge and an SBDR-1 in the neck, other features of the Xav include the onboard Black Ice overdrive, Hipshot BabyGrand bridge, and Grover locking tuners.
Mamba
Built as a special project for a good friend (and first drawn as a rough sketch on a stamped envelope), the Mamba is no doubt something to behold. Constructed of three pieces of wood that run the entire length of the instrument, the neck-through center section is padauk, while the two pieces that surround it and make up the rest of the guitar are korina. This unique design results in increased strength and stability, as well as increased vibration transmission throughout. The Mamba is adorned with mother-of-pearl vertical-block inlays across an ebony fretboard, has a lacquer gloss finish, and is outfitted with Steinberger tuners, a Hipshot Hardtail bridge, and a single, special-order Benedetti pickup.
Acoustic Byblos
Châteauneuf's award-winning Acoustic Byblos is a hybrid between an oud and a guitar. Allowing guitarists to access Eastern sounds with the playability of a traditional guitar, the handcarved hybrid is constructed of African mahogany and padauk for the body and neck, Sitka spruce for the top, and the fretless ebony fingerboard is adorned with padauk fret markers. The Acoustic Byblos has a total of 11 strings—and with the exception of the 11th string—they are doubled and tuned in unison or an octave apart.
Blast BassX
Châteauneuf builds basses as well, and his Blast BassX fretless 4-string boasts his signature PMC Blast design. He uses gorgeously figured flame maple to top the African mahogany body, and also utilizes flame maple for the bolt-on neck and the inlay work located on the fretless ebony fingerboard. Dressed with black stain and a Tru-Oil and wax gloss finish, the Blast BassX is outfitted with a Hipshot bridge, Gotoh tuners, and a pair of EMG 35DC active pickups.
One creation that sets Hartung apart is his unique "flow-carving" design, which he developed in 2002 and uses on many of his instruments.
Frank Hartung considers his work a calling more than an occupation. He first became attracted to the world of lutherie because of the dissatisfaction he experienced with an expensive guitar made by a large, American company. The issues this guitar had were intriguing, and forced him to deal with materials and construction details and how they relate to each other. Eventually, this led Hartung down the road to building his first guitar.
It was a success for a few reasons: his vocational training as a carpenter, experience with the particularities of woods, and some valuable advice from fellow German luthier Ulrich Teuffel. Hartung quickly drew the attention of experts and musicians who encouraged him to continue building. While the budding luthier appreciated the accolades, it was the satisfaction of building with his own hands that inspired him the most, and he went on to craft instruments on a part-time basis for several years under the name of Forge Guitars. Over time, the awareness of his guitars increased and the orders piled up—so much that he quit his day job to become a full-time luthier under his own name.
Hartung cites Teuffel as the builder who inspired him to become a luthier himself, but when asked what builder or manufacturer has had the most influence on his designs, Hartung maintains that no one did. "I never intended to copy anyone's style," he says. "Instead, I always wanted to realize my very own designs and establish them in the market. My guitars are supposed to look and sound distinctive and comparable to none. I think things have turned out quite well."
One creation that sets Hartung apart is his unique "flow-carving" design, which he developed in 2002 and  uses on many of his instruments. With contour lines running fluidly into the surface of the body as if two top planks are melting into each other, flow carving is what gives the bodies their 3-D appearance. "With my flow-carving design, I have found my own aesthetic style, which is distinctive yet full of character," he says.
Hartung's twin brother, Andi, occasionally assists with paint jobs, but Frank Hartung Guitars is primarily a one-man shop, and the luthier believes there are many advantages to working in this manner. "I can do my work very precisely, with the utmost flexibility for my customers, and with the highest quality standards possible," he says. "I closely collaborate with my customers and we discuss every detail and create drafts during the run-up." Later, he'll send pictures of the designated woods to the customer and they'll decide together how everything will be done. "Having close contact with my customers is something I really like," he explains. "All the feedback flows into new projects, which makes this part of building very exciting for me."
hartung-guitars.com
Pricing and Availability
Hartung's guitars start at approximately $4,000, but depending on choice of woods and specifications, the sky is the limit and prices can reach upwards of $10,000. Currently, Hartung builds 30 to 35 instruments per year, with an average wait currently at eight to 12 months. "Most customers are well aware of the waiting time and don't mind it," shares Hartung. "The joy of anticipation grows each day, and I contribute to it by sending them pictures of their guitar's status throughout the process."
Enigma Scratchburst
This 25"-scale Enigma model finished in scratchburst brown utilizes mahogany for both the neck and body. In contrast to the dramatically figured quilted maple top the ebony fretboard boasts a minimalist approach for its inlay work. The guitar also features a Tune-o-matic bridge, through-body stringing, Schaller locking tuners, and a pair of Ray Gerold custom pickups.
Embrace Hollowwood Deluxe
The Embrace Hollowwood Deluxe is a virtual treasure trove of top-quality tonewoods. Boasting exhibition-grade quilted maple atop a Honduran mahogany body, the guitar features a 1-piece Brazilian rosewood neck capped with a snakewood fretboard. For electronics, the Embrace Hollowwood Deluxe is outfitted with a pair of Ray Gerold Custom Shop pickups.
Glowing Moon
Appropriately named, Hartung's custom Glowing Moon guitar glows via the 32 toggle-switch-controllable LEDs located in the aluminum ring outlining the instrument's body. The ash body is stained in a "used violin brown" finish, and the flamed-maple neck is topped with a heavily inlaid rosewood fretboard. The Glowing Moon is outfitted with a Häussel Hot Special B in the bridge, a Häussel HB Blade in the middle position, and a Sustainiac Stealth Pro in the neck.
Diavolo Glacierblue
The Diavolo Glacierblue features a distinctive ace-of-hearts playing-card inlay adorning the otherwise understated, ebony fretboard. The cedro body is topped with quilted maple and finished in glacier blue. This version of Hartung's Diavolo is loaded with dual Bare Knuckle Steve Stevens Rebel Yell signature humbuckers.
Caligo
With a nod to futuristic minimalism, Hartung's new Caligo series of guitars employs ebony for both the fretboard and the fixed bridge, and Hartung chose red alder for the bodies and curly maple for the necks. The guitar is outfitted with Caligo Special humbuckers and features a distinctive upper horn that can be ordered with custom woods and finishes.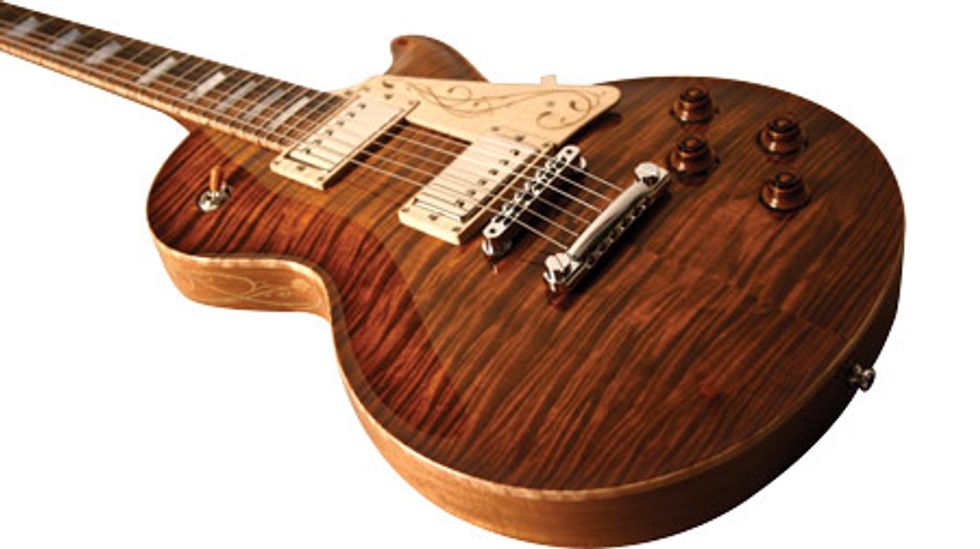 LP Special Custom
Mother-of-pearl crown inlays adorn the Brazilian rosewood fretboard of the LP Special Custom, which also features a Brazilian rosewood neck. Tigerburst-finished curly maple tops the mahogany body, which is equipped with a set of Ray Gerold Custom Shop humbuckers.