1969 Ampeg SVT Head and 8x10 Cabinet
The backline choice not just for bassist Bill Wyman, but also for Mick and Keith Richards during the band's 1969 U.S. winter tour.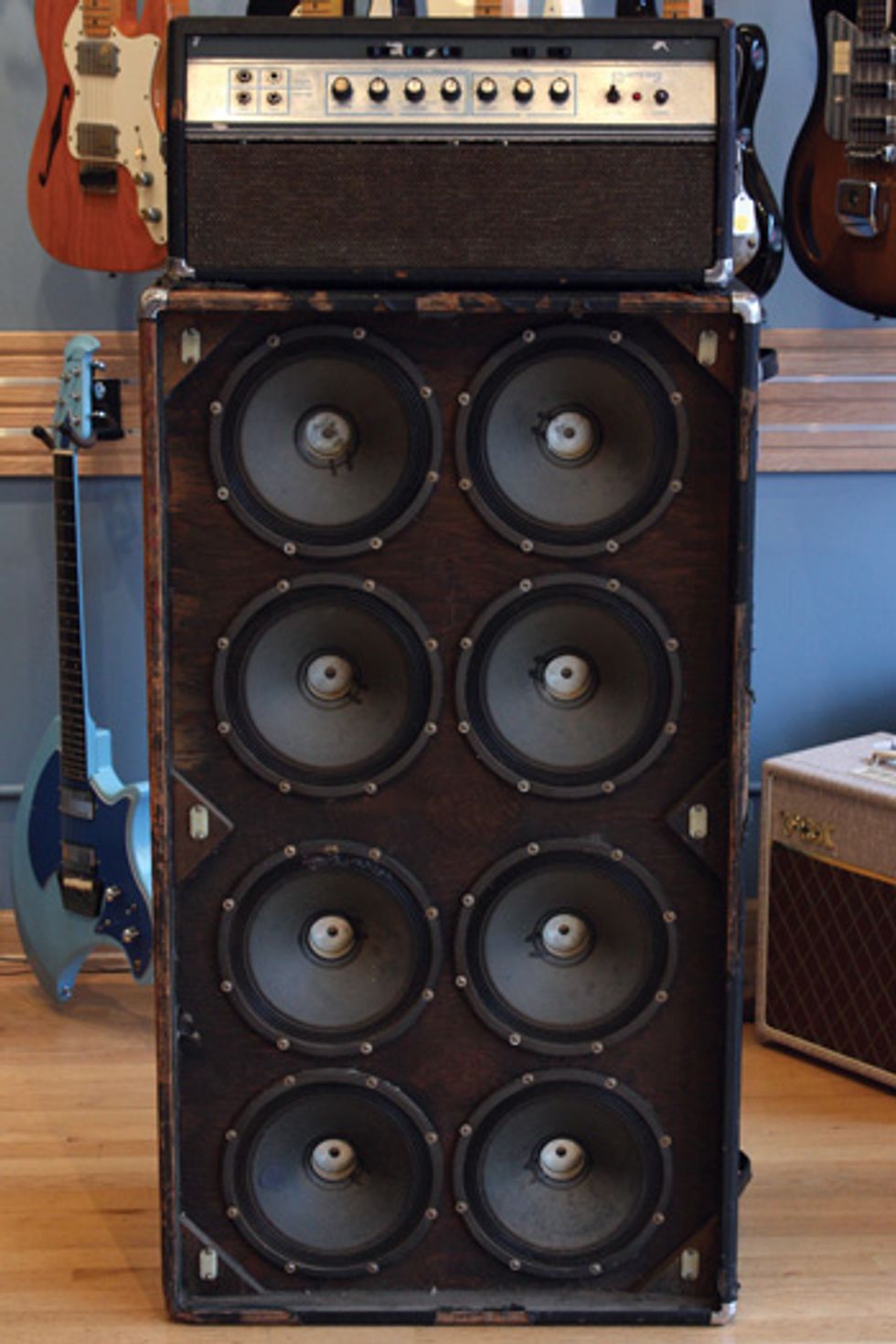 The 1969 Summer of Love is often remembered as a time of classic music, flower power, and few inhibitions, all of which was epitomized by the 3-day Woodstock Music & Art Fair. For the Rolling Stones, however, it was a tumultuous year of firsts and lasts. It was the last year Brian Jones contributed to a Stones album (two tracks on 1969's Let It Bleed) before passing away that July. Consequently, it was the band's first year with guitarist Mick Taylor, who hit the ground running and contributed parts on two songs for Let it Bleed and performed at the band's November concerts, which were released on 1970's Get Yer Ya-Ya's Out. And 1969 was also the first and last year of the Altamont Speedway Free Festival—which was headlined and organized by the Stones, and billed as "Woodstock West." Sadly, it's primarily remembered for its fatalities, including the infamous scuffle between a Hells Angel and a murderous meth user.
Gear-wise, 1969 was the birth of Ampeg's SVT amplifier—the backline choice not just for bassist Bill Wyman, but also for Mick and Keith Richards during the band's 1969 U.S. winter tour.
Ampeg's Bill Hughes and Roger Cox designed the "Super Vacuum Tube" amps with help from Bob Rufkahr and Dan Armstrong. They debuted at the '69 NAMM Show in Chicago. The 95-pound, 2-channel, 300-watt head was originally loaded with 14 tubes, including six large, volatile 6146 power tubes. A year later, the 6146s were switched out for more reliable 6550s. The earliest "blue-line" SVTs like the one shown here (which has since been updated with KT88 tubes) had control panels engraved with blue lines and text, though Ampeg later switched to a more legible black format.
SVTs of this era had volume, treble, midrange, and bass knobs for the first channel, while channel 2 only had volume, treble, and bass. Extra flexibility came via the five rocker switches along top, which engage ultra-hi and ultra-lo boosts for each channel, and a 3-position mid-tone control. There were also four inputs, normal and bright for each channel.
The Stones' 1969 U.S. tour, their first since 1966, was the group's seminal run in American arenas—up until then they'd been playing smaller theaters and auditoriums. The need to move and groove fans in the nosebleed seats made the powerful SVTs a perfect choice. The amps were so loud they came with a Surgeon General-esque warning: "This amp is capable of delivering sound pressure levels that may cause permanent hearing damage."
During rehearsals, the band reportedly pushed the prototypes to the brink of meltdown. Production models weren't out yet and backup rigs weren't an option, so Ampeg's Rich Mandella joined the tour as the official SVT babysitter.
Today, Ampeg builds recreations of this beloved behemoth in the Classic and Heritage lines, both of which mix vintage SVT soul with modern needs such as cooling fans, tube-bias controls, Neutrik connections, and direct outputs. The SVT Pro series has models with more modern voicings, solid-state and class D power amps, graphic EQ, and power-reduction circuitry. And Ampeg's recent GVT amps are specifically voiced for 6-stringers looking to emulate Ya-Ya-era Keef.
A special thanks to Jeff Sadler of Rock N Roll Vintage Guitars in Chicago and Ampeg for the opportunity to feature this fine piece of gear and its story.
Got some gear that would make a great Gear of the Month? Then email pics and its story to us at gotm@premierguitar.com.