Designed to deliver the modern style and capabilities sought by contemporary bassists.

The Venture Series comprises the V3, V7, and V12 heads and the VB-112, VB-115, VB-210, VB-212, and VB-410 cabs.
"Venture Series amps and cabs represent the next step in the evolution of the Ampeg brand," said Dino Monoxelos, Ampeg Product Marketing Manager. "We designed them to give gigging bassists playing all styles of music the capabilities they need to dial in both modern and classic sounds. We also know how important it is to them that their gear be rugged enough to perform reliably gig after gig, while at the same time being as light and portable as possible. Most importantly, of course, Ampeg amps have to deliver tone that lives up to our legacy."
With their intuitive controls, Venture Series amplifiers offer an extensive array of tone-shaping tools that include 3-band EQ with sweepable Mids, Ultra Hi and 3-way Ultra Lo switches, and a Super Grit Technology (SGT) Overdrive circuit with SVT and B15 voicings. The V7 and V12 amplifiers also include a variable compressor. An effects loop, an XLR direct output, an Aux input, and a Phones output enhance connectivity. All circuitry is analog except for the solid-state Class D amplifiers. Players can add an optional AFS2 footswitch for remote control of the SGT overdrive and Mute, and an optional heavy-duty padded Venture carrying bag.
Venture Series cabinets are available in the most popular configurations, enabling bassists to choose the right cab—or combination of cabs—for any gig. The stylish cabinets are covered in carbon fiber-style Tolex and built to handle the rigors of the road, while at the same being some of the lightest bass enclosures currently available. They are loaded with lightweight custom-voiced Lavoce neodymium woofers and high-frequency drivers. Optional Portaflex-style grille assemblies provide players with an aesthetic choice, and optional heavy-duty padded covers are also available.
Pricing & Availability:
V3 Amp $499.99 US MSRP (Carry Bag $69.99 US MSRP) 300 watts output
V7 Amp $749.99 US MSRP (Carry Bag $79.99 US MSRP) 700 watts output
V12 Amp $999.99 US MSRP (Carry Bag $99.99 US MSRP) 1200 watts output
VB-112 Cab $749.99 US MSRP (Cover $69.99 Grille Assembly $69.99 US MSRP) 250W RMS/500W Program
VB-115 Cab $849.99 US MSRP (Cover $79.99 Grille Assembly $79.99 US MSRP) 250W RMS/500W Program
VB-210 Cab $899.99 US MSRP (Cover $79.99 Grille Assembly $84.99 US MSRP) 300W RMS/600W Program
VB-212 Cab $1099.99 US MSRP (Cover $89.99 Grille Assembly $99.99 US MSRP) 300W RMS/600W Program
VB-410 Cab $1249.99 US MSRP (Cover $99.99 Grille Assembly $129.99 US MSRP) 600W RMS/1200W Program
Venture series heads and cabs are available now with the exception of the V7 (available spring 2024).
Looking for doom in all the wrong places? This meticulous recreation of the preamp from a rare '80s amp is explosively effective.
Destructive amounts of volume, gain, and low end. Wall-of-amps doom in a box.
Somewhat confusing control labels and layout. EQ boosts can be subtle. You'll probably want a noise gate.
5
4.5
4
4.5
If doom metal and its variants are big blips on your radar, you've probably noticed there's a dearth of all-in-one stompboxes capable of unleashing genre-worthy filth and mayhem. A Big Muff (or any number of other fuzzes) and a distortion or two will take you a long way, but for dedicated doomers the aural onslaught usually isn't just about cascading gain—it's watts and decibels wreaking havoc on speaker cones. Which is why powerful heads (often 120- or 200-watt bass or PA models) from the likes of Sunn, Ampeg, Peavey, Orange, Hiwatt, Sound City, and Marshall largely rule the realm.
Another highly acclaimed amp for the task is Laney's Advanced Overdrive Response series from the early '80s, particularly the 50- and 100-watt Pro-Tube Lead heads, which had a handwired architecture much like a Marshall JMP circuit, only with an extra gain stage and a slightly darker sound. Influential doom/stoner/sludge bands who embraced AORs include Sleep, High on Fire, the Sword, and Electric Wizard. Of course, Laney's doom cred goes much further back than that: Their most famous endorsee, Tony Iommi, is the veritable well from whence doom's many tributaries spring—particularly his early Sabbath work, which was powered by Laney LA100 BL heads.
Frost Giant Architect Of Reality Review by premierguitar
0:00-0:16: Neck pickup with Architect bypassed.
0:16-0:39: Architect activated (red side only) with presence and bass at 3 o'clock, mids at 9 o'clock, treble at noon, bass and treble boosts engaged, master volume at 9:30, and preamp gain at 7:30
0:39-1:16: AOR (green side) engaged with AOR volume at just over 9 o'clock and AOR gain at max.
1:16-1:38: Bridge pickup into red side with presence at minimum, bass at max (and boosted), mids at noon (unboosted), treble at minimum (unboosted), master volume at 9:30, and preamp gain at noon.
1:38-2:08: AOR engaged with AOR volume at 10 o'clock and AOR gain at max.
But for Eric Calvert, head of Texas-based Frost Giant Electronics, AORs are where it's at. In fact, his goal since founding Frost Giant has been to recreate the preamp in his own beloved AOR head from 1985. Now, with the help of Nick Williams (of Dunwich Amplification fame), Calvert's dream has finally been realized with the Architect of Reality—a powerful homage to both Laney and, presumably, Sabbath's 1971 sonic milestone, Master of Reality.

The Persistence of Realities
The Architect puts essentially every control from the front panel of an 8-knob AOR atop a medium-sized stompbox that's billed as a "2-channel" design. But it's more accurate to describe it as a massively powerful, wide-ranging distortion (right-side footswitch) with a cascading-gain feature ("AOR channel" footswitch) that can be layered over the base tone.
To help achieve its bludgeoning ends, the JFET-driven Architect converts 9V of AC power to a whopping 36V (battery power is not an option). The EQ—bass, mids, and treble knobs, corresponding boost toggles, and a presence ("pre") knob—runs along the top row, but I found it peculiar that the master volume and preamp gain for the base tone (the "red channel") are sandwiched between AOR ("green channel") volume and gain knobs. The layout would feel more logical and intuitive—and therefore faster and easier to use—if AOR volume and gain were side-by-side above the AOR footswitch.
It's capable of myriad metal flavors, but its real calling card is sheer might.
Speaker Bloody Speaker
To put the Architect's intriguing ambitions to the test, I used a Les Paul, an Eastwood Sidejack baritone, and a Schecter Ultra III through a few different setups: a Revv G20 powering a Bogner closed-back 2x12, a Jaguar HC50 1x12, a silver-panel Fender Vibrolux Reverb paired with a Fender Rumble 200 1x15 bass amp, and a Sound City SC30 also paired with the Rumble. From the outset, the Architect's massive volume and gain capabilities were apparent. The red side's hot-rodded-Marshall-like preamp yields everything from toothsome gain excellent for old-school metal to blistering thrash at max. Meanwhile, the red side's master volume is astonishingly loud—when I wasn't using a bass amp (which allowed me to turn the guitar amp's bass down), I began fearing for my speakers' wellbeing when volume merely approached the noon mark.
But wide-ranging gain wouldn't mean much if the EQ weren't wisely focused. No matter where I dialed the treble, mids, and presence, tones never crossed over into abominable thinness. The bass control feels tight and muscular throughout its range, though it doesn't seem particularly corpulent when maxed in red mode alone. But kick on the green side and it sounds absolutely explosive at all but the most conservative AOR settings. As with red mode, the AOR volume will likely sound like it's clobbering your amp halfway through its range, even if the base channel's volume is set pretty low. One couldn't be blamed for using the green side to simulate pushing or literally push speaker cabs to their limits without looking back, but AOR mode is also capable of practical precision and subtle restraint—say, thickening things a smidge or adding razor sharpness to the core sound.
 The Verdict
If you're after droning, foundation-rattling gain and are sick of using multiple stompboxes and/or backbreaking stacks, you'll find a lot to love in Frost Giant's Architect of Reality. It's capable of myriad metal flavors, but its real calling card is sheer might that occupies the mythical space between distortion and fuzz, where feral howls smudge together and destruction and chaos feel like real propositions. For extreme sounds—especially if you're not miking your amp—it's probably advisable to pair the Architect with a robust, high-wattage/high-headroom amp, if not also one of the many light, dependable bass amps on the market. But that's a much more doable proposition than scouring the internet for rare, heavy-ass old stacks that keep going up in price.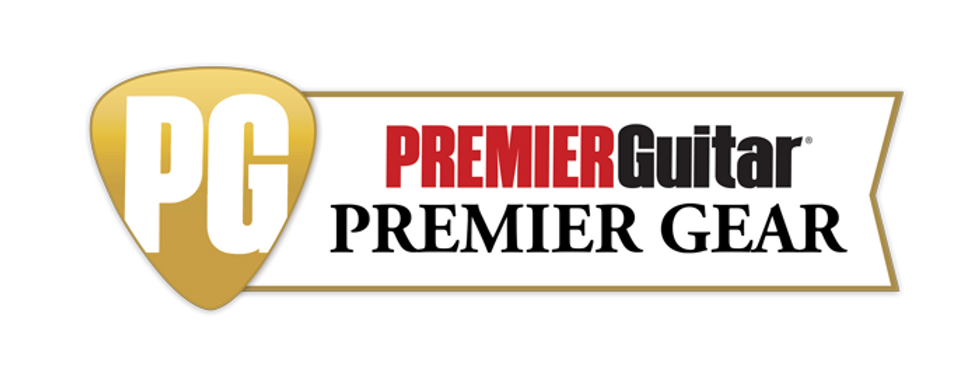 Photo by Justin de Nooijer
On his new album ForEver, the songwriter, player, and conceptualist shows he knows no stylistic bounds.
Joshua Crumbly says that a lot of his musical ideas start out reflectively, like a mantra or meditation, often repeated over and over as he develops them. It's a Zen-like practice that allows him to access a deeper, more intuitive headspace. "All of the songs that made ForEver, they kind of took my mind and heart somewhere as I played them," he says of his new album. "And there was so much going on in the world during the pandemic, I just feel like the storylines came to fruition."
The inventive bassist was born and raised in Los Angeles and attended the prestigious Juilliard School in New York City. When we spoke, he was in Dallas, Texas, co-producing and writing an album for Brandon Marcel. Crumbly and Marcel both tour in R&B singer Leon Bridges' band. Marcel is one of the background vocalists.
"We were engaged in writing for three or four days last week," says Crumbly. "And then yesterday we had to do a streaming show with Leon Bridges." Apparently, the guys in Bridges' band have been making fun of Crumbly because he's always bouncing between New York and Los Angeles and can't decide where to put down some roots. "I keep telling them, 'I'm finally going to officially move back to L.A. permanently.' So, they're like, 'Yeah, right.' And now I've been in Dallas for a couple of weeks and I'm like, 'Oh man, I'm loving Dallas.' I'll figure it out. The grass is always greener, right?"
Joshua Crumbly - The See (Official Music Video)
Crumbly's debut 2020 release Rise, embraced that concept wholeheartedly. "I'm initially coming from different jazz settings, and I've gotten to play with some brilliant people over the past 11 years or so," he explains. "But [with jazz] I just got to a point where I was like, 'Man, we have all these brilliant minds, and everybody's writing songs with the same exact form, and every song has the same experience for the musicians as well as the audience.' So I was like, 'I want to see if there's a way to create songs that have a different journey to them.'"
This songwriting journey continues on ForEver. Stylistically, like Rise, the tunes on ForEver aren't necessarily jazz. They run the gamut from indie rock ("THREE") to ambient ("ForEver") to the Motown-infused thump of his playing on "C.S.C." Crumbly mostly eschews the traditional jazz arrangements that primarily defined his formative years as a bass player and sideman. Take a song like "Reflection." Grounded by a hypnotic bass ostinato, it upends jazz norms by introducing the melody at the end of the tune, as opposed to playing the melody first, then a bunch of solos, and then the melody out, as in a conventional post-bop arrangement. If Crumbly's ambition was to construct songs in such a way as to give everyone involved a new experience, on ForEver he unequivocally succeeds.
"Shout out to Universal Audio for changing my life. And believe it or not, I use GarageBand."
Born in 1991, Crumbly began to study music at an early age, at the behest of his father, saxophonist Ronnie Crumbly. He started out playing classical piano before picking up the bass at age 9. He learned to play by ear in church, and then dove into heavy metal at the local music store, where he subsequently took lessons, before binging on the jazz records at home that would become his muse. Though Crumbly studied with such venerable jazz stalwarts as Ron Carter and Reggie Hamilton, there's a pop element to his songwriting that makes his recordings eminently welcoming for the average listener. His fascination with pop songs, as a writer, can be attributed to what he calls "commercial sentiment."
"What I think is actually cool about popular music, is the power of a song is still prevalent, and it doesn't always hinge on a million solos and that sort of thing—just a melody and a vibe, with no solos or anything like that."
French playwright Antonin Artaud once made the provocative assertion, in his seminal 1938 theatrical treatise, The Theatre and Its Double, that the actor is "an athlete of the emotions." Likewise, Crumbly doesn't knock you out with chops on ForEver. Instead, he tugs at your heart with an empathic vibe that comes across in his songwriting as well as his bass playing. Instead of rapid-fire slapping or lightning-fast finger tapping, Crumbly's virtuosity on ForEver lies within his ability to convey qualities like fragility and tenderness. His performances often affirm the age-old adage that it's not always about what you play, but how you play it.
TIDBIT: Crumbly's latest release was started at Brooklyn's Figure 8 Recording studio, but he finished the album at home on GarageBand, using hardware and plug-ins from Universal Audio and Arturia.
"I'll give you some insight to the song 'Reflection,'" he offers. "I wrote it during the time when the tremendously sad George Floyd incident occurred, and that was coinciding with rising Covid cases. The news would go between speaking about George Floyd and then reporting on all these deaths around the world from Covid. So, I started accompanying the news with the ostinato that the song is based on, and just reflecting on what the feeling of the time was. But then, the more I played it, I started becoming more hopeful. That's how that song came about—just regarding what I might have been thinking about at the time."
The catalyst for recording ForEver was an unexpected call from Figure 8 Recording's Shahzad Ismaily. "I didn't have his number saved in my phone," recalls Crumbly, "so I had no idea who it was. And he said, 'Josh, you need to record a solo bass album.' And I was like, 'Uh, okay.' He generously offered me some time at his beautiful studio, Figure 8, in Brooklyn. I started 'THREE' there, and then also 'We'll Be (Good).' But then I just got super busy with putting out Rise, and constantly being on the road, so ForEver had to get shelved. And then, when the pandemic happened, I got a bunch of recording gear and was able to devote time at home to finishing ForEver. So, shout out to Universal Audio for changing my life. And believe it or not, I use GarageBand."
Joshua Crumbly's Gear
Crumbly, always in search of unfamiliar sounds, plays flatwounds on his Michael Tobias Design Kingston bass. He also enjoyed "testing the limits of what a P bass could do" while making ForEver.
Photo by Ronnie Crumbly
Basses
Fender American Special Precision Bass
Michael Tobias Design Kingston (4-string)
Moon Guitars J Bass
Amps
Ampeg SVT (with 4x10, 6x10, or 8x10 SVT cab)
Strings & Picks

La Bella Deep Talkin' Bass flatwounds (.049–.105)
Labella Custom Nickel (.050–.105)
Fender Classic Celluloid medium picks
Effects
Aguilar Octamizer

Electro-Harmonix Big Muff Pi
MXR Phase 90 M101
Universal Audio Golden Reverberator
Universal Audio Starlight Echo Station Delay
Recording Gear
Arturia interfaces and plug-ins
GarageBand for Mac
Universal Audio hardware and plug-ins
Most of the effects heard on ForEver are delay modulators. "I messed with a lot of the Universal Audio plug-ins, and I'm really happy that they came out with physical renditions of those plug-ins in the form of actual pedals," admits Crumbly. "I've been able to recreate some of the sounds live. I did use some pedals at Shahzad's studio that I don't even remember the names of, but I would say 80 percent of it is different delay modulators from UA, and the song 'To Morrow' is a combination of modulators and fuzz pedals. That was the one song on the record that I had to work on for a few days. I was searching for this particular sound in my head, for that melody line."
There's a cinematic quality to the music on ForEver that Crumbly's tasteful use of effects enhances, each song characterized by a distinct mood or atmosphere. "When I had an idea, and then found the effects that were speaking to me for that song, I think it definitely took me somewhere, gave me this experience, and brought meaning to the song. It amplified the whole experience."
As a jazz-based musician, Joshua Crumbly takes a road less traveled, through pop, rock, and ambient music, to get to his signature approach.
Photo by Giraffe Studios
As for instruments, Crumbly says there's "a lot of 4-string P bass" on ForEver. "I bought a 2012 Fender American Special Precision Bass that I found, all beat up, at Chicago Music Exchange," he remembers. "When I brought it to soundcheck, everyone was like, 'Oh my God, it sounds amazing.' So, I put away all the other 5-string basses that I had. It was fun, testing the limits of what a P bass could do on this record." On the ambient title track, however, Crumbly went back to what he considers his first real instrument: an MTD Kingston bass. "It's actually a passive instrument," he clarifies. "I switched things up a little bit. I hadn't ever seen anyone using flatwounds on an MTD. So that's what's on there now."
"'I want to see if there's a way to create songs that have a different journey to them."
Songs like "Reflection" and "We'll Be (Good)" are crafted around chords and double-stops for the central bass line, and Crumbly says his technique for that kind of approach is "the thumb, and then my index and middle finger." However, he is not a fingerstyle purist, as demonstrated in the video for "The See," in which he plays an astronaut. "I'm playing with the pick, and I have to shout out a mentor of mine named Reggie Hamilton. I would not be playing upright bass if it weren't for him, nor would I be playing with the pick. I owe a lot to him for broadening my horizons. People are sleeping on how cool playing with a pick is on the bass, but I'm okay with that. I'll be like, 'All right, I'll be one of the few, I guess.'"
Space is the place: Joshua Crumbly donned an astronaut costume for the video for "The See," from his new album.
Photo by Ronnie Crumbly
As for his time at Juilliard, Crumbly says "keeping a vision" was one of the most important things he learned at the school. "I think keeping a vision helps you get through a lot of things that may be tough at the time," he explains. "College was a bittersweet experience, because I was juggling being on the road with [trumpeter] Terence Blanchard and being in school full time. And a lot of the administration wasn't cool with that, but I had a dream job that I couldn't say no to, and it was a dream for my parents that I went to college and finished. They weren't so sure that I was able to do both, but when you have a vision, though, you're looking ahead. It also makes the present moment sweeter at the same time. I also learned how to be more disciplined, studying with Ron Carter, getting to see how on point he is, and what a master he is, and the level that he expects of his students. He just believes in you infinitely. I think we should all believe in ourselves in that way, too."
Ultimately, Crumbly says that making ForEver was a "crazy adventure" that allowed him to explore the bass in a new way. "I feel like I'm on a path that I can explore infinitely by way of the bass and by way of emotion as well," he explains. "I just hope that my music is very inviting to whatever people may like. You don't have to be a jazz head or a rock head or whatever. I just want it to be a super-inviting, welcoming sound."