"We wanted to see more craft and soul come back into the guitar market and wanted to be a part of that," says Bousley.
Not so long ago, Boston-area musicians Austin Bousley and Travis Alexander found themselves suffering from the same affliction that plagues countless guitarists. The gear-junkie friends had budgets that simply couldn't satiate their taste for the vintage, custom, and unique instruments they'd "constantly drool over" at local shops. And feeling that many modern-day production instruments lacked what they loved in vintage and custom guitars, they decided they wanted to do something about it. "We wanted to see more craft and soul come back into the guitar market and wanted to be a part of that," says Bousley.
About six years ago, the two started out slowly by hot rodding and refinishing guitars they already owned. Not long after that, they partnered with two other friends and officially launched Venture Guitars as a team of four. Today, the mostly self-taught group of builders works out of a shop in Pawtucket, Rhode Island, where they build custom instruments in whatever style and configuration their customers can dream up.
Bousley says his crew's community mindset and passion sets them apart. "We love music, the scene that surrounds it, and the players themselves," he says. "We work closely with each customer and try to deliver the guitar they want, and we're willing to try and build anything." He thinks this willingness is the main difference between Venture Guitars and other builders. "We haven't just built guitars we liked and sold them," he continues. "We've been building fully custom guitars for each customer, so we can bring that connection between the player and their instrument back to life."
Though Venture has been building only completely handmade, 100 percent custom guitars thus far, the outfit will soon offer a production model of sorts with their Anna Lee design, which incorporates the use of CNC. That said, their custom offerings will remain completely handmade. The production-model aspect of the Anna Lee is certainly a departure for the company, but the planned price point of $2,200 will be more accessible for many than a typical custom build. "We are currently going nuts experimenting with the sound for the Anna Lee," says Bousley. "We still haven't officially decided what we're going to put into them, but we have a pretty good idea where we're going to go."
Venture is "pretty all over the place" when it comes to inspiration for their designs, but Bousley says the entire team loves the newer, prog look that some builders are doing, as well as soulful, vintage Fenders. "I know it's cliché, but it's a P bass from the '70s that really gets me, or an old SG or Rickenbacker," he says. "There's just something about a guitar that old that has a story to it. And that's where we all come together—making something with a story."
VG #00080
Venture also accommodates low-enders, and this is a fine example of the luthier's custom bass offerings. Built for a southpaw, the P-style body is carved from alder and paired with a 1-piece maple neck that's topped with a quarter-sawn-maple fretboard. Both the block inlays and pickguard are cut from 5A-rated flame maple and stained green. An Aguilar AJ-60 Jazz-style pickup in the neck and a Music Man humbucker in the bridge give it the ability to deliver a wide range of bass tones.
VG #00117
Painted "plum crazy," this solidbody one-off has a head-turning silver-sparkle finish and a pair of silver racing stripes. Built for New Found Glory guitarist Steve Klein, the 25.5"-scale guitar boasts other aesthetic standouts like the grouping of mother-of-pearl inlay along the length of the ebony fretboard and the Venture logo—also cut from MOP. The deep purple #00117 is packed with a single EMG 81 humbucker in the bridge.
VG #00013
For this classic-looking semi-hollowbody, Venture didn't hold back on the master-grade, 5A-rated flame maple, using it for the top, truss-rod cover, control-cavity cover, and back of headstock veneer. Other appointments include the Gibson Super 400-style block-inlay markers that grace the ebony fretboard, mother-of-pearl side markers, and a bone nut. Choosing a classic pickup combo, #00013 is outfitted with a Seymour Duncan JB in the bridge and a Jazz in the neck.
Pricing and Availability
The typical wait for a custom-built guitar from Venture Guitars is currently 6–10 months, depending on the build. With plans to produce the Anna Lee in batches of 10, players will likely be able to get their hands one of these models quicker. Venture does direct orders through an online quote/order form, where buyers list all the components and specs that will make up their custom instrument. Pricing for a custom Venture guitar varies with build, but typically falls in the $3,000 to $4,500 range.
Looking for more great gear for the guitar player in your life (yourself included!)? Check out this year's Holiday Gear Finds!
Outlaw Effects introduces their next generation of NOMAD rechargeable battery-powered pedal boards.
Available in two sizes, NOMAD ISO is a compact, versatile tool that offers the convenience of a fully powered board plus the additional freedom of not having to plug into an outlet. NOMAD ISO is ideal for stages with limited outlet availability, quick changeovers, busking outdoors, temporary rehearsal locations, and more!
NOMAD ISO builds upon the legacy of the ultra-convenient and reliable NOMAD rechargeable pedalboard line originally launched in 2018. The brand new NOMAD ISO editions feature eight isolated outputs (1 x 9V DC, and 1 switchable 9V/12V DC) for even more versatility and clean, quiet power. With an integrated lithium-ion battery pack boasting 12800mAh capacity, NOMAD ISO can fuel a wide array of pedals, and will last over 10 hours* on a single charge.
Each NOMAD ISO pedal board includes adhesive hook & loop pedal-mounting tape, eight (8) standard DC connector cables, and one (1) reverse polarity DC cable, giving you everything you need to build your ultimate "off-the-grid" rig. A rugged, road-ready padded gig bag with shoulder strap is also included, to safely protect your gear while you're on the move.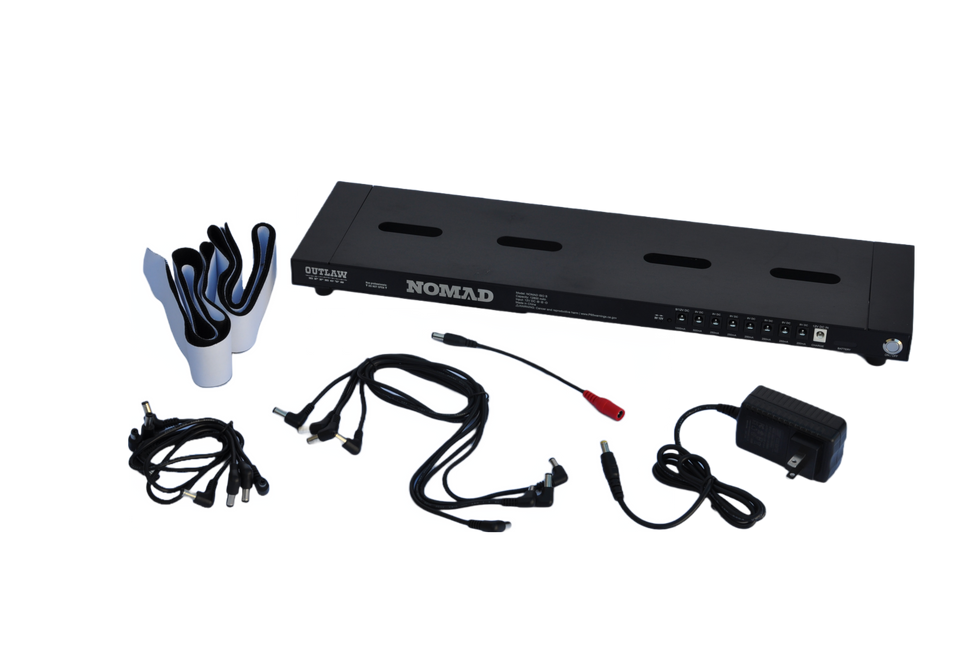 Dunable announce new Minotaur model featuring Grover Rotomatic Keystone tuners.
The Minotaur's DNA is rooted in their classic Moonflower model, which Dunable discontinued in 2017. However, they have long since wanted to create a fresh take on a carved top guitar design, and various attempts to rework the Moonflower led them to a brand new concept with the Minotuar.
Dunable's goal is to give the player a guitar that plays fast and smooth, sounds amazing, and gives maximum physical ergonomic comfort. The Minotaur's soft and meticulous contours, simple and effective control layout, and 25.5" scale length are designed to easily meet this criteria.

Dunable Minotaur!
Features
25.5" scale length
Dual Humbucker
one volume, one tone, push pull for coil splitting
Grover Rotomatic Keystone tuners
Grover Tune O Matic bridge with brass Kluson top-mount tailpiece
jumbo nickel frets
12" fretboard radius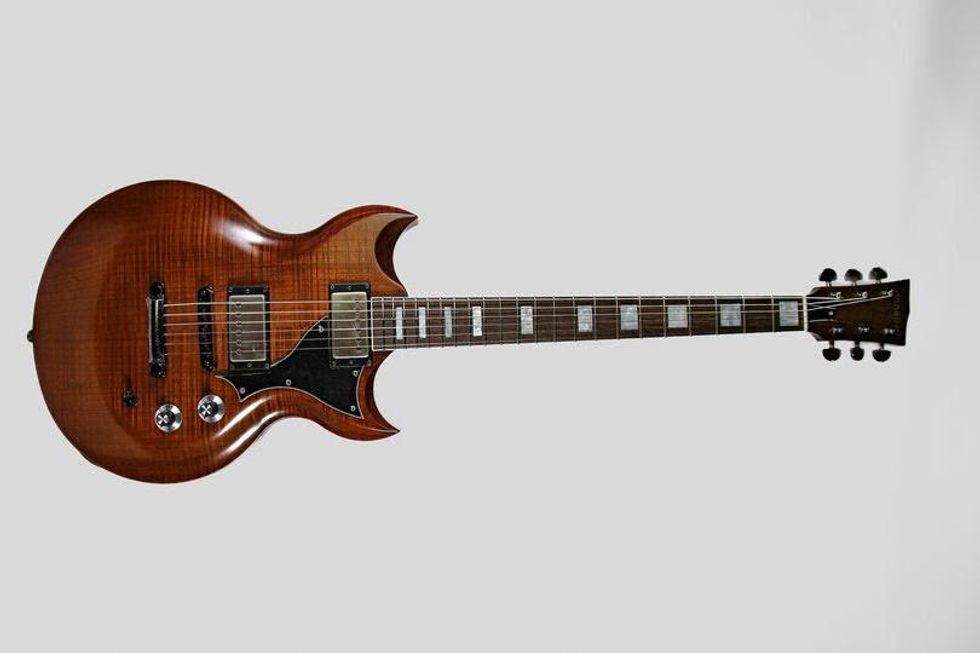 Dunable
This full-amp-stack-in-a-box pedal brings a new flavor to the Guitar Legend Tone Series of pedals, Missing Link Audio's flagship product line.
Adding to the company's line of premium-quality effects pedals, Missing Link Audio has unleashed the new AC/Overdrive pedal. This full-amp-stack-in-a-box pedal – the only Angus & Malcom all-in-one stompbox on the market – brings a new flavor to the Guitar Legend Tone Series of pedals, Missing Link Audio's flagship product line.
The AC/OD layout has three knobs to control Volume, Gain and Tone. That user-friendly format is perfect for quickly getting your ideal tone, and it also offers a ton of versatility. MLA's new AC/OD absolutely nails the Angus tone from the days of "High Voltage" to "Back in Black". You can also easily dial inMalcom with the turn of a knob. The pedal covers a broad range of sonic terrain, from boost to hot overdrive to complete tube-like saturation. The pedal is designed to leave on all the time and is very touch responsive. You can get everything from fat rhythm tones to a perfect lead tone just by using your guitar's volume knob and your right-hand attack.
Features 
Three knobs to control Volume, Gain and Tone
Die-cast aluminum cases for gig-worthy durability
Limited lifetime warranty
True bypass on/off switch
9-volt DC input
Made in the USA
MLA Pedals AC/OD - Music & Demo by A. Barrero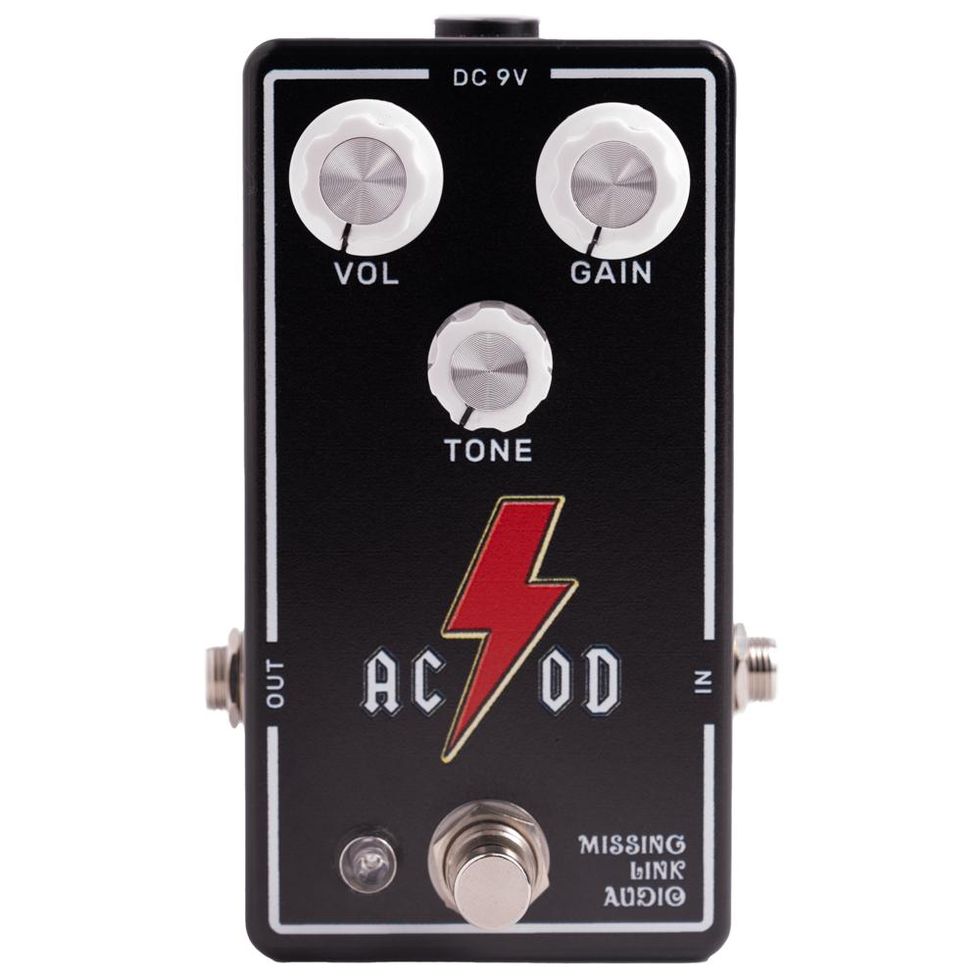 www.mlapedals.com.